Sam had to work in Alice on the second day we were there so I planned a day trip with the boys. There wasn't much to do in Alice so we set out to see a nearby city. I loaded up the boys and then drove the 45 minutes to Corpus Christi. I didn't know anything about Corpus, but I ended up absolutely loving it. It was so beautiful.
The first place we went in Corpus was the Texas State Aquarium. When we first got there, we went to the dolphin show.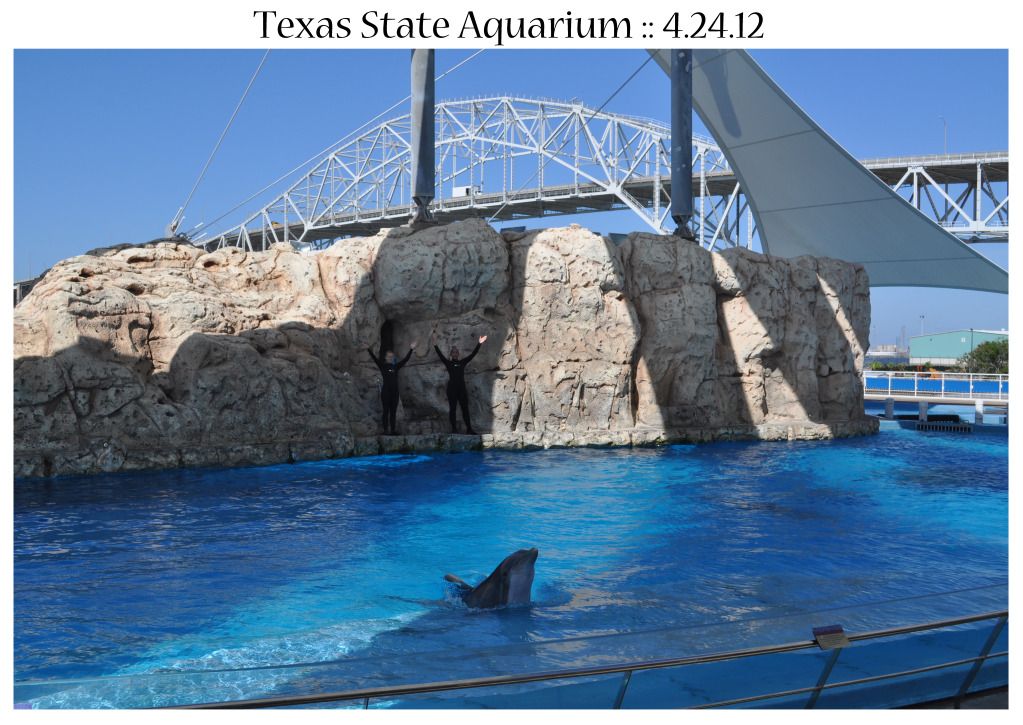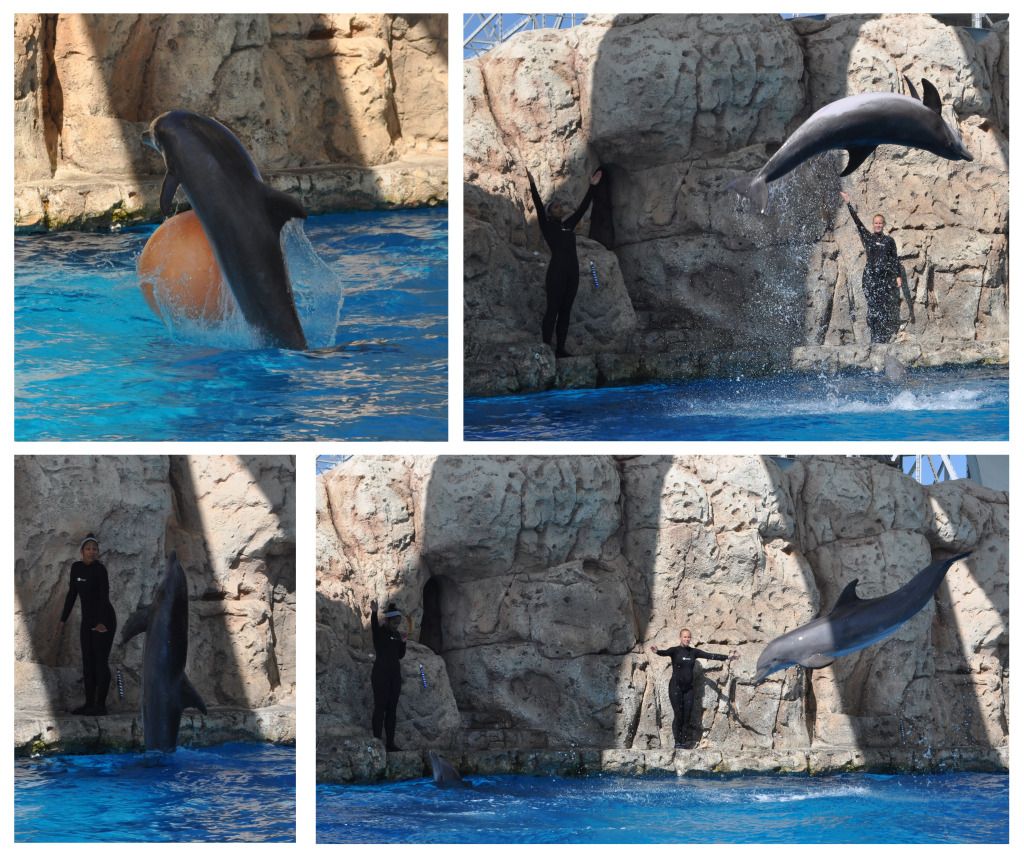 Alex seemed kind of confused. It was like he couldn't figure out why the dolphins were flipping all over the place. Edison was also skeptical.
We walked around the whole Aquarium twice. It was so awesome and the boys loved it.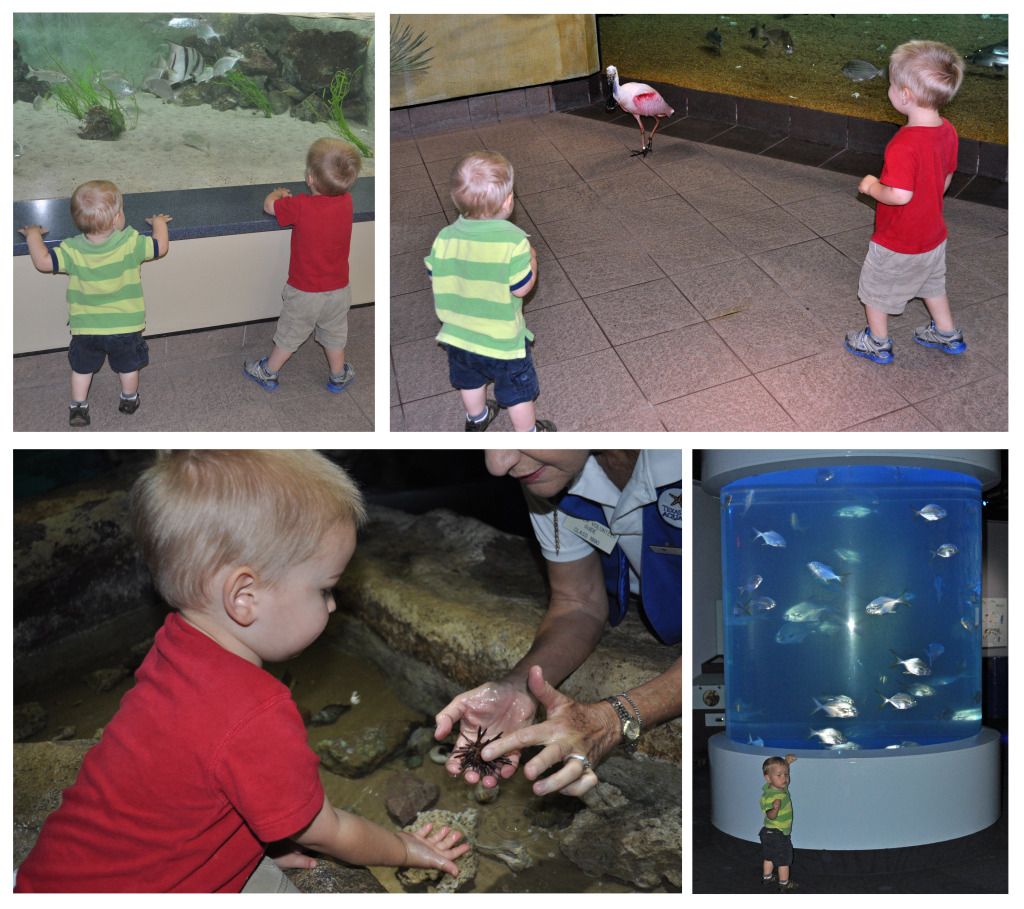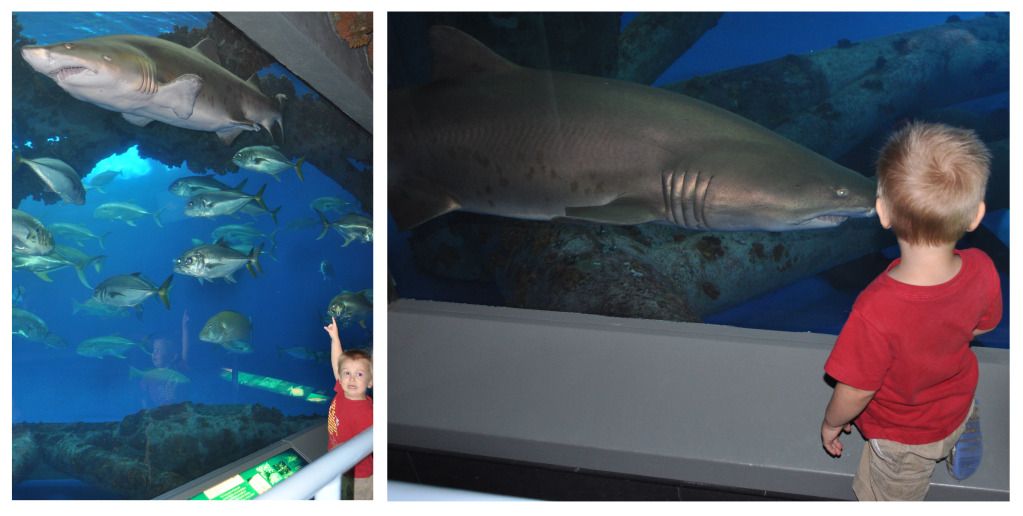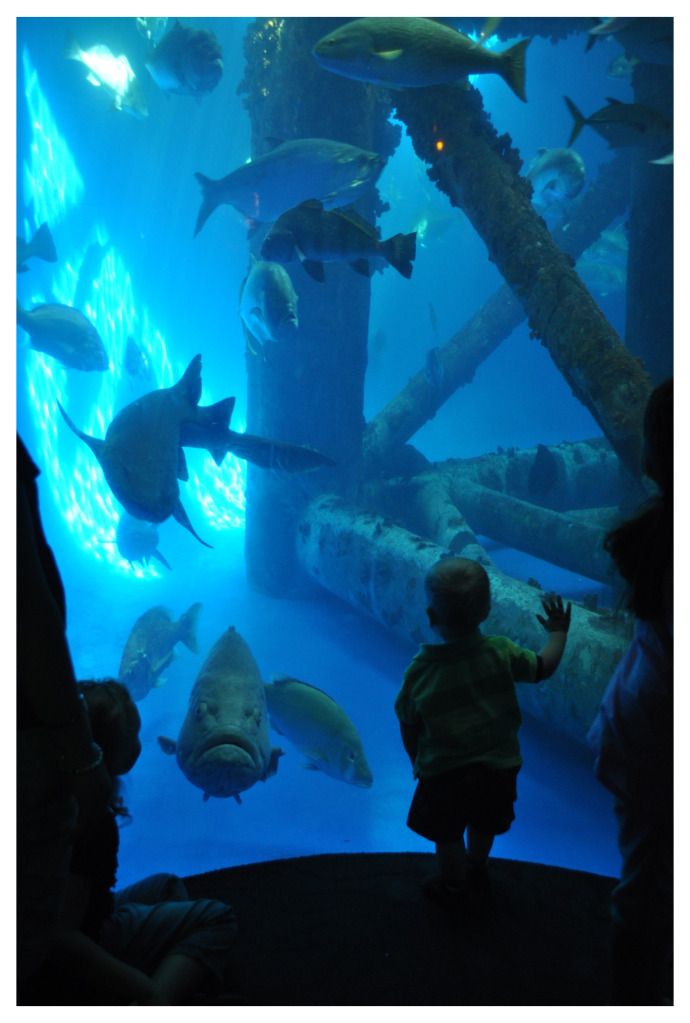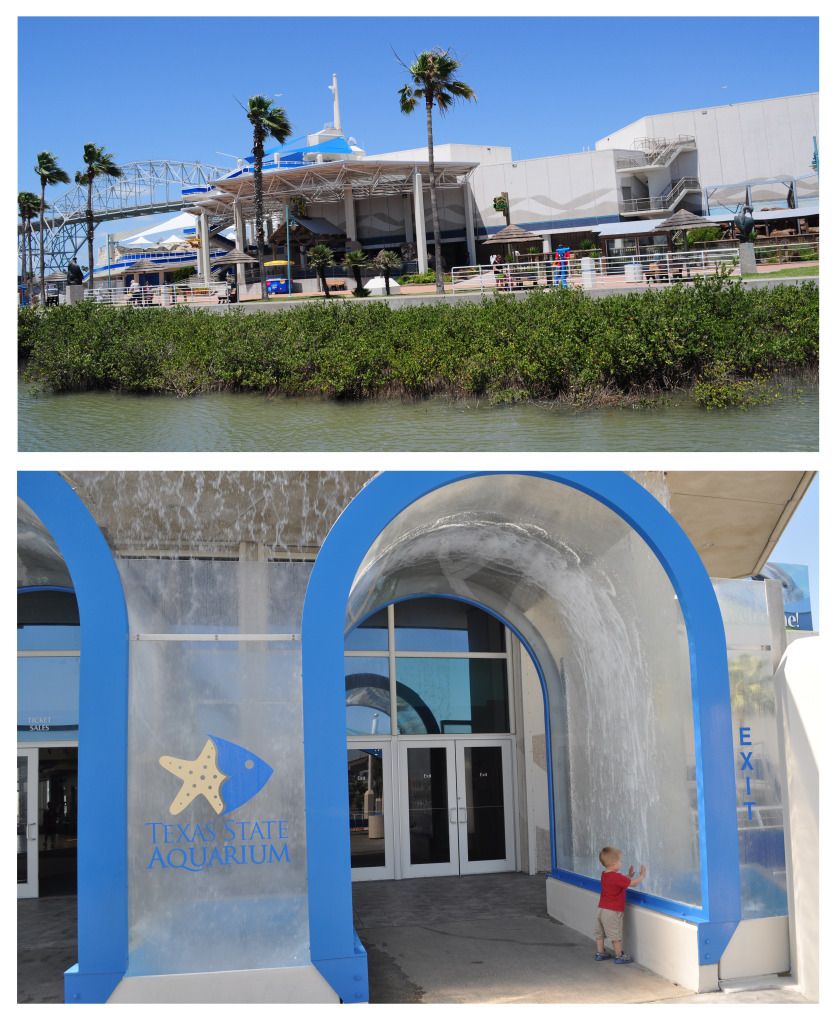 We walked back out after going around the inside of the Aquarium. I noticed that one dolphin was still swimming around in the tank. I let Alex go right up to the window and watch it. We were the only ones out there. It was pretty cool to see this beautiful animal shoot around the tank. Then the trainer came out and had it do more tricks. We were getting our own personal dolphin show! Alex is pretty cute, so the trainer came over to him. Then she let him feed him. Amazing. We were planning to go to Sea World San Antonio later in the week, but after he got to feed the dolphin, I decided we didn't need Sea World.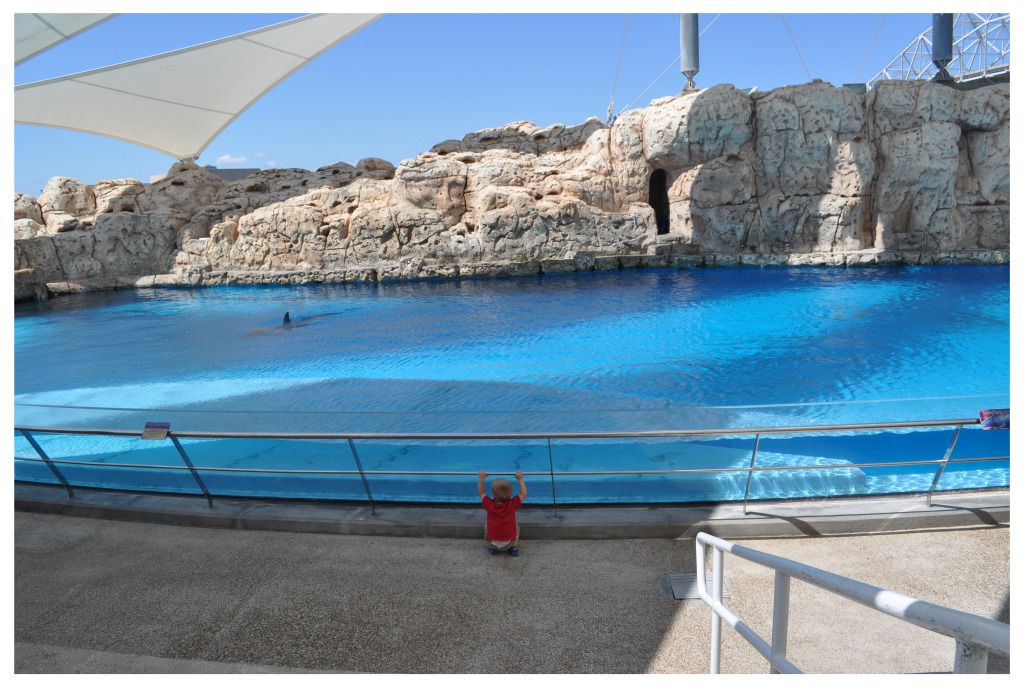 The picture where Alex is facing backwards is because he was spinning in circles and then the dolphin copied him.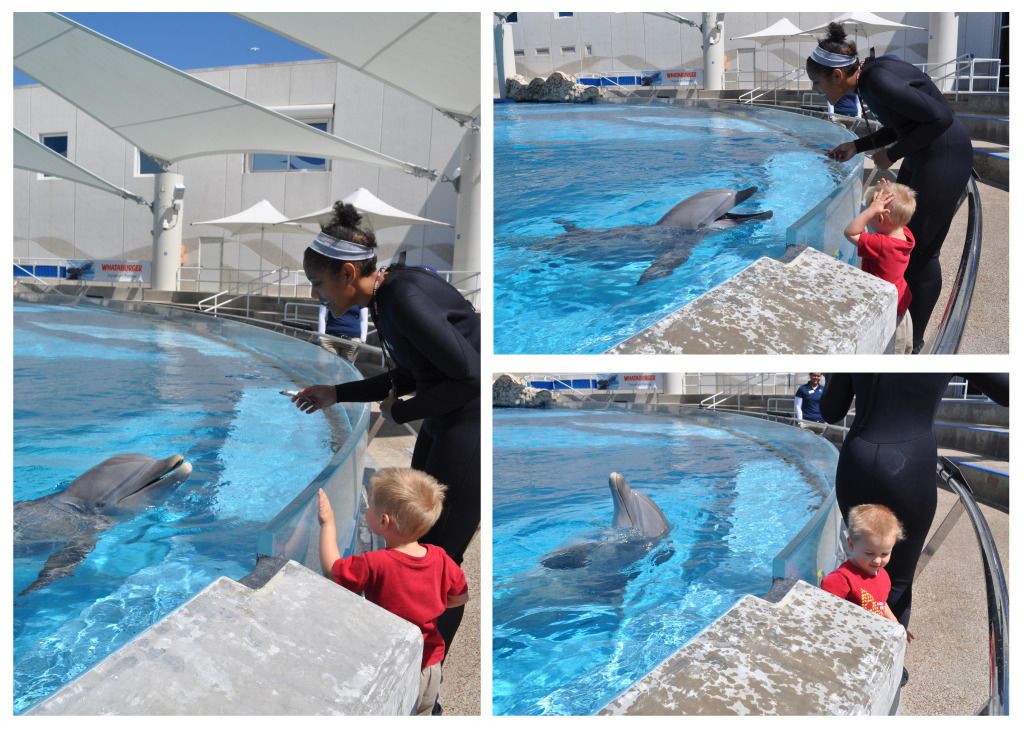 He talked about feeding Jello and fish to the dolphin for weeks and he was telling everyone about it. Definitely the highlight of our trip.
I almost got in an accident driving over the bridge because I was trying to look out at the water. I was imagining moving here.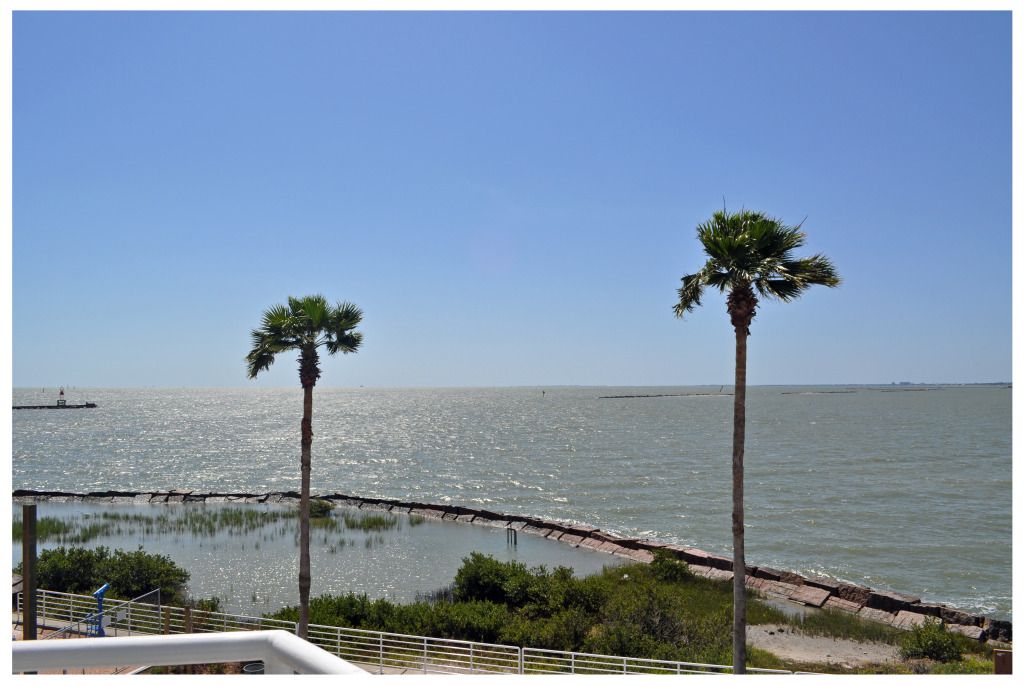 We went out to our car for lunch. I am too cheap to eat in places like that, and the boys ate better in the parking lot than they ever do at home!
The Aquarium also has a lot to do outside. We got to see an otter show and a sting ray show. Alex has a love/hate relationship with petting sting rays. He gets so excited and then scared when they get close. After he touched them, he would go get hand sanitizer which dispensed automatically. But it was so incredibly windy and the hand sanitizer kept flying into his face. It was hilarious.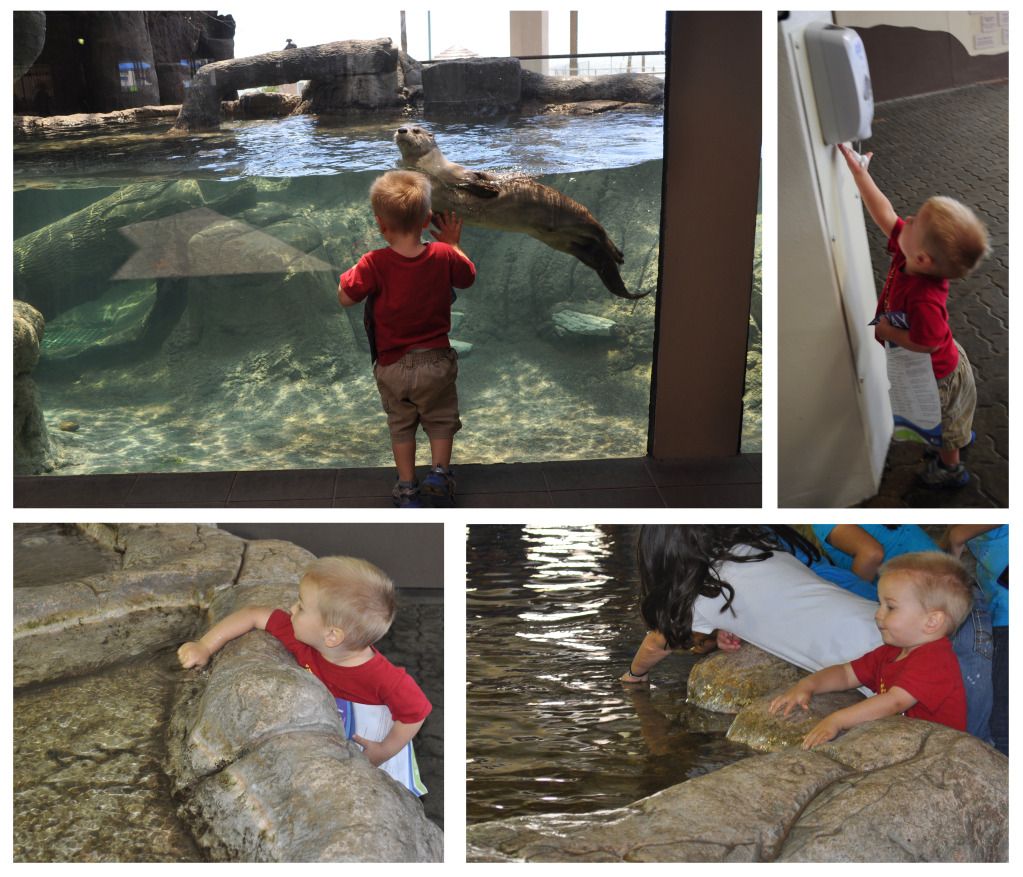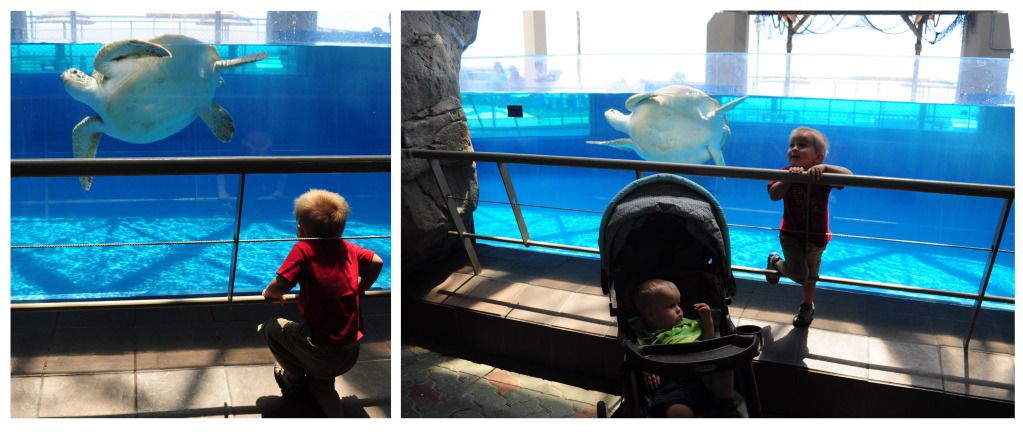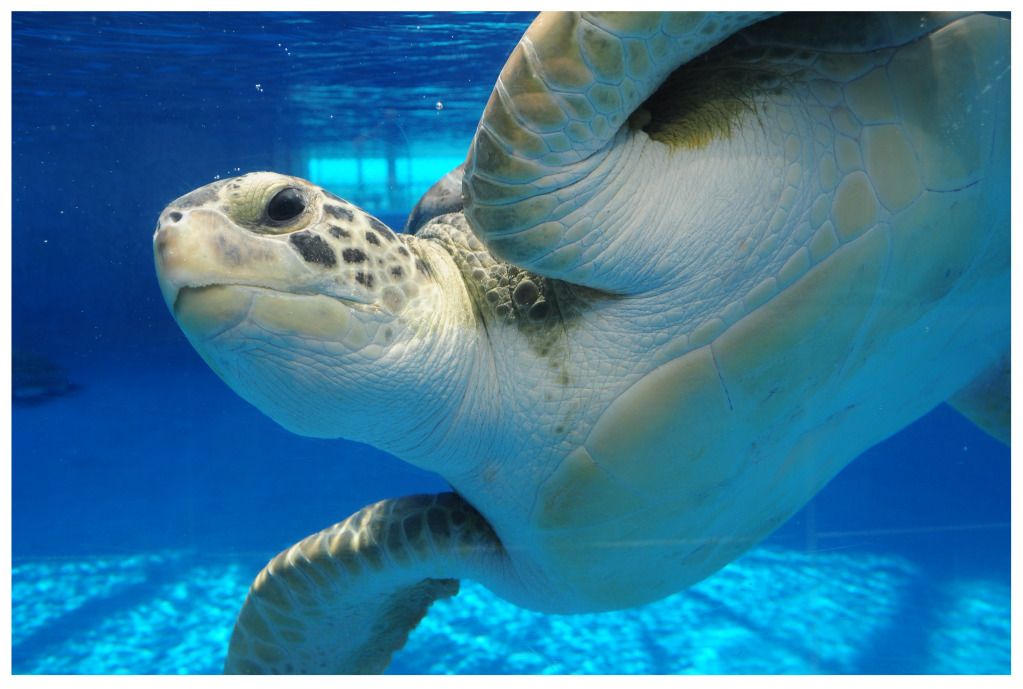 We went upstairs into the little library so Alex could sit down and color during Edison's nap. But then Edison woke up grumpy that we were coloring without giving him any crayons to snack on.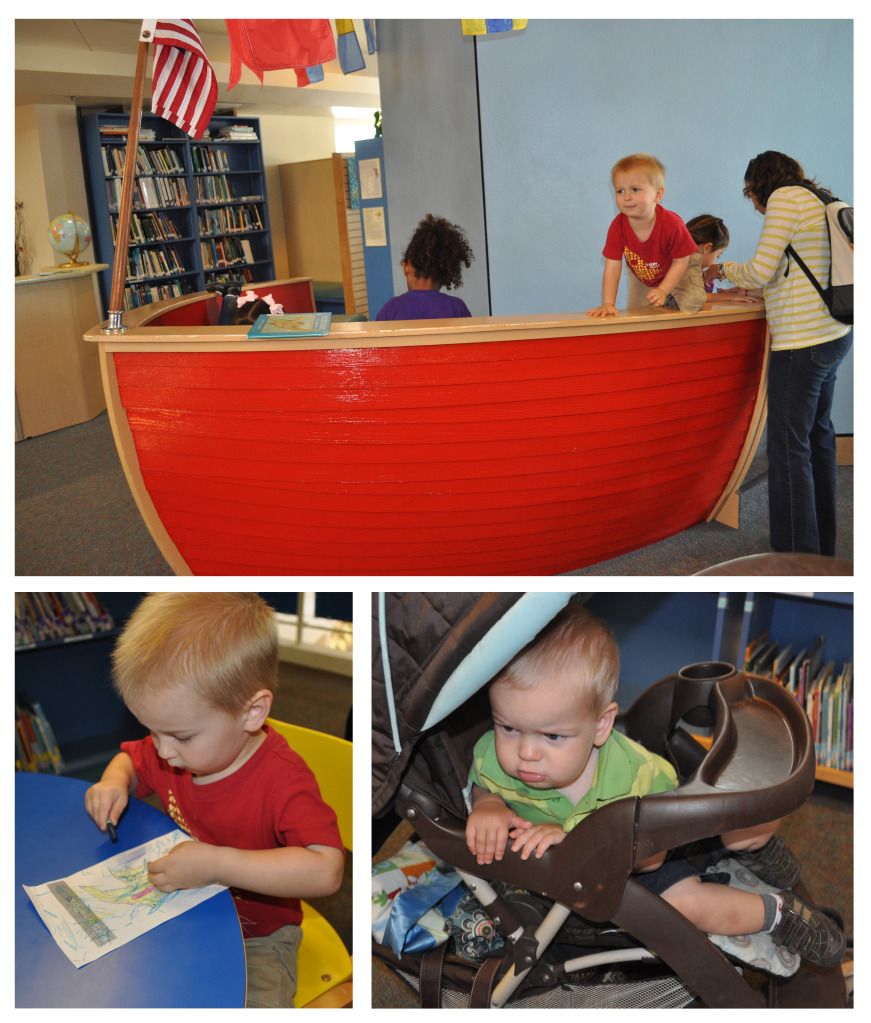 We went to get some Dippin' Dots. I love these things and it was hard to share with kids who don't appreciate the deliciousness. So we saved our money by eating lunch in the parking lot, and then bought expensive ice cream. Worth it.
By the afternoon, very few people were at the Aquarium. Our second time walking around, we had the whole place to ourselves and we stayed in front of the shark tank for about an hour. We were at the Aquarium 9:30am-2:30pm.
We were driving around and the boys fell asleep so I parked along the seawall and let them finish their naps. Then we spent an hour walking along the seawall. It is a 1.75 mile long wall with eight gazebos along it. I know it was a weekday, but I could not believe that there were no people. I loved how it wasn't touristy. Pictures cannot capture the full feeling of this place. It was windy and sunny and beautiful.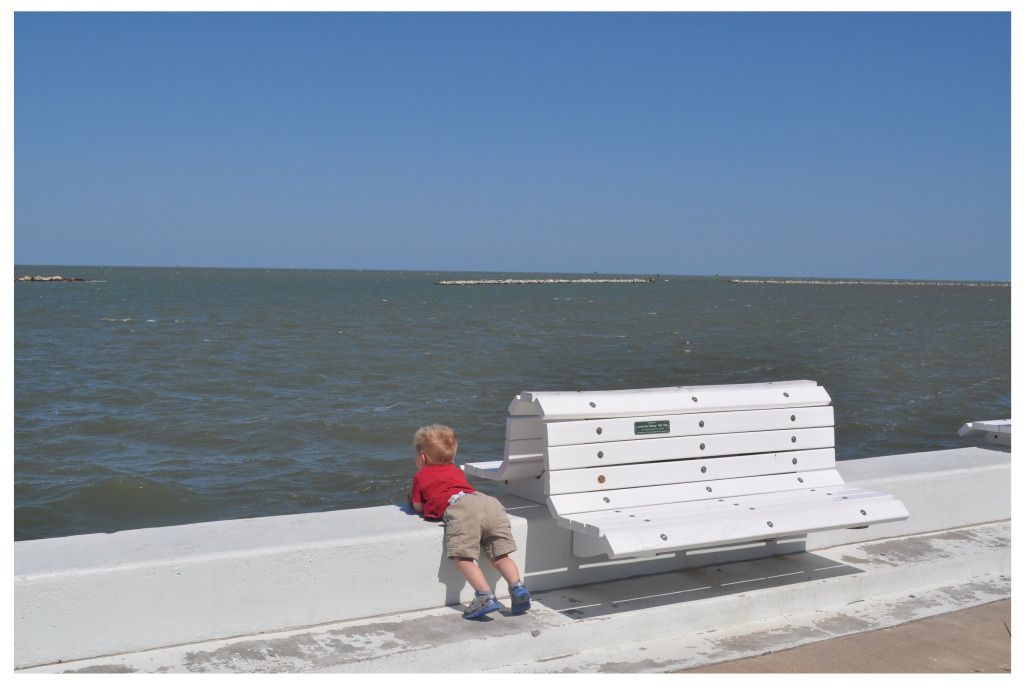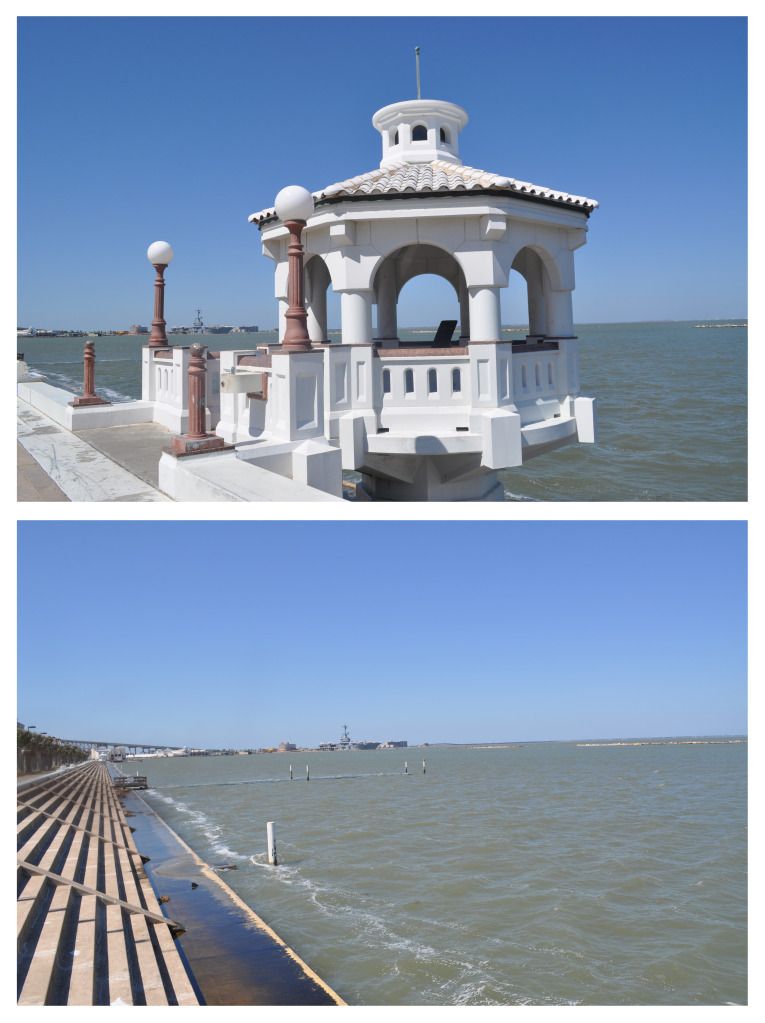 Alex was saying, "This is a castle. I live in this castle."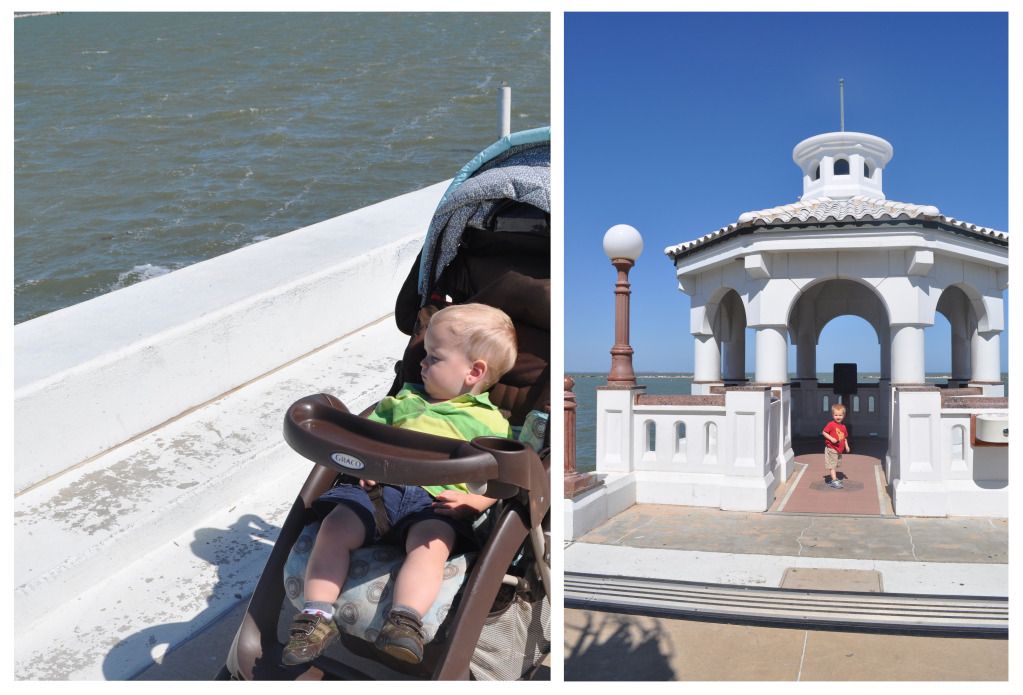 Alex said, "I super Batman. I mean, look at my eyes!"
Sam beat us back to the hotel. Alex was so animated telling Sam about the day. Then he said, "I eating my foot, Mommy! It deeee-licious!" I said, "It is?" And he responded, "Yeah, they're very yummy." So matter of fact. This kid is blowing my mind with all of the growing up he is doing.
We went to the tiniest and ghettoist restaurant in Alice. It was teensy. There were flies everywhere and when we walked in, the waitress informed us that they had run out of a lot of things. Bizarre, but we decided to share one plate and it was pretty good.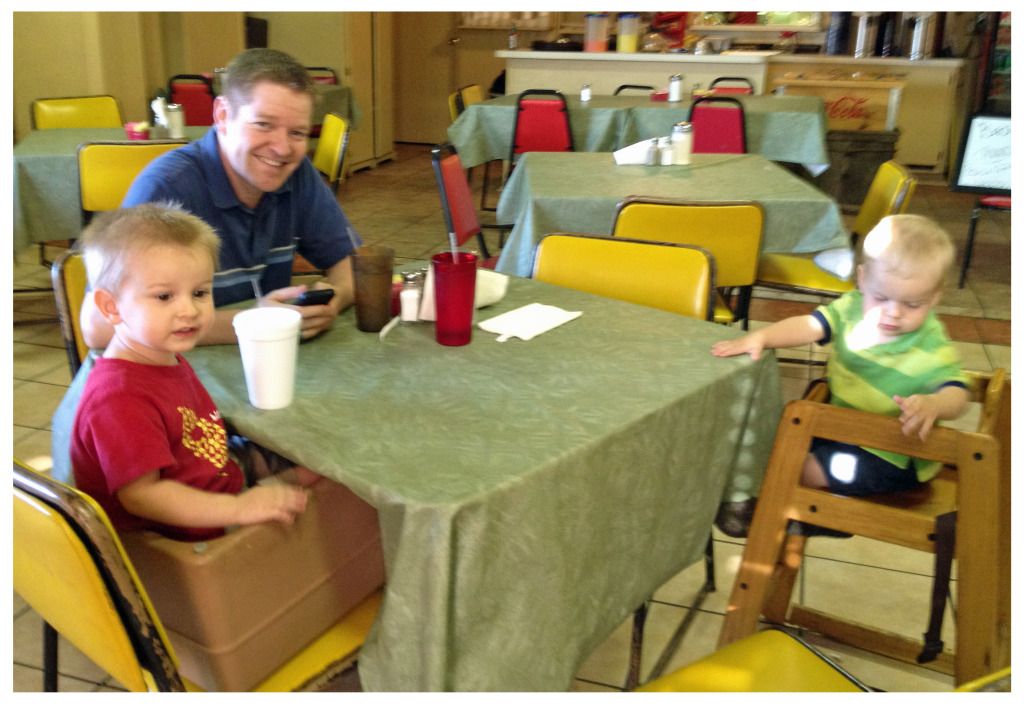 After dinner, we took the boys to play at the park. The only park in Alice.
They switched us into a hotel room that was handicap accessible and it was amazing. We put
both
boys in the bathroom so we were able to have the lights on in the room! It helped Edison sleep for eight hours straight, which is good for him. Sam worked out in the hotel's gym while I read. Then Sam went swimming and came back to watch a Jazz game. Vacation is kind of fun!