We left New Orleans early Wednesday morning and started the 10 hour drive to Orlando. I am pretty sure I exponentially increased my chances of dying from second hand smoke. So thanks for that, New Orleans.
We got to drive on the huge bridge across Lake Pontchartrain. It is so long, that you kind of forget you are even on a bridge. We went through Mississippi, Alabama, and Georgia (but I didn't get a picture of a Georgia sign). Sam was reheating his leftover crawfish beignet on the dashboard. Nasty.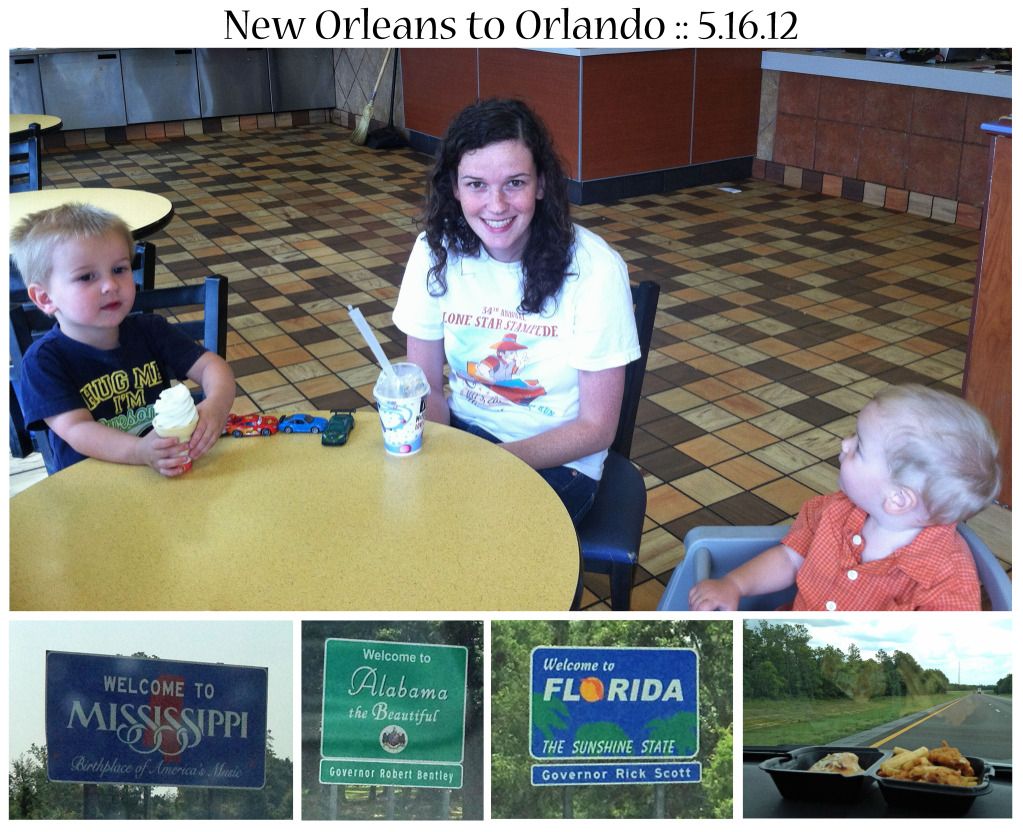 Edison fell asleep immediately and Alex kept asking if he could go on a cable car. The day before we had told him we would but then he fell asleep. He kept reminding us that we said he could ride on one.
We ate lunch while driving and then stopped for gas, diaper changes, and ice cream. We stopped for dinner at a gas station. Then when we were about 13 miles from our hotel, in the pouring rain, we got in a small accident. It is really hard to see the dent on our car but it is there. I was seriously so bummed about this. This delayed our arrival as well and the boys were already fed up with the car. Then we had to carry everything into the hotel. In the rain.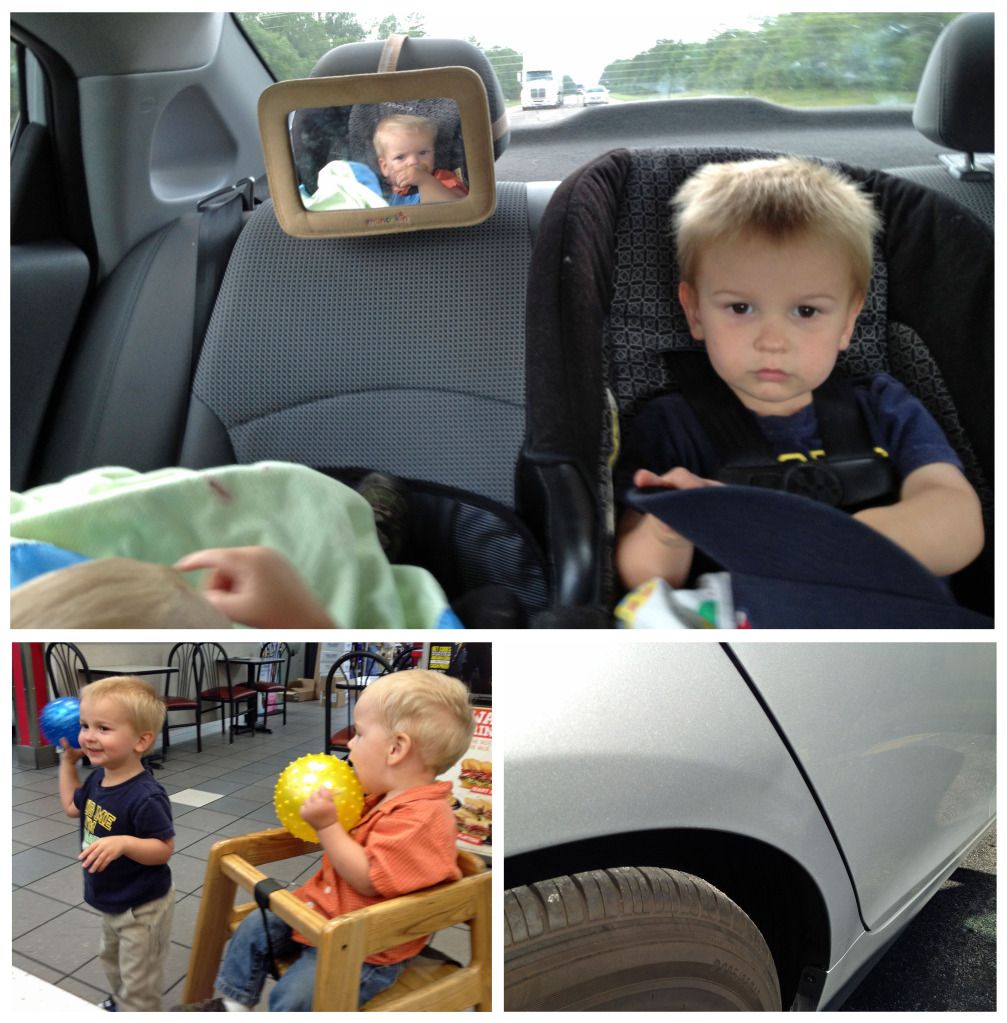 The weather forecast said it was going to rain all day but we decided to go to Disney World anyway. There was not a drop of rain the whole day, so my grubby t-shirt was kind of unnecessary. We took the boys to Magic Kingdom because I thought it would be the most interesting to them.
It was so sunny and the place was busier than we expected! It was 86 degrees, 60% humidity. The longest we waited in line was about 20 minutes. We would get Fast Passes and then each of us would take Alex on the ride once. He loved the Buzz Lightyear ride and went on it five times.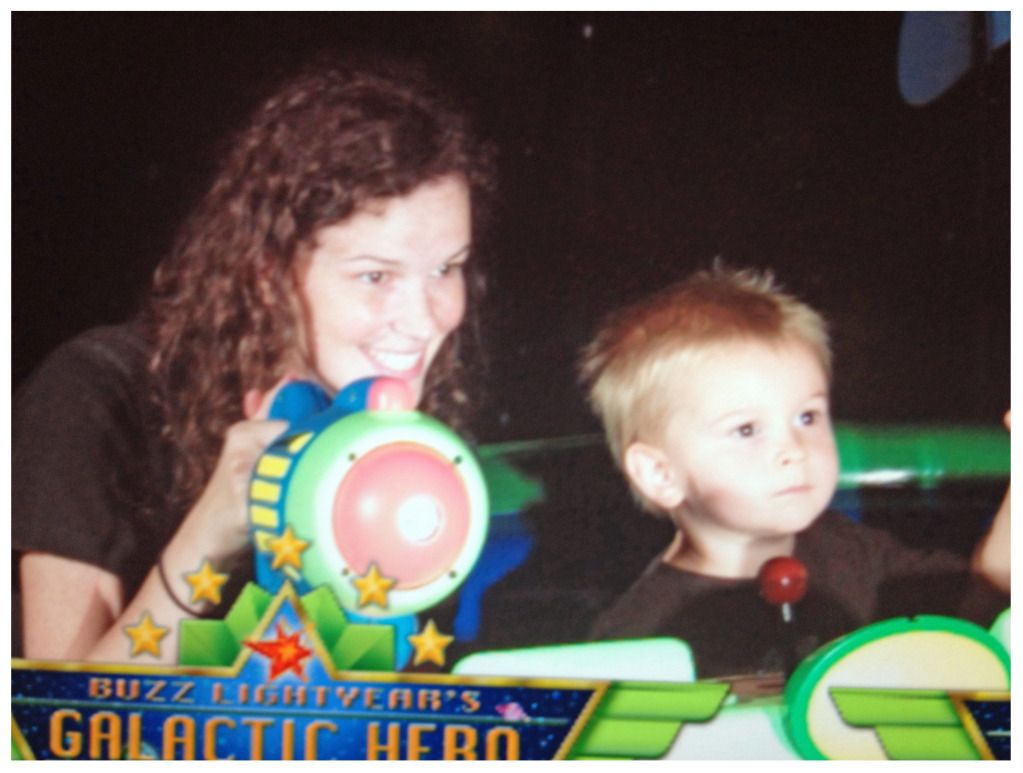 Alex loved driving the racecar. Actually, I drove it and it was a wild ride. I think Alex would have done a better job if he had been driving.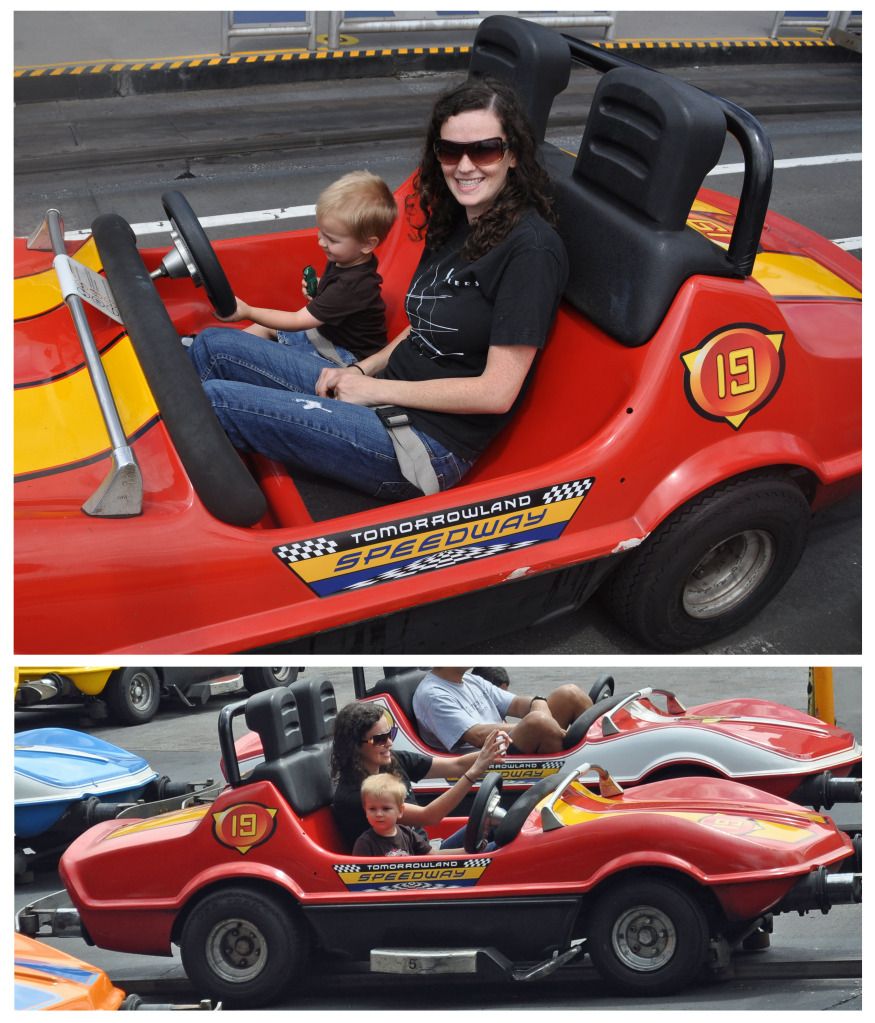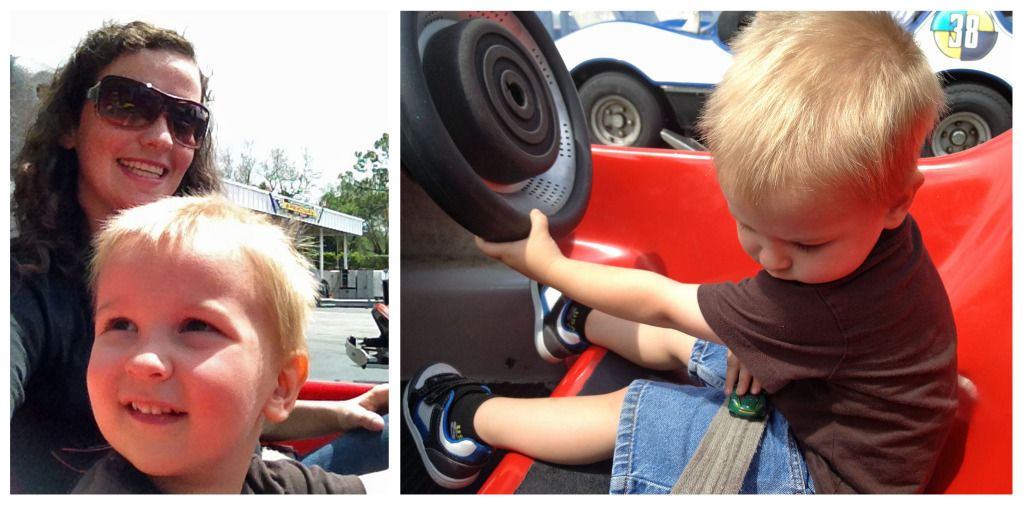 We went on the teacups ride even though Sam hates things like that. I was happy he didn't throw up on me, because he told me that he has thrown up on people before.
Alex also rode the Monorail three times. Sam and I took turns going on Space Mountain, which is my favorite ride. With a Fast Pass, it took me exactly 15 minutes from the time I stepped into the line until I walked out of the ride.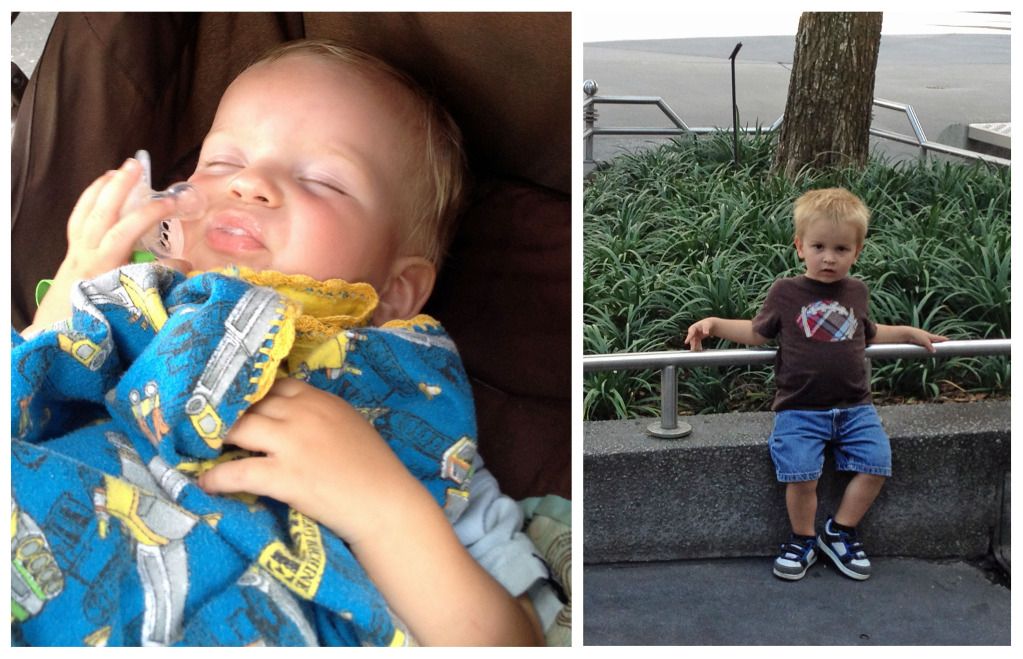 Edison just woke up when we took this picture. It makes me so happy. I love these boys.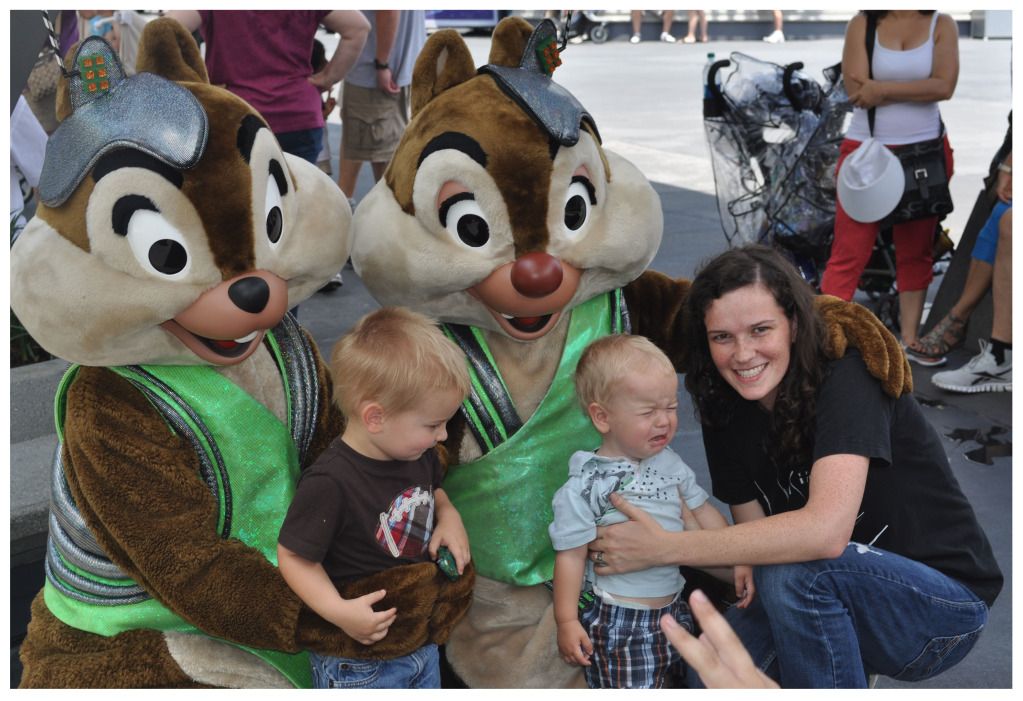 We got there at 10am and left at 9pm. Edison did a great job taking naps in the stroller but we weren't expecting Alex to take a nap! One minute he was watching a parade, and the next he was sound asleep.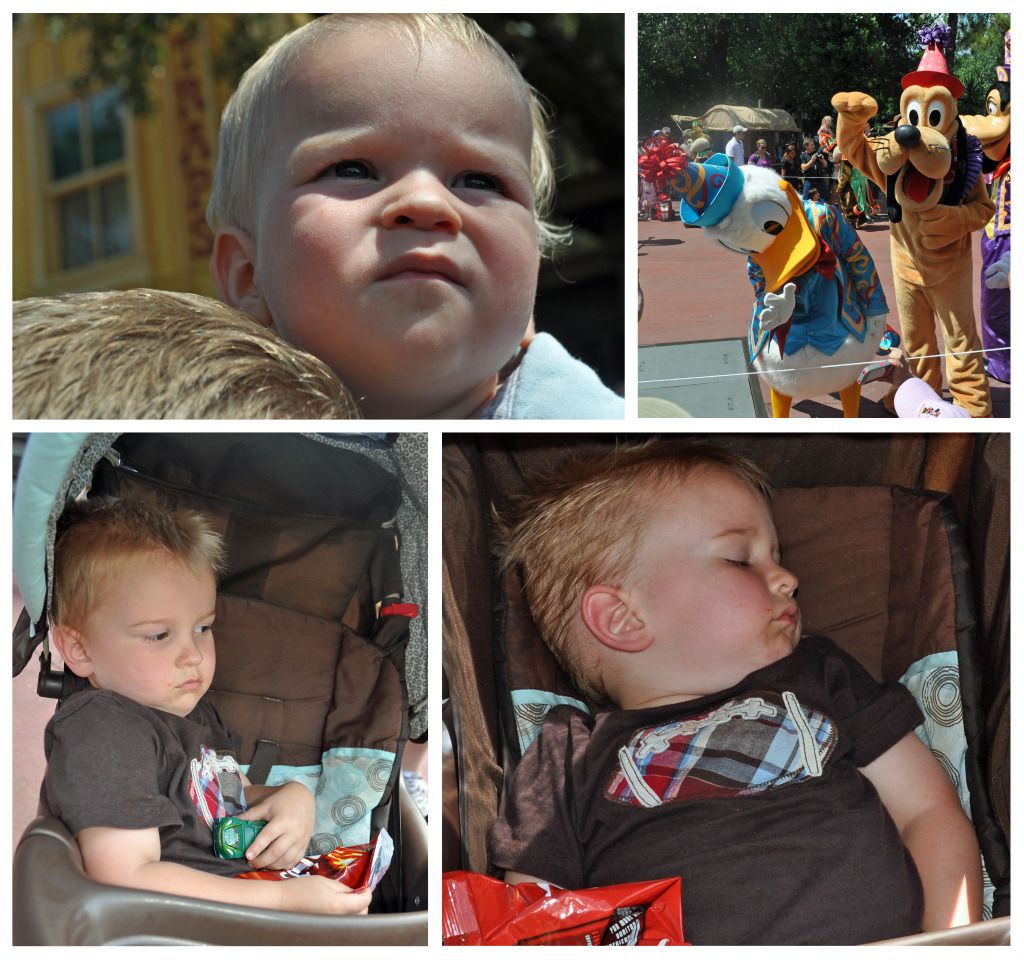 Poor Alex took a nap and missed out on the carousel and popsicles.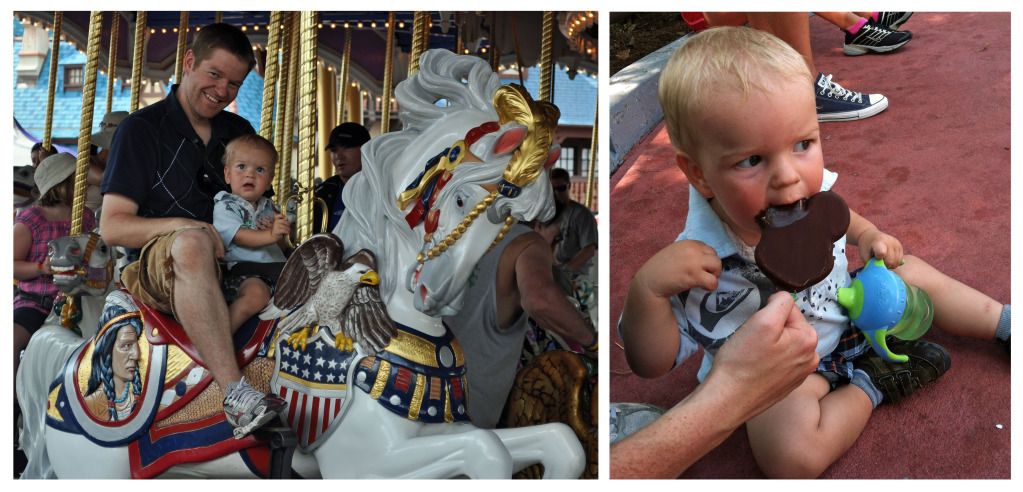 Edison tried to release the sword in the stone with his mouth. Yum.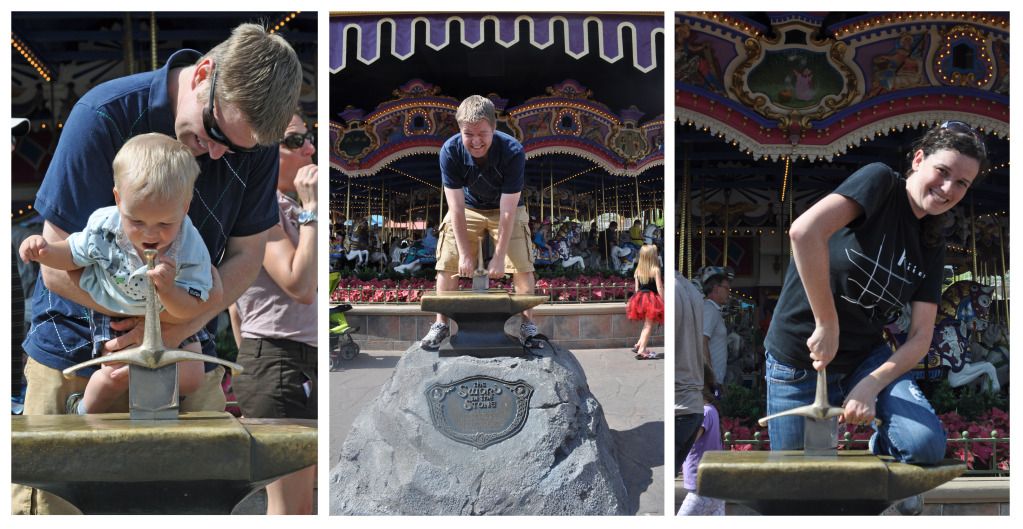 I have so many pictures of Alex and Edison reaching into the water at different places we've been. It is safe to conclude that they really love water.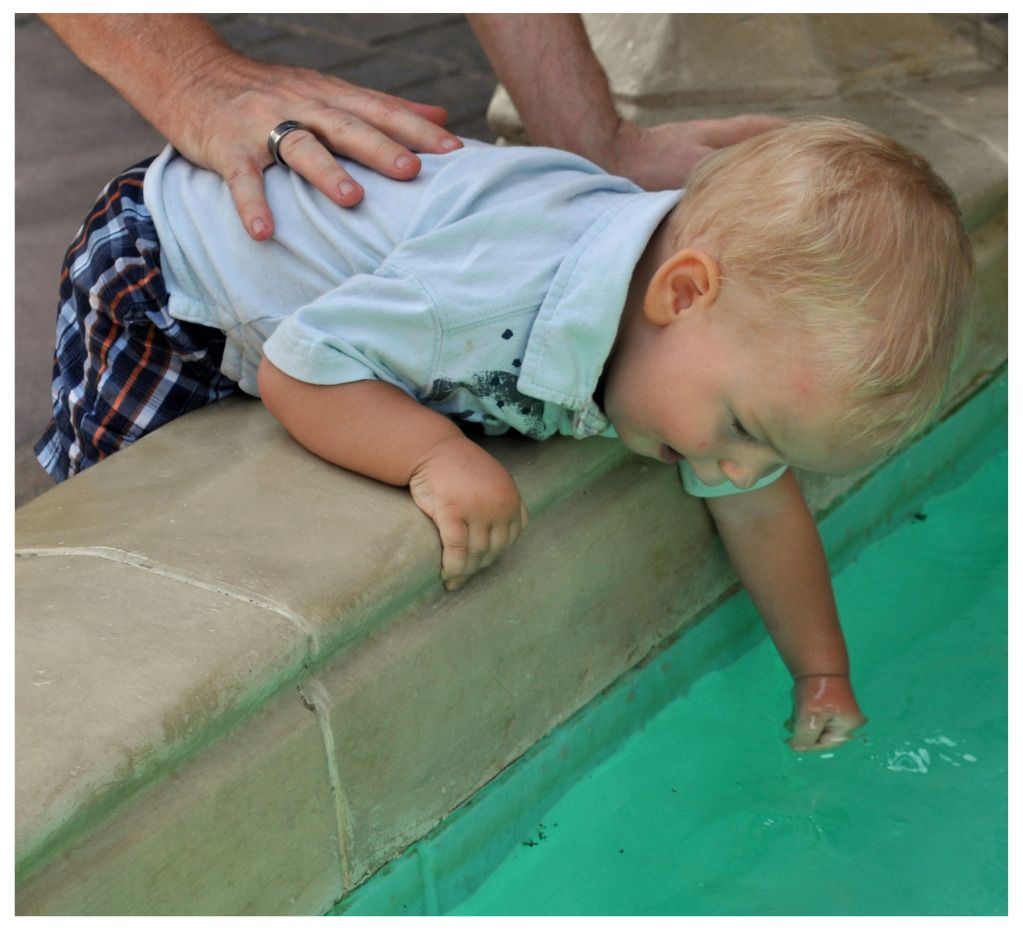 Alex was asking to go to the treehouse (Swiss Family Robinson) all day. He could see it while we were watching a parade and he really wanted to go over to it. After his nap, we made our way there for him.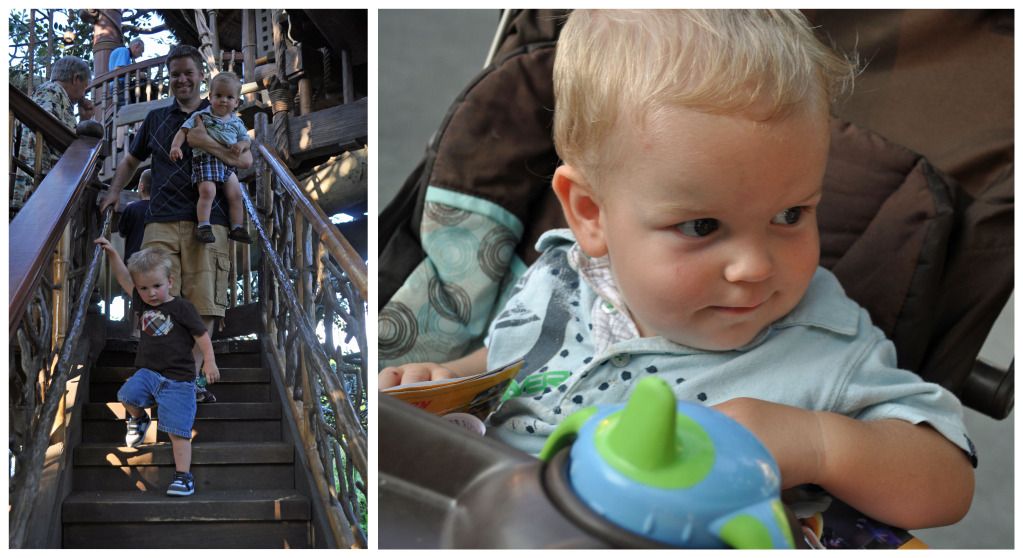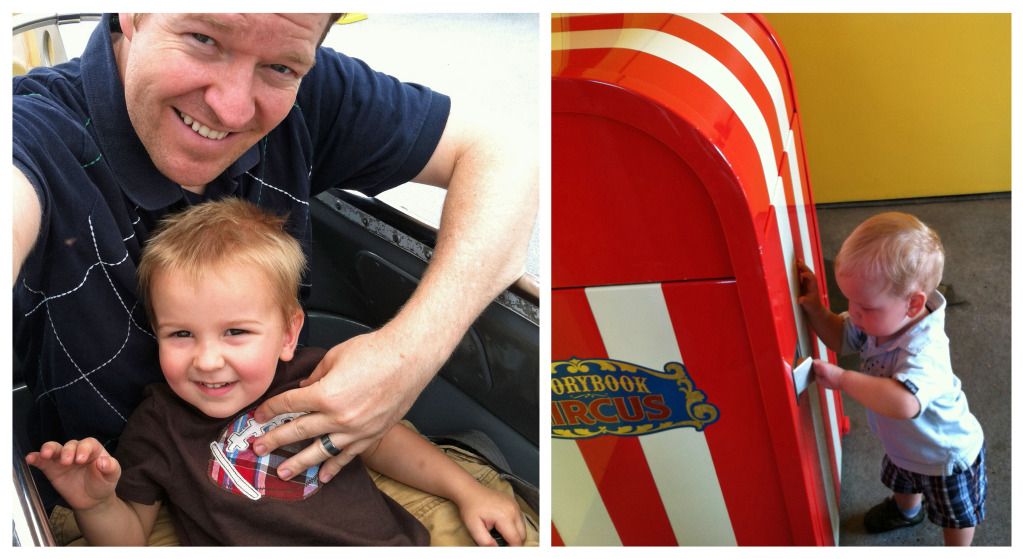 We brought our stroller in with us and I swear I nearly had a heart attack every time we got off a ride. The workers moved the stroller every single time. I understand they were trying to park them better, but it was obnoxious.
On our way out, we let Alex pick out a toy to remember "Diz-SeaWorld." He picked out Mack from
Cars
. Of course. He kept telling me to take pictures of him with Mack. It was pretty cute. He still says, "Remember when we got Mack at Diz-SeaWorld?"

Although we went through a brief period of having the angry, screaming kid at Disney World, it was worth it. The boys loved it and Sam and I enjoyed having that experience together as well.