We had never been on a Duck Tour before and thought going on one in Miami might be cool. We headed to SoBe very early to find parking because we heard it was nightmarish. 'Tis true. We found a place to park and managed to get to the boat in plenty of time. The Duck Tour wasn't as interesting to us as a historical city would have been because we aren't really into celebrity gossip. But it was still fun to see a lot of the city and have a tour guide point out things to us. There was a family on the tour that had a lady with them who looked like a nanny. I asked, and I was totally right. The family was really rich and the husband and wife were just wandering around while the Puerto Rican nanny (I asked, I am not just guessing) was chasing the kids. Bringing a nanny on vacation seems so strange to me.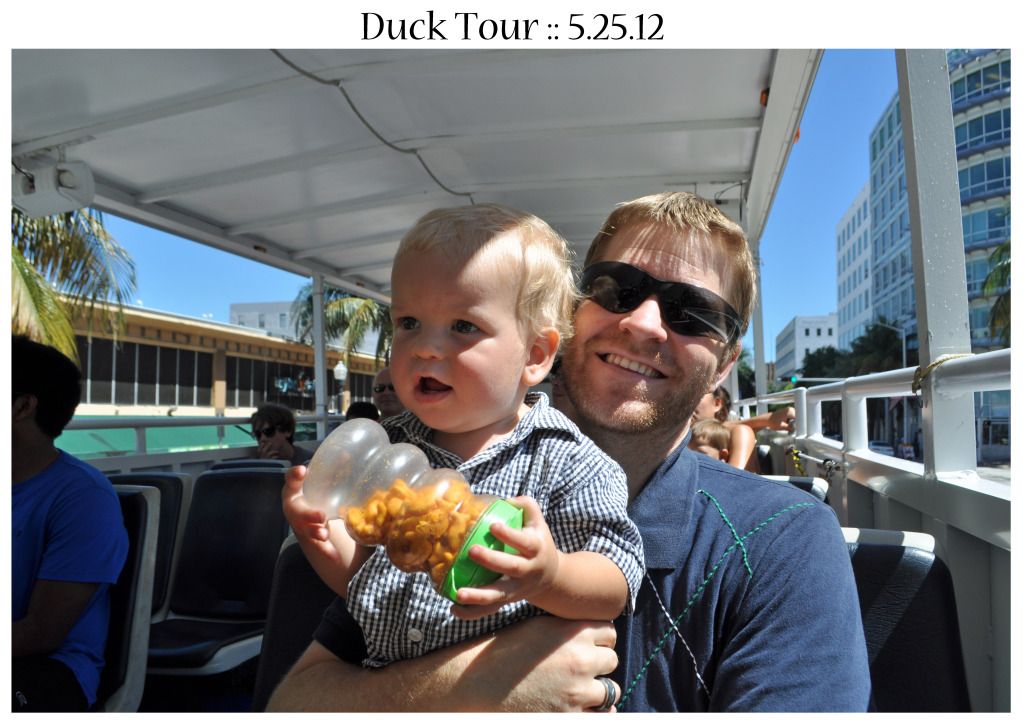 The tour guide asked which famous writer committed suicide in one of the houses and I guessed Hemingway. I was right so we got this fun quacker.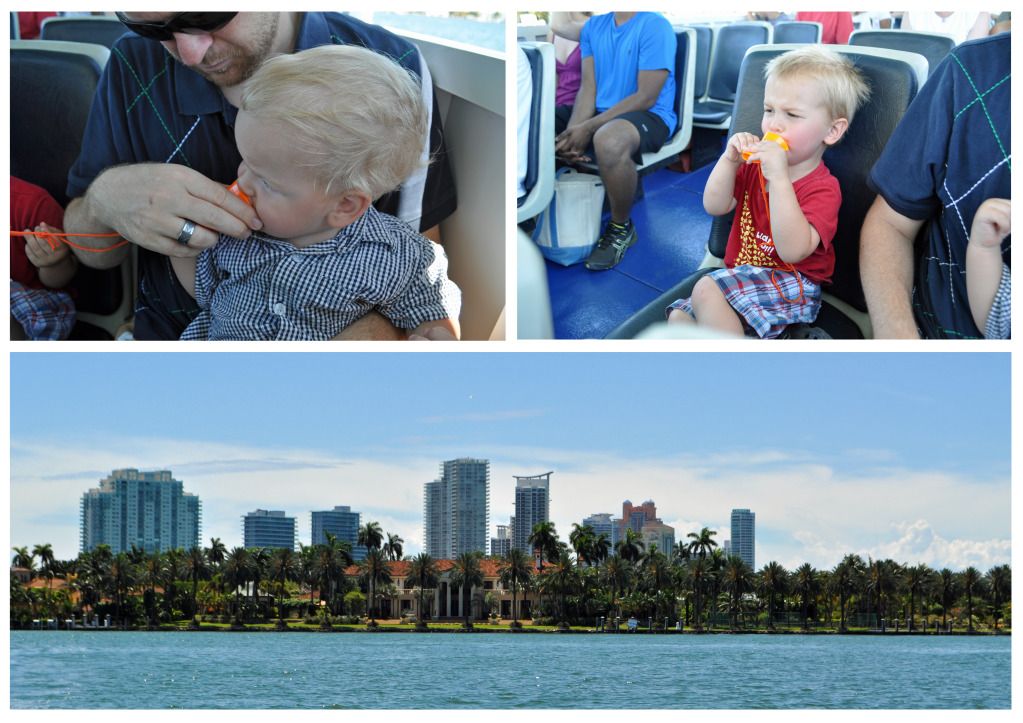 We saw a lot of really expensive homes and heard a lot of drama about some people we have heard of and a lot of people we haven't.
While reading reviews about beaches and other destinations in Miami, many people would say things like, "It has great people watching." I was so confused as to why this was worth mentioning. It turns out, that in Miami they drink, embezzle, and people watch. The last half hour of the tour involved the tour guide using the microphone and yelling at people walking along the street. She would ask them to show her what they bought or ask them to dance to the music she was blasting. Then she would dance. It was so odd, but I think it was the truest Miamian thing we did the whole time. Just a whole bunch of nutjobs.

Alex thinks all palm trees are giant pineapples. I think that is ridiculously adorable so I never going to correct him.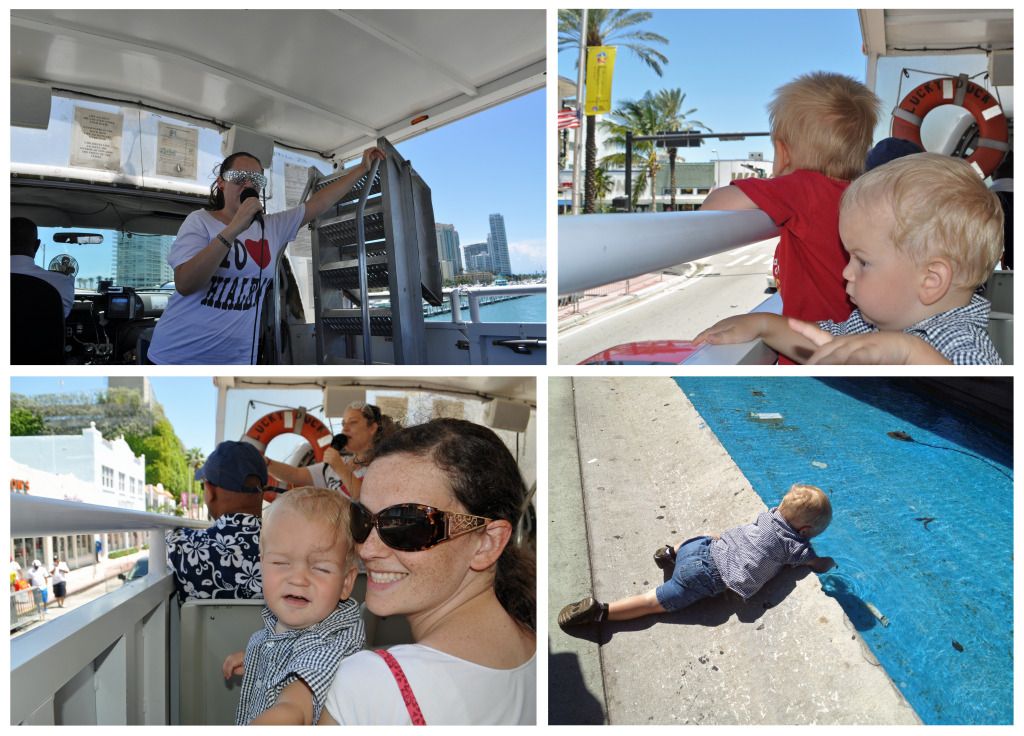 We went to Jamaica Kitchen for lunch. It is in a strip mall. It is part restaurant with a few tables and chairs and part grocery store. A lot like Central Grocery in New Orleans. We got the food to go and went back to the hotel so Alex could sleep. Edison had slept in the car and didn't want a nap. The food was pretty strange but good. Sam had curry oxtail which I did not try but he said was delicious. I had jerk chicken. We also tried Jamaican cream soda and Jamaican ginger beer. In Hong Kong, Sam was frequently served Chrysanthemum tea. I have been looking for it in every store since I met him but have never been able to find it. Jamaica Kitchen is owned by a Chinese couple and they had the tea there! Sam says it tastes exactly the same as he remembers.

When Alex woke up, Sam took the boys swimming while I sat on the deck. It was cold! Sam found two giant water bugs in the pool. We didn't know what they were so I started reading about them on my phone while Sam dodged attacks and Alex and Edison laughed hysterically. We learned that they are ambush bugs with the most painful bites in the insect world. We killed them after learning that. Edison was scraping his belly from repeatedly lowering himself into the pool.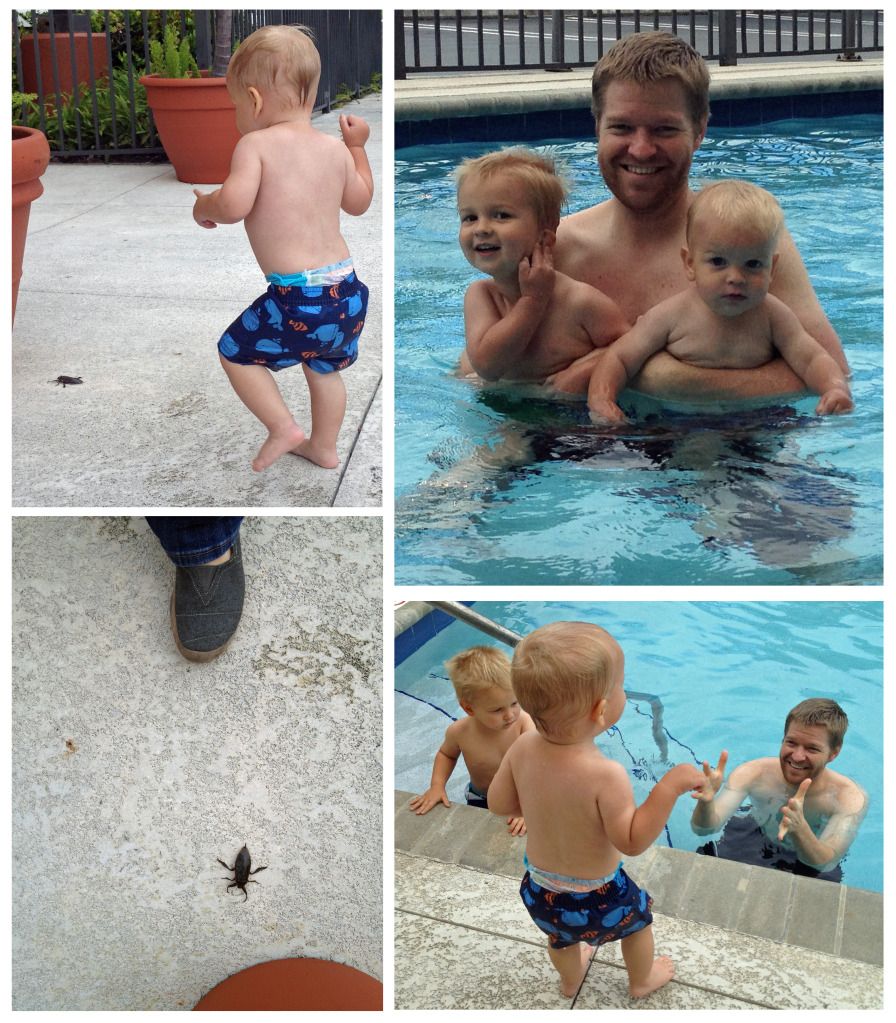 We got the boys dressed and then went to Kamiko for sushi. I think this was my first time ever to a sushi restaurant. I hate seafood, but I was trying new things on this vacation. We tried so many different types of food and a lot of it was out of my comfort zone. I usually stick to basic things. Sam can order for me because I always get the same things. But the food was a part of the experience on the vacation. We spent about three hours a day eating and I think food is a great way to learn about a culture.

I don't understand why waiters don't treat the boys like people. When we sat down, they took away the extra two plates on the table. Then they only brought water for Sam and me. It was so strange. Sam got some fancy sushi and I got a ginger salad and California roll. I used chopsticks for the whole meal which is also a first for me. How am I married to a man who thinks he's Chinese and I have never done that? No idea. I had an #1 Mom moment when I dipped my chopstick in wasabi and then stuck it in Edison's mouth. He is so trusting; I just had to. I think he still hates me. We also got pork gyozas which the boys started out doing really well eating but then failed. Alex was asking for dinner just a few minutes after we left.
We drove to the game and parked pretty far away because we were spending all of our money on food and not parking. Along the walk, we were getting approached by scalpers. I had never bought tickets from scalpers before. We had decided not to buy tickets online because the convenience fee was so much but I noticed that the cheapest tickets were $13. The first scalper who approached us was charging more but when we told him we only had $8 cash he said he would sell them for $10/each and there was an ATM right there. We decided not to get them and we kept walking. Once we were in line at the box office, another scalper came up to us and showed us some tickets. He said he would walk us in. I felt a lot better about that so Sam went to the ATM. We got the tickets for $30 total and they were a lot better than the $13 nosebleed tickets.
The park was a monstrosity. We usually sit so high up that I can't see that game. It was so much easier to pay attention when I could actually see. The home run feature is hideous. Edison could not look away. Sam is not too interested in any of the Marlins players but we went to a game that Lincecum was pitching for the Giants because Sam has a crush on him.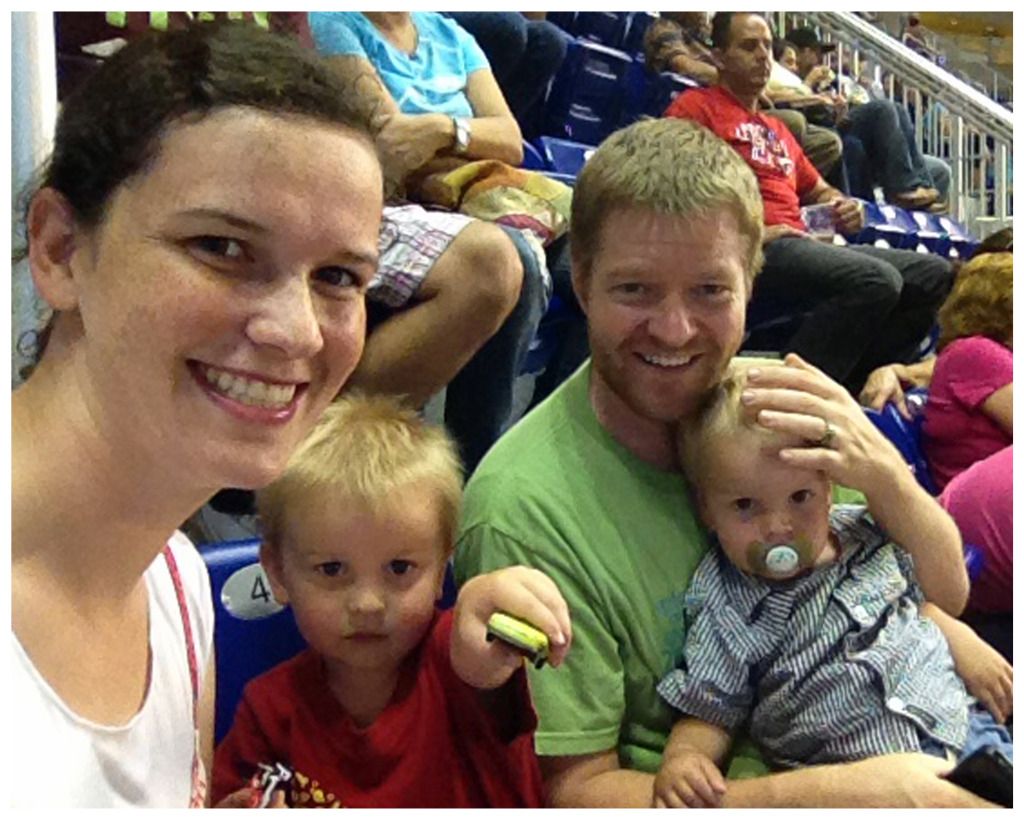 The Marlins barely pulled out the win. It is so crazy that Matthew could pitch there one day!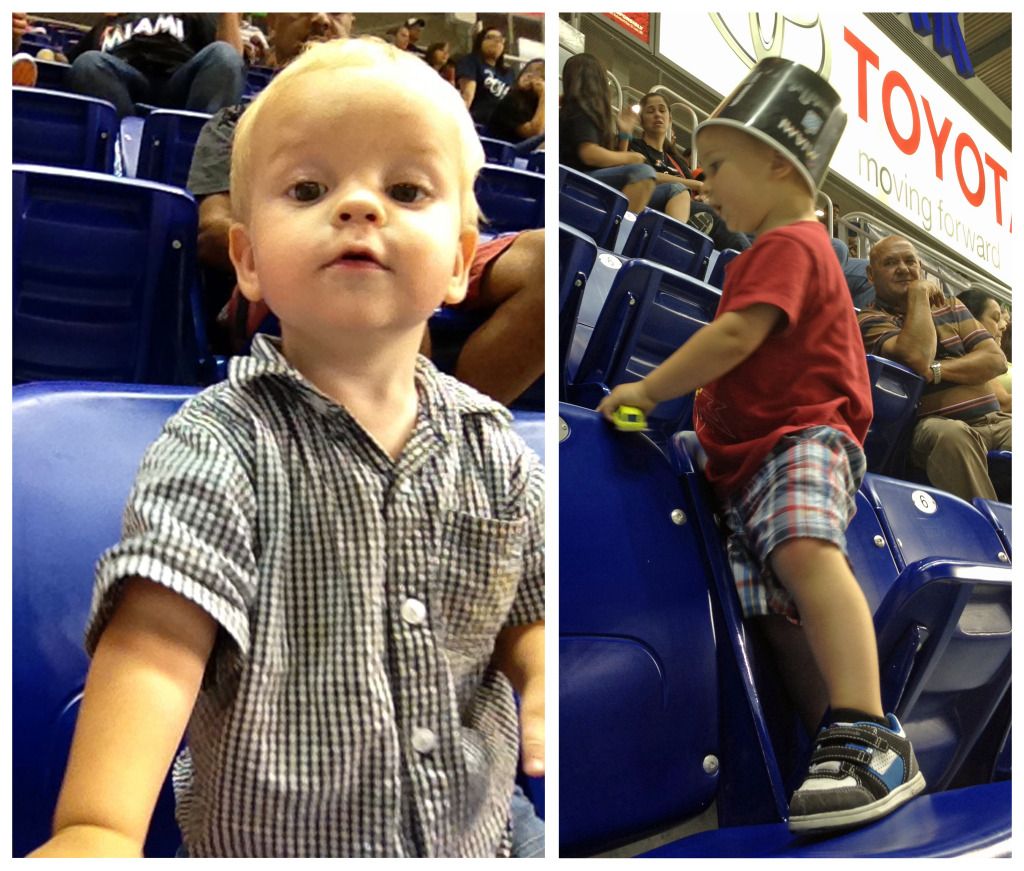 We walked all the way back to the car and put the boys in their jammies, then drove back to the hotel. Once we got there, I decided I wanted ice cream. Sam went out and drove all over the place for me. He ended up finding a McDonald's inside a Wal-Mart. It was almost midnight. He is such a good man.