Staying in a hotel really messed up Edison's sleep patterns. He was awake 2:00-4:30am and thought it was party time. So of course Sam and I were both awake with him. We had a little bit of a slow start that morning.
We went to ride the Canal Street Ferry to Algiers Point. It is a short ride across the Mississippi River. The boys were adorable while we were waiting for the ferry. Everyone in line was laughing at them and thought they were pretty darn cute. Both boys were running up and down the pathway and Alex was telling everyone that he likes racecars.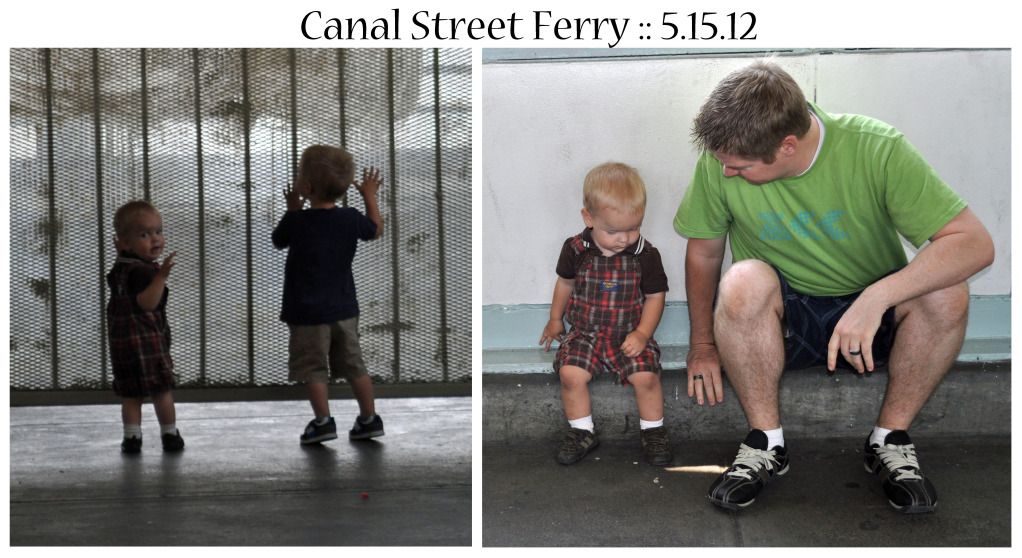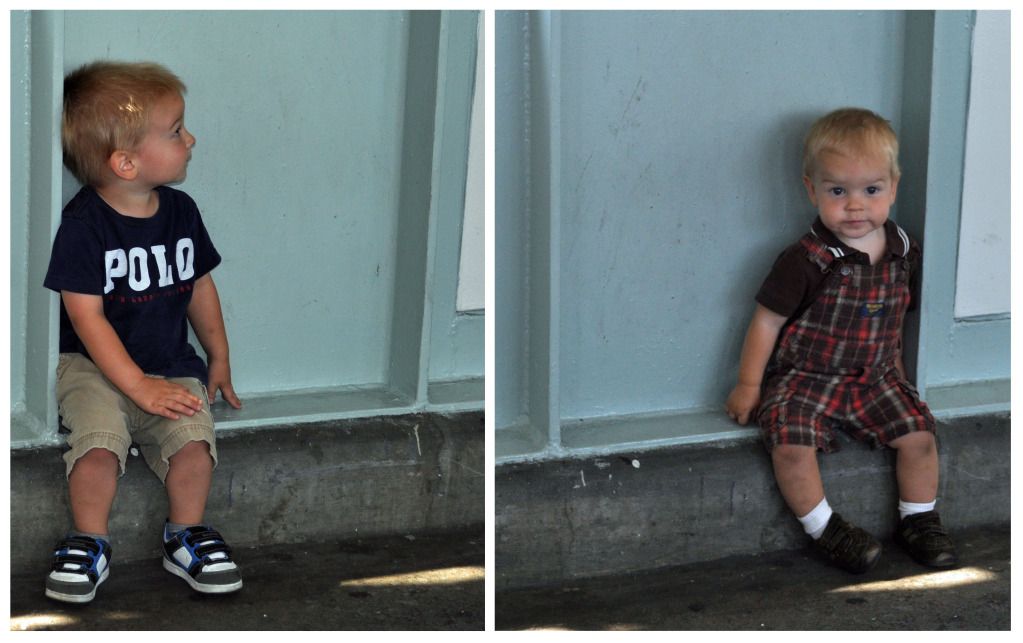 Edison found the only chair on the ferry that had a puddle on it and then he splashed in it.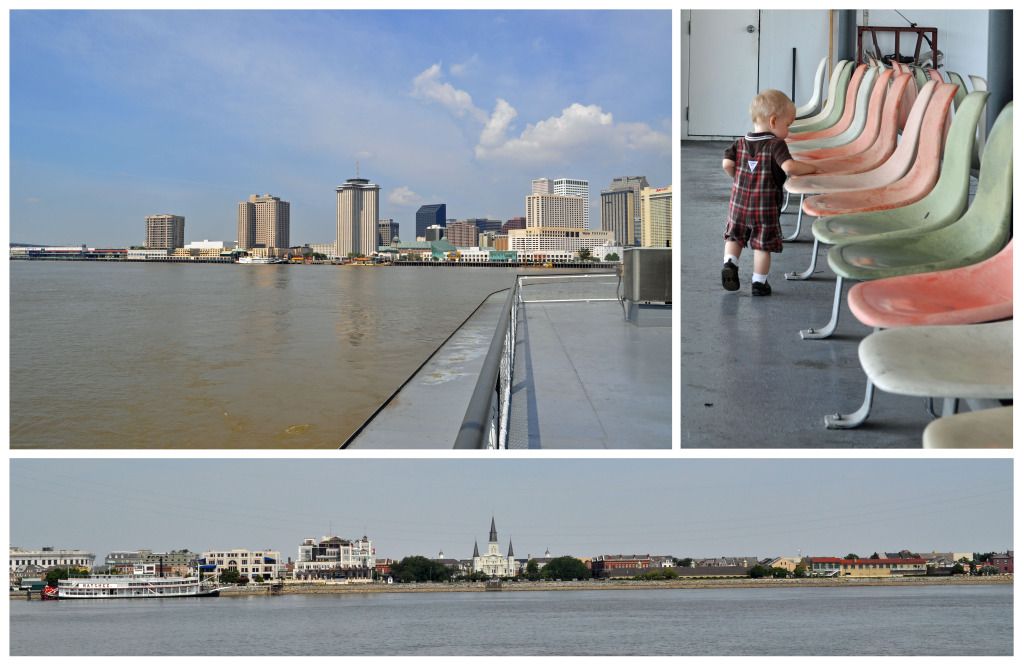 We spent the next few hours at the Aquarium.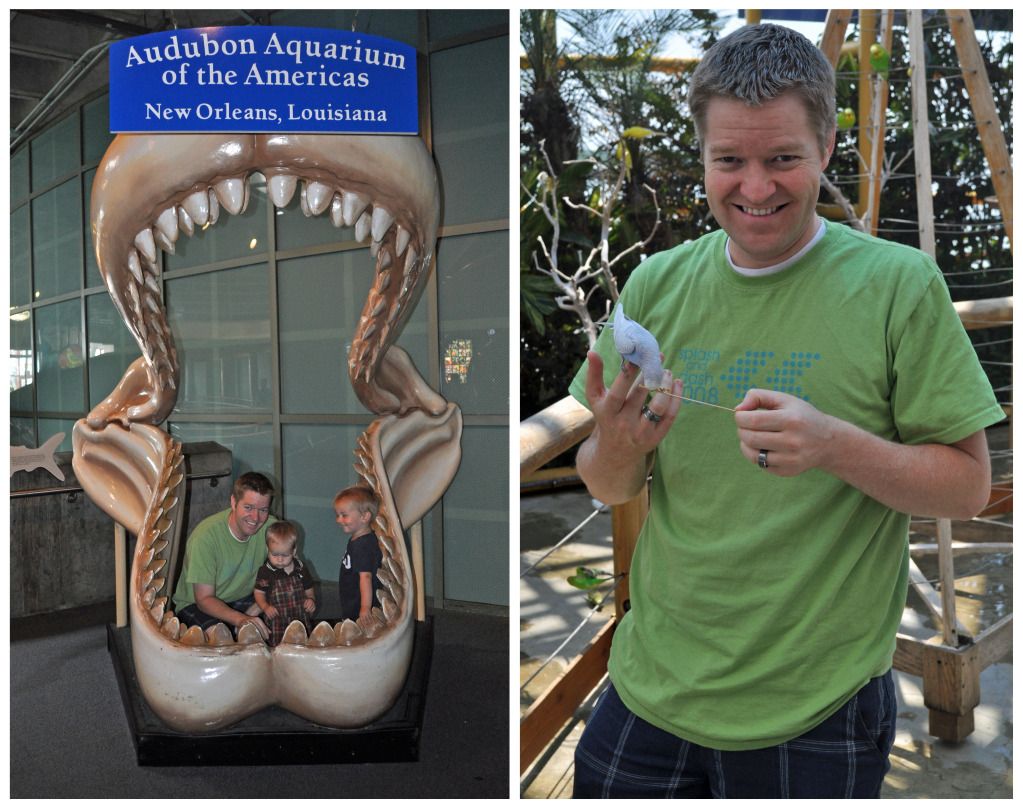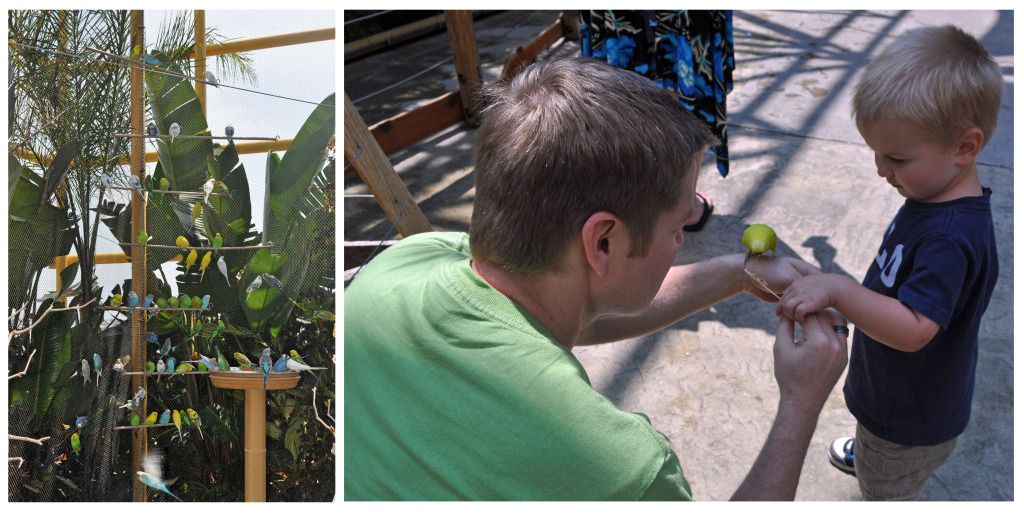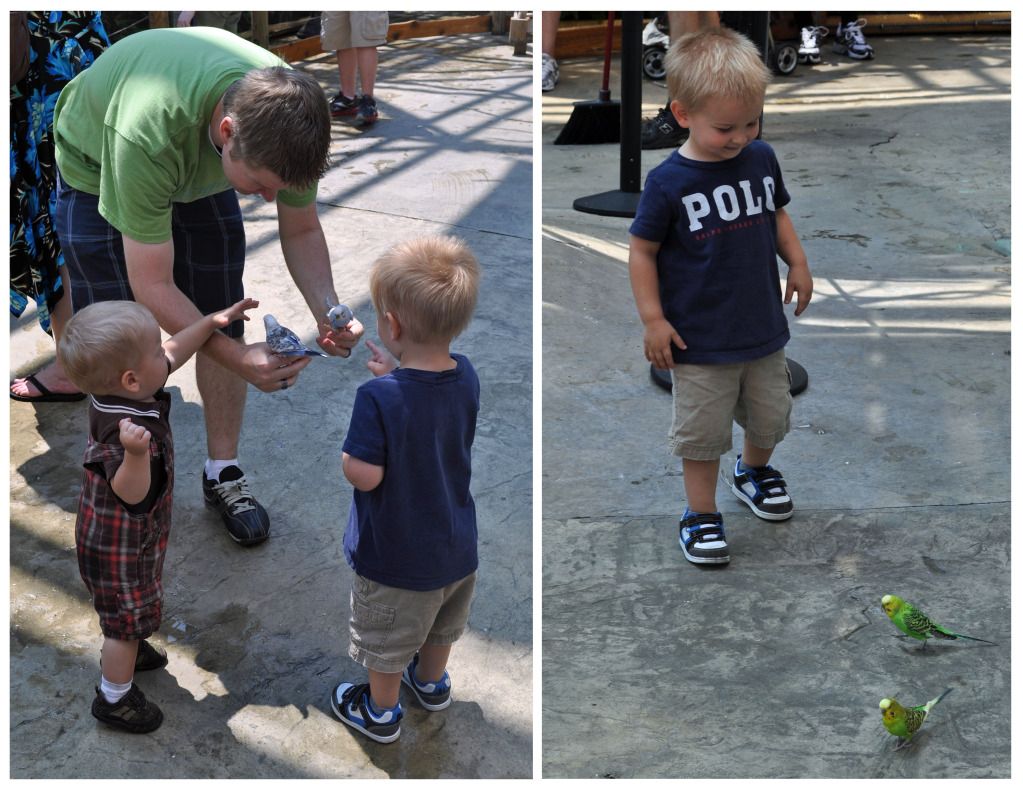 We left the Aquarium to go to the French Market for lunch. Central Grocery is just what it sounds like. It is a small store. We got a half muffuletta (moo-foo-lett-a) then Sam and I shared it. It was pretty good despite my mild disdain of green olives. We made a peanut butter sandwich for Alex and Edison.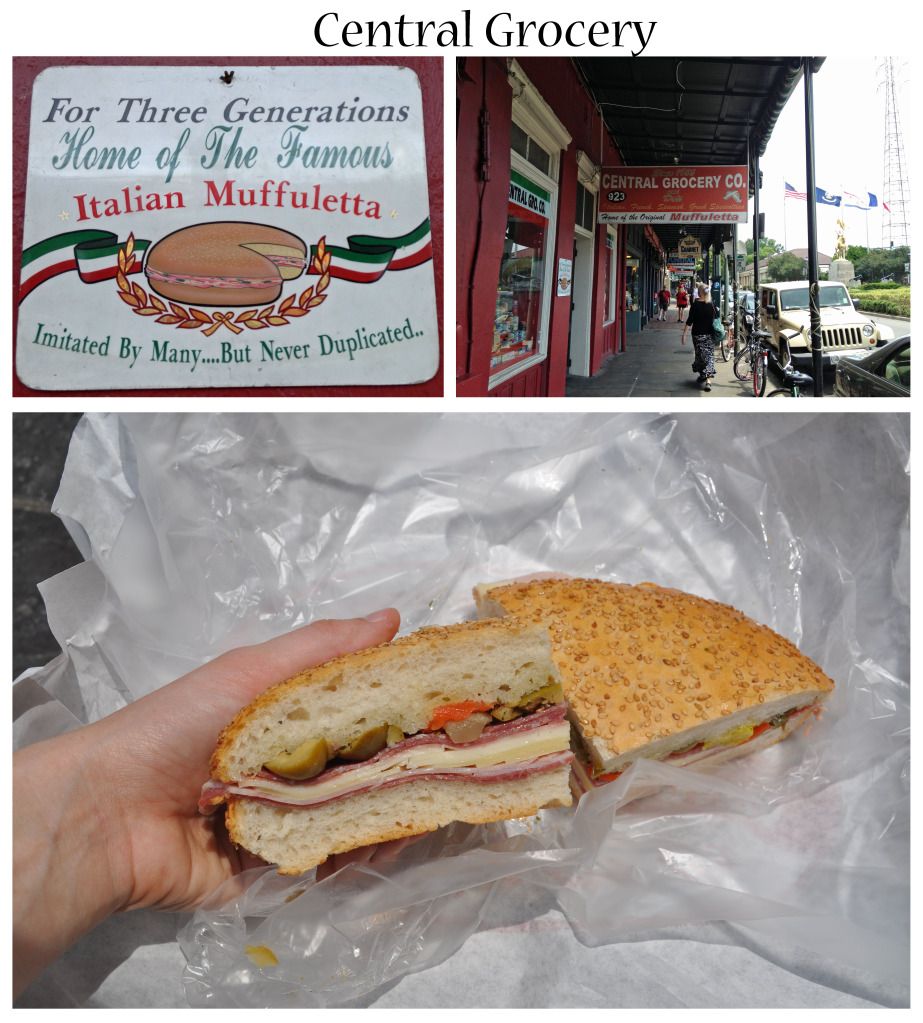 We went to Cafe Du Monde and got fresh squeezed orange juice to go with our muffeletta. We also got more beignets.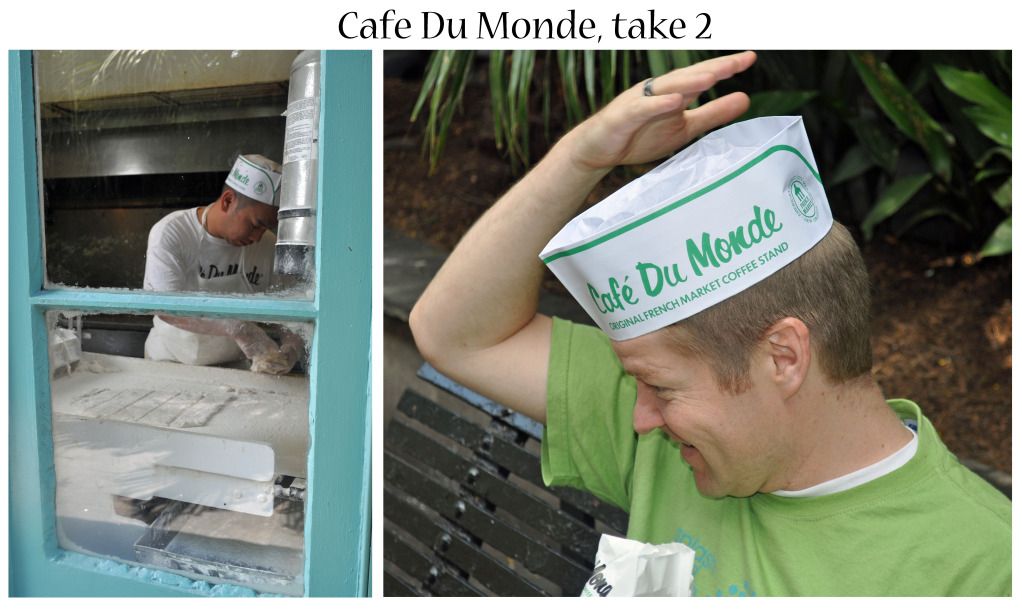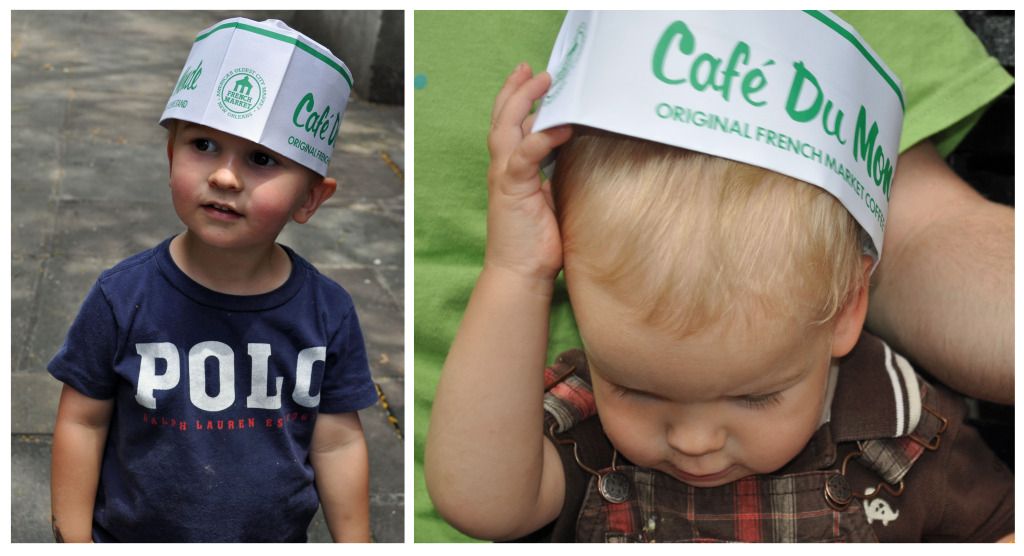 Alex was chasing the pigeons but they are so used to people that they weren't running away but were actually chasing him a little. It was hysterical.
We saw a lot of homeless people. We saw one person holding a sign that said, "Private jet need fuel." We appreciate homeless people humor. They were so nice. They were joking with the boys and one sarcastically said, "Tell that one (Edison) to stop acting like a baby!"
We walked back to the Aquarium where Sam spotted Shannen Doherty and her (third) husband. Shannen is known in Hollywood for not being very friendly so we didn't try to approach her. I didn't even take a picture because I didn't want her to break my camera. And all of that stuff about respecting privacy, blah, blah.
Alex talked about the giant catfish for weeks. Every time we talked about New Orleans he would remind us of the giant catfish again.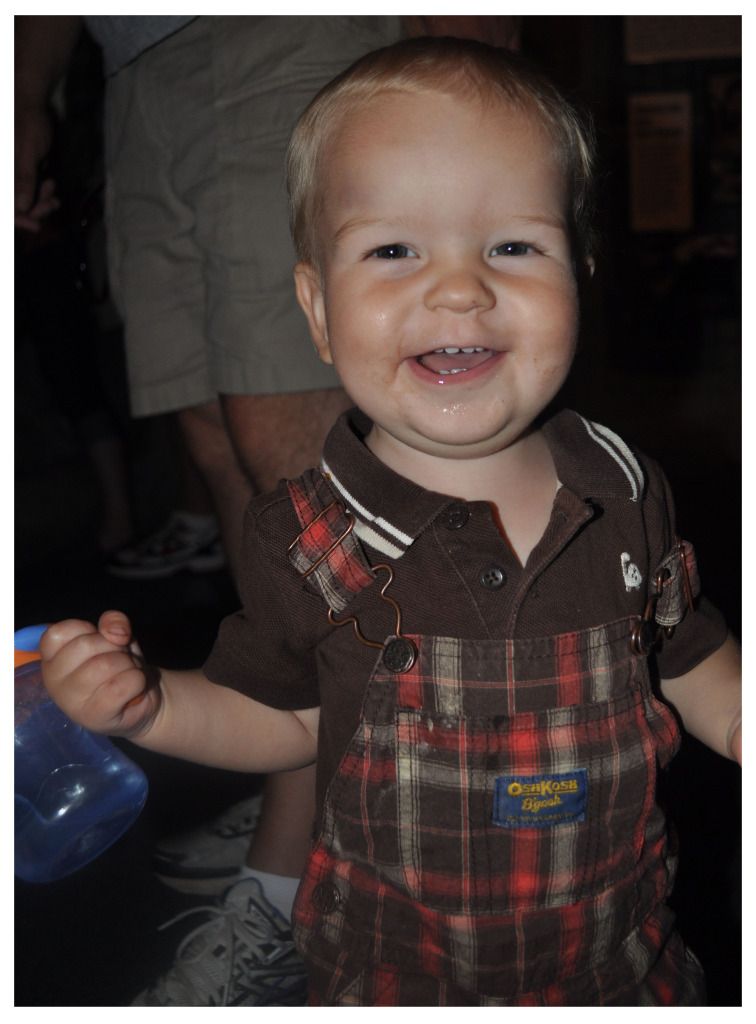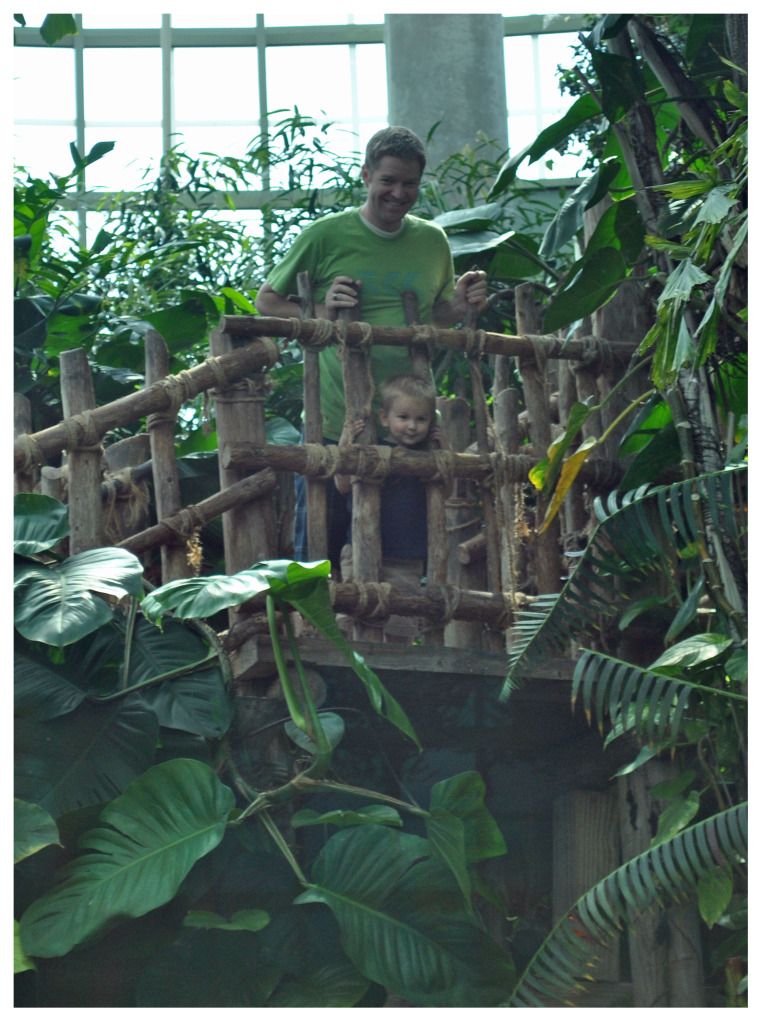 I really like this picture because you can see Sam and me in the reflection.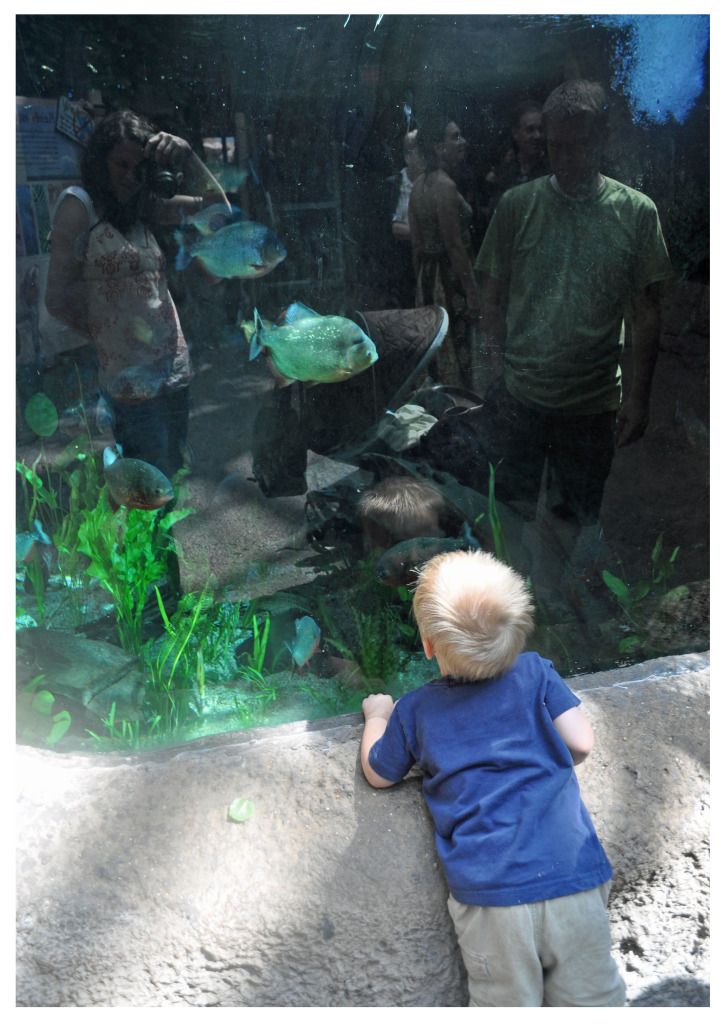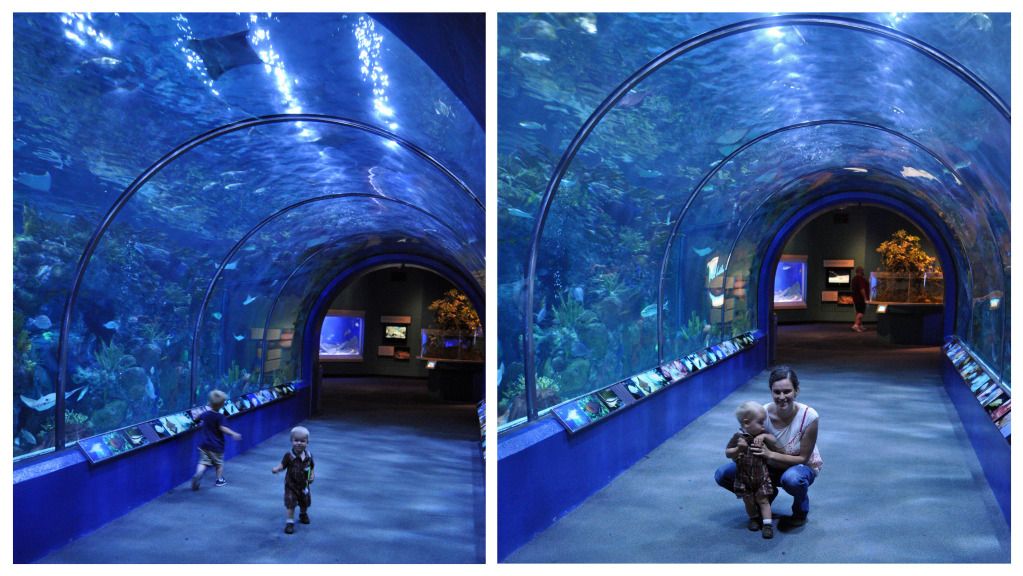 We left the Aquarium just before it closed and we went to try to find a place to ride a street car along St. Charles Avenue but Alex had skipped his nap and he fell asleep in the car so we scratched that plan and went to Katie's Restaurant for dinner with the senior citizens. We were getting really good at eating an early dinner.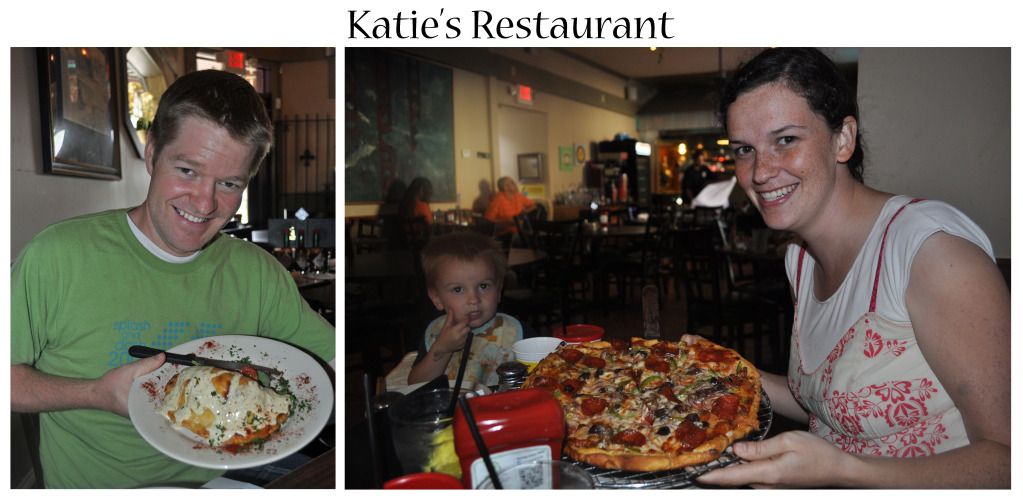 The line above my head marks how high the water was from Hurricane Katrina. It was the nicest place we had eaten at in New Orleans. The people were so nice, too.
After dinner, we went to Audubon Park again and walked around for almost two miles and let the boys play on the playground. Sam had to prove he can do pullups.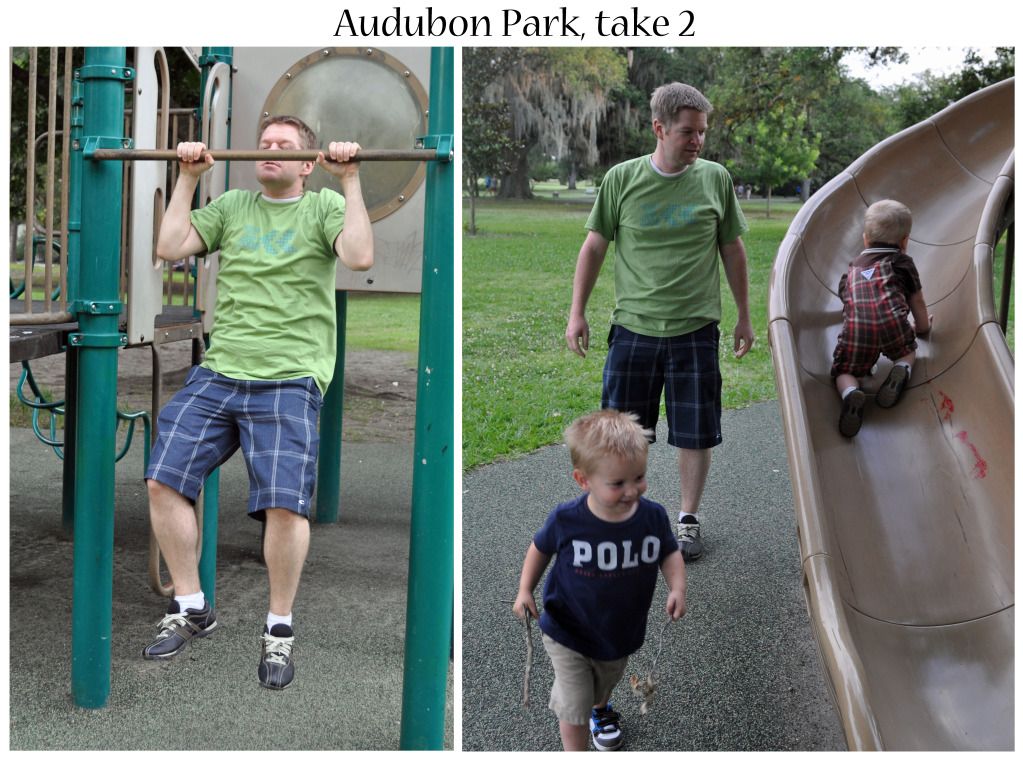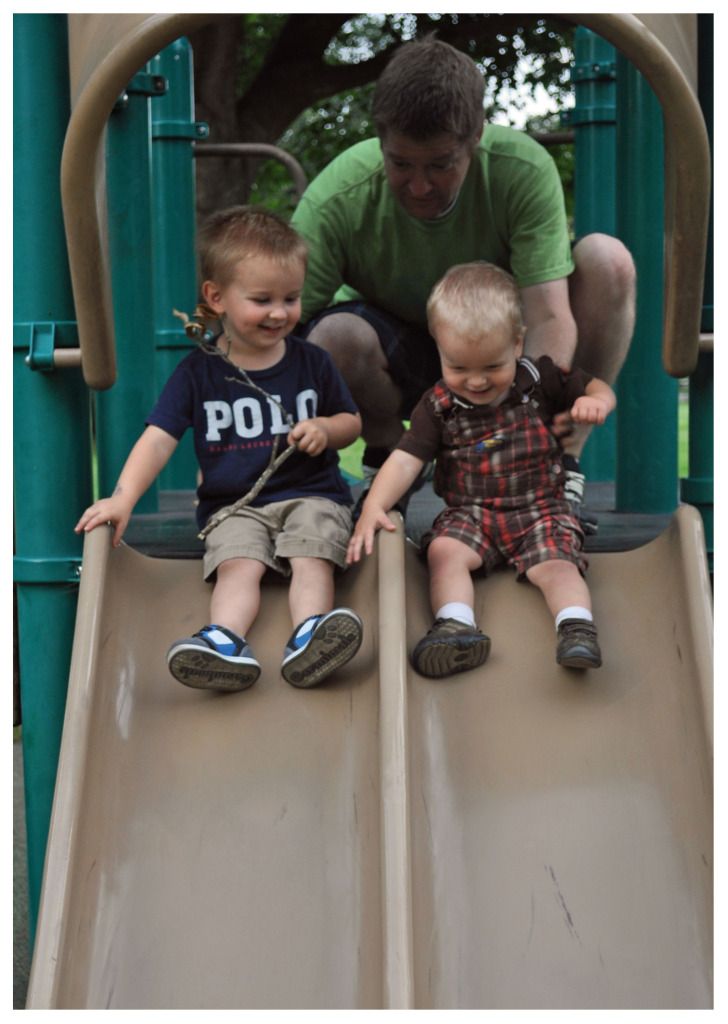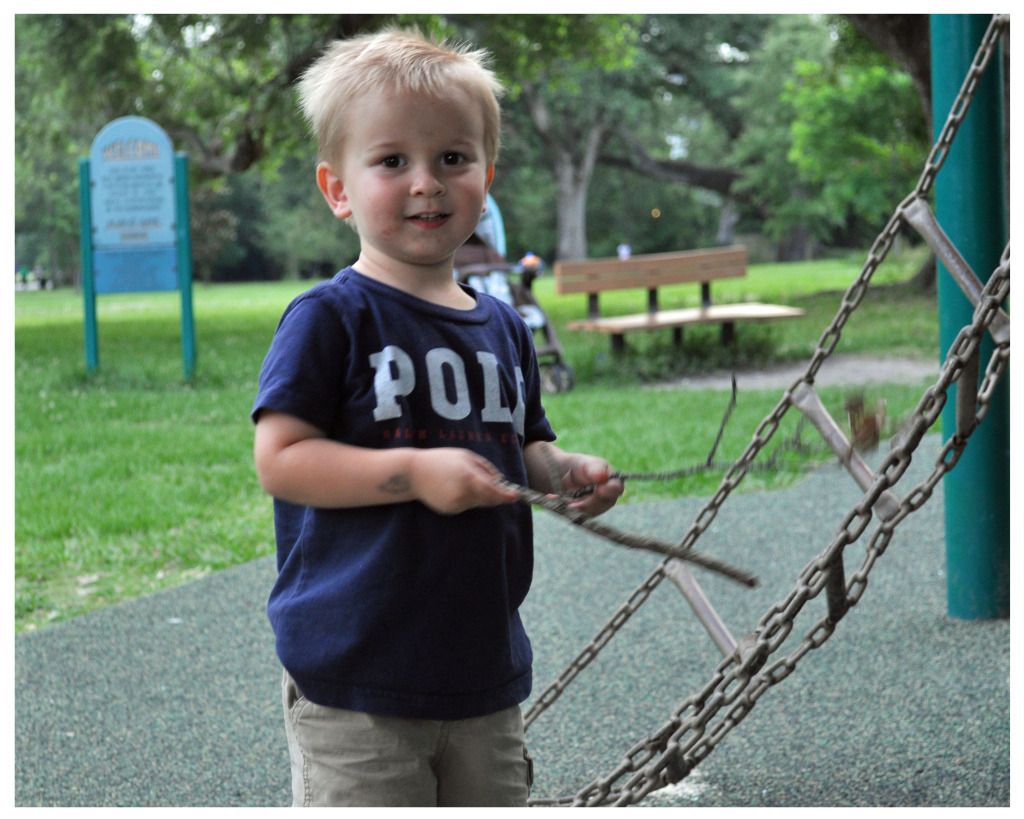 Every time we would exit the freeway to go back to our motel, Alex would go crazy about the train yard. He loved seeing so many trains in one place!
We decided to put Edison to bed in the bathroom that night instead of Alex and both boys slept so well. I wish we had thought of that sooner. It made a big difference.