In a moment of poor judgment, I signed up Sam and myself for a 10K and 5K, respectively. I had been slacking on my workouts and I was trying to encourage myself to workout more. Training didn't really go as I had planned. Of course, Sam was running six days a week and was ready for the race. I was running a few miles a week, but nothing substantial. I know most people can run three miles no big deal, but I can barely run 1/4 mile without being exhausted. I ran two miles without stopping the night before the race just to prove to myself that I had a chance.
The race started at 8am, so I picked up our babysitter at 7am and brought her back to our house. Then Sam and I headed downtown. We knew we were cutting it close, and then we missed our exit and then couldn't find a parking spot. We finally parked about half a mile away and ran to the starting line. We got there 30 seconds before the race started.
It was unbelievably hot. It was only 75 degrees, but it was 94% humidity. I was dripping.
My goal was to run the entire time. It was weird to feel my body trying to stop me. My brain was saying to go, but my legs were trying to stop. But I was able to push through, and I ran the entire time! I did get passed by two kids. I was just trying to get my money's worth by enjoying the run... Yeah, that's it.
The route was a loop, the 5Kers (me) did the loop once, and the 10Kers (Sam) did the loop twice. I started getting lapped by the 10Kers after I had gone 2.3 miles. The winner was running 5 minute miles.
I finished 30th in the female age 20-29 group. My time was 35:51. I was 177th overall in the 5K. I got some frozen yogurt and water and waited for Sam to finish.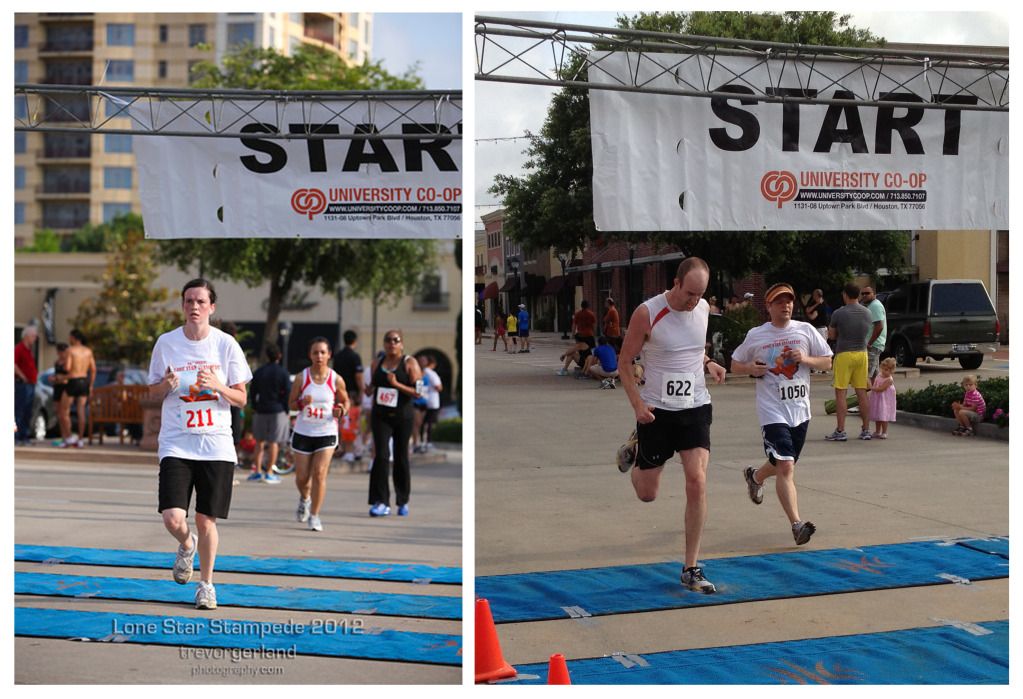 This guy was racing Sam and ended up passing him at the finish line. But when we looked at times, Sam's chip time was faster than his. Sam's goal was 45 minutes. He finished 17th in the male age 30-39 group. His time was 47:29.1. He was 51st overall in the 10K.