We left our house around 9:45am. We stopped for an hour for lunch. No matter what we did, meals could not be faster than an hour. While driving into town, I read to Sam some history of New Orleans and information about Hurricane Katrina.
We got to NOLA around 4:30pm. The place we were staying was a little scary. If a motel has to be gated, yikes. A lot of people told us not to wander away from downtown but the rooms downtown were so expensive. The room wasn't as bad as we were expecting. The outside of the hotel was pink. Then the walls of our room had palm trees painted on them. The ceiling looked like a sky during the day (blue with white puffy clouds), but when we turned off the lights at night, there was a black light and the ceiling was covered in a glow in the dark solar system. It was so neat!
We went to Joey K's for dinner. This was my first time having red beans and rice. It was amazing and I got it every chance I could after that. Joey K's had the best I tried in New Orleans though. The boys had a pb&j sandwich and Sam had a seafood platter, which was entirely fried.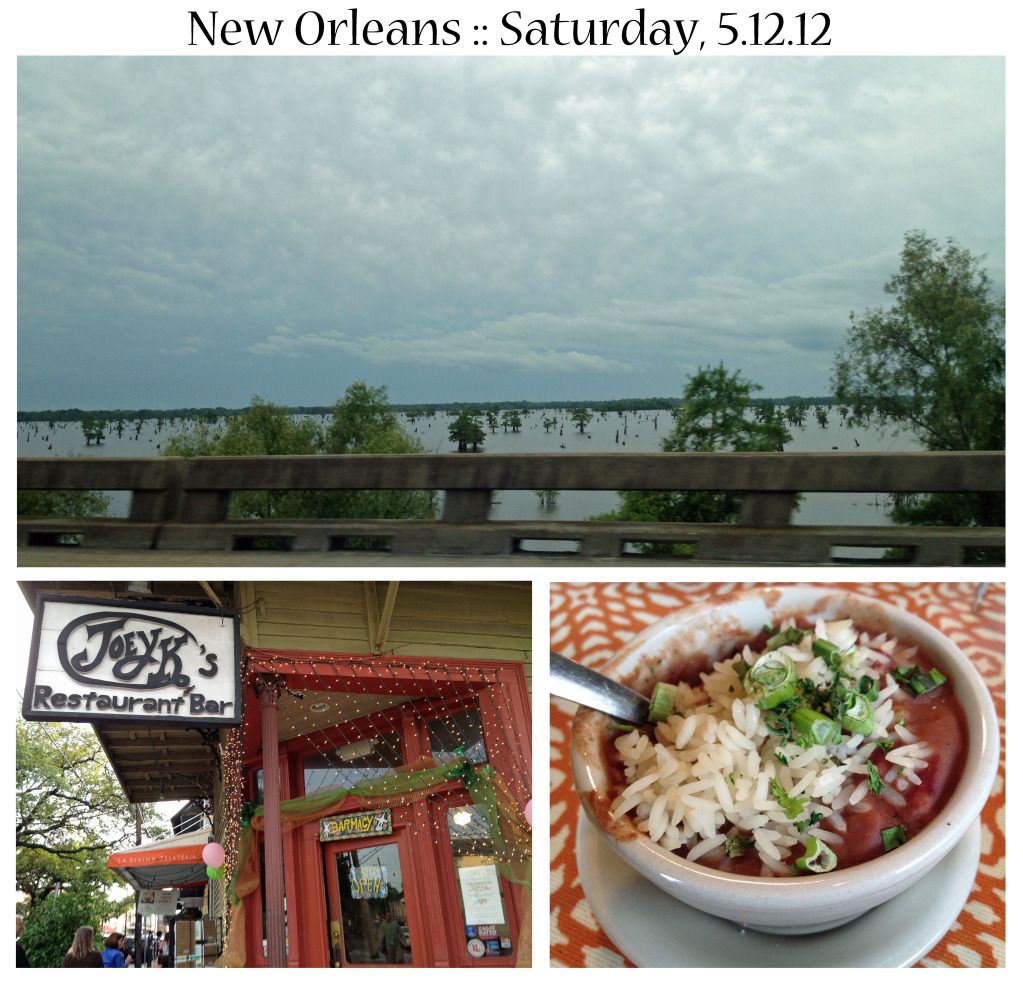 We drove around a little and then headed back to put the boys to bed. The boys took a long time to fall asleep because they did not like being halfway stuffed in the bathroom. Sam fell asleep around 10pm and I followed shortly after.
Sunday was Mother's Day. No sleeping in for me though. Not only that, but the boys woke up early. We hung out in our room, bathed the boys, and then ate breakfast. We came back to our room and got ready for church. The church building is along St. Charles Avenue which isn't the greatest part of town. The building was entirely fenced off. Sacrament meeting was in a room about the size of a Utah Relief Society room. It did not have any pews, only folding chairs. Every single chair was occupied because the BYU folk dance ensemble was in town so there were a lot of visitors. During the Sunday School lesson, the teacher mentioned that they are a few weeks behind on their lessons, because during Mardi Gras, it comes right down the street outside and it is so loud that they only meet for the first hour of church. After church, we asked for suggestions of things to do. A lot of things are closed on Mondays. They told us a few things to do, but New Orleans is all about the food. That made me very excited for the next few days.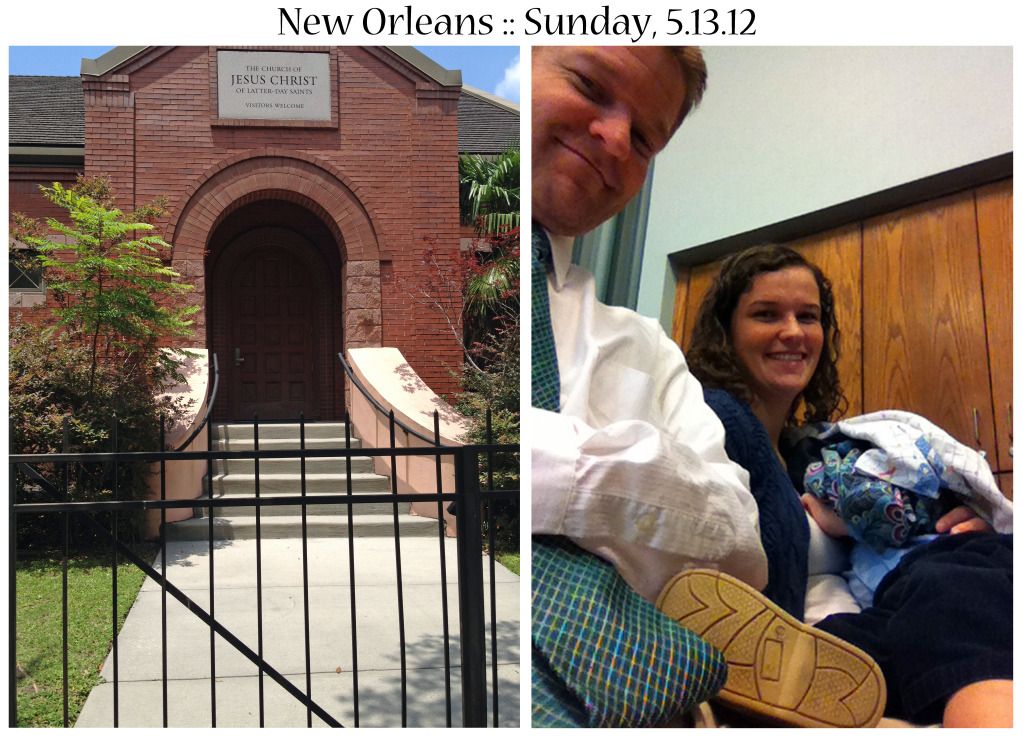 We had gone to the store the day before and bought microwavable macaroni and cheese, chicken and dumplings, and beef stew. It was a pretty fancy Mother's Day lunch. After lunch, we all took naps. The boys woke up at 5pm and we knew we needed to wear them out otherwise bedtime would never happen. We went to Audubon Park. It has a pond in the middle and a giant loop around that is paved and looks like a road. Bicyclists go on one side and pedestrians on the other. There were hundreds of bikers and joggers out. There were also people like us just out with their families, walking, feeding ducks. Alex loved it but he loves any place he can chase squirrels. We stayed there for a long time before heading back to our motel and having a microwaved dinner. Then we had popcorn, watched a movie, and talked to our moms.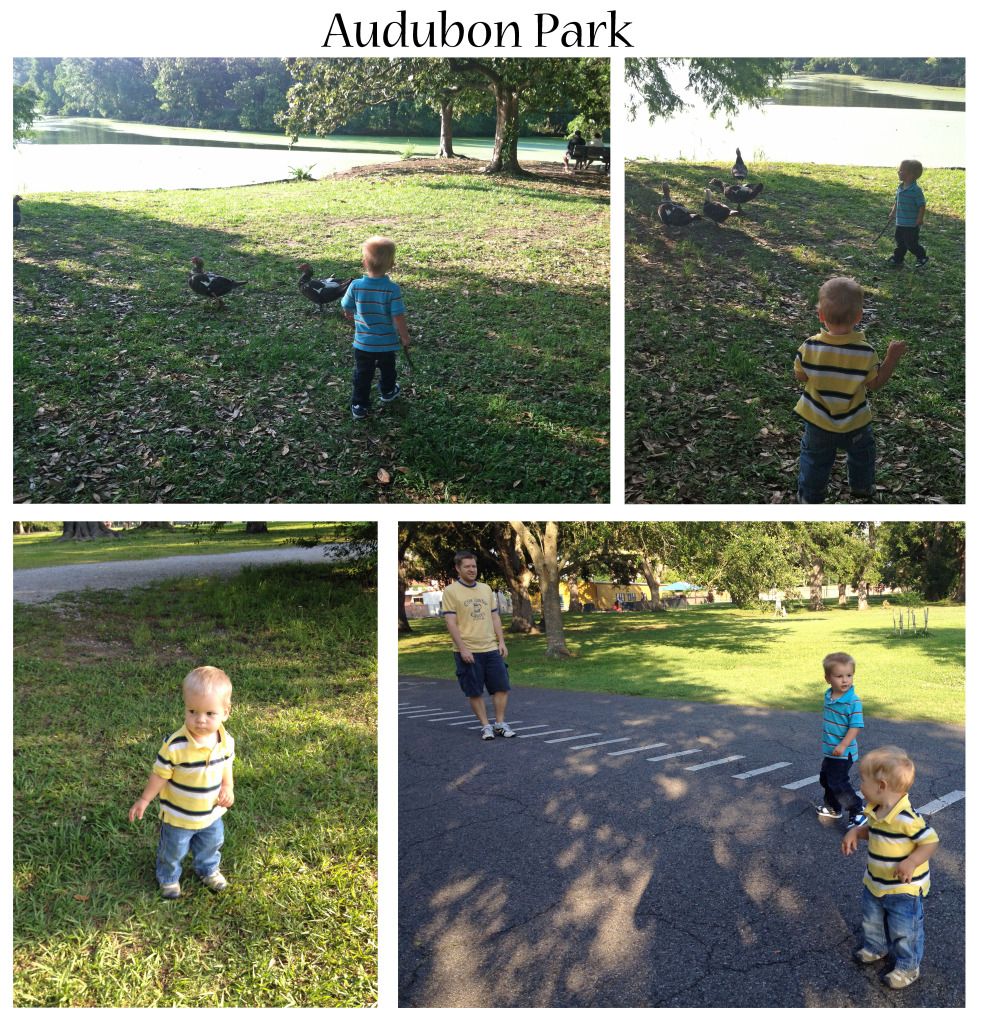 Sam gave me a blessing and while he was doing it, both boys climbed on my lap and started kissing each other. It was so precious. I love having these boys as my kids. They went to bed fairly well, much better than the night before. But we moved Edison to the other side of room, in front of the door, so I wasn't able to sneak out and Skype with Elder Jared.