We stopped in Vegas for the night to split up the drive to San Diego a little. We stayed with Uncle Kurt and Aunt Natalie. It was weird that I got my own room! Usually I am one of the kids there and I get a couch or a sleeping bag on the floor. This time I got a fancy room all to myself.
Alex and Edison were so happy when we got there because they found Kurt's doggies in the backyard!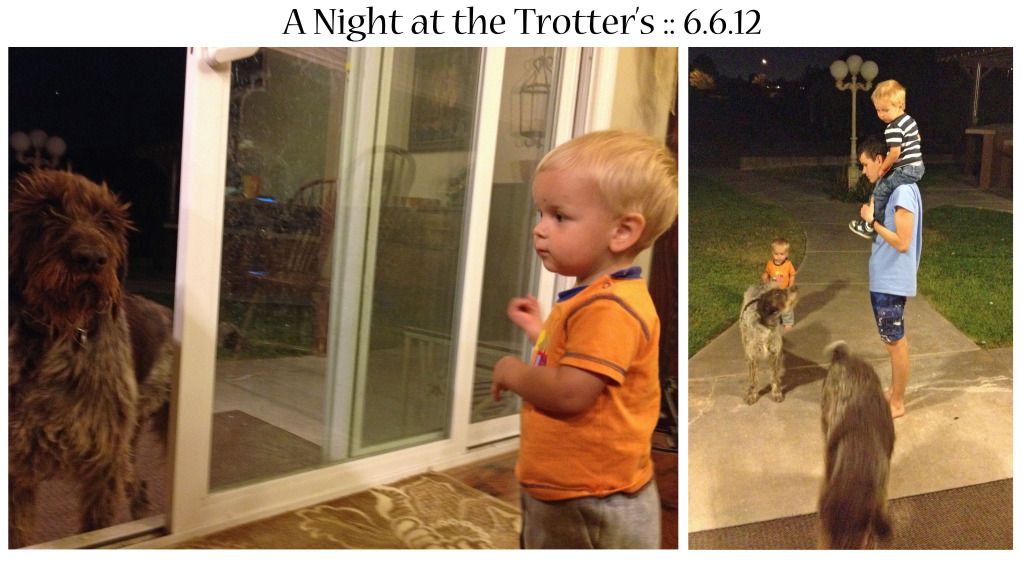 Edison and the dog had a staredown while Alex laughed in the background.
Uncle Kurt took the boys on a very slow quad ride around the backyard. It is funny that Alex let Kurt do this because Alex was terrified of my Uncle Kurt. He would scream and run over to me and say, "The man looked at me!"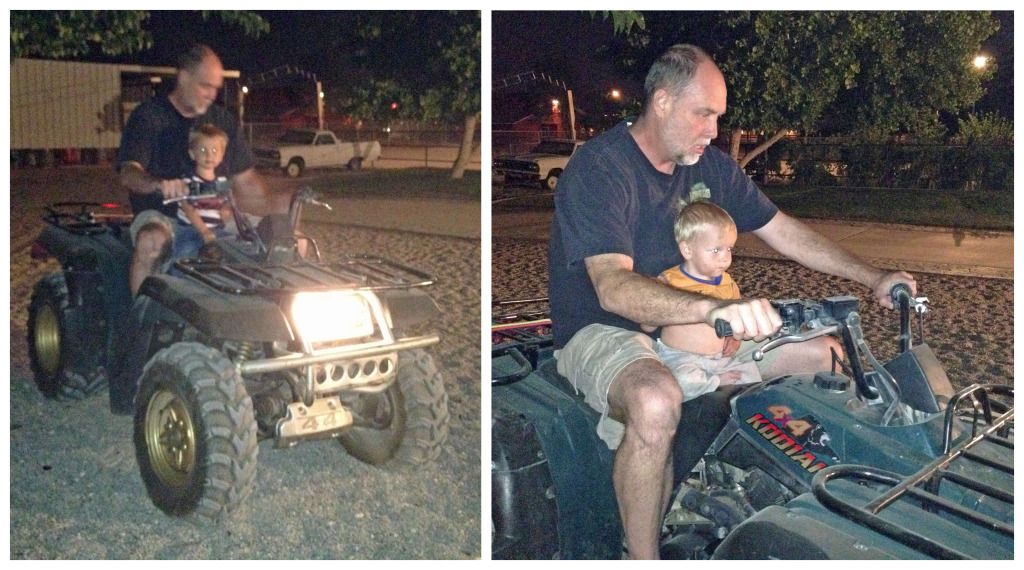 The boys loved their night in Vegas. Just a few days ago, Alex asked us if we can go to "Nat Atalie's house and Turt's house and see doggies and ride motorcycles and go inside the barn and see if there are horsies in it." We visited them two months ago and he remembers details of the trip. I didn't let him go in their barn but I told him there weren't any horses in it. He wants to go back and make sure. Silly kid.
The next morning, I was nursing Edison on the fancy bed and suddenly I felt wet. He had a massive explosion all over their sheets, and me, and himself. It was fantastic. We got a late start that day because we had to do laundry. But eventually we got on the road to San Diego. We stopped at the Outlet mall on the California/Nevada border because my mom was looking for some shoes but we weren't able to find any so we continued with the drive. The boys weren't very happy but it helped that Grandma was driving with us and also that she had brought her DVD player!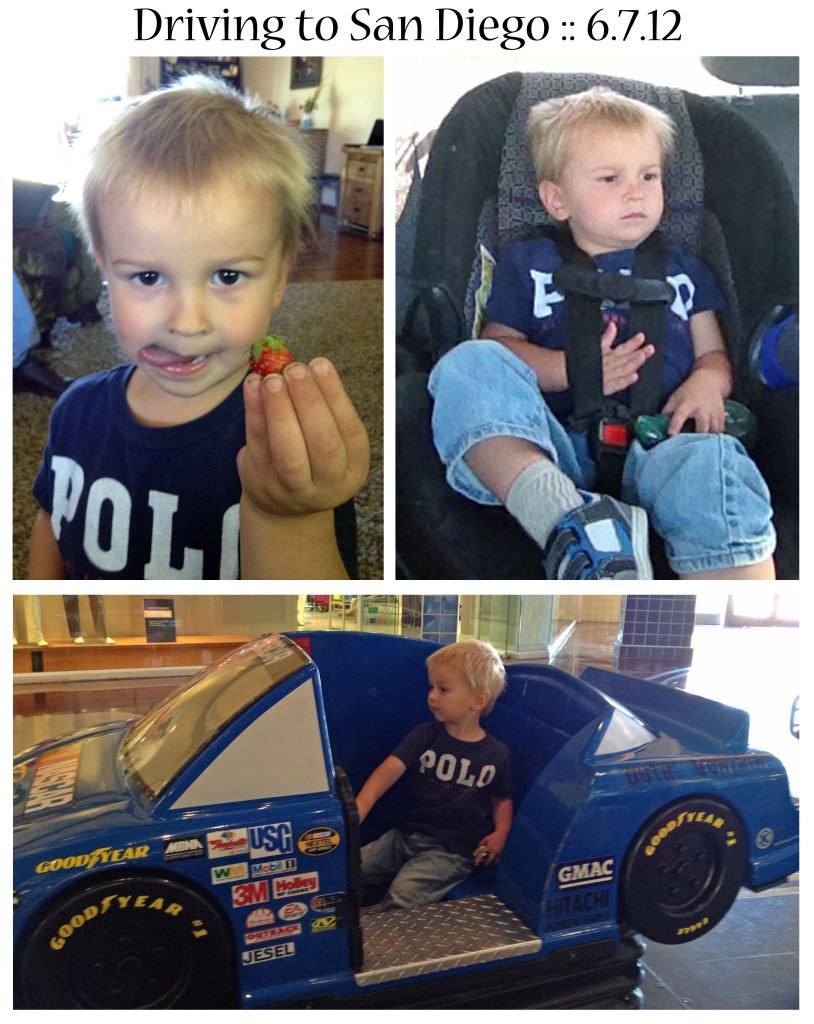 Right when we got to San Diego, Alex saw the pool and immediately asked to go swimming. I had to get ready for the bachelorette party so David and Adam took them swimming.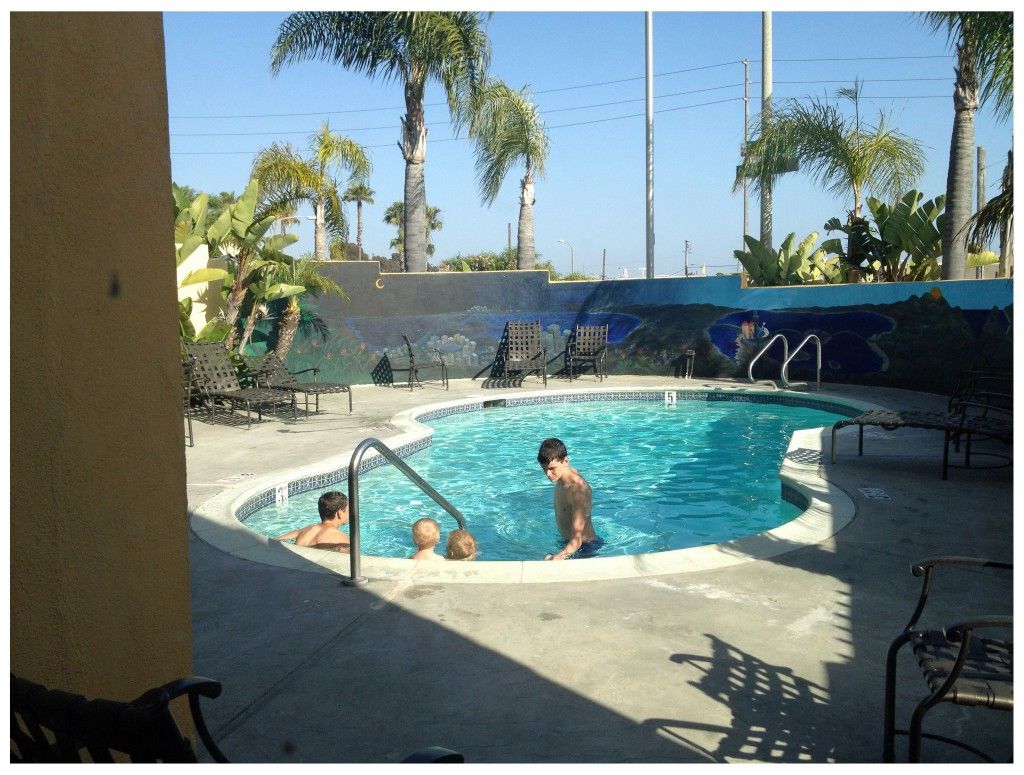 The reason I went to San Diego was for my cousin Michael's wedding. I had never met his fiancee, Sarah, before the bachelorette party though. When we got there, no one from our family had arrived yet. But Sarah took my mom and me around and introduced us to every single person and then sat down and talked to us, even though she didn't know us either! I felt so welcomed and was very impressed by her.
The bachelorette party was at a condo that was right on the beach. I went on a walk with my cousins Denae and Alyssa.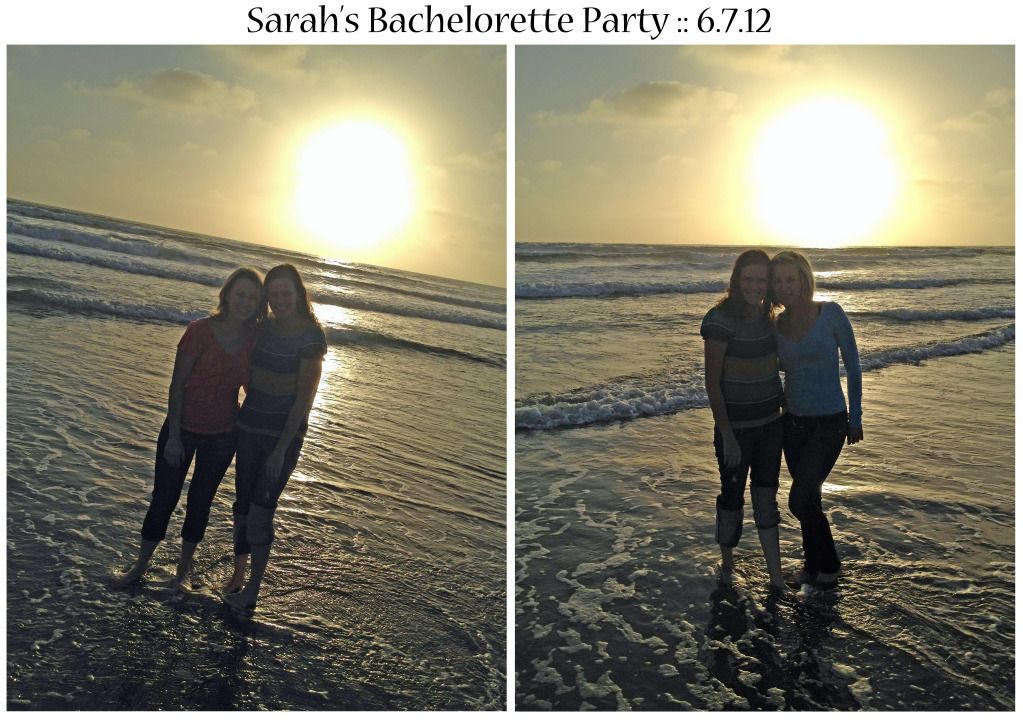 Right after we got back from our walk, everyone wanted to go on another walk to watch the sunset.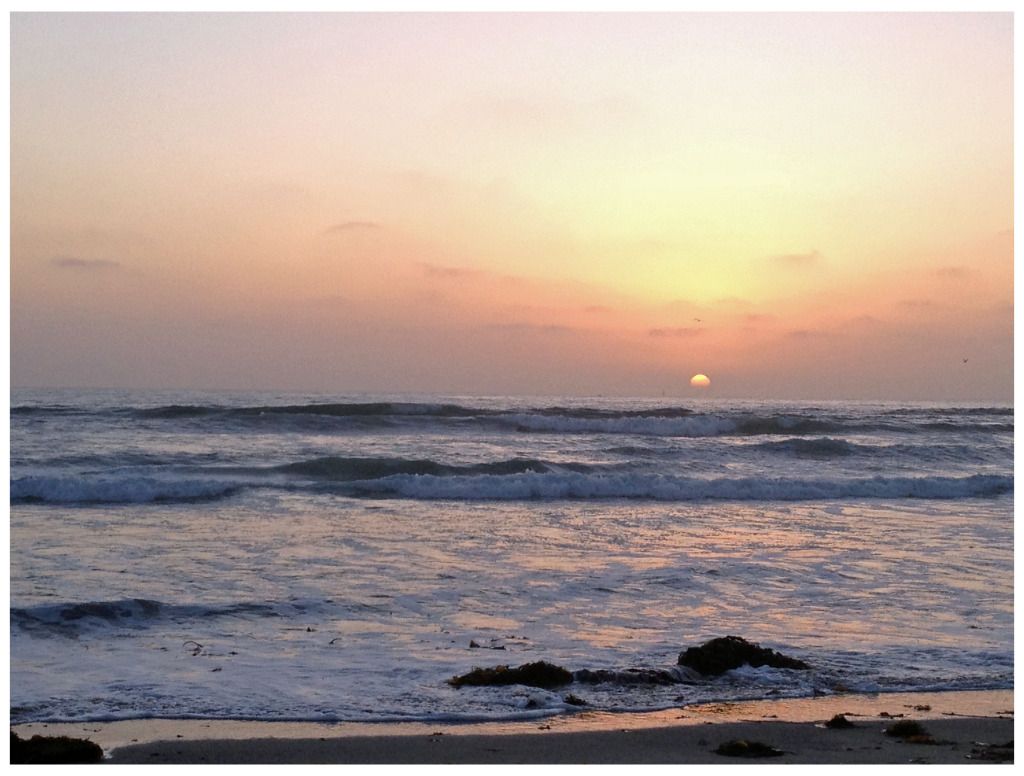 I don't know most of these peoples' names, but everyone was very nice. It was freezing cold though and I wished I had brought a jacket.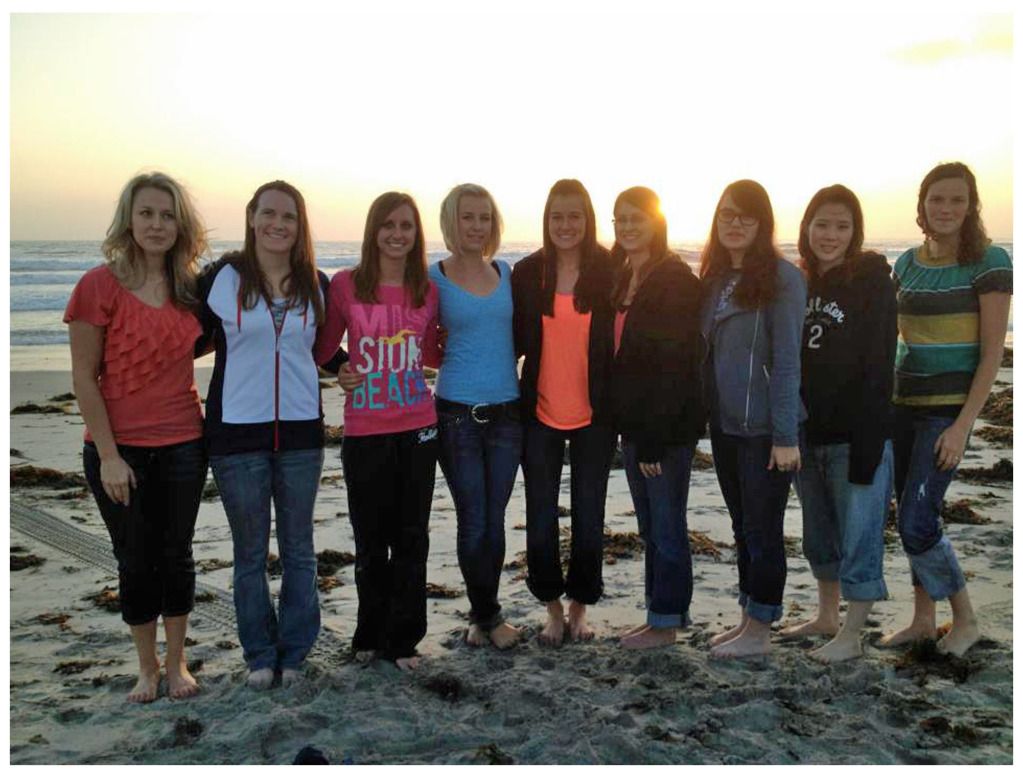 When I got back to the hotel, it was time to put Alex and Edison to bed. They were having so much fun with Grandpa and their uncles and didn't want to sleep. Alex pretended he was going to sleep on the chair so he wouldn't have to get in bed.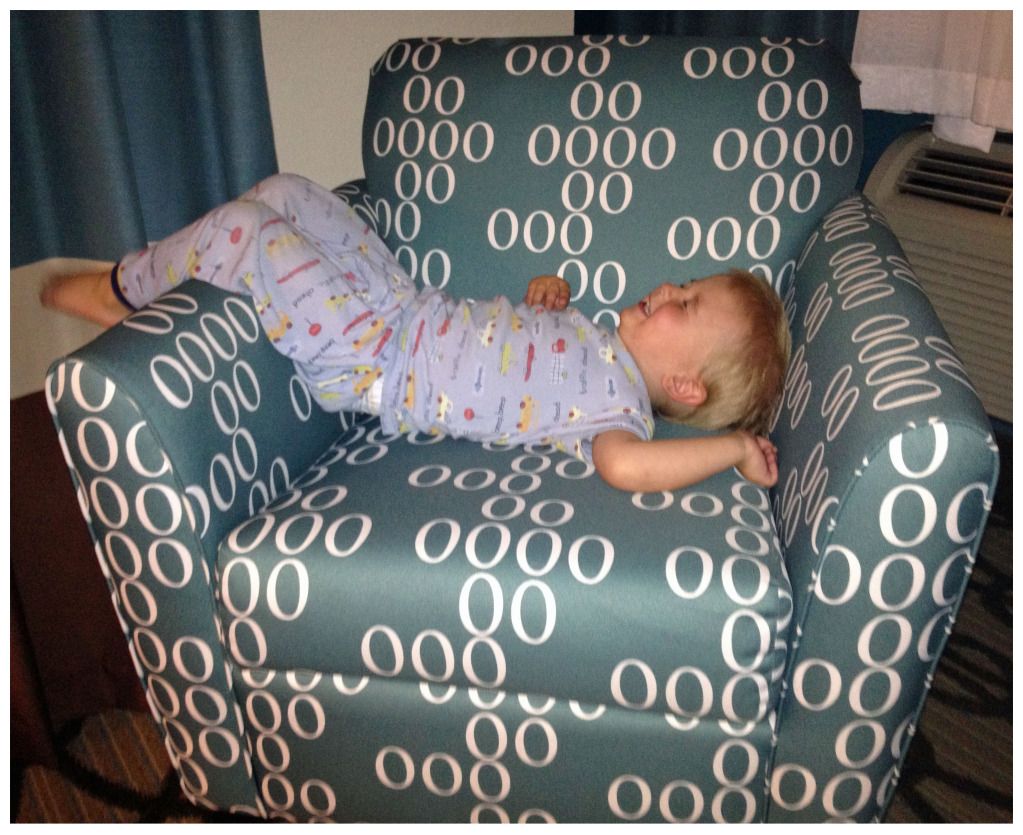 I got a handicap accessible room at our hotel in San Diego. It was so nice. I could have put both boys in the bathroom together but there was also a long, wide hallway. So Alex was in a Pack N Play in the bathroom and Edison slept in a Pack N Play in the hallway. It was also nice that we were in the room next to my parents so I could have them watch the boys if I was showering or packing.