This trip has been talked about since before we even moved away from Ithaca and I am so glad we finally made it happen. I was so excited to visit the Sheranians in Wisconsin. The problem was that it was going to take a few days to get there.
Sam wasn't able to take off a week of work so I went with Alex and Edison. We left Williston at 8:20am on Friday morning. Sam stayed home late that morning so he could help load the car. I was so tired and I was wishing for a nap before we even got to Minot (two hours away).
Alex was so cute and kept asking about the puddles ahead of our car so I got to teach him about mirages. I bet he would love Fievel Goes West.
We ate lunch at a pizza buffet in Carrington. It cost $10 for all three of us including drinks. It worked out really well for the boys to be able to choose whatever they wanted.
Eastern North Dakota reminded me a lot of Tennessee. Then we got to Minnesota which was a new state for me!
We went to Mall of America. We had dinner there. Alex knocked his drink off the table. Then Alex needed to go to the restroom in the middle of dinner so I had to take both boys. I asked the waiter to not clear our food and I am almost positive he thought we were dining and dashing. I got a burger for dinner and it was really good. They served it with salt and vinegar fries which Edison devoured.
After dinner, we wandered around the mall. We walked around the first and second floors completely. We walked through Nickelodeon Universe and Alex was like a kid in a candy store. He was Ooohing and Aahing and I heard him mutter under his breath, "It's so beautiful."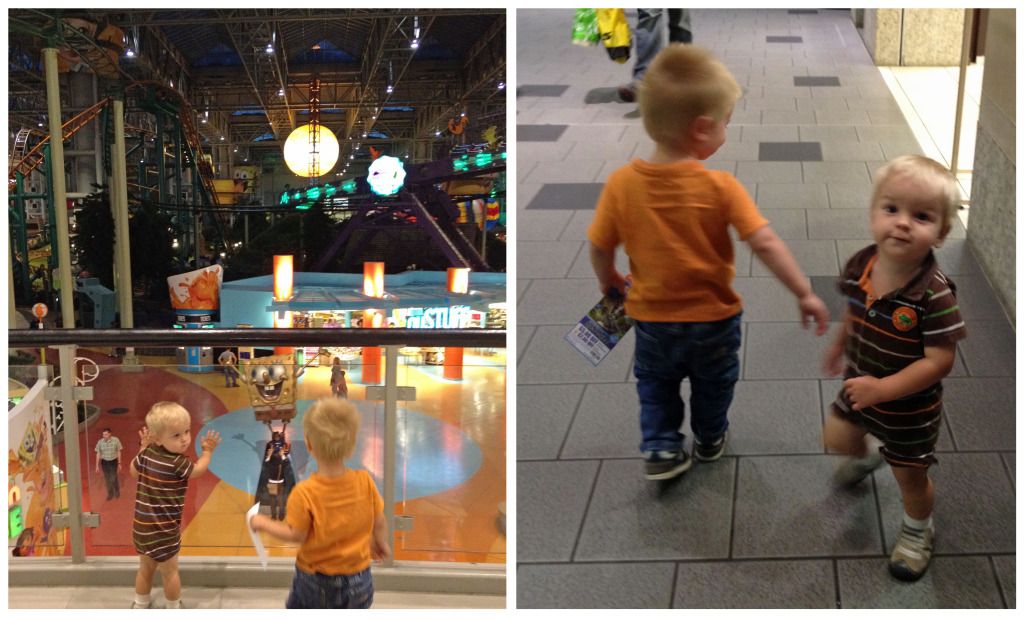 I couldn't find our hotel and I was driving around in circles in a really dark neighborhood. I called the front desk to ask for directions and said, "It's pitch black back here! I'm scared!" Alex spoke up from the back seat and said, "Don't be afraid, Mommy. There aren't any monsters. You're safe." Then once we pulled in and I announced that I had found it, Alex said, "I'm so proud of you!"
Alex was so excited and couldn't believe he got the whole giant (double) bed to himself. I had forgotten to pack an overnight bag and I wasn't about to stand in the dark parking lot sifting through bags, so I had to drag all of our stuff into our room. The boys were in bed by 10pm. Edison didn't make a sound after I put him in his bed. I was almost asleep and I heard a noise behind me. I rolled over and Alex was perched right by my head on the desk that was between our beds. It was so freaky.
The next morning, we ate breakfast at the hotel and were on the road by 8am. We drove straight to Chicago only stopping for a drive-thru lunch in Madison, Wisconsin. The boys did not get out of their carseats once in 7.5 hours. We got stuck in Chicago traffic and ended up having to park really far away from the White Sox Stadium. Even then, parking was still $23. I have never paid so much for parking. Alex had to get his own ticket because he is over three feet tall so it was $18 for us to get in. After the long walk from the parking lot, we didn't get to our seats until the top of the 3rd inning.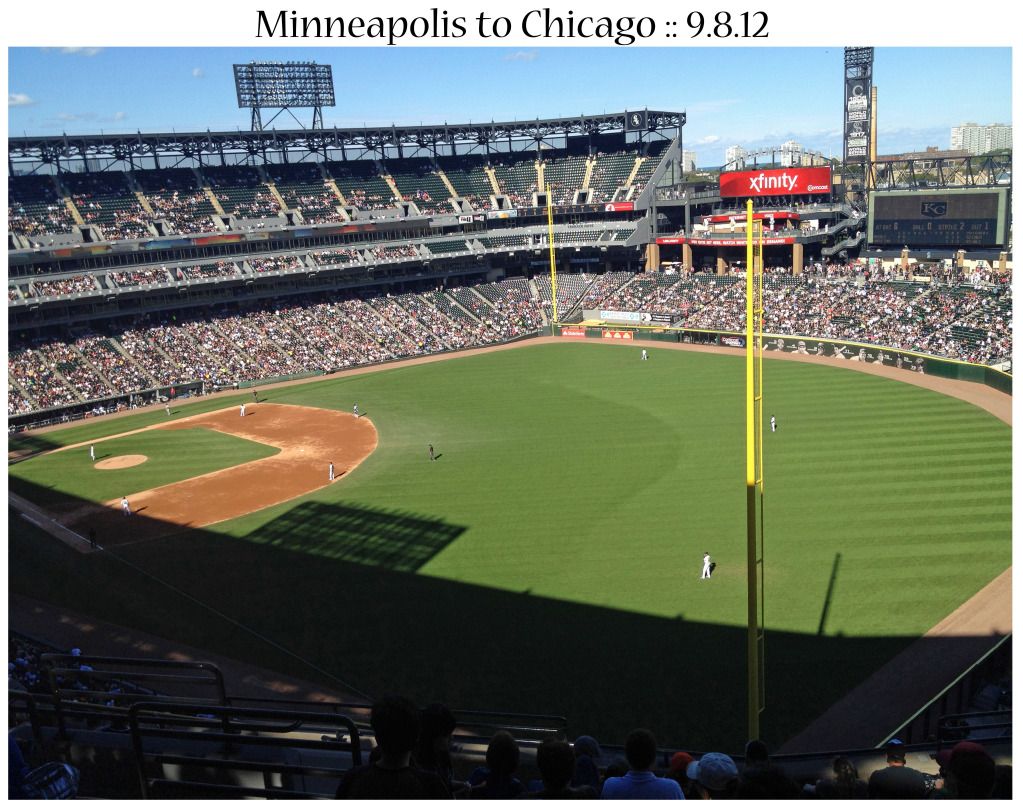 They were playing the Royals. We had just seen the Royals play the Astros in Texas so I felt like a Royals groupie. Popcorn is the only way I get the boys to stay somewhat still during baseball games. Alex lucked out and got ice cream this time, too. He was talking nonstop about his yummy ice cream.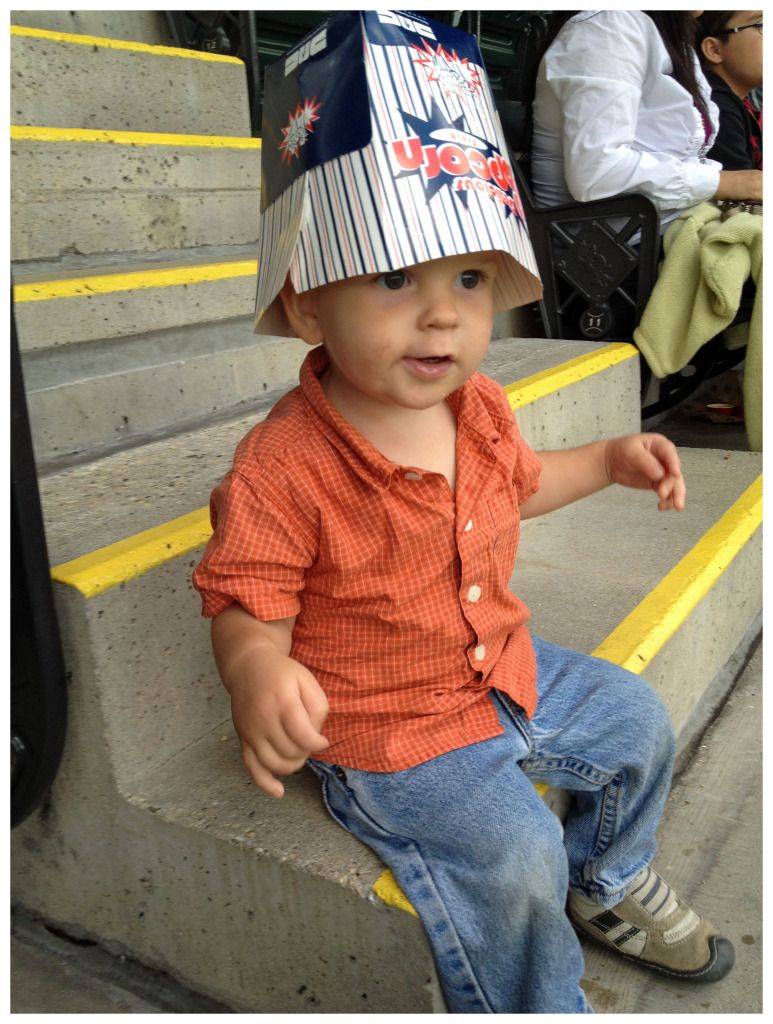 After the game, I had to go to three bathrooms to find one with a changing table or at least something that would work as one. Then we walked to the car down the million ramps. By the time we got to our parking lot, it was almost empty. I wandered the parking lot and couldn't find our car. It was bizarre. Two guys came up and were driving around in their car looking for my car. It was so embarrassing. Then one of them mentioned that there was another lot further down. I hadn't walked far enough. I was mortified. I felt so dumb.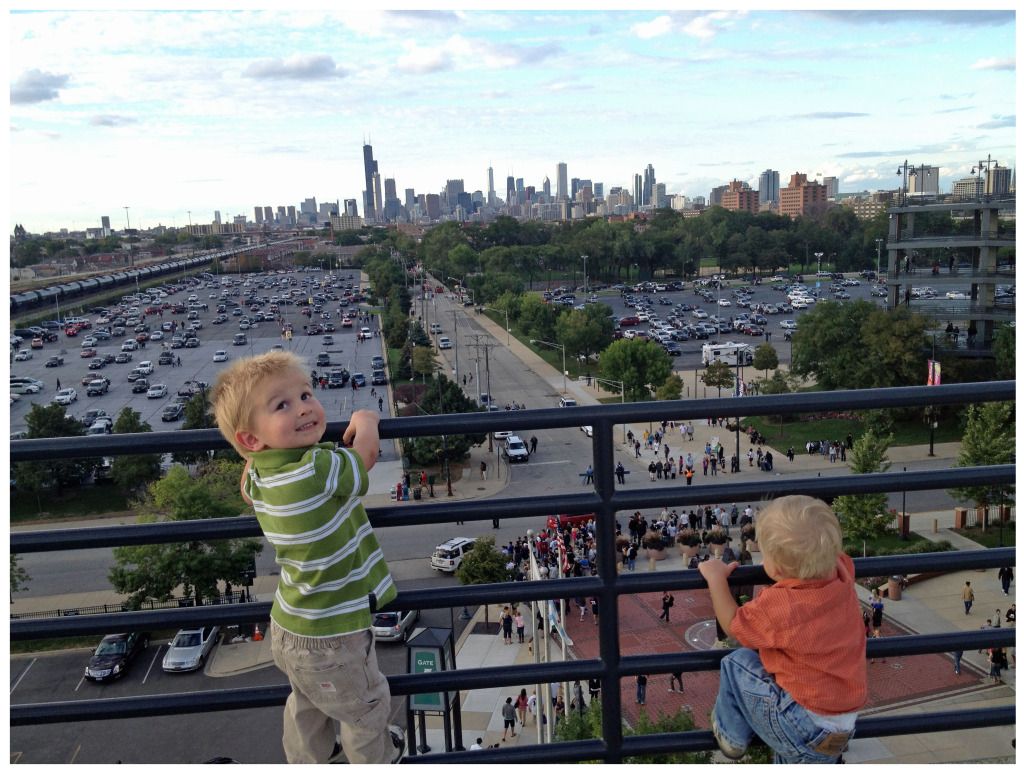 We went to Millenium Park because I really wanted to see the Bean. But it was dinner time on a Saturday and there was no where to park. After driving around downtown for an hour, it was getting dark, and both boys were asleep. I decided to start the 45 minute drive to our hotel. They woke up right before we arrived so I pulled over and got them dinner. It was 8:30. I really wanted to try some Chicago deep dish but the boys were already grumpy and it was so late. Then we went to the hotel, bathed, and snuggled before a 10:30 bedtime.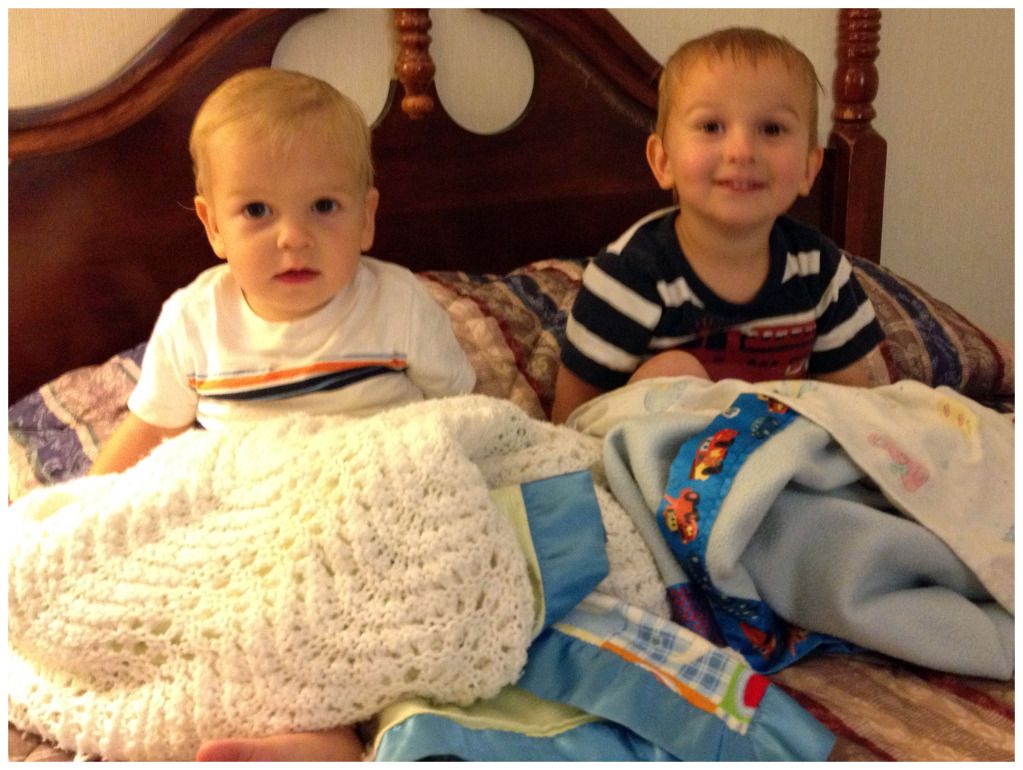 Our hotel had a real rave going on in the multipurpose room. It also had a bowling alley. It was the most ridiculous thing. I went up to the front desk around 11pm to ask when we would stop hearing the music and the people running down the hallway. The guy at the front desk misunderstood my question and he said, "It is a private party." He thought I wanted to join in on the rave! No, I wanted it to stop. He said it would end at midnight. Then I told people standing and laughing outside of our door to take their conversation elsewhere. Eventually I closed the hallway door between the party and our room. Weeee!