My friend Maggie was signing up for the Run or Dye in Minot and it looked fun. I don't like messes at all but this seemed like a fun mess. I had to leave Williston at 6:30am to drive to Minot. It would have been too long to leave Declan at home without his food source so he got to come as well. Sam stayed home so he could take Alex to his first day of soccer.
The two hour drive was peaceful but I was nervous about getting to the race late. Maggie stayed overnight with the rest of her boxing class who was also running so she was able to pick up my packet. I finally parked and walked about 15 minutes to the starting line, then 10 more minutes until I found Maggie and her friends. The line was so long.
Maggie's husband came to cheer on Maggie and he was also willing to watch Declan. He put Declan in the stroller and then left us to run the race but we didn't realize how long the race would take to start.
The flags way up to the right are the starting line.
We stood in line for over two hours. It was insane. Someone needs to remind me to not run one of these ever again. By the time the race started, my back hurt from standing in a very confined space for so long. They were letting around 50 people start every 8 minutes. There were around 8,000 people running! It took forever! Immediately after we started the race, I had a two-hours-too-late epiphany that we should have walked around the starting line and started running ourselves. We would have missed the first dye station but we were still plenty dyed and we could have gone back after we finished anyway.
Most of the dyeing happened before the run. Maggie's boxing friends decided I was "too clean" so they fixed it.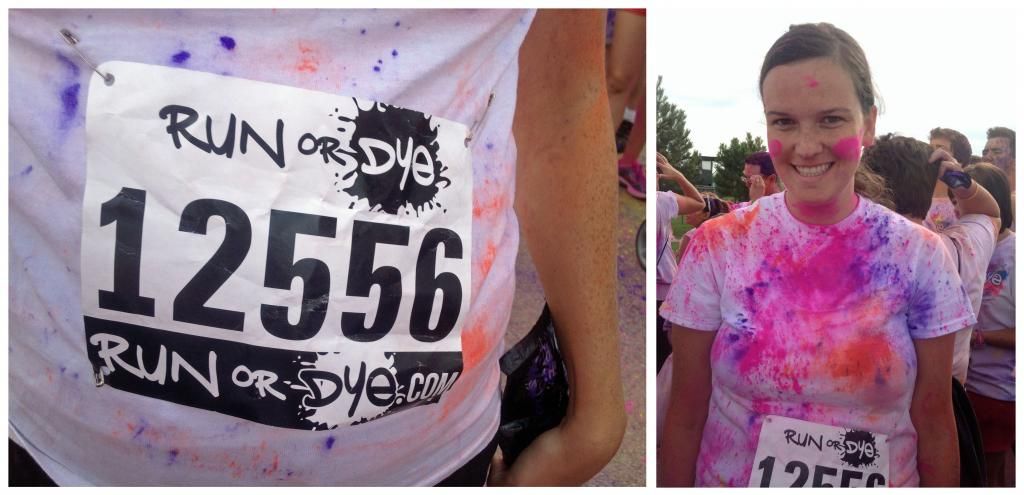 The Run or Dye people were trying to get us excited for the run once we got toward the front. It was hard to be excited. I was mostly concerned about Declan and how he hadn't eaten well for five hours and the race hadn't started yet.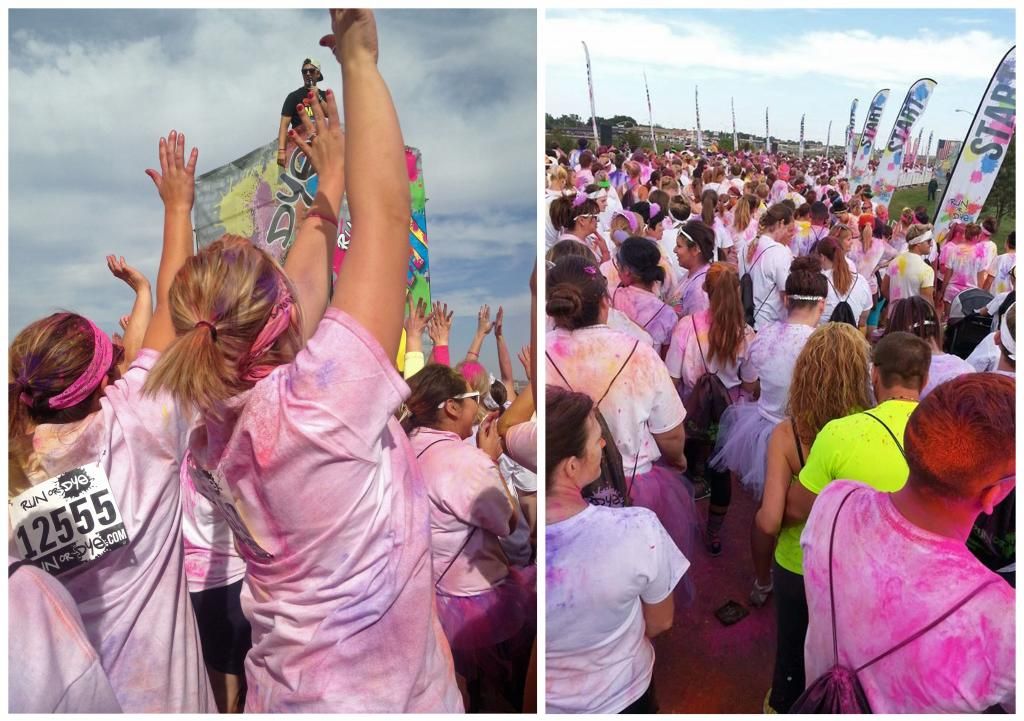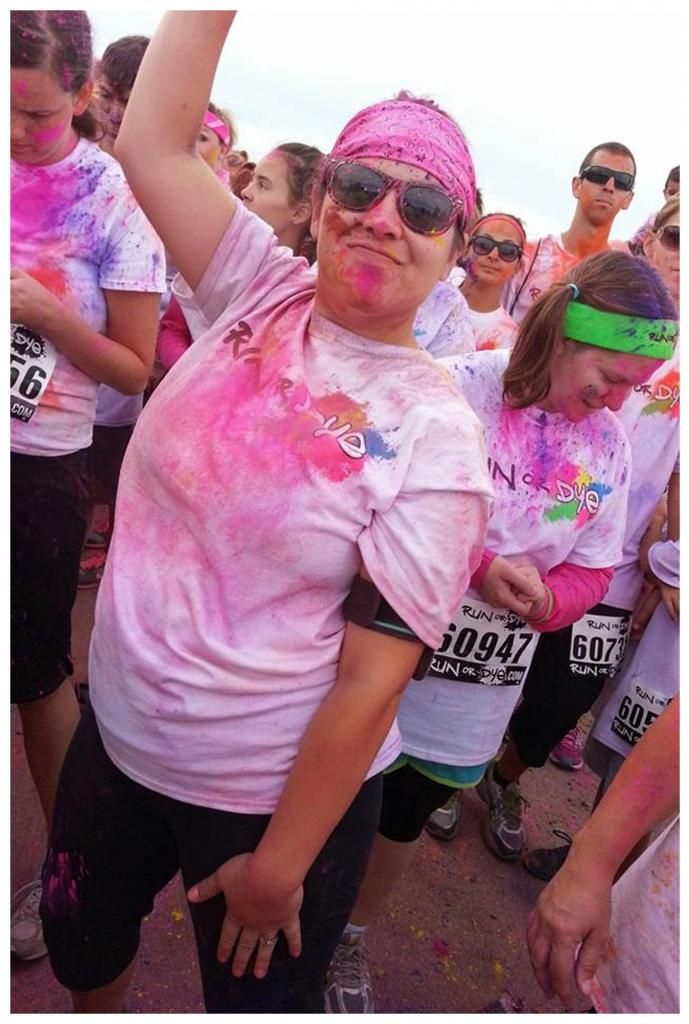 Maggie was very excited.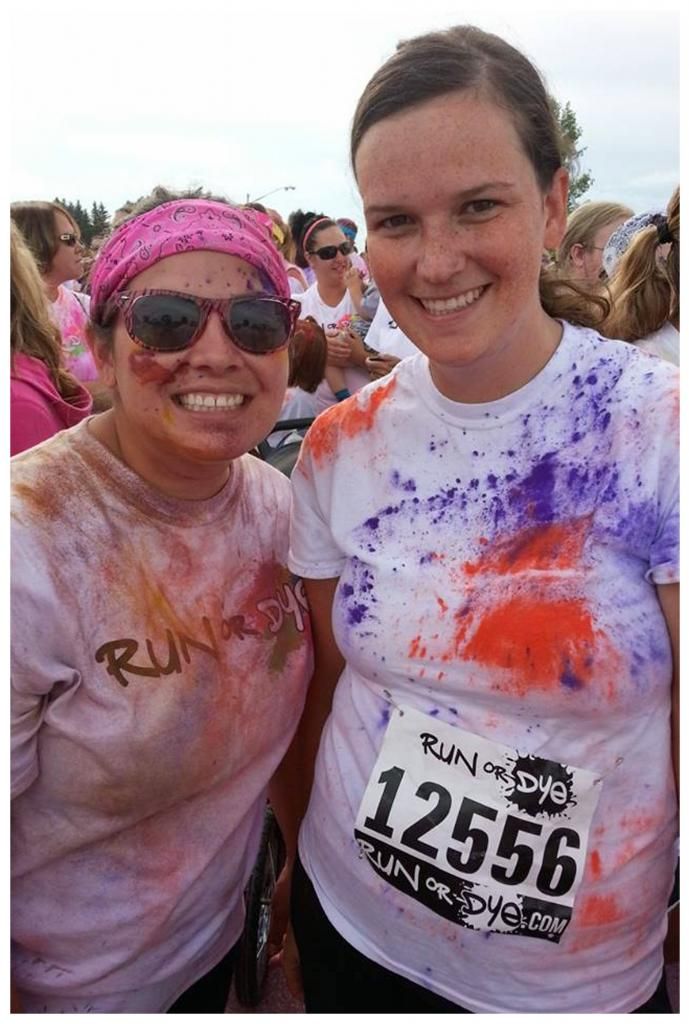 It was finally our turn to run and we had to walk. They had the course going over a very narrow bridge. Once the pathway widened, we ran for about half a mile then alternated walking and running the rest of the way. For how super flat North Dakota is, Minot has a surprising number of hills!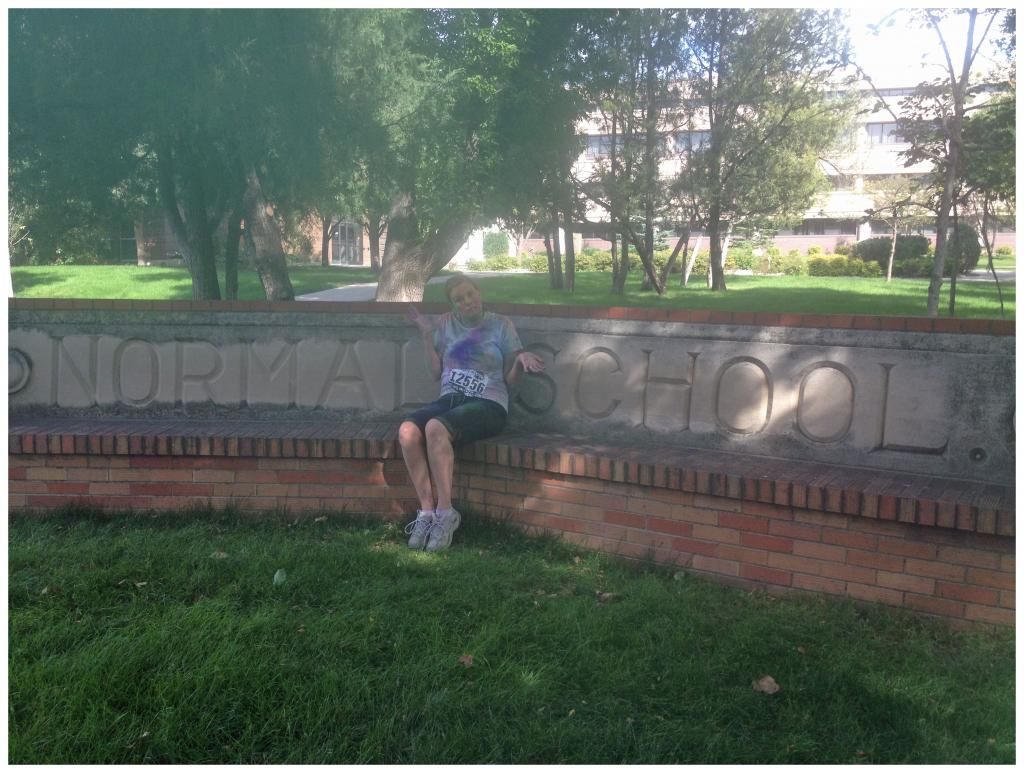 Camera lens coated in dye.
They have dye stations throughout the run where people throw colors from both sides as the runners go through the middle. Mostly that results in a lot of dye in the ears. I took three showers and then Sam mentioned off-hand that my scalp looked unnaturally pink.
But we finished. It was not an impressive race but hey, it's not even timed.
After I rinsed out my mouth, we found out where Guy was waiting and I got to see Declan baby! He had been sitting in Rosalie's carseat just hanging out.
I threw my shirt in the garbage. It was bad.
I grabbed Taco Bell for lunch and then drove home and arrived at 3:30pm. Maybe it will be more organized next year and I will reconsider running it. Probably not. I think it would be better if I lived closer to the race. It was a good experience but a once in a lifetime experience is sufficient.