My kids have become obsessed with stuffed animals. I did not intentionally buy them an excessive amount of stuffed animals but I am also not a touchy-feely person so maybe they went somewhere else for that comfort? They always take at least one of their animals to bed. They tend to go through a rotation of them though. Not really attached to any certain animal. At the beginning of the school year, when Alex's class was learning the letter "B", all of the kids had to bring a stuffed bear to school. Alex picked one out of our toy drawer of stuffed animals and I asked him what it was named. He had no concept up until that point of naming stuffed animals. It was like pulling teeth to get him to come up with a name. Eventually he chose Dash, and the naming-stuffed-animals floodgates were opened.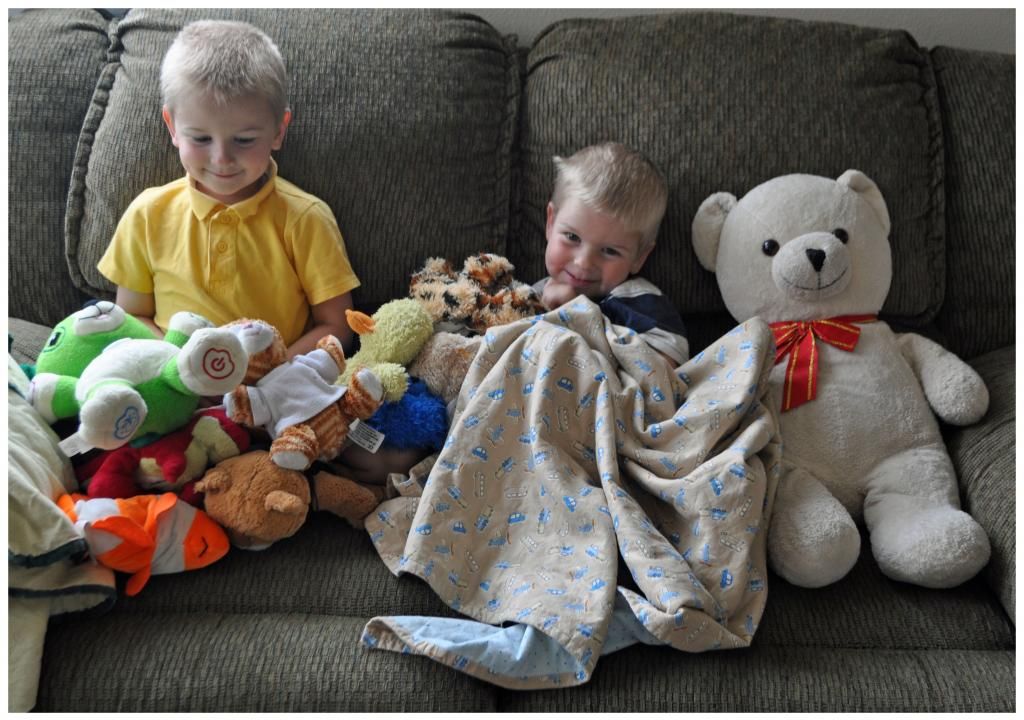 The octopus came from our ward Halloween party. The elephant was mine when I was a kid, but Alex named it himself.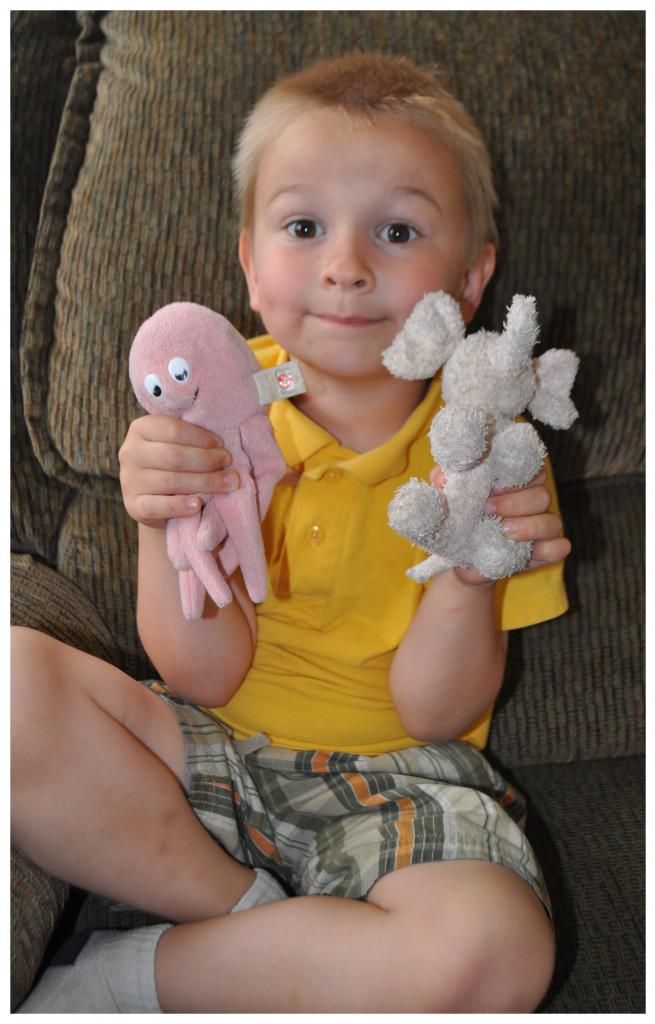 Inky and Pinky
When we went to the Royal Saskatchewan Museum in April, we got these dinosaurs for the boys.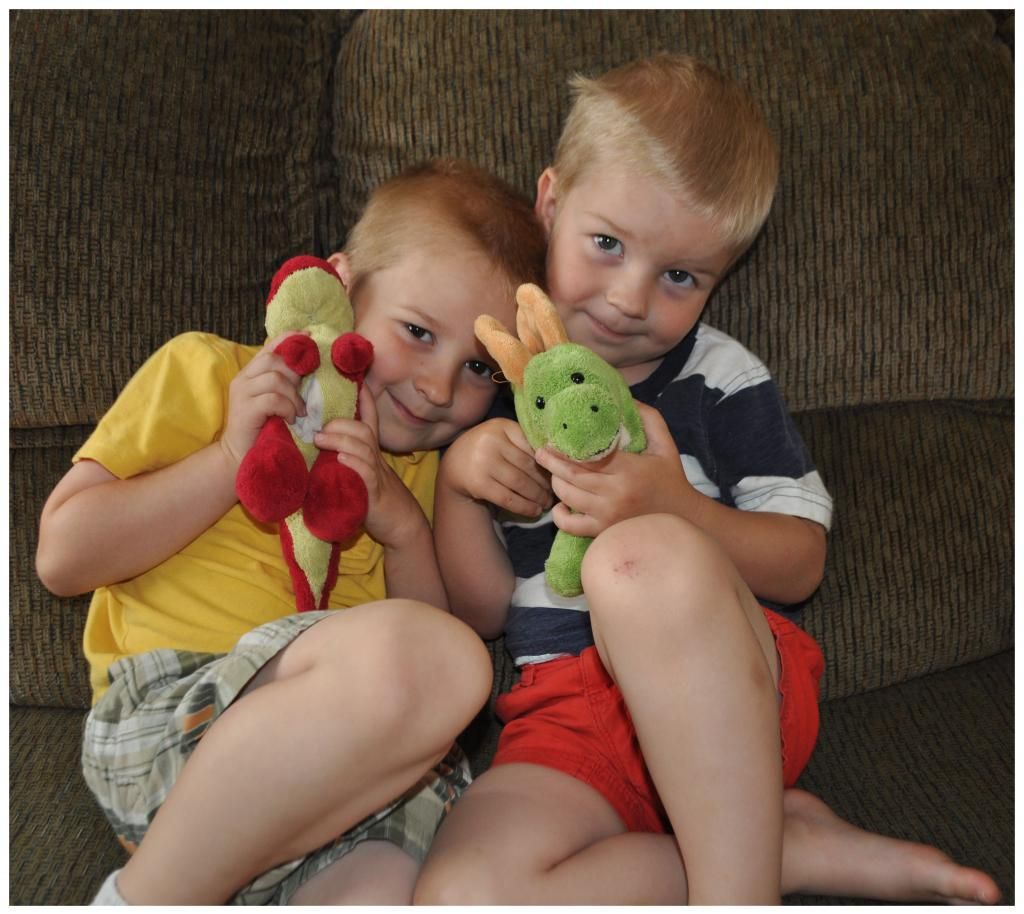 Rexy and Dragon
Before Alex was born, my aunt gave us the cougar. I can't remember where the yellow bear came from. The blue bear was taken from my parents' house.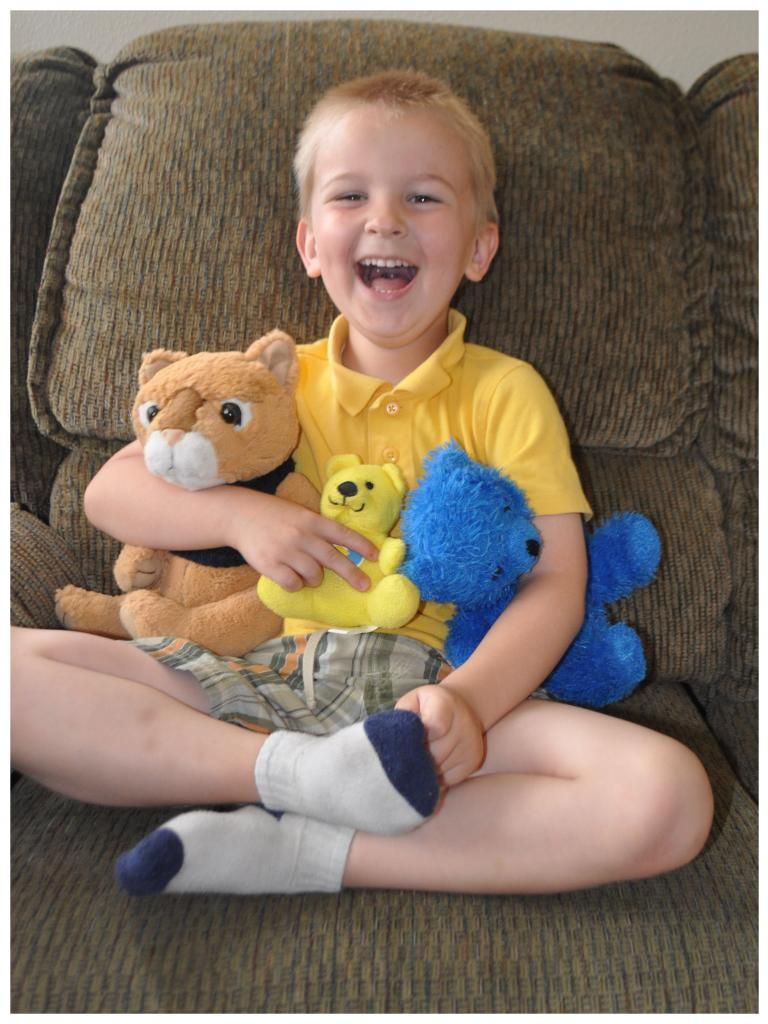 Cougar, Teddy, and Bear (formerly Dash)


Edison loves that Scout can say his name and knows his favorite food and color. Alex has learned all of the songs though. Sometimes we hear Alex sing, "Me and my pal Edison. We're the best of friends!" He sounds just like Scout. Computer voice and all.
The yellow duck (Ducky) was a gift to Alex from one of Sam's classmates. It has a red Cornell shirt somewhere. Edison has claimed it as his own.
The frog is named Hopper. Edison got it at the ward Halloween party last year.
The brown bear was also mine as a kid. I called it Freckles but I convinced the boys to keep the name.
The boys got super creative and named the next one Big Bear, but I called it Snuggles when I got him. I bought him when my best friend and I rode our bikes up the hill to the grocery store. I was probably 12 years old.
Nemo was Edison's Christmas gift from Alex. Alex got a fish as well but that was confiscated by the Gunny Monster because Alex forgot to pick it up before bed one night.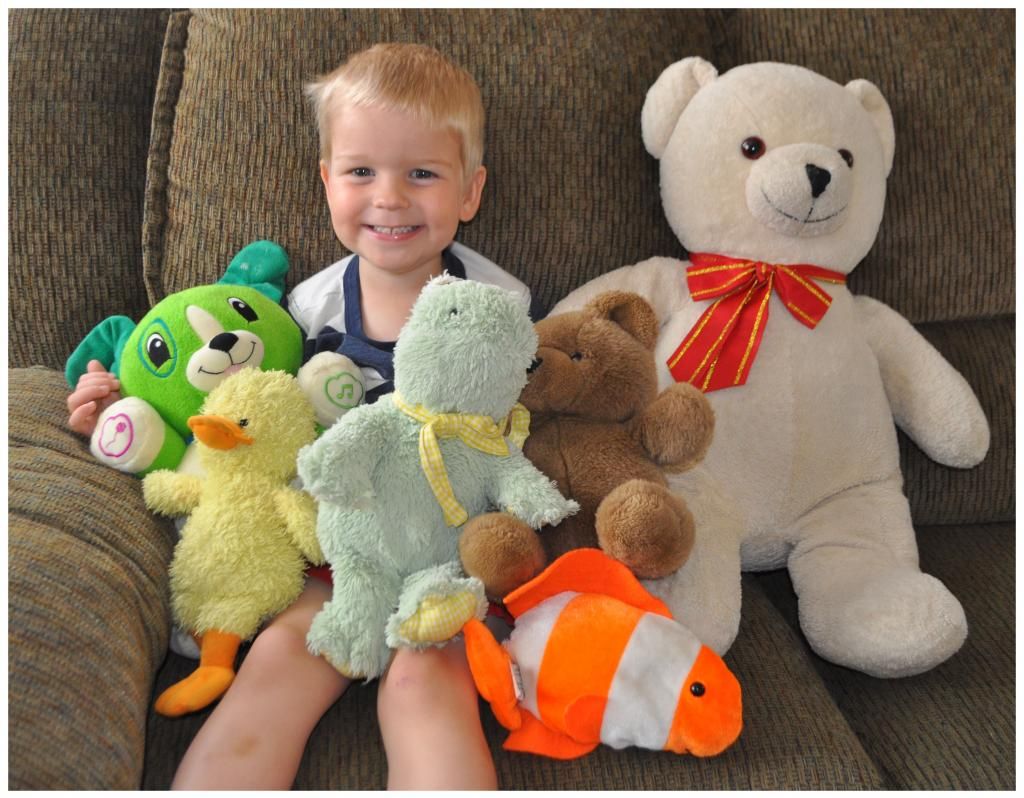 I asked Edison to remind me all of the names of these bears and he listed their names, "Scout, Ducky, Hopper, Fishy, Edison, Big Bear, Freckles." So cute.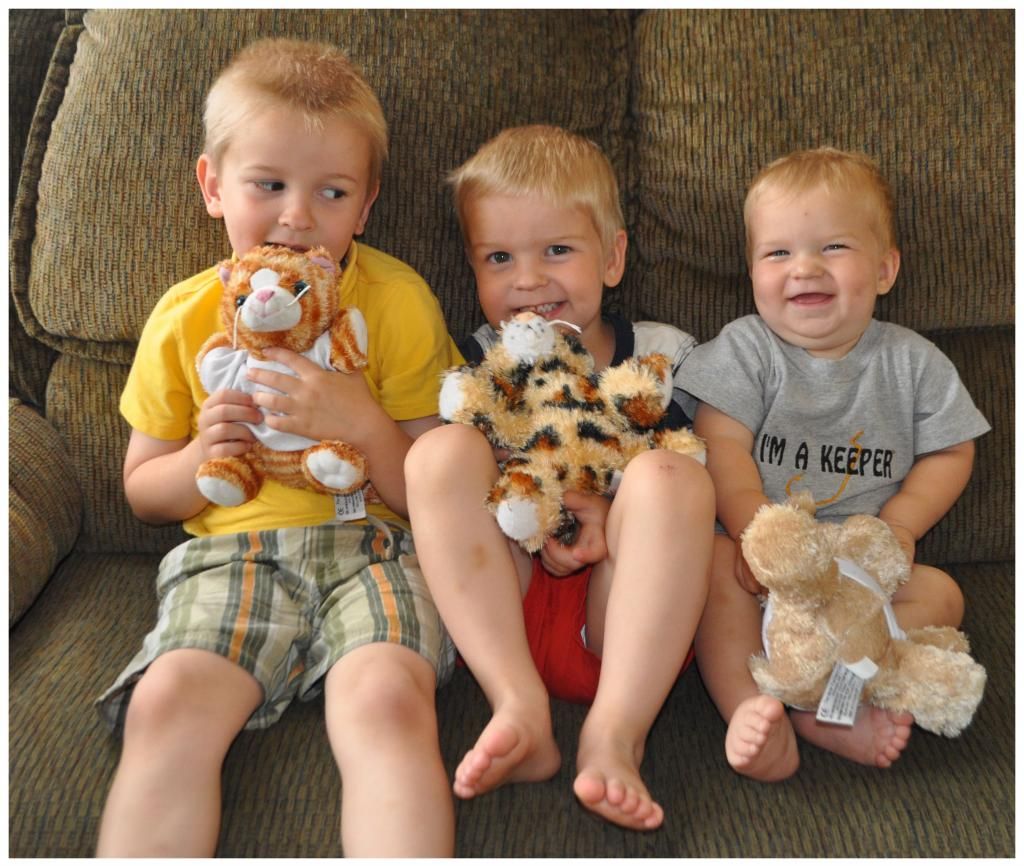 The boys with their own animals they built at Kids Day Out this year.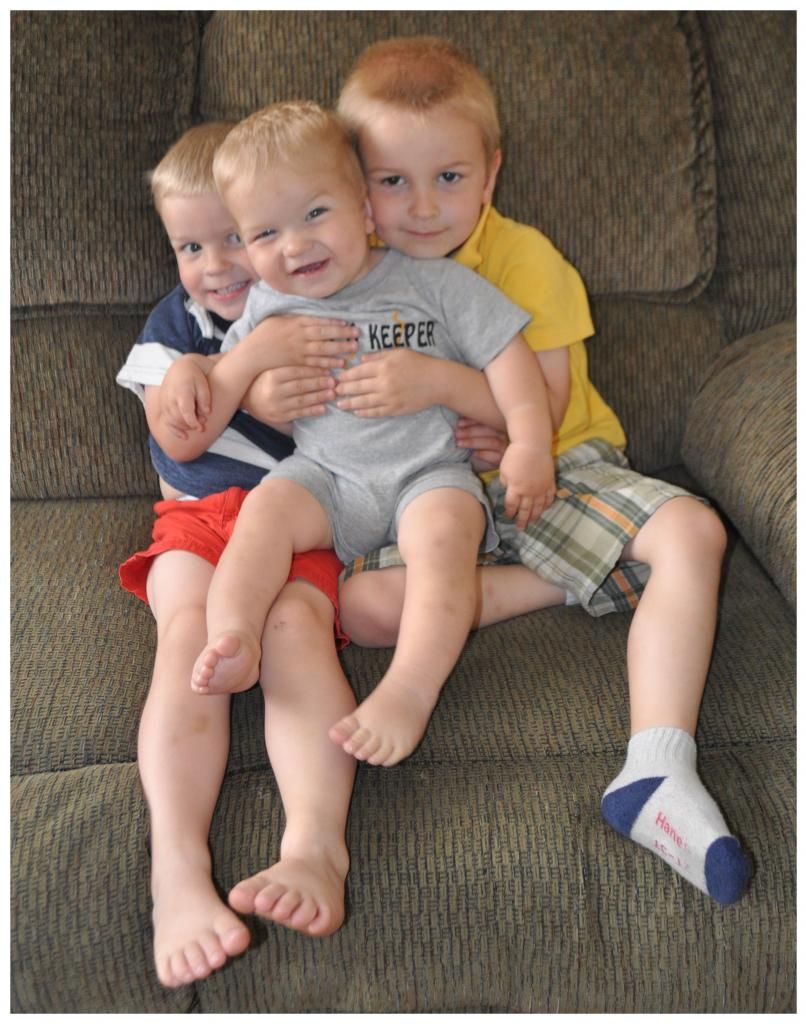 Alex and Edison snuggling the cutest little animal of all.
I have no idea why I am recording all of these things. My intense paranoia about all things ever makes me wonder about our house burning down sometimes. I could keep important documents in a fireproof safe but a lot of little thing we have, even what would look meaningless to most people, has a story for us. My kids are making me into a hoarder.