I have been to Scotland one and a half times before. The first time (that I am counting as a half) was in 1988. It's a little hard to see me in the picture, but look really
really
hard at my Mom's tummy... I'm in there.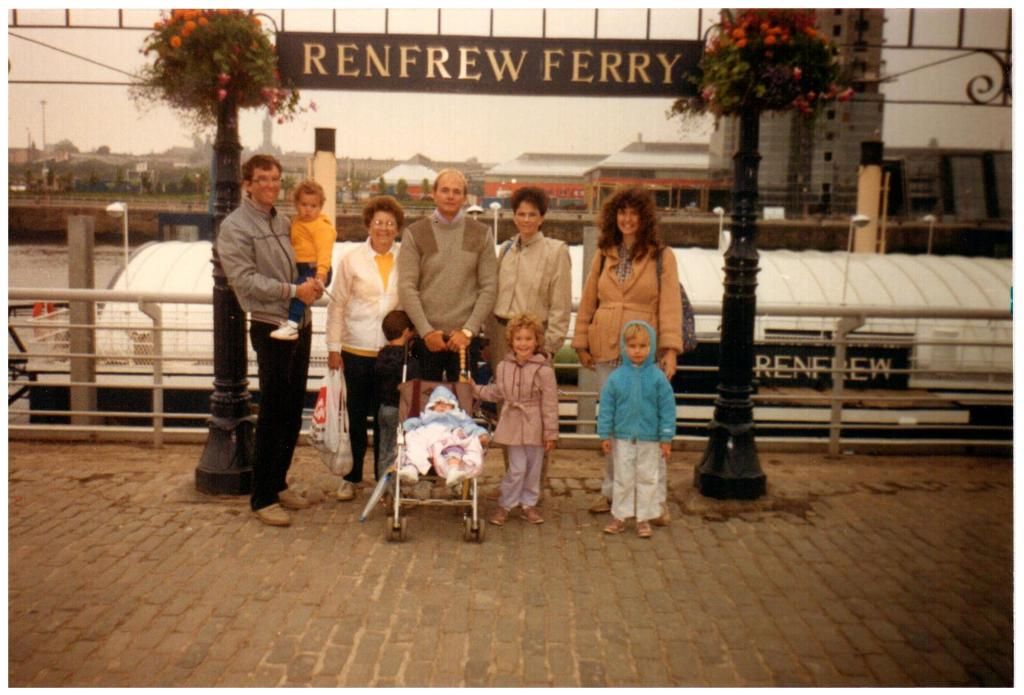 The second time was the summer after I finished my Junior year in high school (2005). Matthew had just graduated and Papa and Gramma took us back to their old stomping ground. My dad was "Made in Scotland" and I have always been very proud of being half Scottish.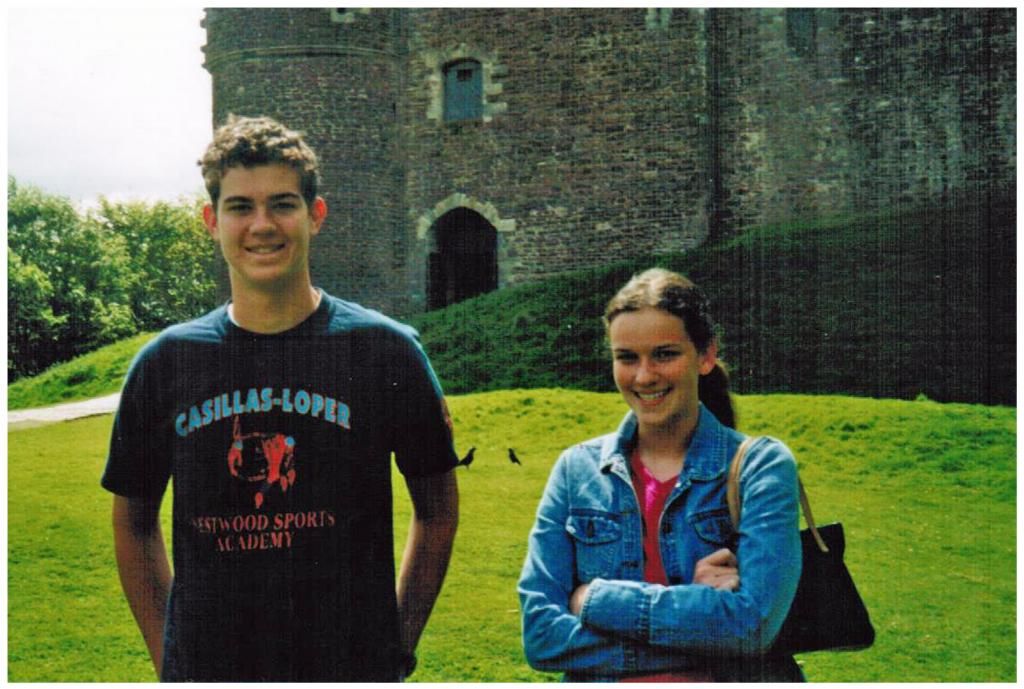 Papa and Gramma sent us a few things to help plan our trip and it was so nice to have real papers instead of trying to find everything on the internet. I guess I am a little old fashioned.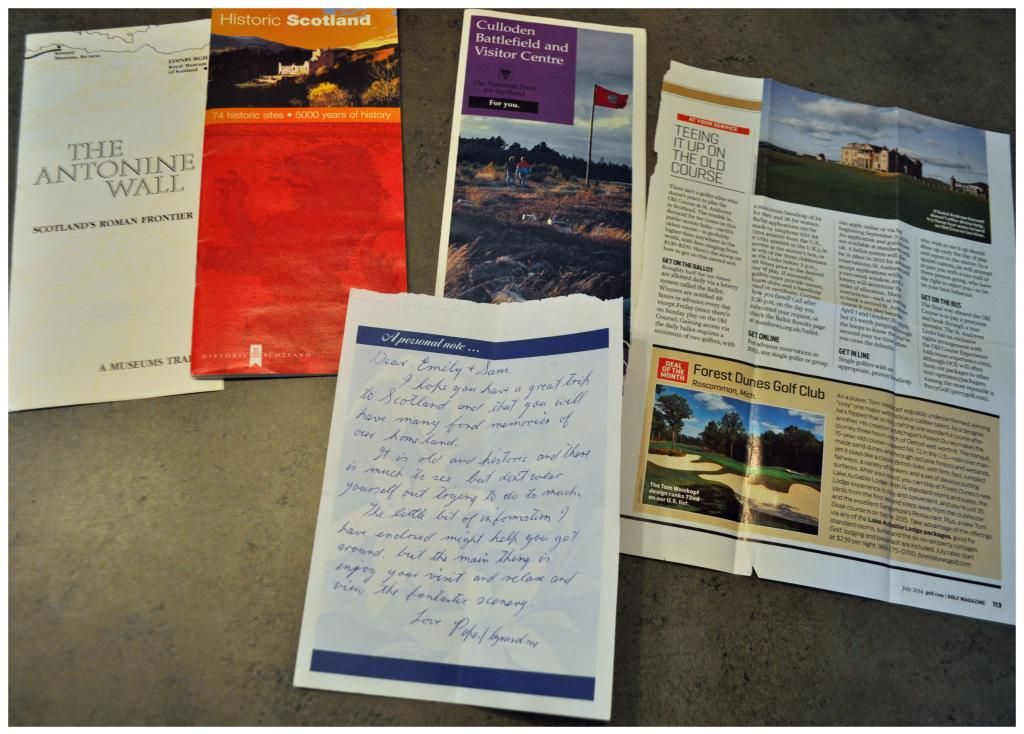 The whole reason for this trip was that Sam had a training for work in Scotland and it seemed like too great of an opportunity for us to pass up. I called Michelle to see if she would be willing to watch three extra kids and she was totally willing. I was shocked at how gladly she accepted and she never once acted put out by the crazies. Two weeks before we left, I sent Michelle a picture of Declan on my desk and asked if she was ready for it. Her response was, "That ain't nothin. Why isn't he throwing stuff on the floor? Bring it." My mom planned to fly up to Utah to help out as well. It all fell into place. We were already in Utah for the Merkley reunion, a flight from Salt Lake was cheaper, and we didn't have to drive the boys to Utah
just
for the purpose of dropping them off at Michelle's. I hoped and prayed that my mom and sister would love my kids as much as I do while I couldn't be there to take care of them. I think I got a small glimpse into how Heavenly Father feels about us.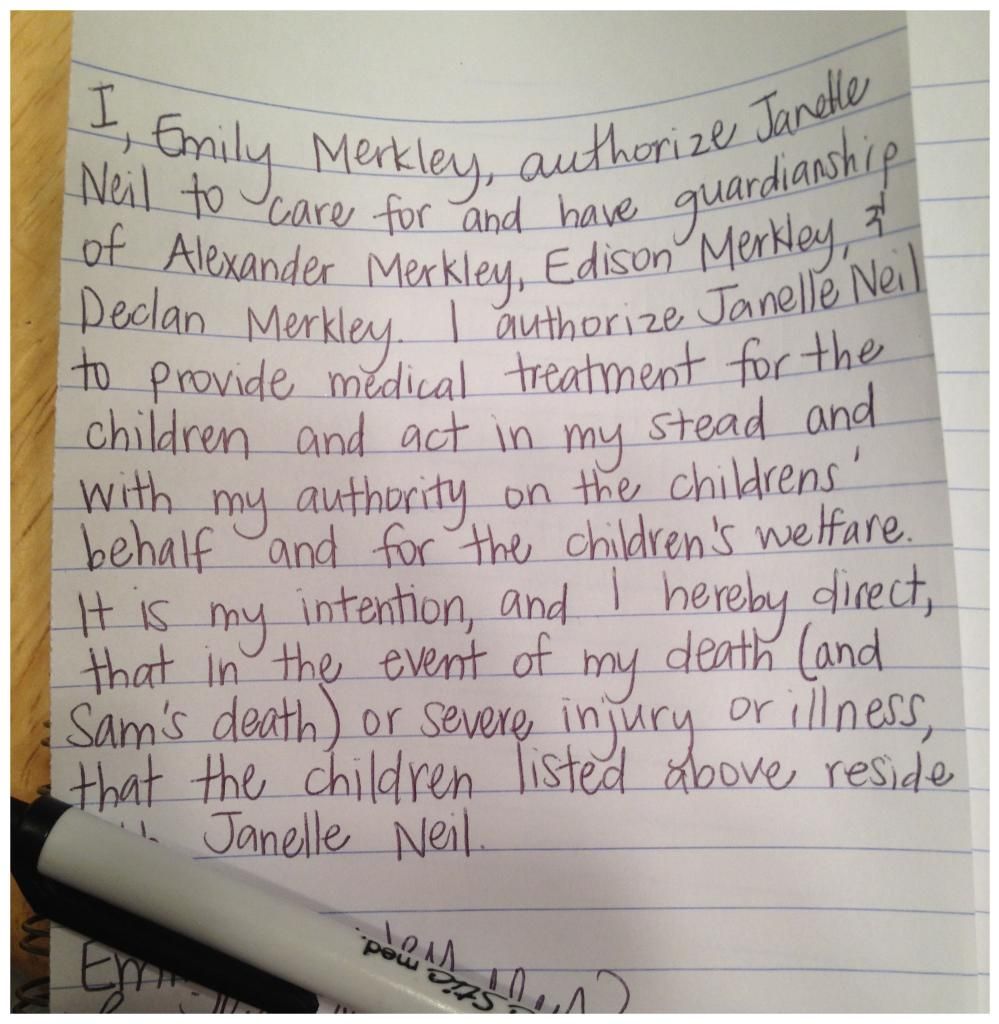 I had to get started on planning what we would be doing now that I knew the kids would be safe and happy. We knew Sam's flight, food, and hotel would be covered which would split the cost of the vacation in half, at least. But only one week didn't seem long enough so we planned to leave one week before the training so we could do the sightseeing beforehand. We considered going to London as well but decided not to so that we could really get to know Scotland. So the planning for "Scotland in Two Weeks" began. I watched the prices of flights religiously for weeks and finally made the purchase. I was on the phone with Sam and we booked seats right next to each other on all of our flights. It was insane that it was official. I was for real going to Scotland I was for real leaving my kids for two weeks; kids that I had only ever been away from overnight if I were in the hospital giving birth to the next one.
On the first day of our big adventure, we took a cab to the Salt Lake City airport and got all checked in. I like a good pat down first thing in the morning. While we waited at our gate to board, my mom sent me a text that said, "Edison just woke up singing, 'Done sleeping, Grandma' over and over. He remembered to call for me instead of you. Smart kid." I was so happy that the boys were not home crying for me.

One glorious perk of flying out of SLC instead of Williston meant that our flight to Scotland only had two legs. Our one and only layover was in Philadelphia, our most favorite city. It has been four years since we lived in Pennsylvania and we missed Philly. We got off the plane, got on a train, and then got on a bus. We picked up gelato somewhere along the way. I am nothing if not a sucker for Philly food.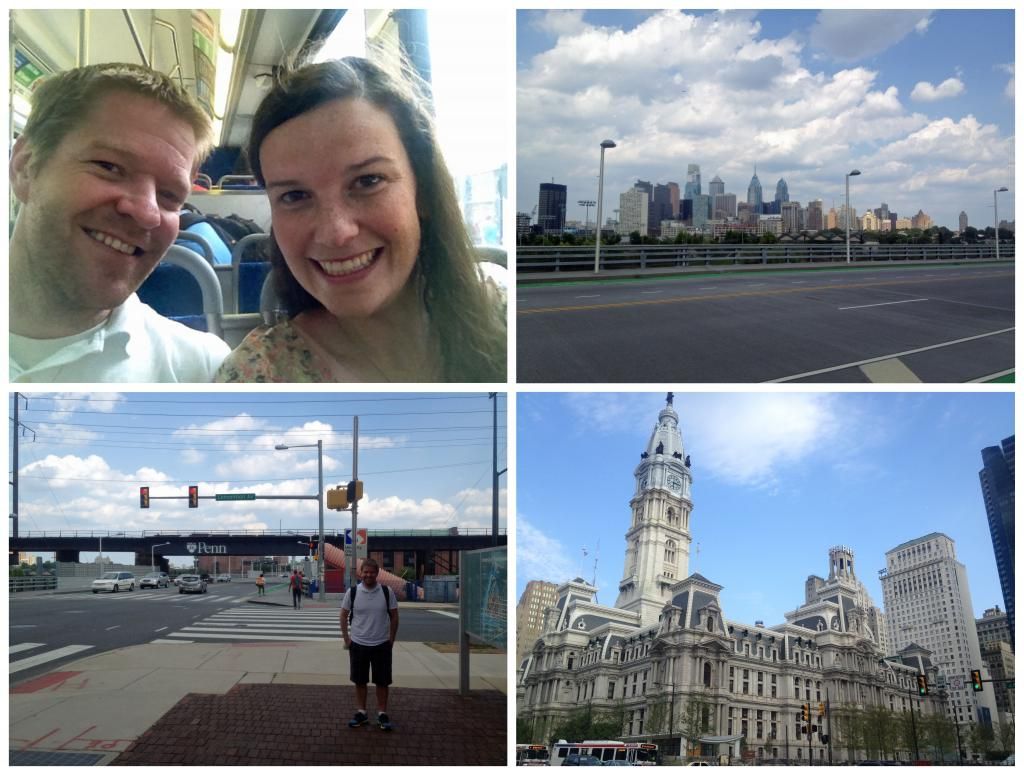 Someone in Williston asked me if we were planning to go to Pat's or Geno's in Philly and I scoffed. I don't know when I became a cheesesteak snob, but Jim's has our hearts.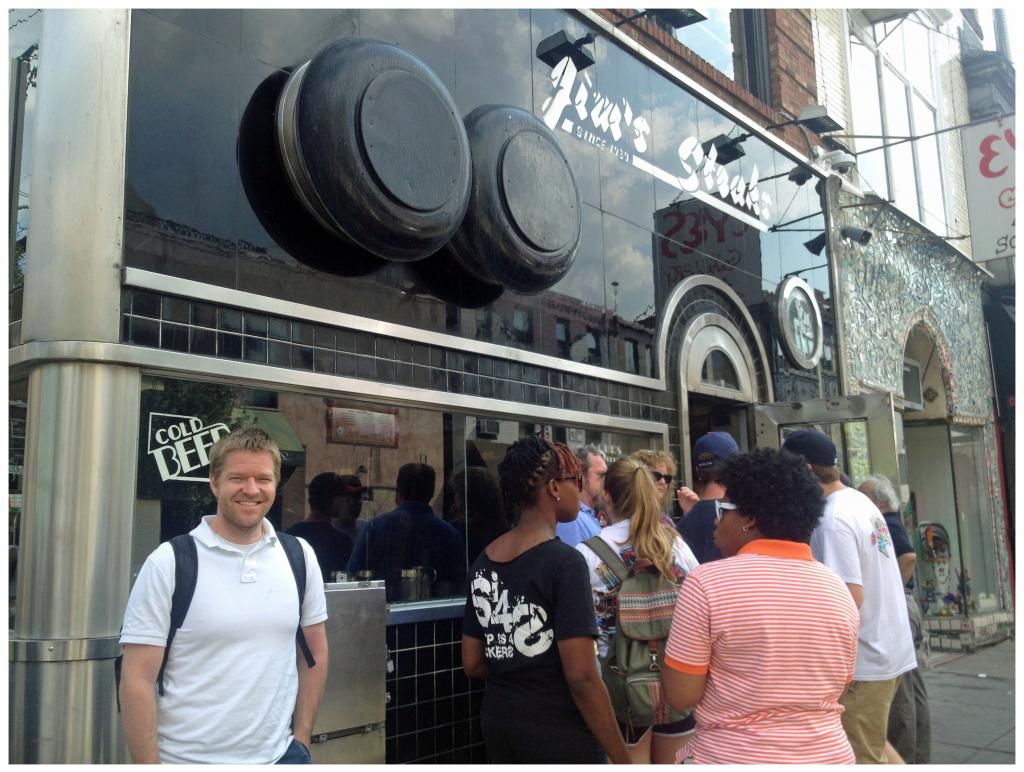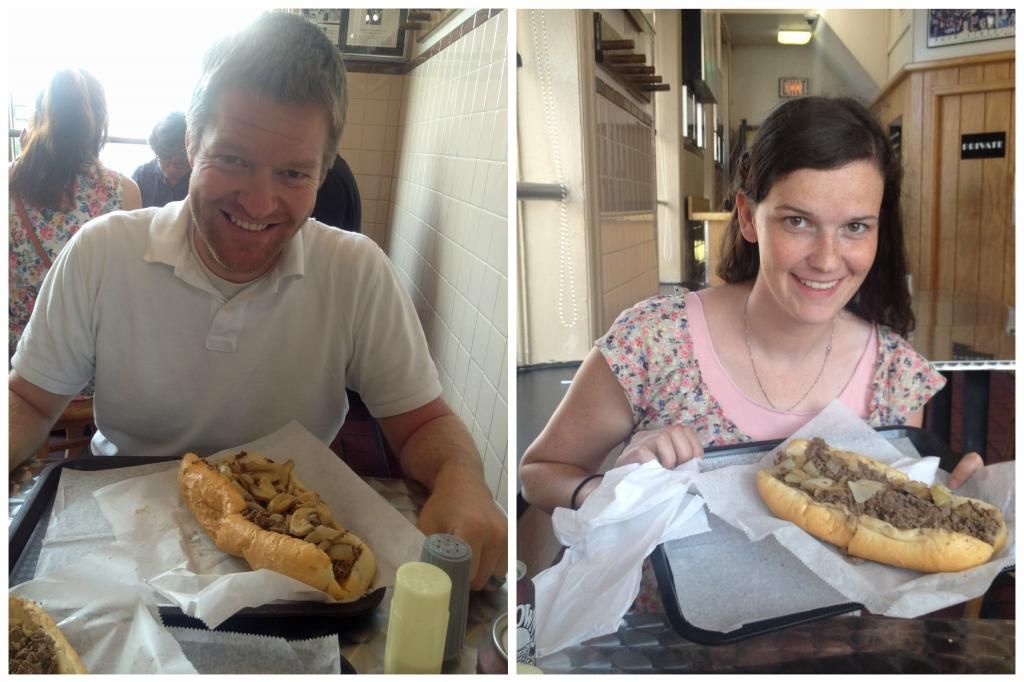 I cannot put into words how excited I was to have water ice again. Rita and I were good friends when we lived in Allentown.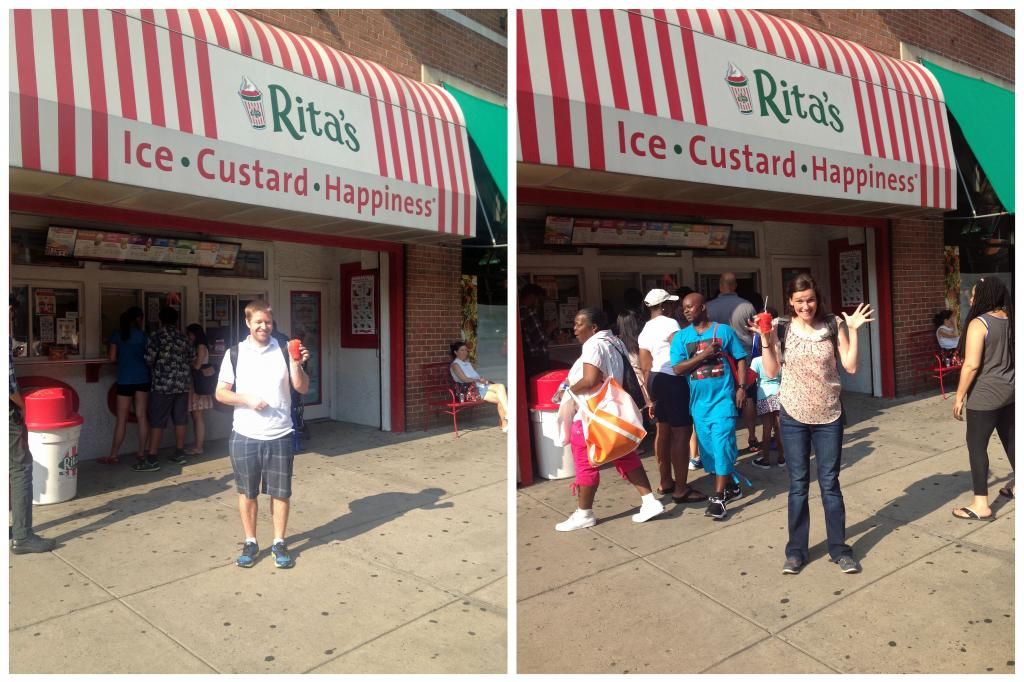 The building containing the Liberty Bell has undergone extensive renovation and you can no longer walk right up to the window to see the Bell. So sad. We wanted to see something we had missed in our previous visits so we walked to Benjamin Franklin's grave. A lot of people had thrown pennies on the gravestone. Franklin died before Abraham Lincoln was born. Maybe the tourists had just left their $100 bills at home that day.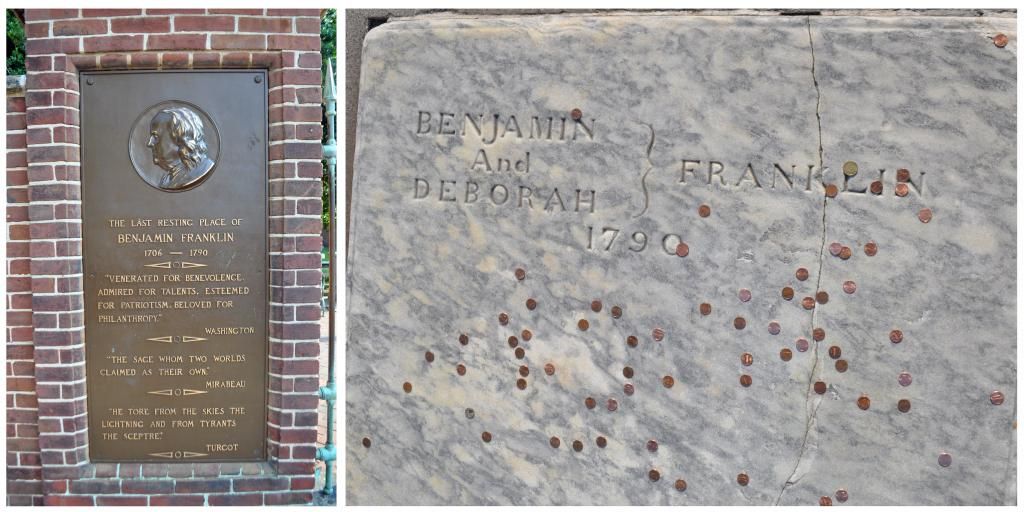 The tickets for Independence Hall were sold out for the day but we've done the tour a few times so we imagined the inside as we walked around the outside.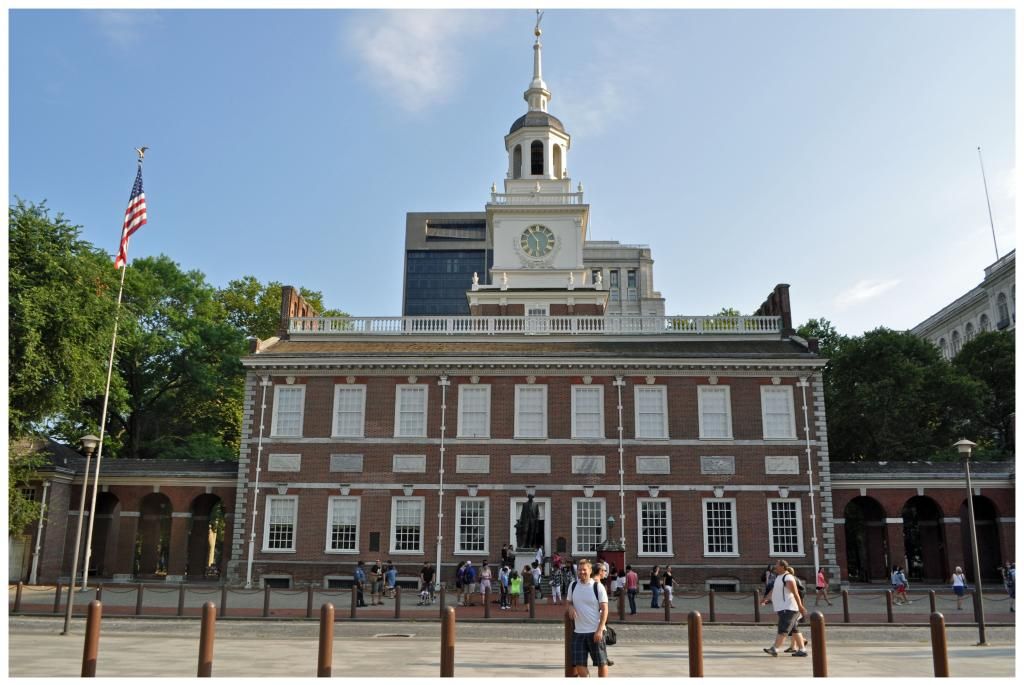 After walking a few miles away from Rita's, we went to get back on the bus and I discovered that I had lost my SEPTA pass. We had each purchased a full day pass and I had realized it must have fallen out of my pocket
way
back at lunch. I told the bus driver and he didn't care. He just wanted me to sit down so he could drive. But we had to get on a train as well and they cared a lot more so I had to buy a one-way pass to the airport. A few days later I saw Sam's SEPTA pass in the suitcase and said, "What is this?" He said, "You wouldn't know what that is. It is the bus pass from Philly." So rude! And hilarious. Losing things is very out of character for me so it was frustrating.
We got back to the airport in plenty of time and I got a pat down, take 2. We Skyped with the boys while waiting for our airplane to arrive.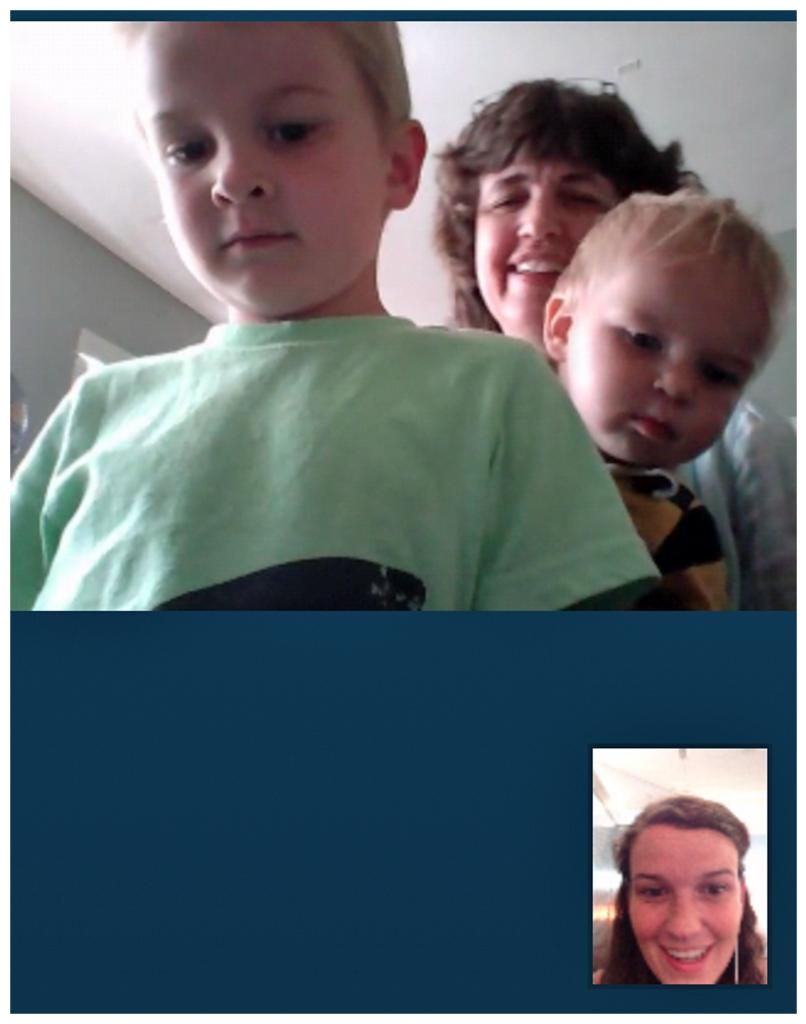 We got four hours of sleep on the airplane. It was a seven hour flight with a five hour time change.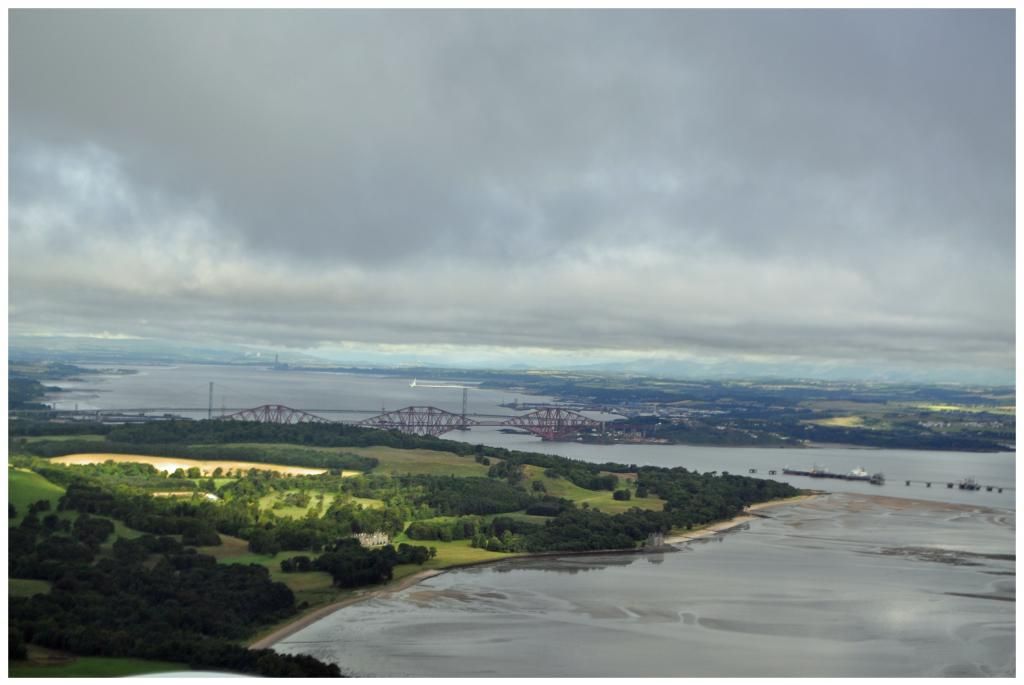 So we got to the airport at 9am, got our rental car, and headed to church for the 10:30am ward. On the drive there, Sam was getting accustomed to driving on the left side of the road. To add to the difficulty, he had to shift the manual transmission with his left hand. The airport really should have done a five minute video on the laws of Scotland because it took us several days to learn that a white sign with a black diagonal bar through it meant that the speed limit was 60. How were we supposed to know that?! Also, that is 60 MPH. Miles per hour! So confusing. We drove by the church building and had to do a U-turn which turned into a 3-point-turn and Sam had not learned to put the car in reverse so we got stuck in the middle of the road. A few cars drove around us and I was in front of the car trying to push it. A really kind, older couple stopped and helped us push the car. Then when Sam was able to drive forward they started cheering because the car was working! I felt like an idiot and didn't want to speak to say, "Thank you" because then they would hear my American accent. So I gave them a thumbs up. They looked at me like I was crazy and I worried that I had offended them because I learned in a sociology class in college that thumbs up is super offensive in some countries. We changed into our church clothes in our car in the parking lot. My first order of business when the sister missionaries welcomed us into the church building was to ask if thumbs up was offensive in Scotland. It is not. Whew. I loved the ward there. It was so fabulously Gospel-focused. A man's wife had unexpectedly died in her sleep the week before leaving several young children. The love, testimonies, and strength I witnessed was incredible, even though they were complete strangers to me. The only problem was that my body thought it was 4am and I could barely stay awake. I did better than Sam though because he was sleeping through sacrament meeting like an old man.
After church, we drove around Edinburgh trying to find a place to buy a transformer so we could charge Sam's computer. We finally found one, got smoothies for breakfast/lunch (at 4pm), and then started driving to Perth. We had no goal destination. Planning the trip was entirely overwhelming to me and I mentally could not handle it. The plans we had made were very tentative and basically included, "Let's go around the whole country in a counter-clockwise direction." I so badly wished that we had at least booked a place to stay for that first night because we were exhausted. We were using Sam's cell phone to make web searches and phone calls so we were very dependent on cell service which we did not have anywhere on the road from Edinburgh to Perth. Once we got there, we started calling Bed and Breakfasts trying to find a place to stay. Bed & Breakfasts are nifty little things that expect you to be cordial and not try to book a room at 6pm for
that night
. We found a place to stay (after an hour of my fuh-reaking out) and made the drive to Crieff. To those unfamiliar with the geography of Scotland, we were basically gallivanting all over the place and had no business in going to Perth at all. Yvonne welcomed us into her home (Bridgehill Cottage in Muthill) and was so kind. We were the only ones staying there that night. She had only opened as a B&B a few months early and explained everything to the noobs. She suggested we go into Crieff and eat dinner. We obeyed and it was weird for several reasons. First, we were out to dinner on a Sunday. We do not do that. I do not think I have, in my entire lifetime, gone to a real sit down restaurant for dinner on a Sunday. We went to a cute Italian restaurant called Avanti. Second, Sam and I are both used to throwing down our food so we can tend to the kids and we noticed we were doing the same thing but it was unnecessary. No one even knew we had kids, and we had nothing to rush off to. We went back to the B&B, planned out the next day, and then I fell asleep at 9pm. I got 11 hours of sleep and woke up feeling ready to see the country.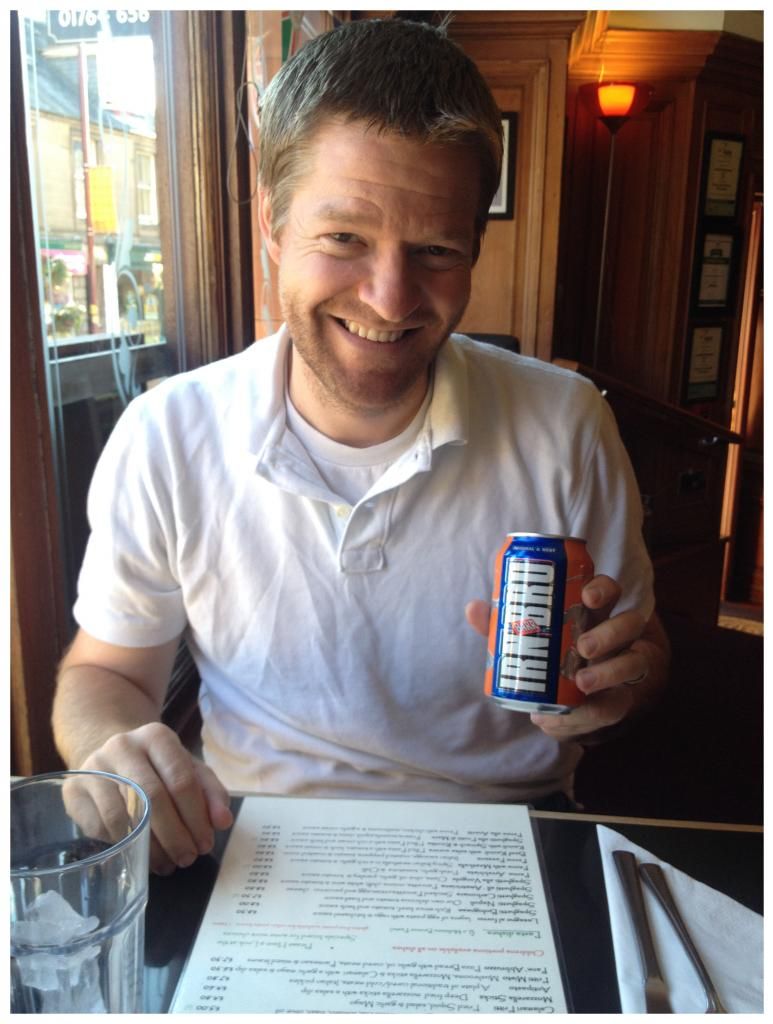 We drank more Irn Bru than water.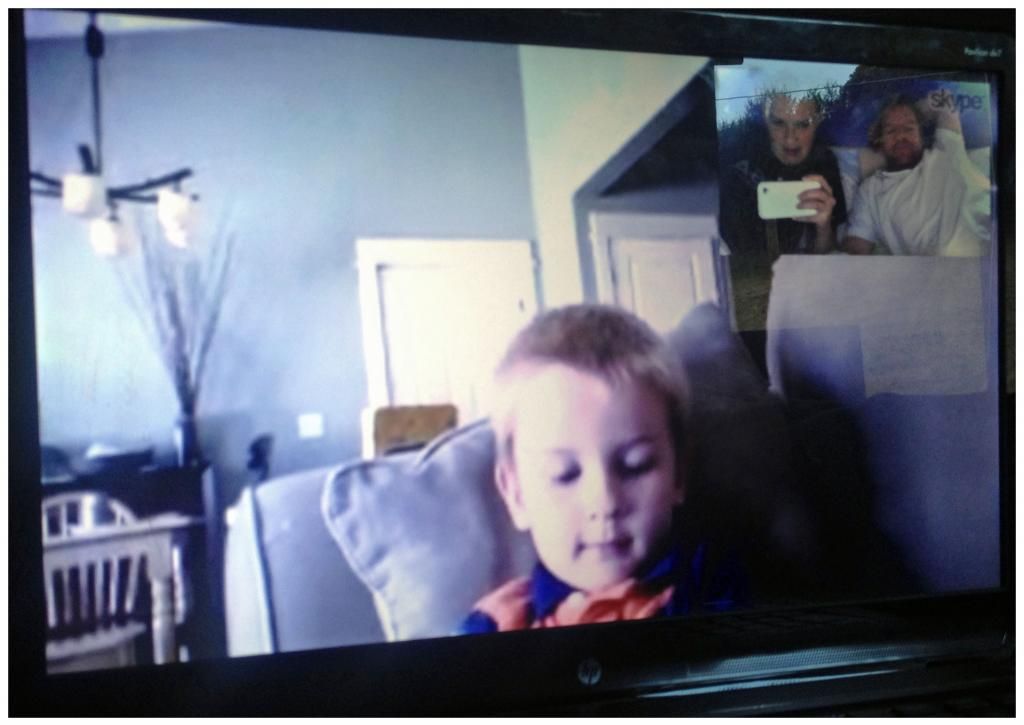 Yvonne made us a delicious breakfast. It was more than I wanted to eat but I didn't want to be rude. That seemed to be a theme of the trip. Breakfast is a very big meal. When I finished, I cleared my plate from the table and started cleaning up. I thought she was going to swat my hand when she saw me because that is apparently not how things are done. I wondered if B&Bs were for me, because I don't like inconveniencing people. Yes, we had paid to stay there but it was still her home.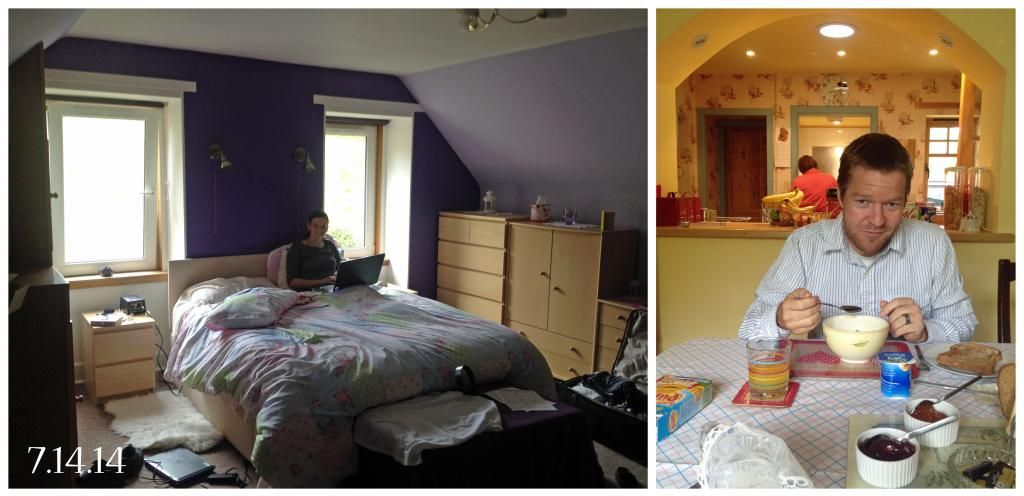 We showered and packed up. The downside of driving all over the country and staying in a different place every night was that we had to repack each morning and then our suitcases sat in our rental car all day long. Luckily, nothing was ever stolen. After we said our farewells to Yvonne, we headed to our first destination: Huntingtower Castle. When we got there, the lady working talked to us about the Historic Scotland Explorer Pass. I had researched that before our trip but decided against it because I didn't think we would use it enough to make it worthwhile. But it was only Day 2 in Scotland and I was already feeling so poor. We walked around the castle trying to decide if it would be worth it to purchase the Pass and by the end, we decided to buy it. It was £38 each but by the end of our time in Scotland, we estimate it had saved us each £68 based on the things we did. So glad we bit the bullet on that first sightseeing day.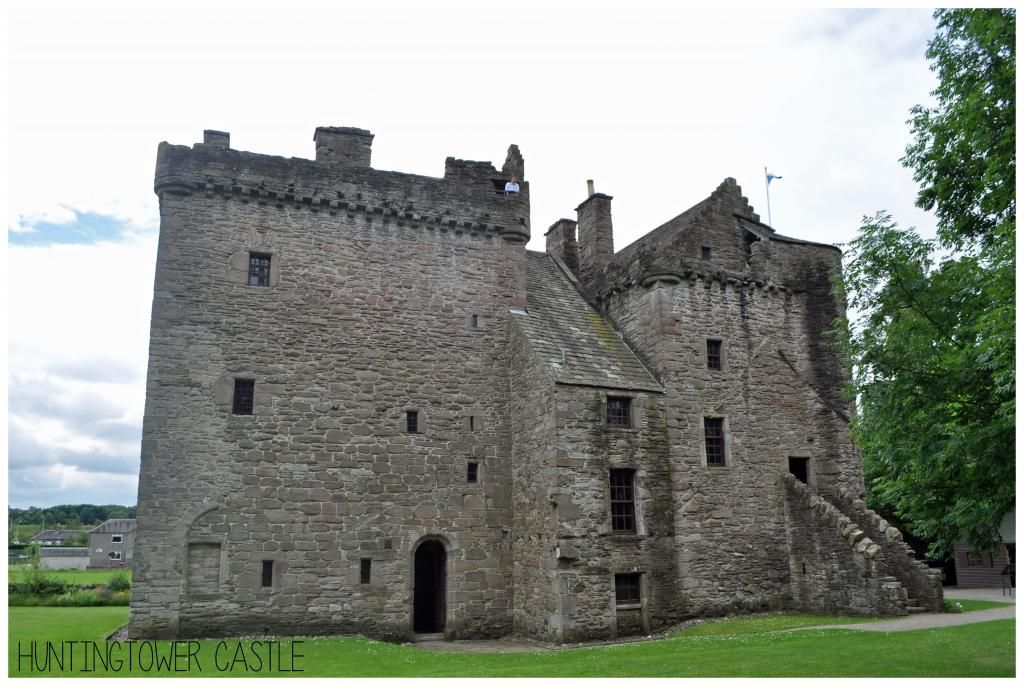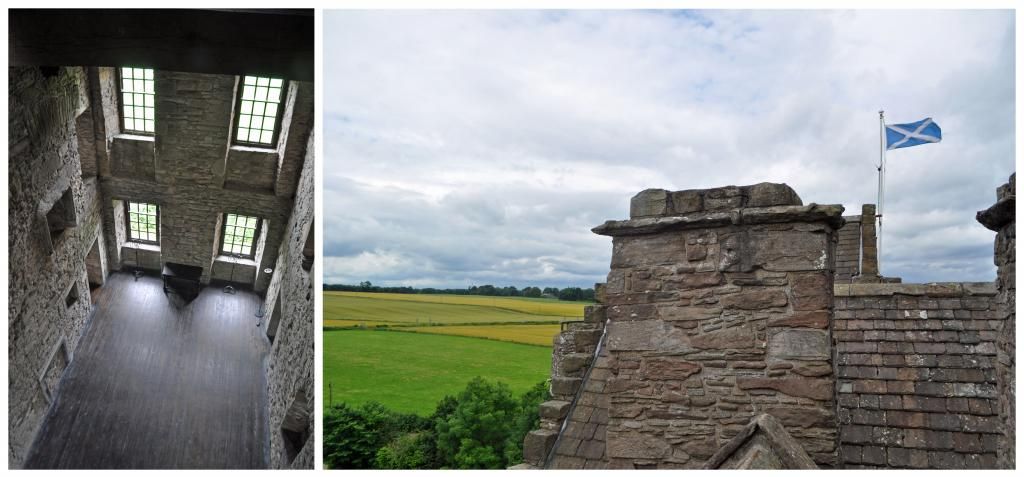 Our next stop was Elcho Castle. It was literally in someone's front yard. There was a little cottage and a sign asking us not to disturb them because it was a person's private residence. It is a perfectly normal thing to have a castle in your yard in Scotland. We had the whole place to ourselves and wandered around inside and outside for quite a while.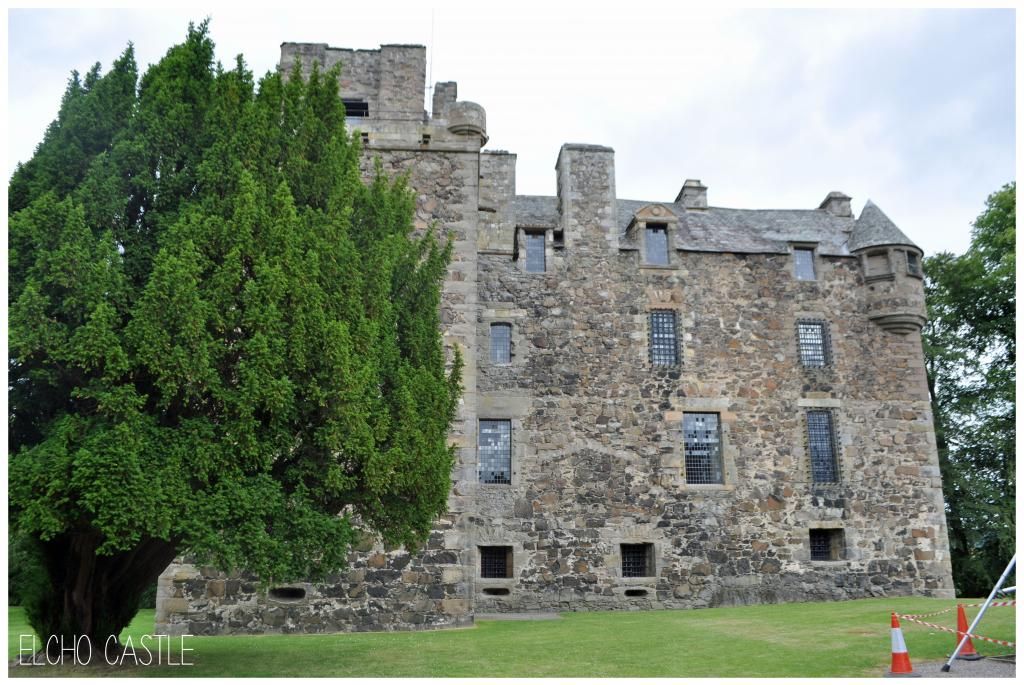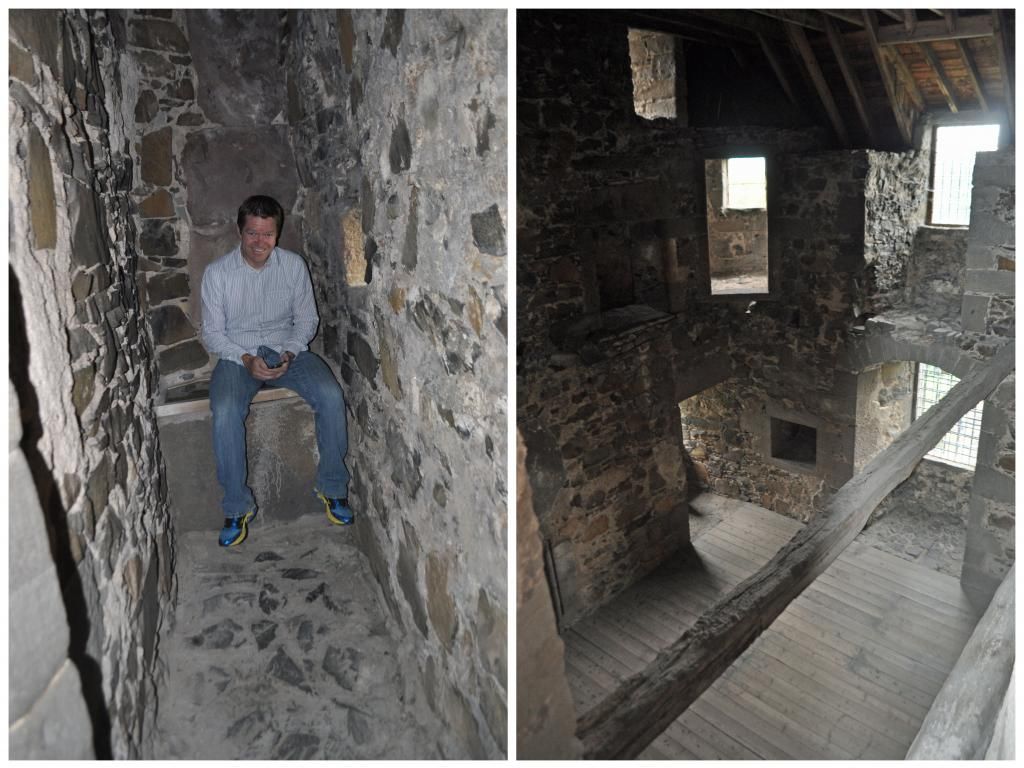 Sam was fascinated by the "toilets."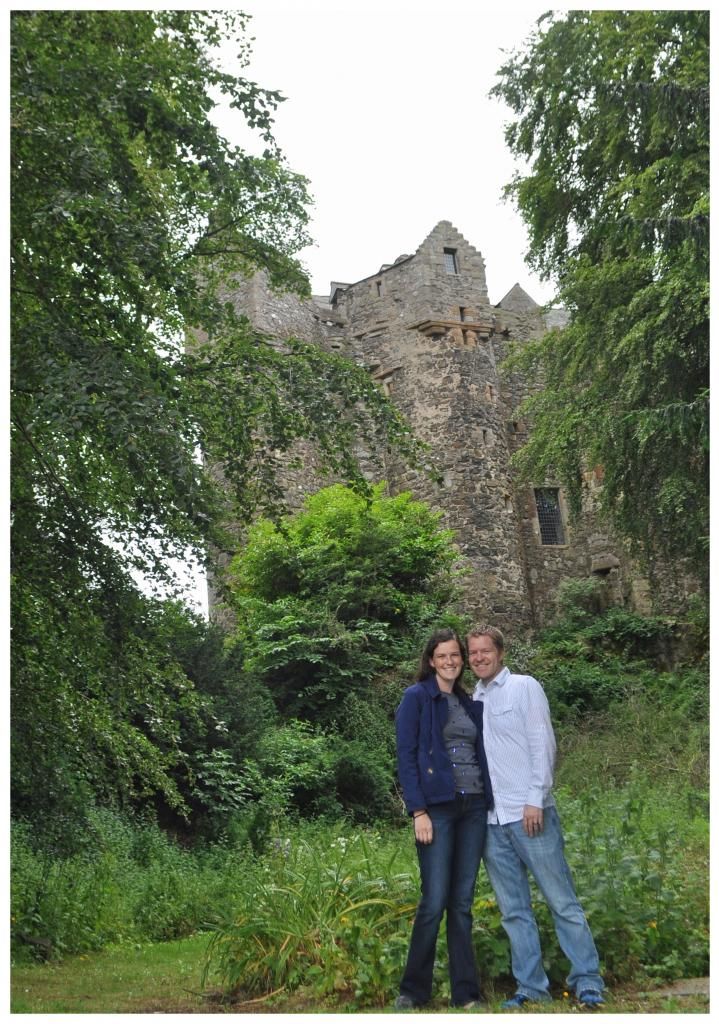 We drove to St. Andrews to spend the afternoon. It was a drizzly day but we were not about to let any rain stop us from our vacationing.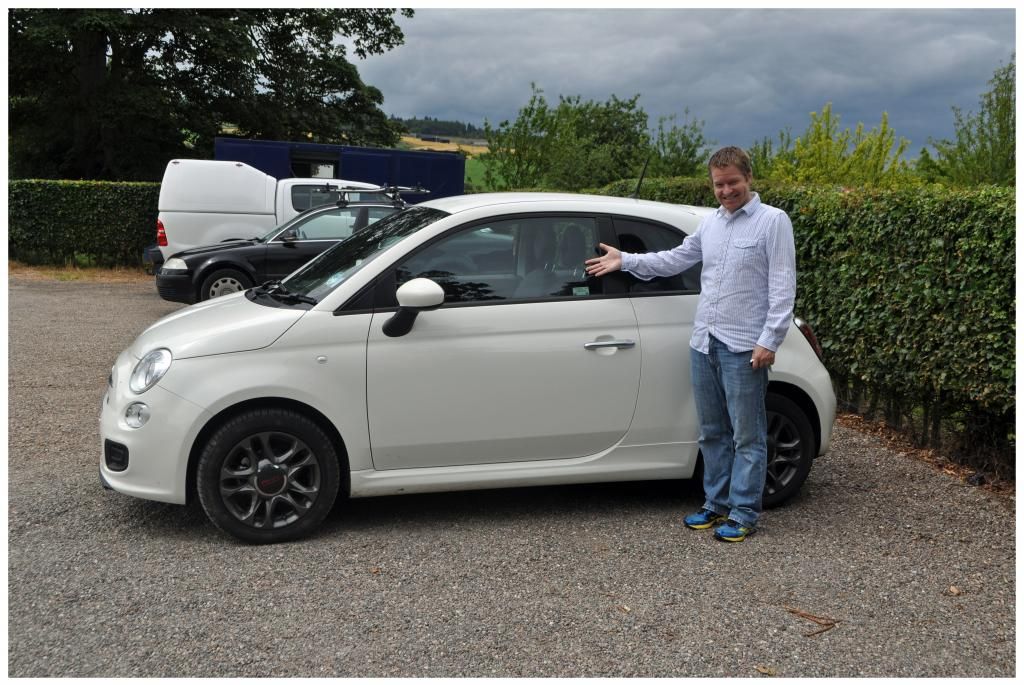 Our tiny Fiat 500.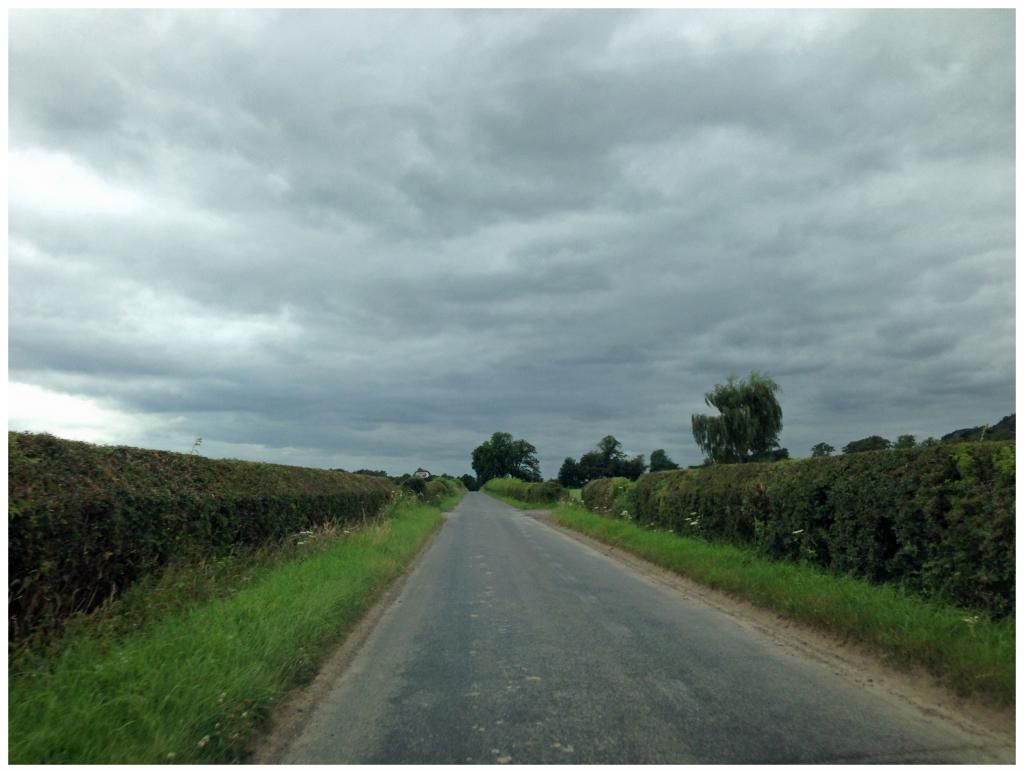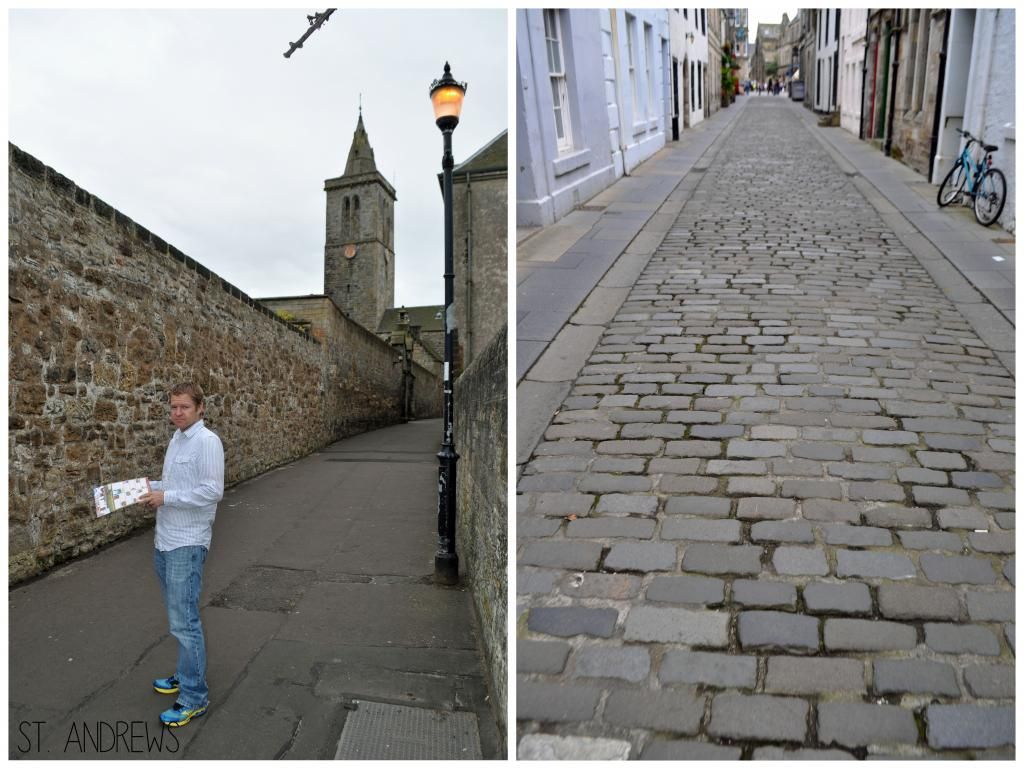 We walked around St. Andrews and then ate lunch at Tailend. We both had fish and chips. We asked the waitress all about tipping practices in Scotland, where she explained that tipping is optional and usually only £1 or maybe just our "shrapnel."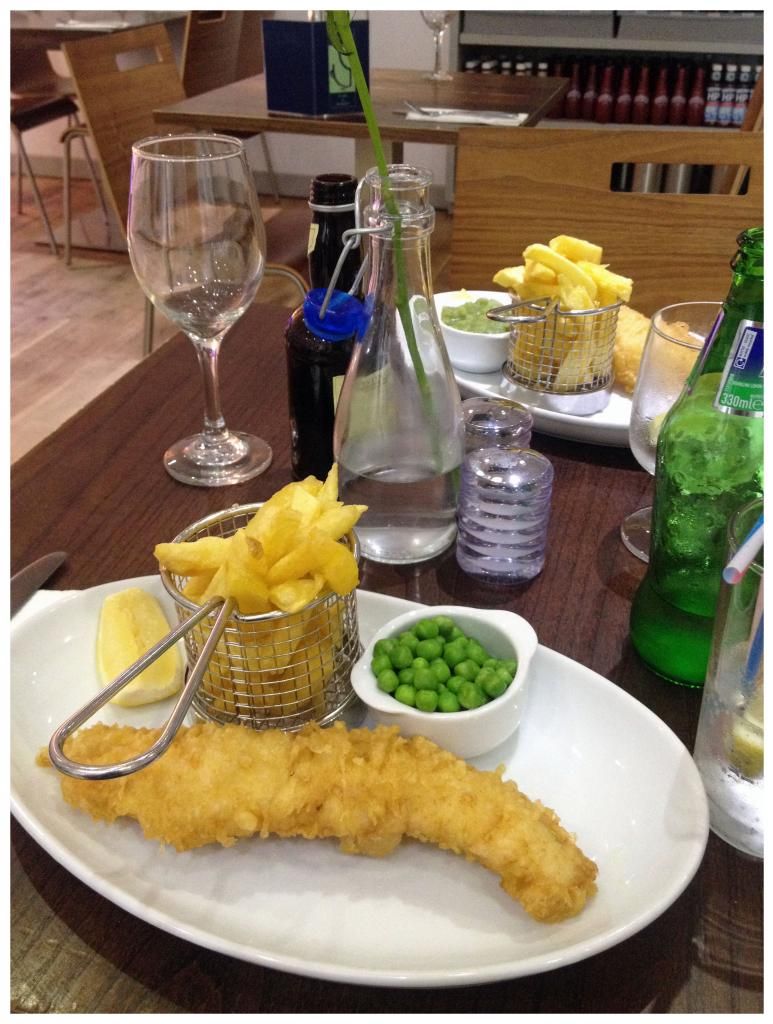 We walked back to the castle and into the tunnels. I was really looking forward to seeing these tunnels because the story is fantastic. In 1546, there was a siege of the castle. The attackers started digging a tunnel under the castle to breach the castle defenses. Those defending the castle could hear the digging sounds so they started digging a countermine. They went the wrong way the first and second time but eventually met up with the attackers' tunnel and put a stop to the madness.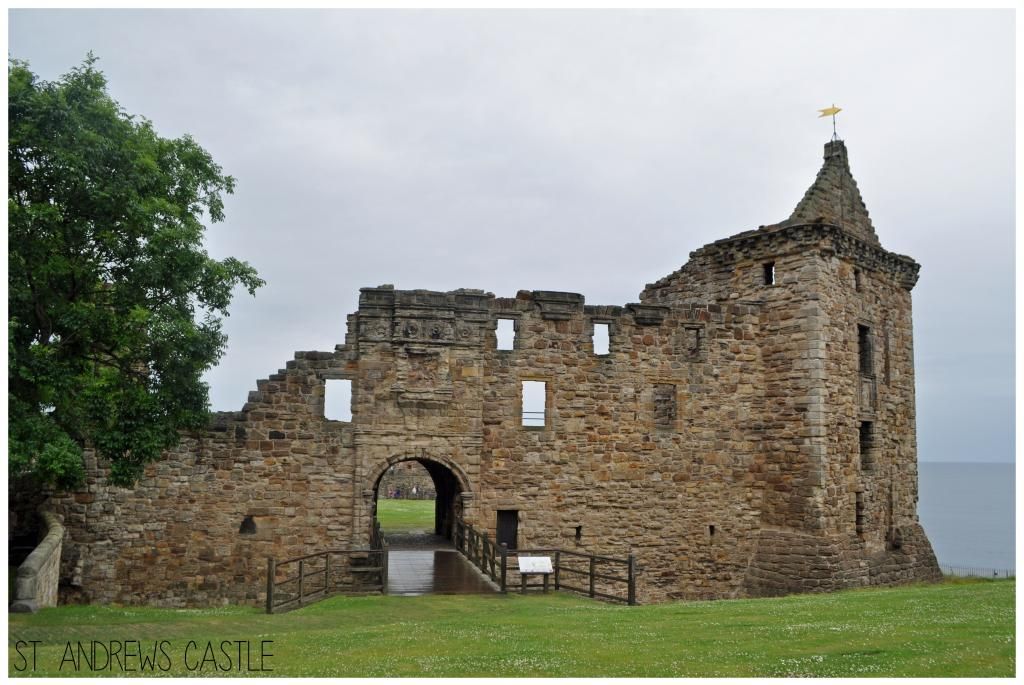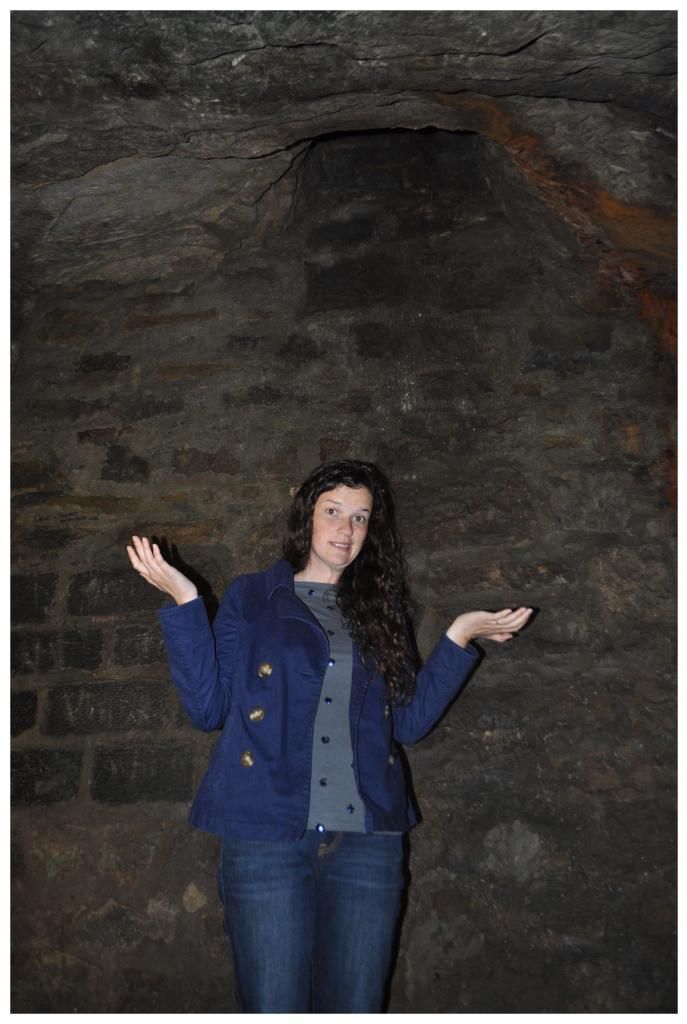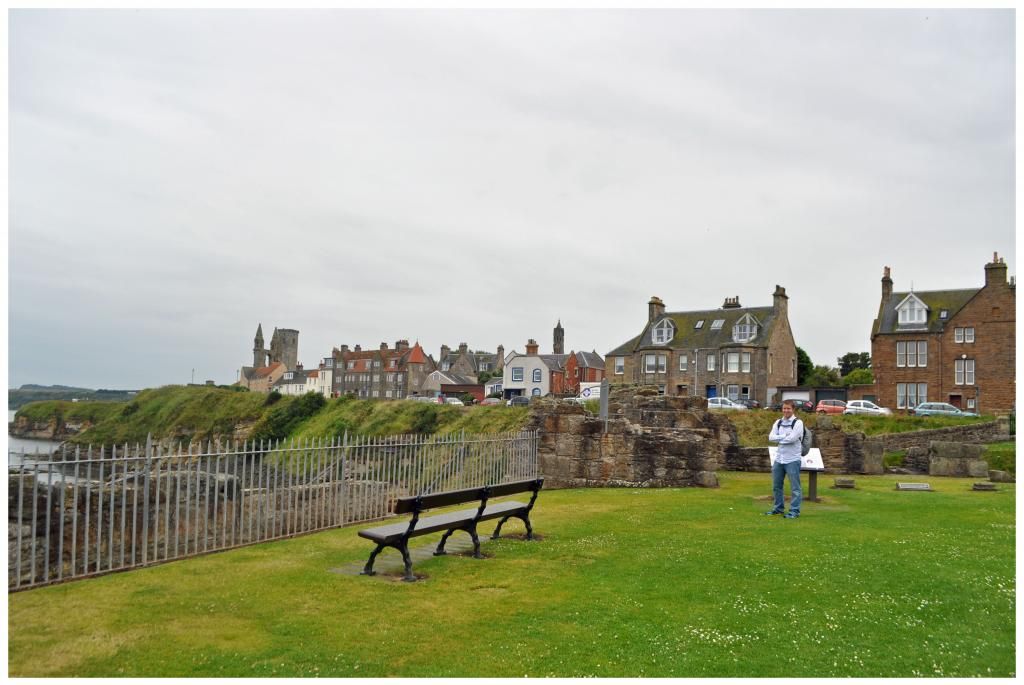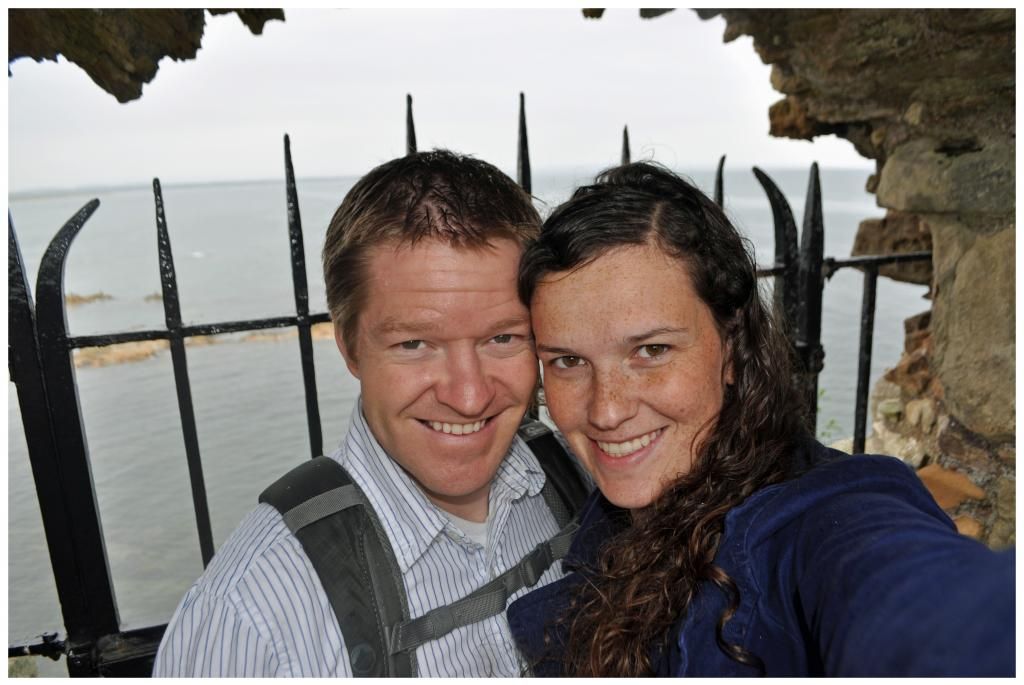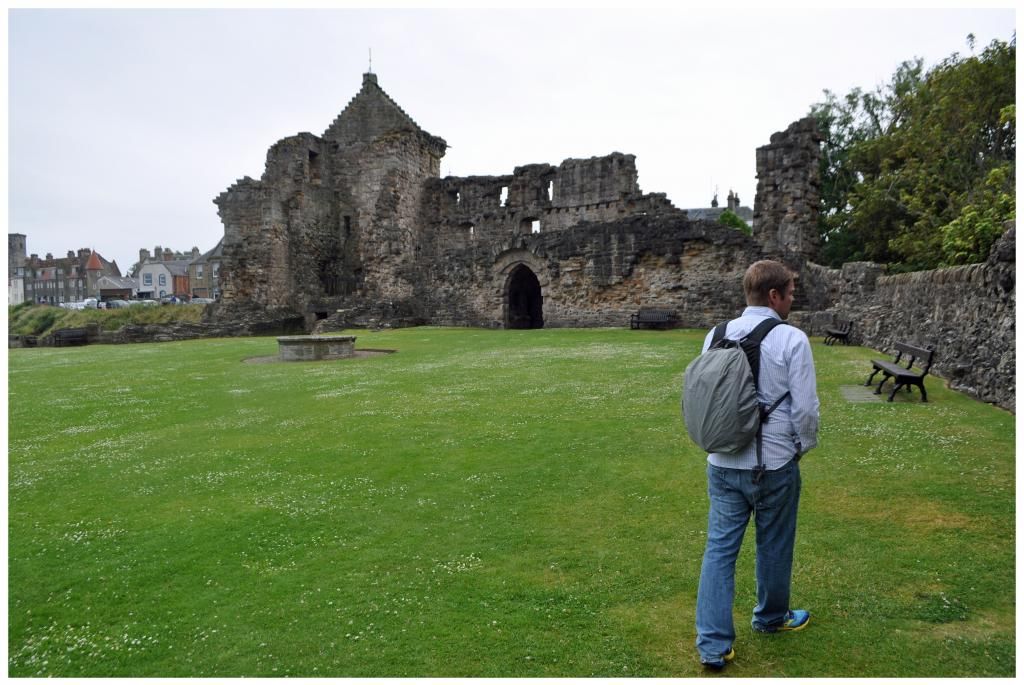 The St. Andrews Cathedral has a large footprint but mostly only a skeleton remains. It was built in 1158. Sam and I were repeatedly amazed by the age of the things we were seeing. Scotland has so much history that makes the United States look like a toddler.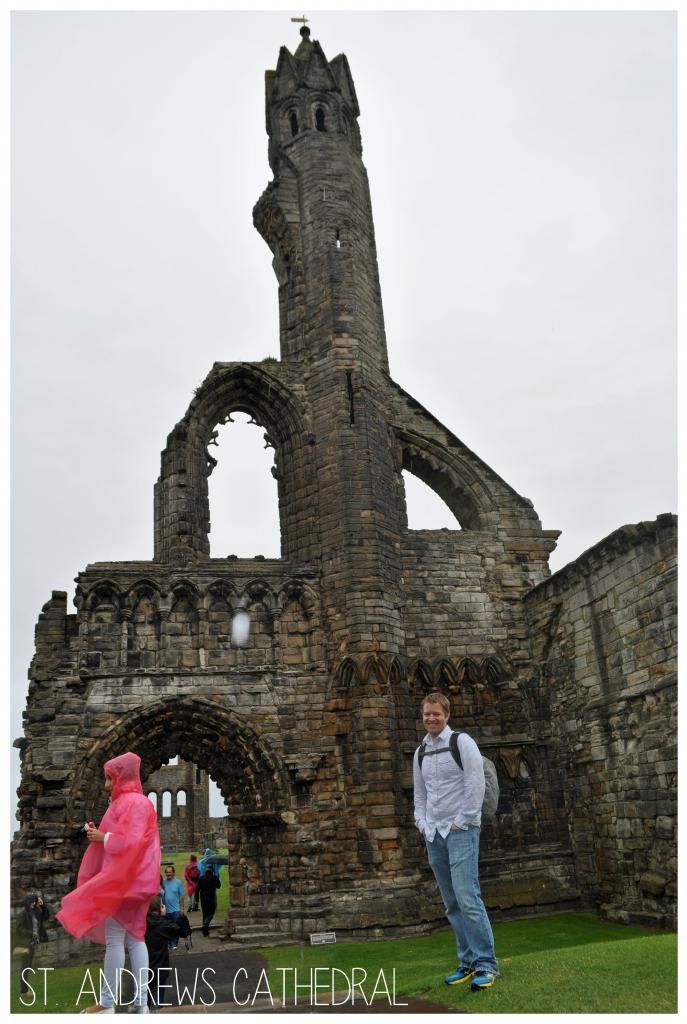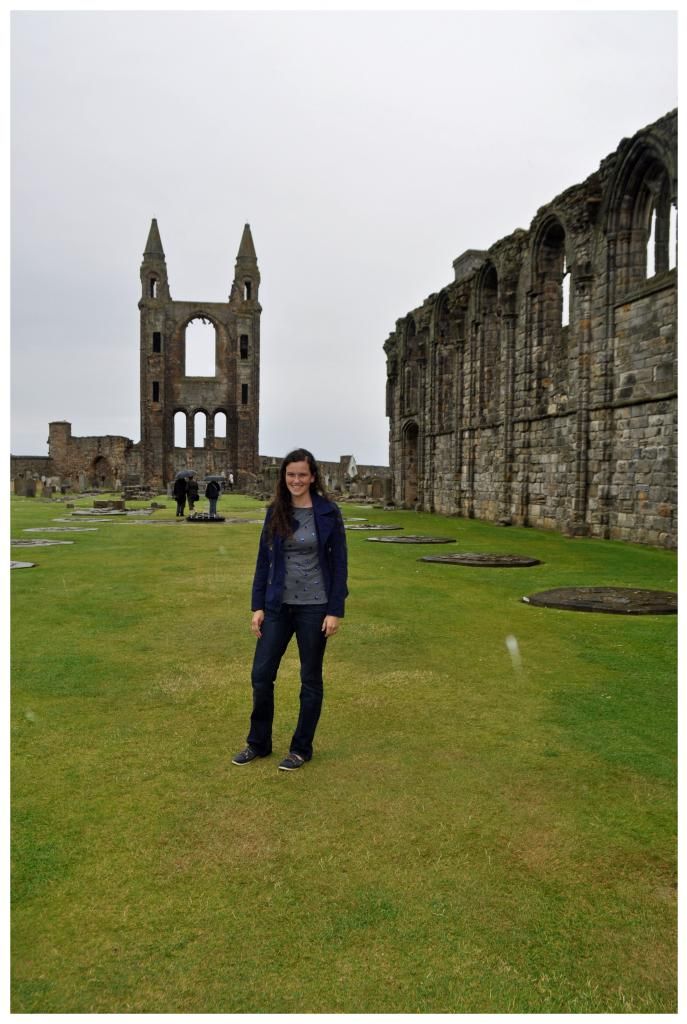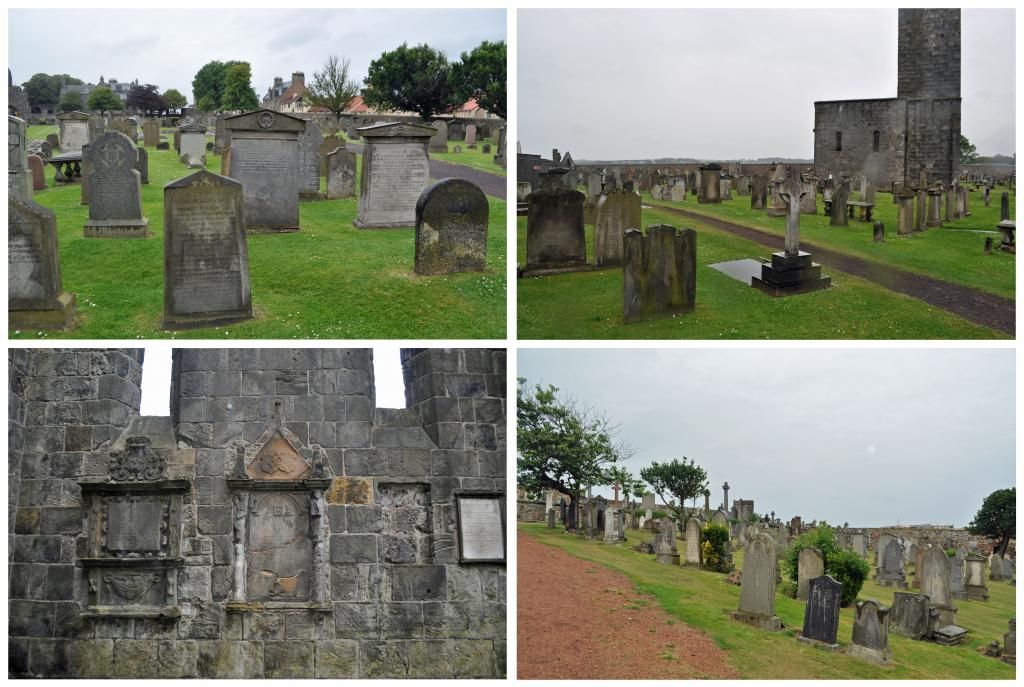 We climbed St. Rules tower. It is located on the grounds of the Cathedral but predates it. I was very winded after climbing the stairs but was better off than the lady behind us who tripped and faceplanted into the stairs, receiving a nice bloody lip but thankfully had all teeth intact. We were at the top of the tower with a Chinese family so Sam asked them in Mandarin to take our picture. That was just the beginning; Chinese people were everywhere! Someone told us, "The Chinese people are hiding in their shops and are one day going to all come out and take over Scotland." We went into several of those shops and the owners were always thrilled to chat with Sam in their native languages.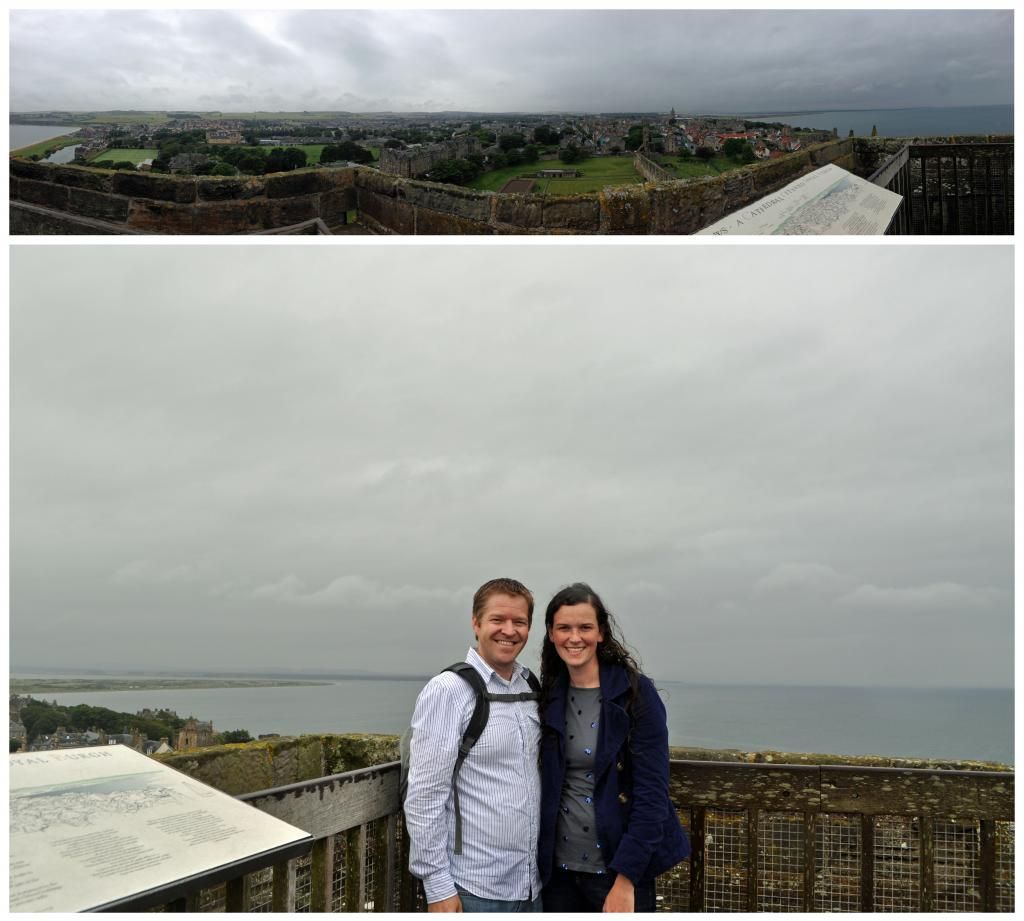 The Celtic Church on the Cathedral grounds was full of Pictish stones and ruins of the Cathedral. We saw a lot of rooms with piles on stones that didn't seem very important and yet were
hundreds
of years old and just sitting around like a stray rock.

We had debated golfing on the St. Andrews Links. The Old Course is where golf originated 600 years ago. We didn't want to pay £240 to golf there for real so we paid £2 and played nine holes on the St. Andrews Putting Green. I think it would be amazing to be a caddy on a St. Andrews course though. The whole city was incredible and the architecture was beautiful.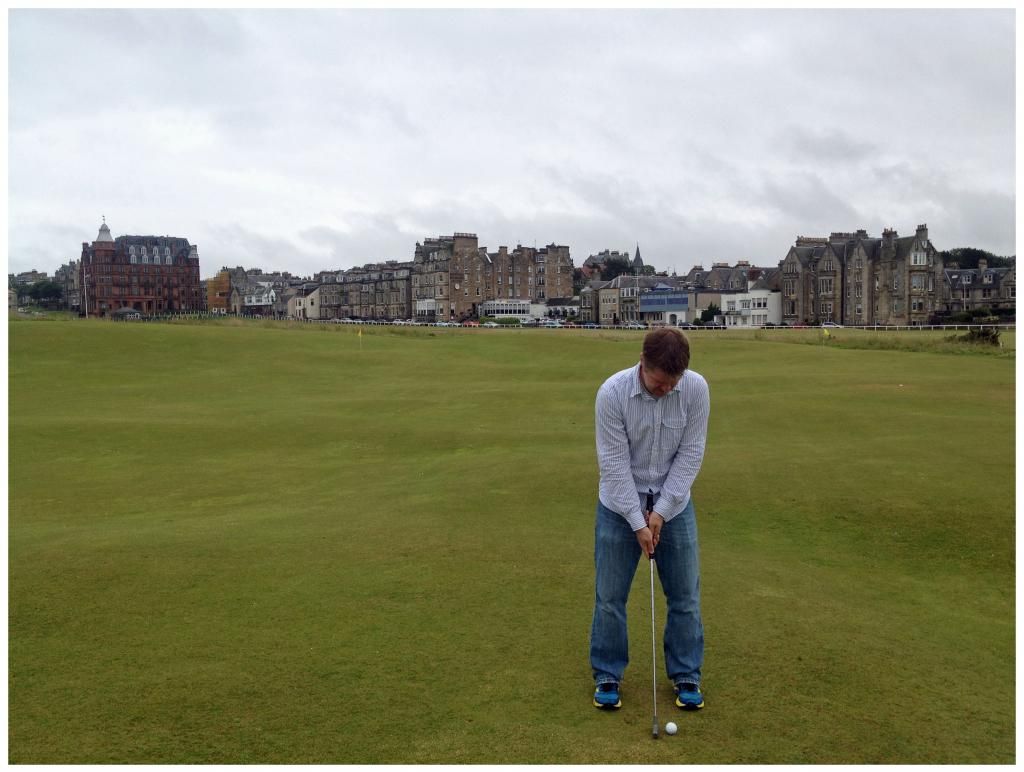 Directly behind Sam's back is the Old Course.
Sam had a work call in the middle of our round. He learned his manager was leaving to go to a competitor of SLB and we were very shocked and it has caused a lot of our plans for the future to be tossed out the window.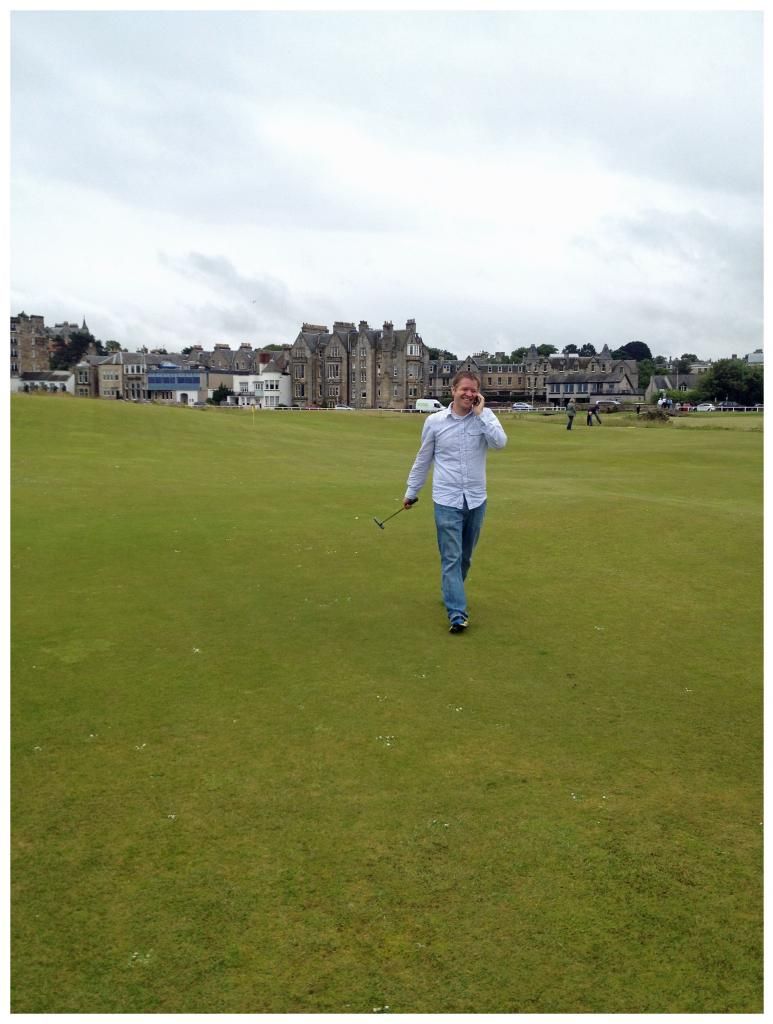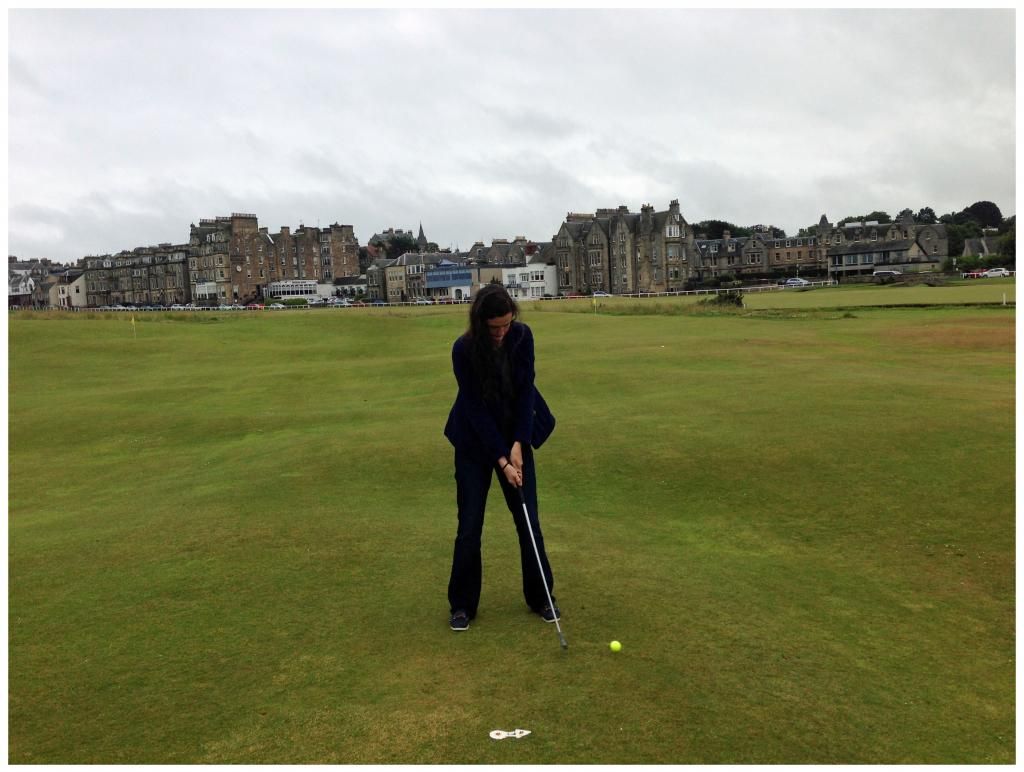 We stayed that night in a small "house" at the Drumoig Golf Hotel. After checking in, we went to Dundee for dinner. Sam chatted up the owner in Cantonese while we picked up our Chinese takeaway and they gave us a ton of extra food. Dundee was the first place in Scotland to take my breath away. The way it lies on the bank of the Firth of Tay was incredible and so surprising as we crossed the bridge. I wanted to stop in the middle of the road and take a picture. I fell asleep at 9pm that night and Sam stayed up to Skype with the boys.