We drove from Mesa to Oklahoma City on Friday. We got to our hotel room at 2am and we were totally exhausted. It had been a long day. We woke up Saturday morning and drove to Bartlesville, Oklahoma. When we were house hunting in Houston in November, we test drove an Odyssey. They told us to shop around but just do not try to compare them to Oklahoma prices because they could not beat the prices there. It is very funny (and sad for the Houston salesman) that we ended up going to Oklahoma. My Dad set up the whole thing. He did all of the communicating and negotiating with the salesman; all we had to do was pick it up! My dad is amazing! I was excited to get into Houston since Oklahoma City was so cold. The Sonata did not like being covered in snow. We made it up to the Sonata by buying it a friend.

We had to drive separately the rest of the way to Houston. There was no question that I was driving my beautiful new van! Alex and Edison were in the Odyssey with me and Declan went in the Sonata with Sam. When people ask me about the Odyssey, I say, "I love it so much I want to makeout with it." It's true. It is such a beautiful creature.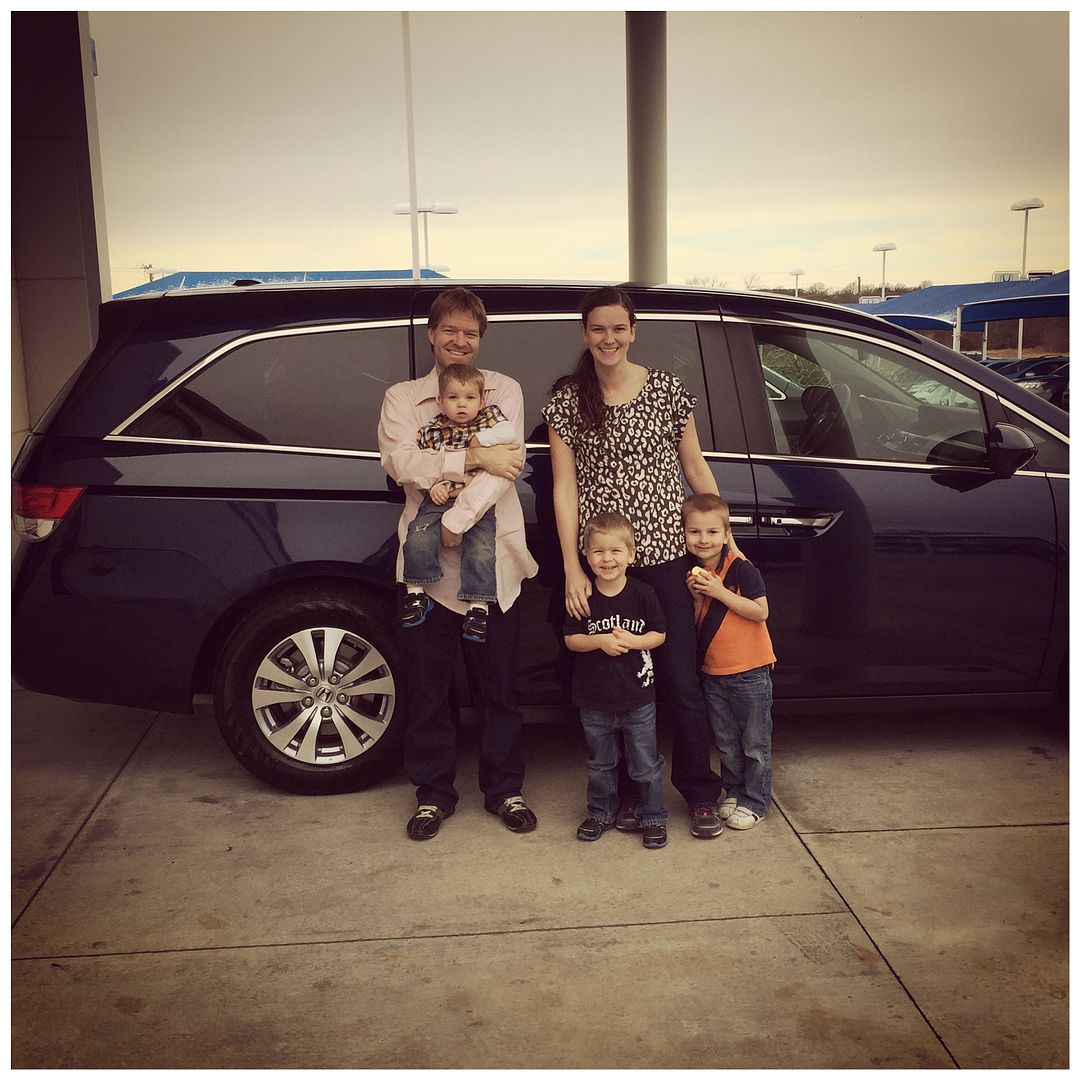 We spent the entire drive to Houston listening to the Serial podcast. I am obsessed with it. We got to our new house at midnight. The house was frigid. I had gotten our power turned on before we arrived but I was not able to get the gas turned on until there was someone present. That was very unfortunate. It also meant we had no hot water so that meant no showers. Yum yum. It was 61°F inside the house. I was not a happy camper. I really wished we had packed more warm clothes and blankets. At least we had electricity. I was beyond tired so Sam went to the store and bought a couple of space heaters and some food for the next few days.
We went to church the next morning and met a few people. I am trying to keep a good attitude about maybe meeting more people (my age) in the upcoming weeks.
The gas was turned on early Monday morning. I was so happy to no longer be shaking in the house.
The way Declan is sitting in this picture cracks me up. I love his little legs.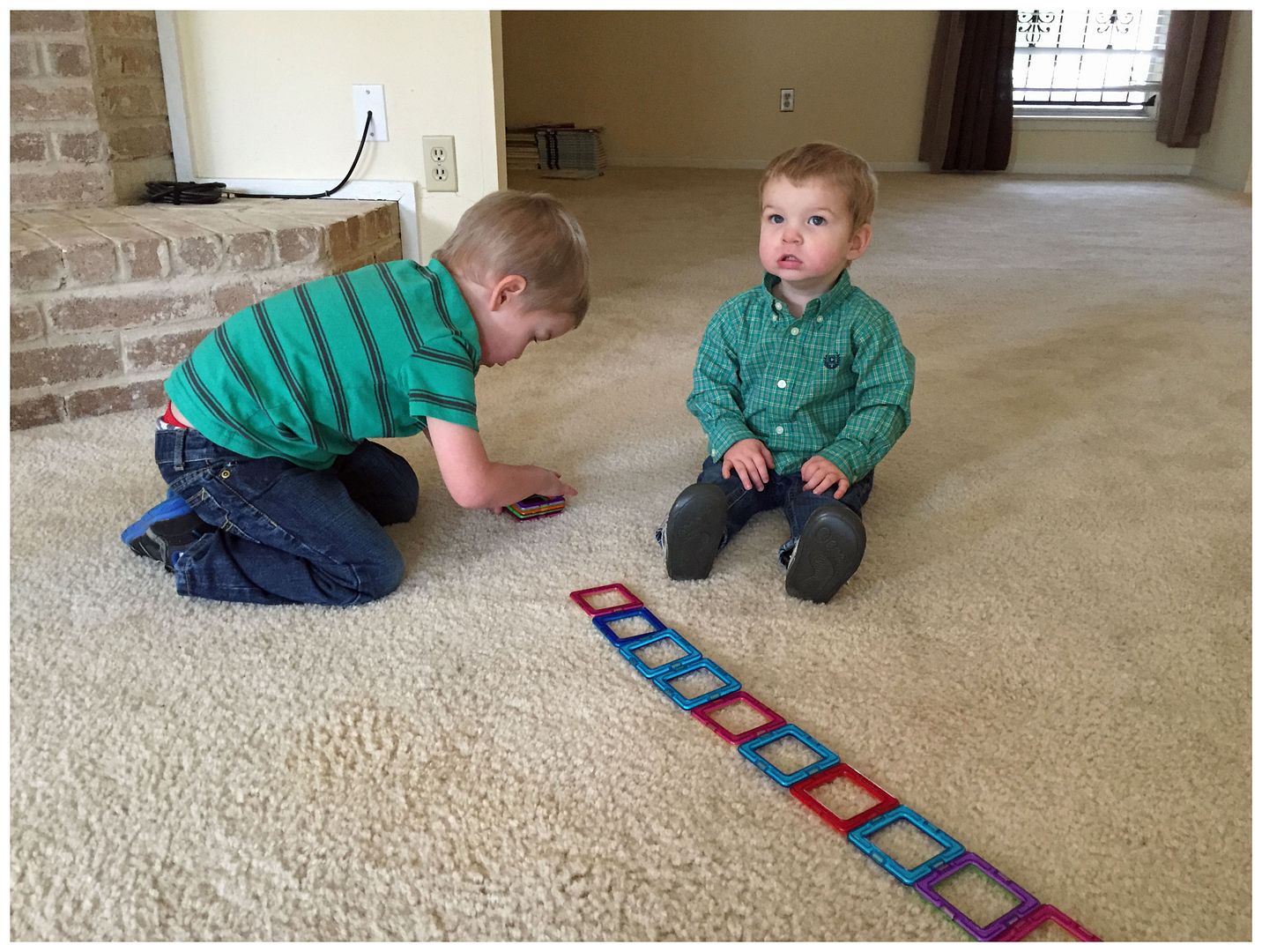 We went shopping and ordered couches and a bunk bed. Now that we have heat, we need furniture!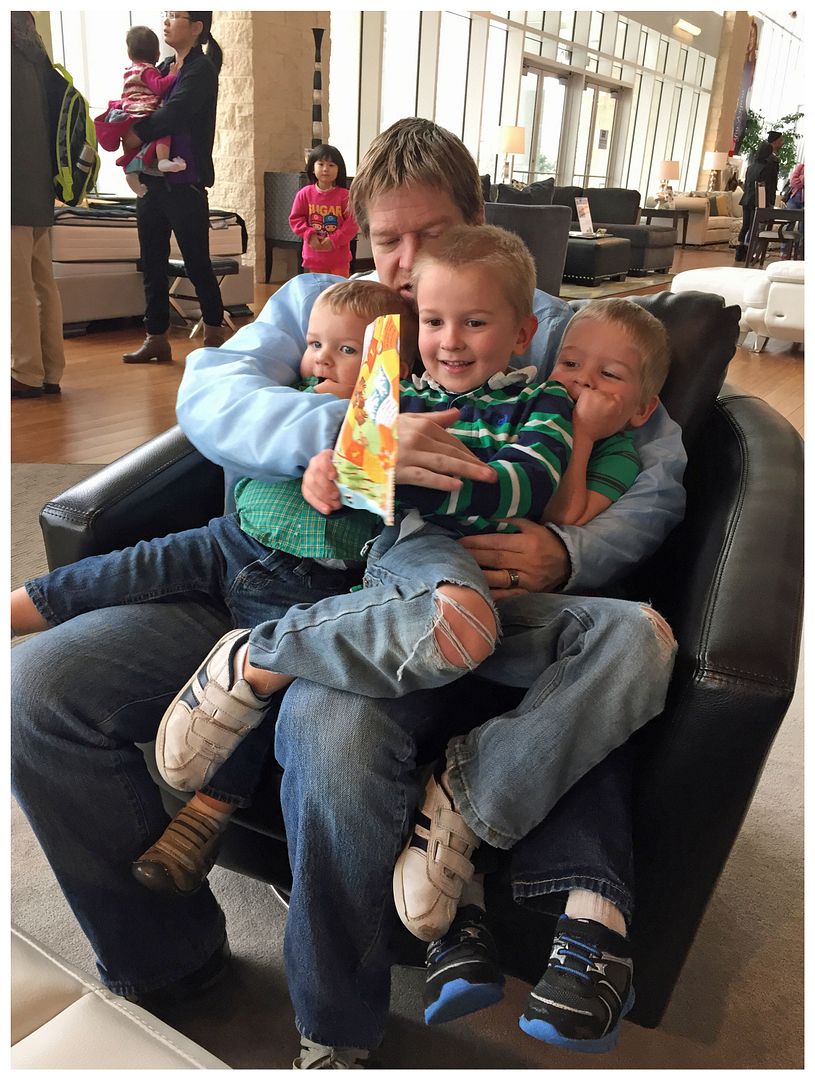 The household goods were delivered on Tuesday. It was raining. It always rains when we move. A crew of three guys showed up at 8:30am. One of them asked me if the boys are triplets. Uh, what? They worked quickly and were gone by 11:45am.

We probably should have stayed home to unpack but we went to Ikea instead. We also bought a 70" TV which is pretty absurd and Sam is now in love.
It has been a long time since they have had their very own backyard to play in. We are glad the rain stopped so we could go play outside!