It is not right to be as far behind as I am right now. I do not think I've been caught up on blogging since before Declan was born. Looking back like this, we have a pretty cool life. Every day is a vacation. We usually get to play away with a few responsibilities sprinkled in. As Alex told me, "Sometimes you have to stop being responsible and let go and be funny. But you won't stop. You just keep being responsible." I am glad I have cute buddies to play with every day! Other people's kids seem to be aging at a normal pace but somehow all of my kids are on the fast track and it is not right! Here is my photo dump of miscellaneous pictures from the last six months.
January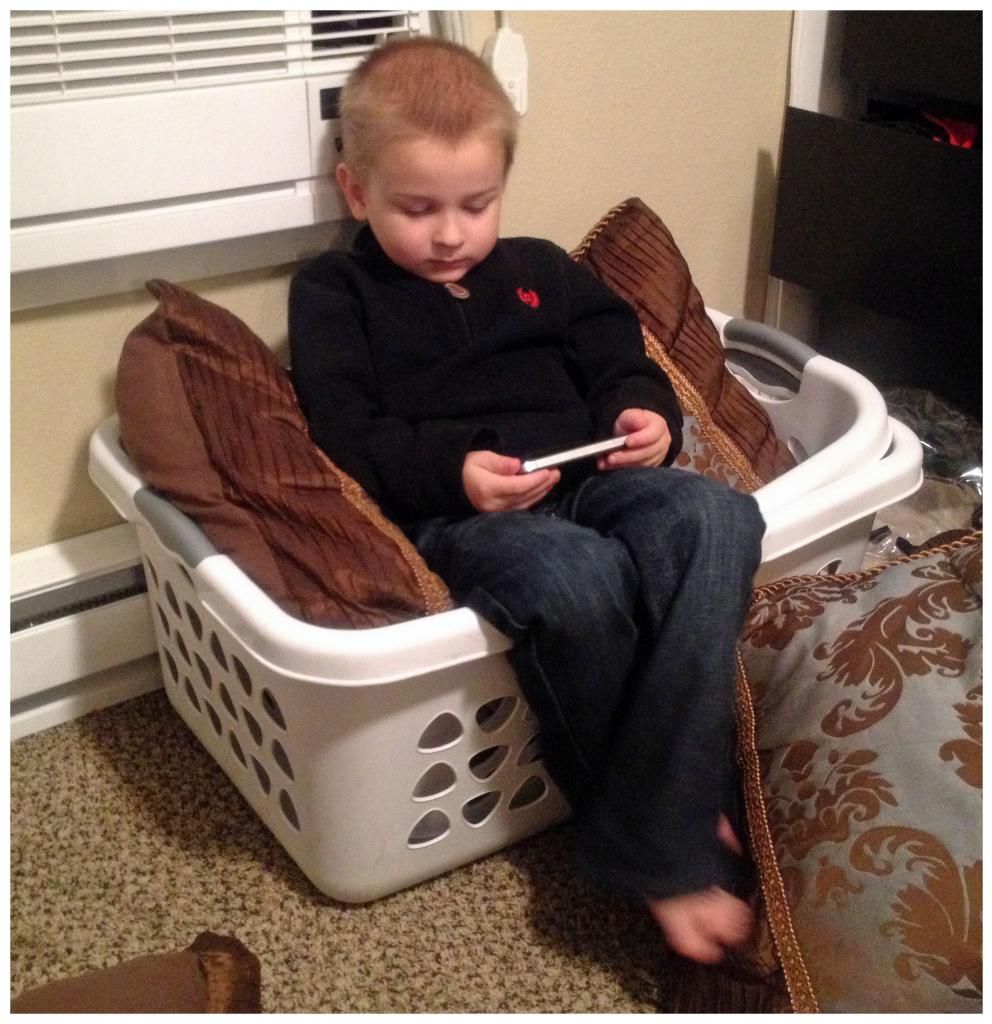 Comfortable place to watch a show.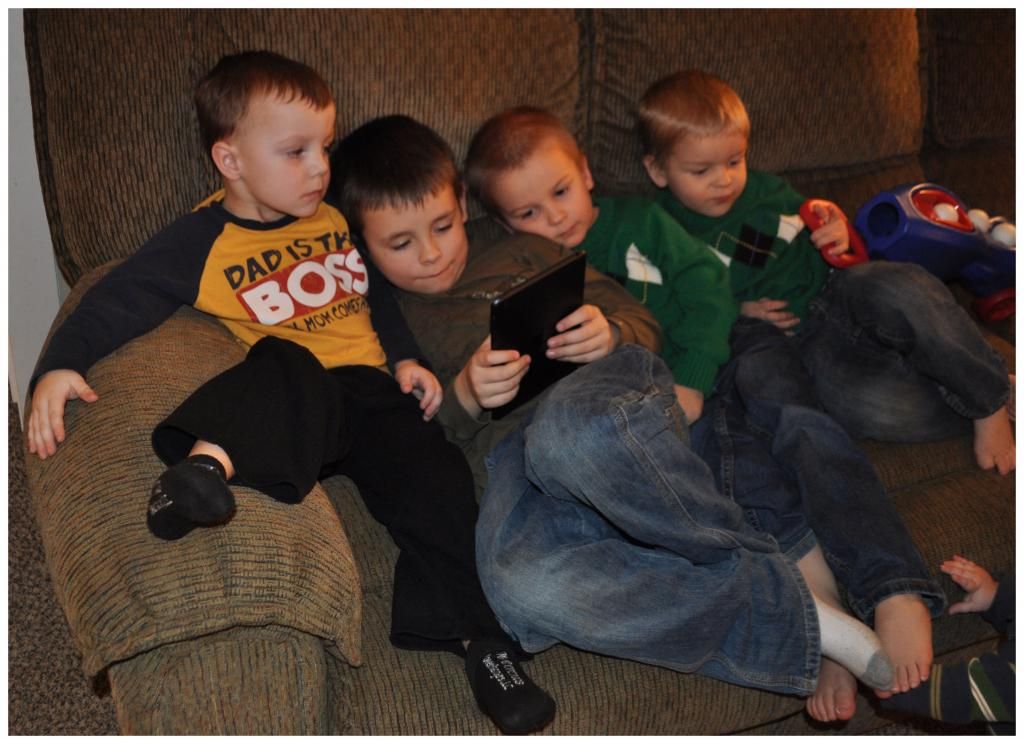 Hanging out with friends (Tucker, Kyan, Alex, Edison).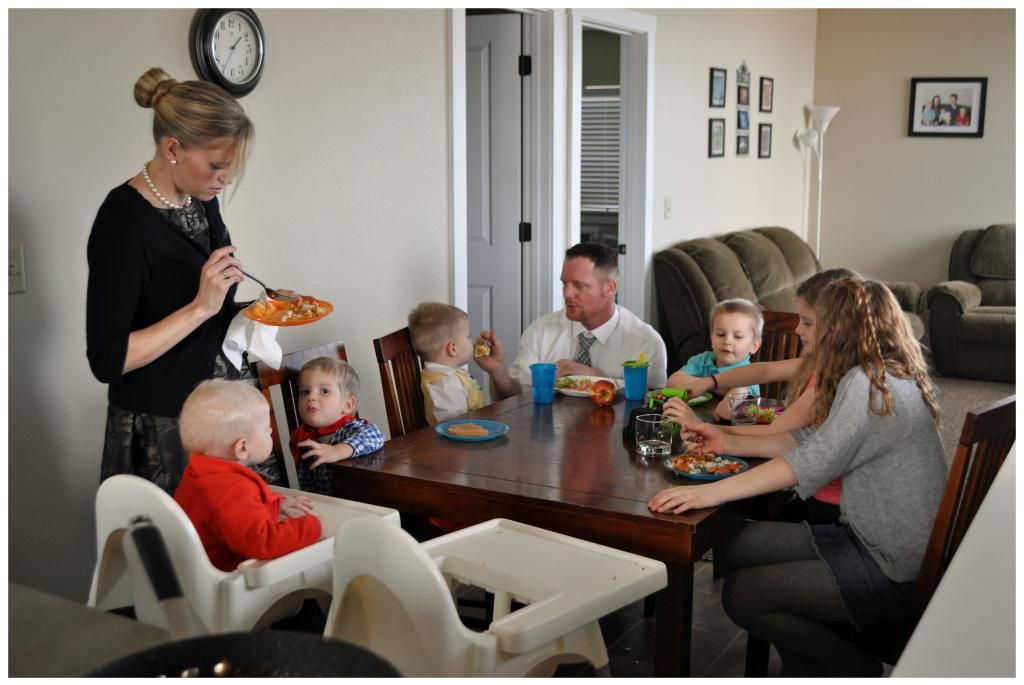 The Maras family lives an hour and a half away. I heard them talking after church about how their oldest daughter had to stay for a meeting and they didn't have lunch. So I invited them over and we had a great time getting to know them.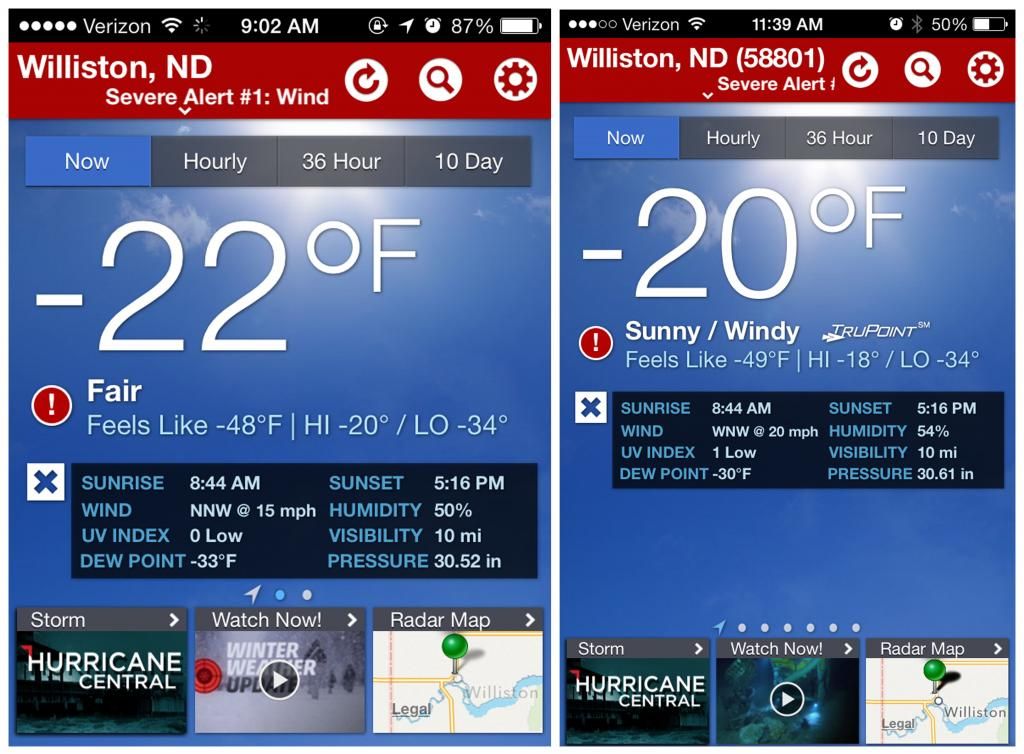 I am not looking forward to seeing these temperatures again.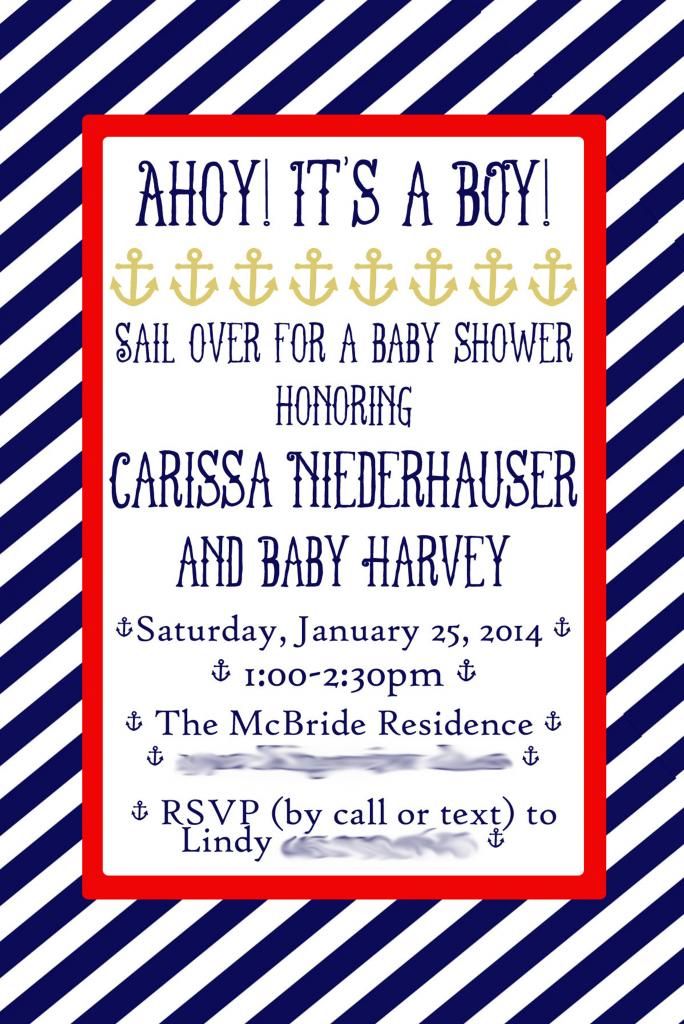 I made these invitations for Carissa's baby shower and I think they are very cute.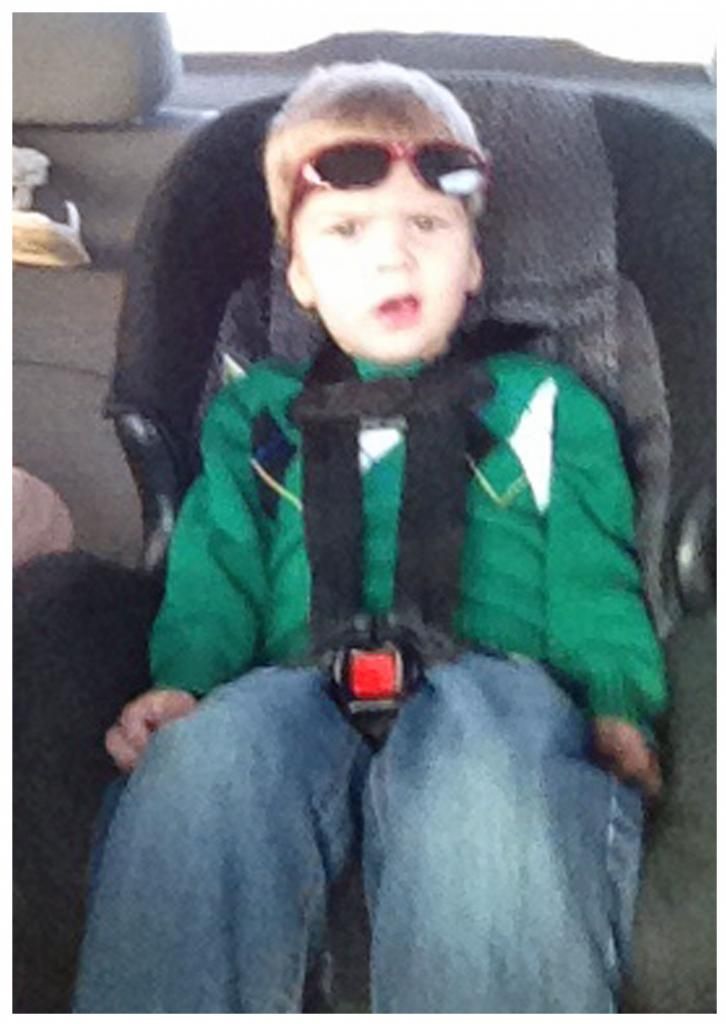 Edison has a very good "dumb" look.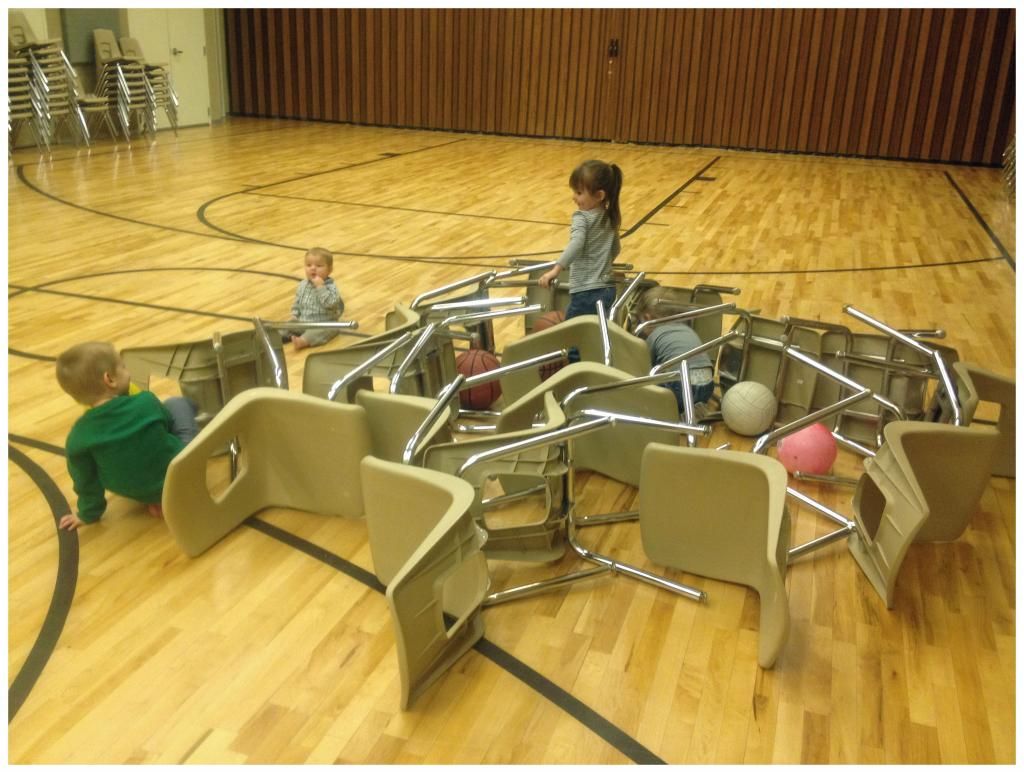 Playgroup at the church.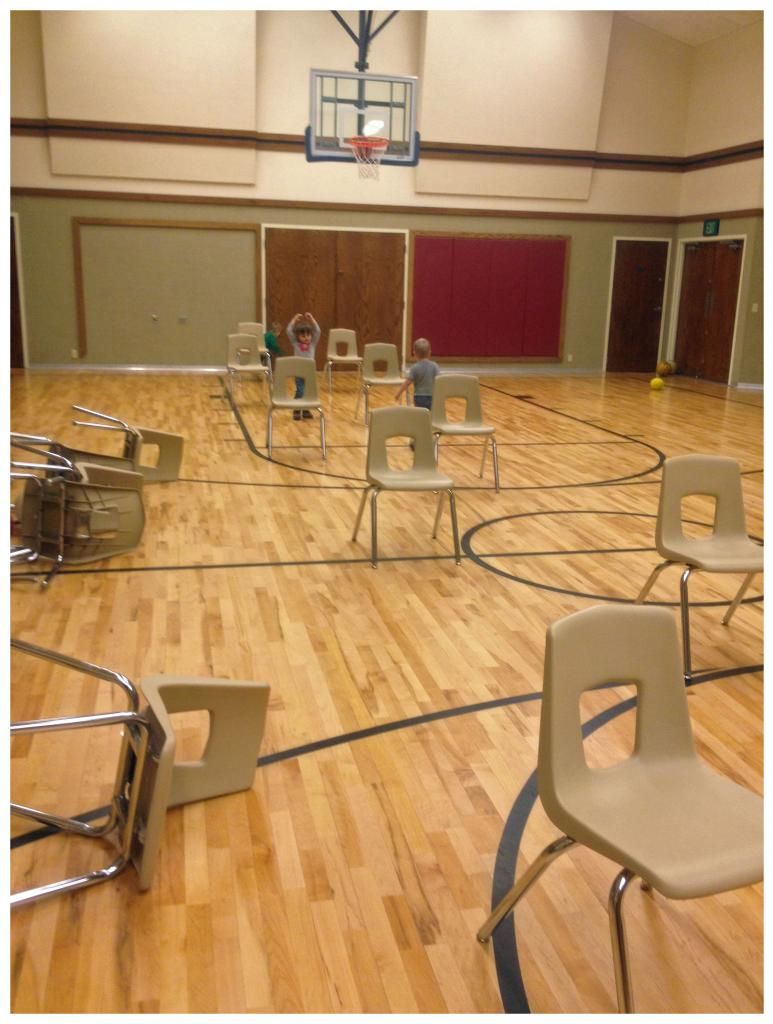 Obstacle course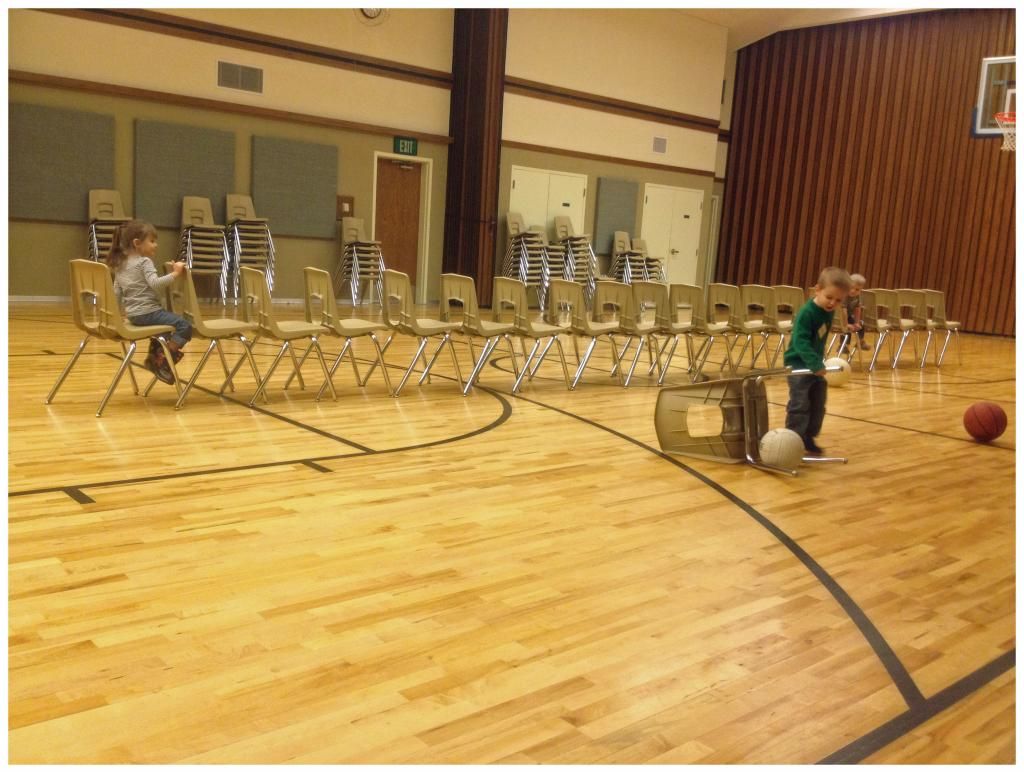 Choo-choo train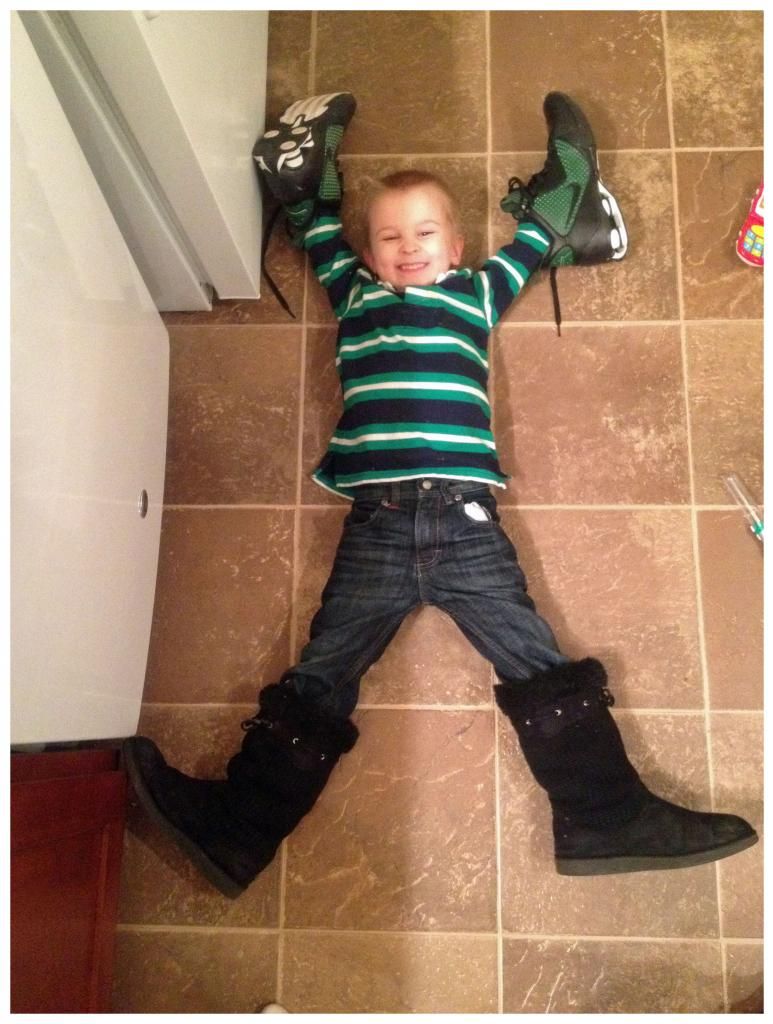 Alex asks us if he has bright eyes after he eats carrots. He thinks it means his eyes are shining lights.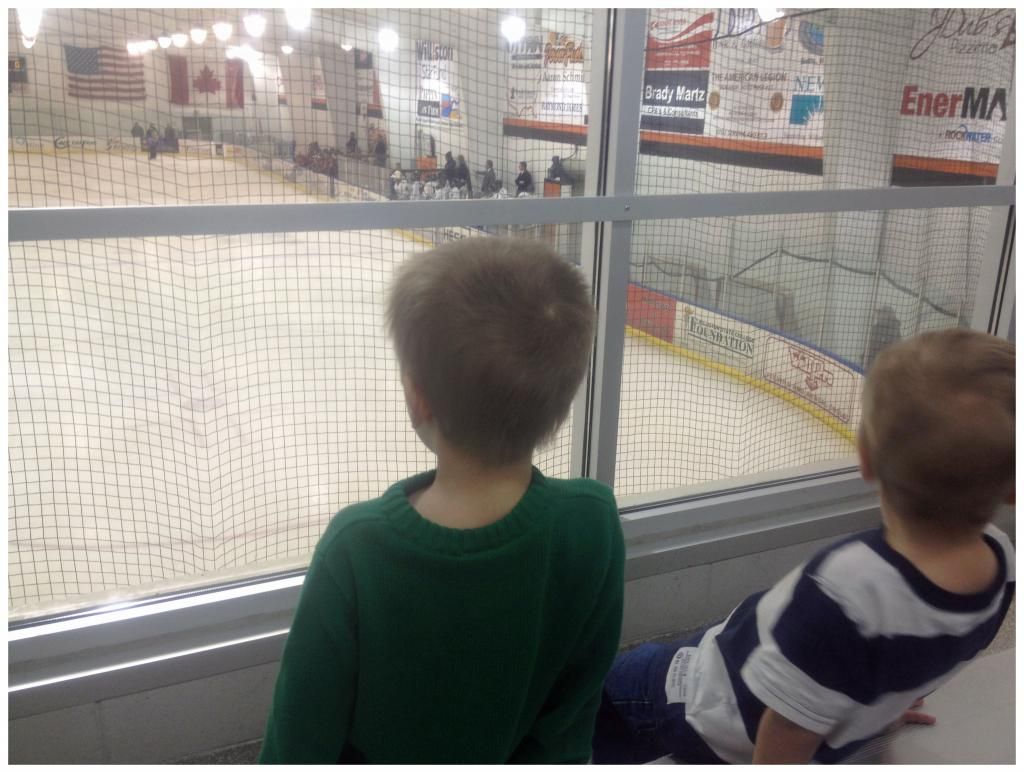 We went to a couple of Williston State College hockey games.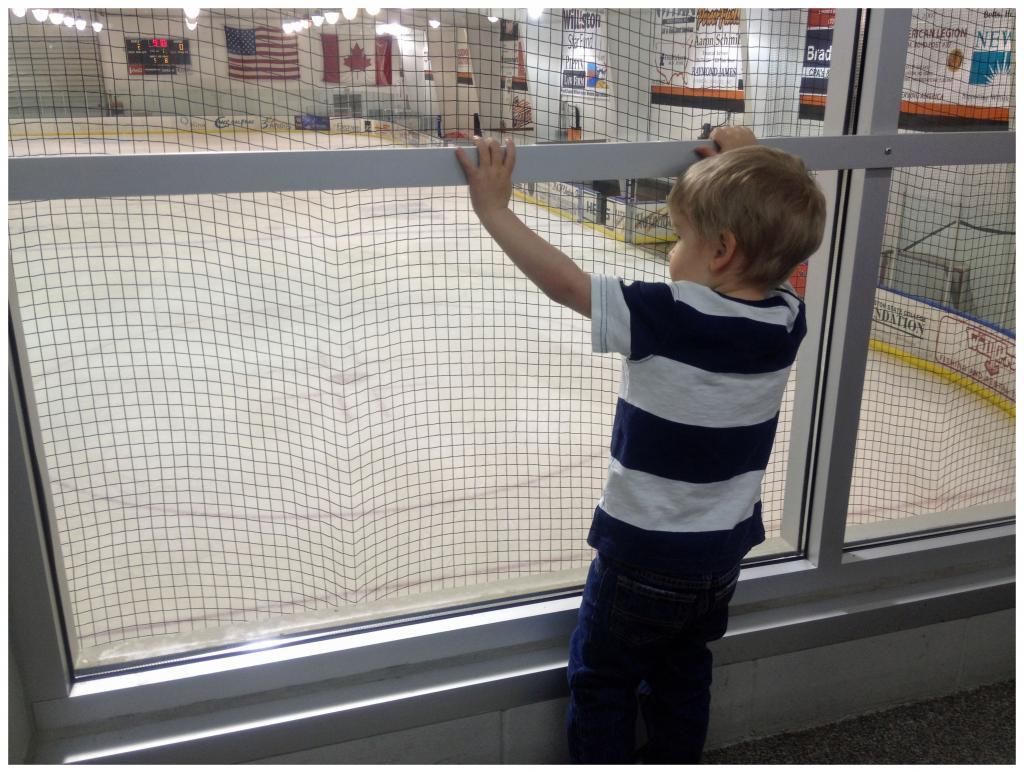 The boys wanted to take ice skating lessons. This isn't Canada!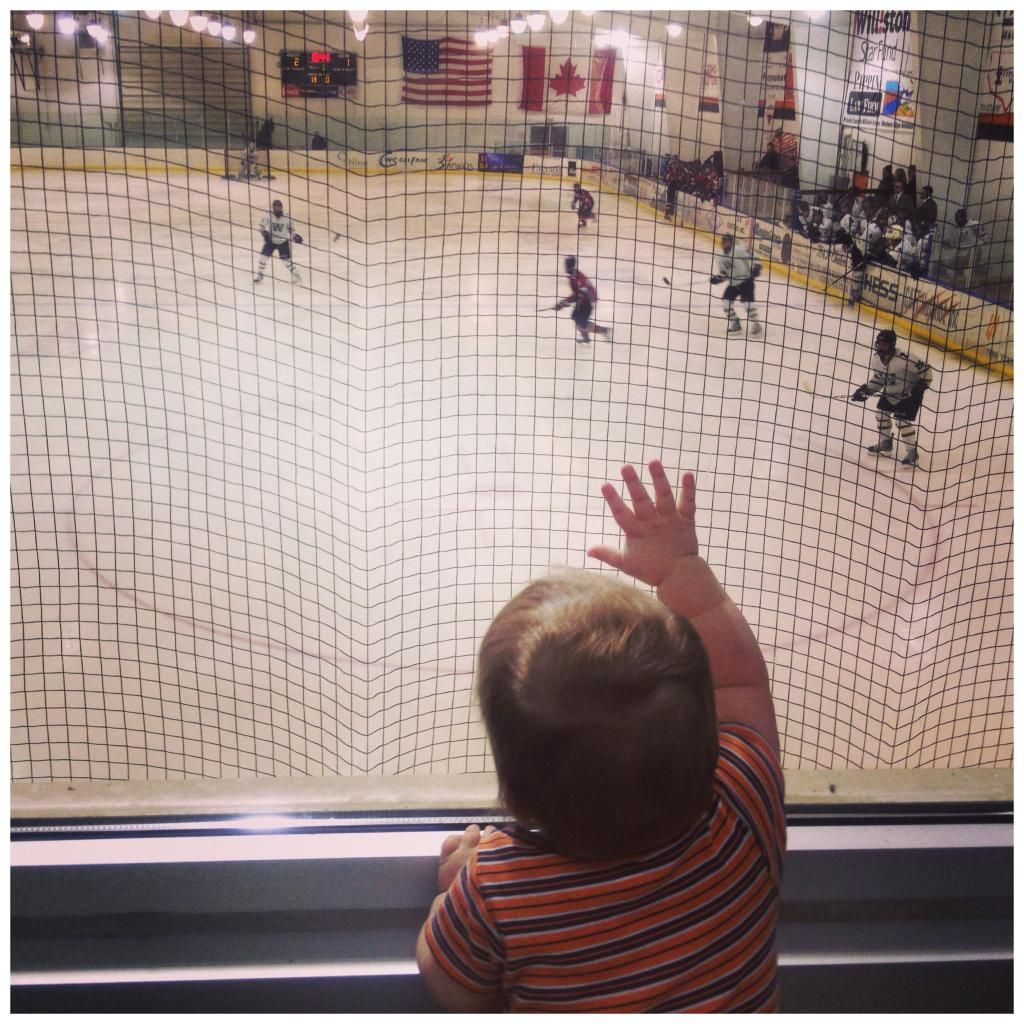 Declan was yelling and slapping the glass. Hockey really gets him fired up.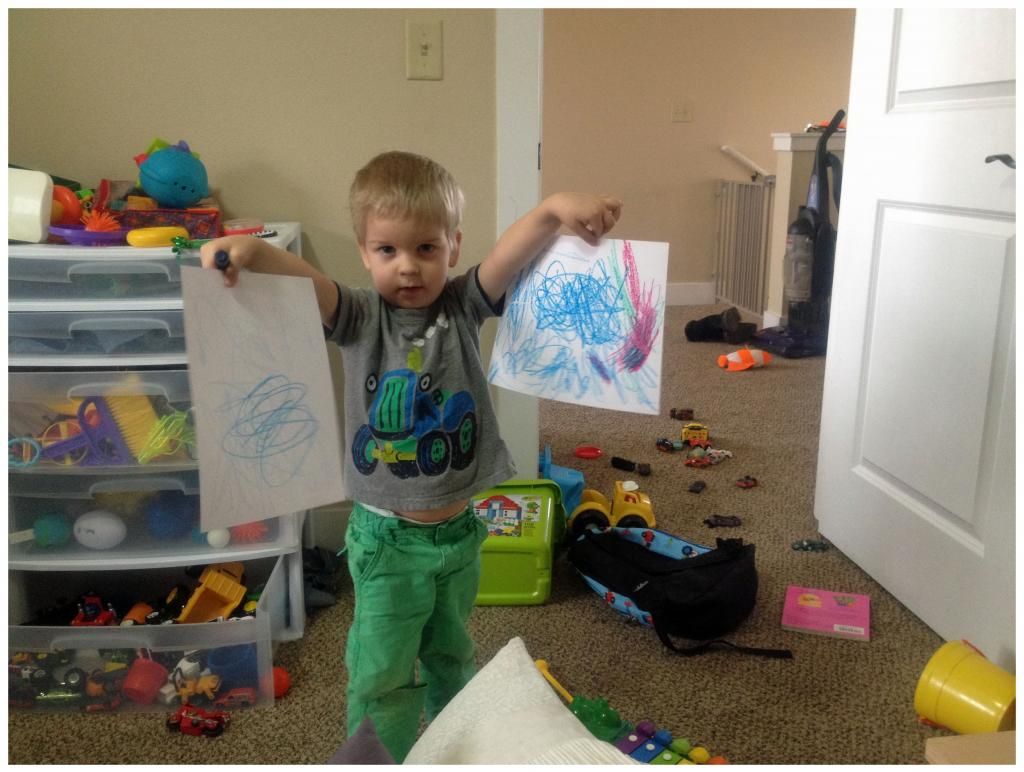 Edison: What is that?
Emily: It's a mop.
Edison: Who gived it to you?
[Maybe I need to mop more often. And clean in general. Good thing I love my kids more than I hate their messes.]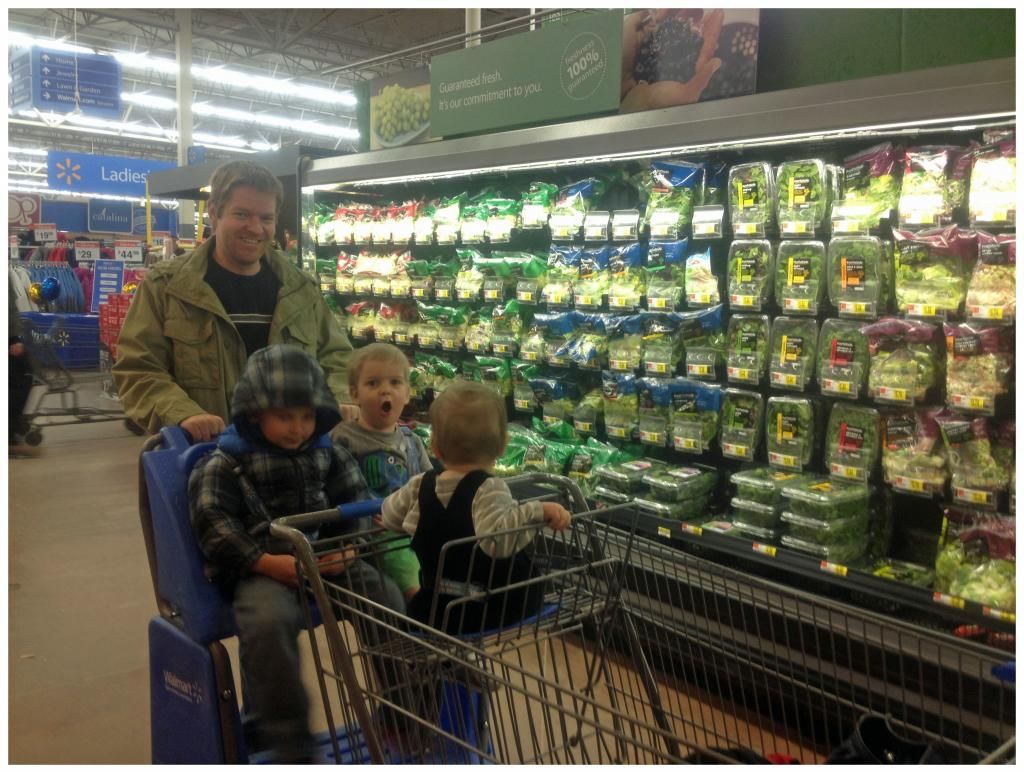 We love when Daddy comes grocery shopping with us.
February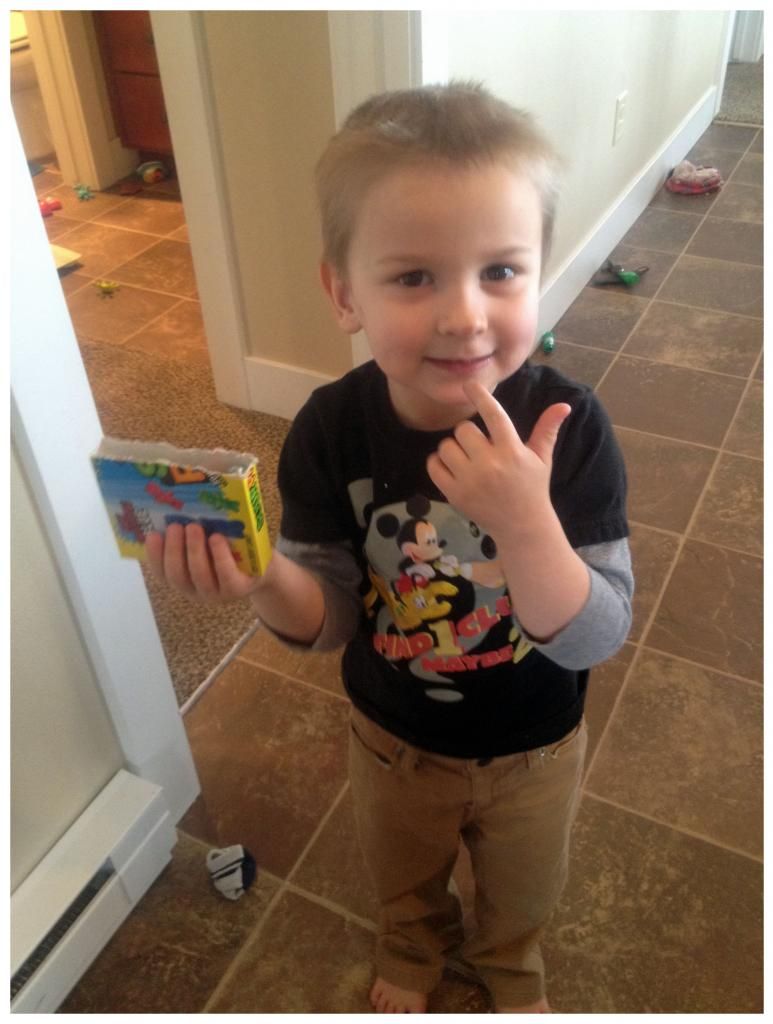 We celebrated Alex's half birthday.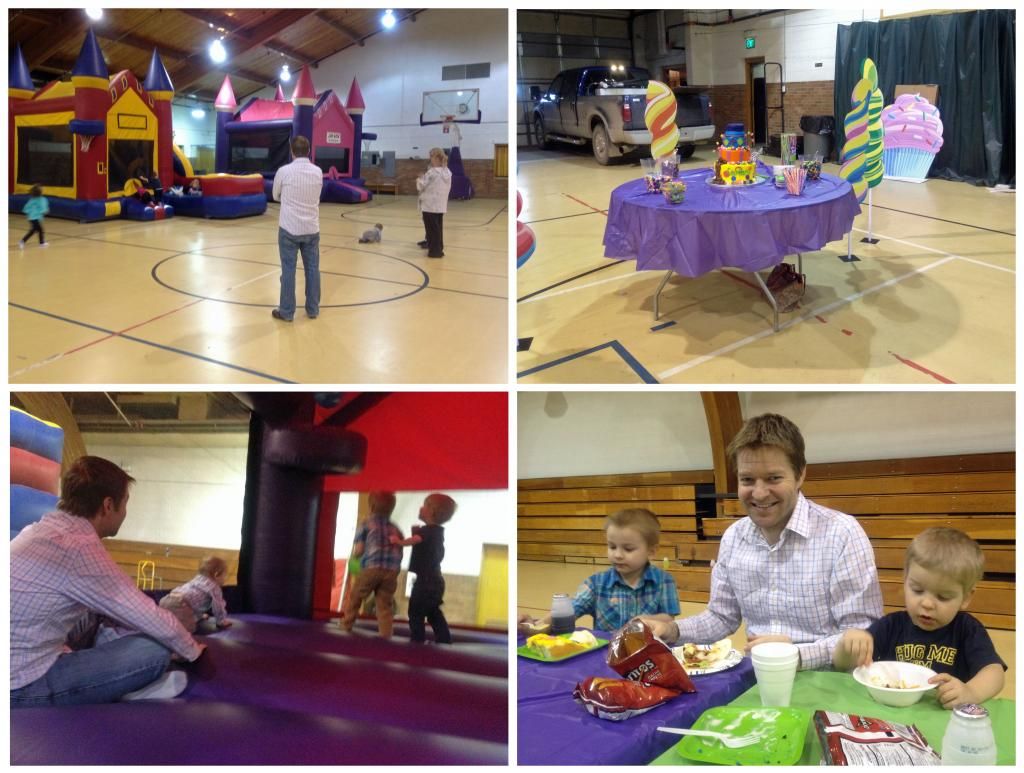 Our little friend Carter had an amazing Willy Wonka birthday party.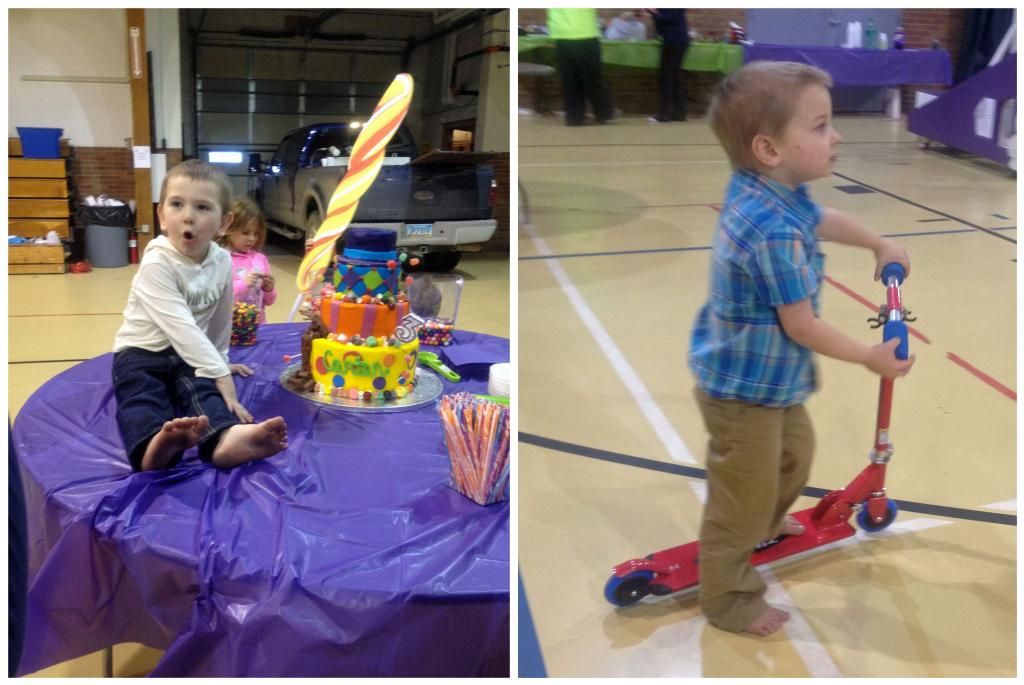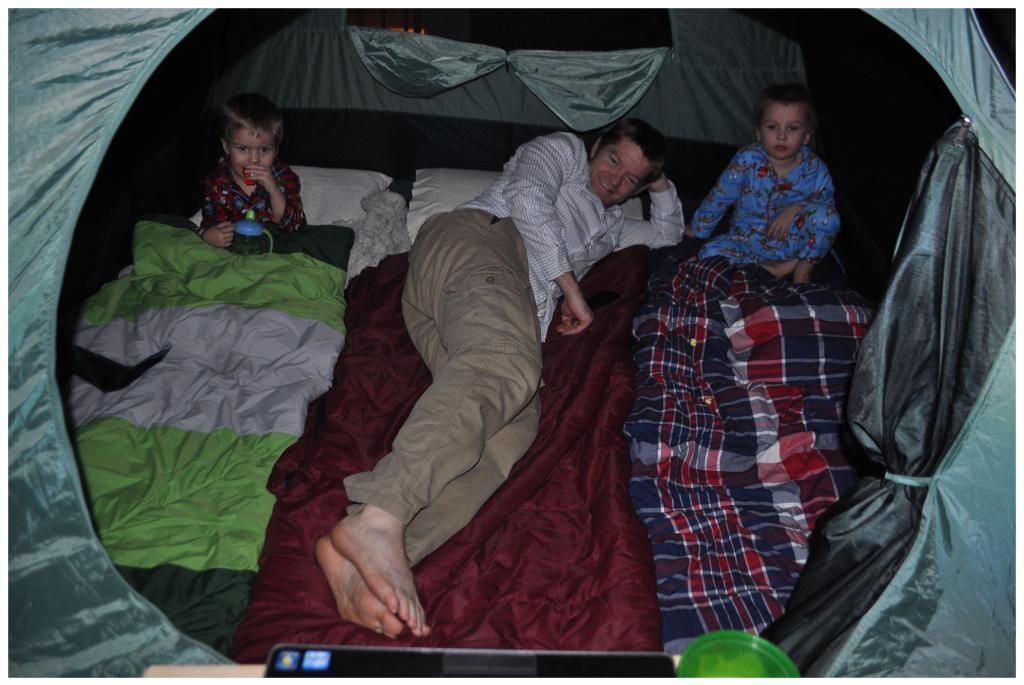 Too cold to camp outside. Camping in the living room while Mommy watched the Winter Olympics.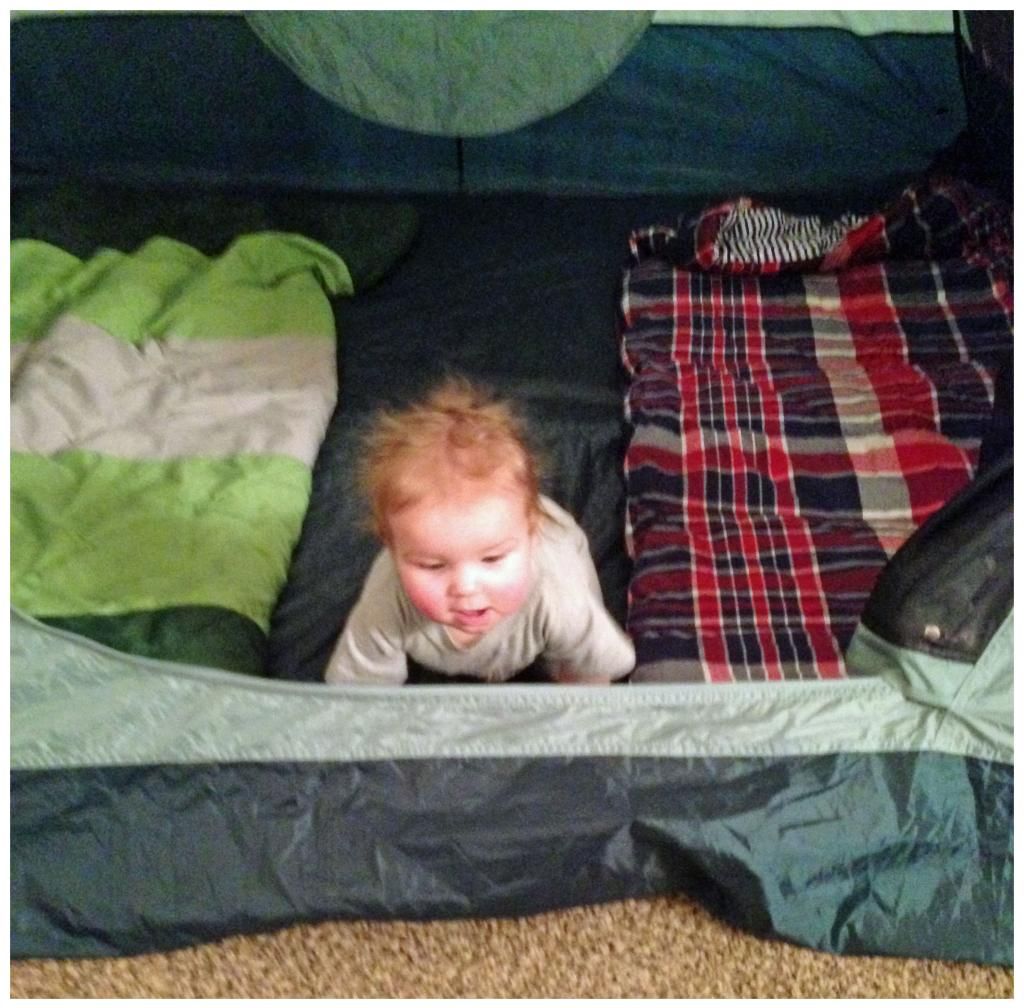 The Baptism Preview was just a week and a half after I was called into primary and I had to make and decorate 40 cupcakes.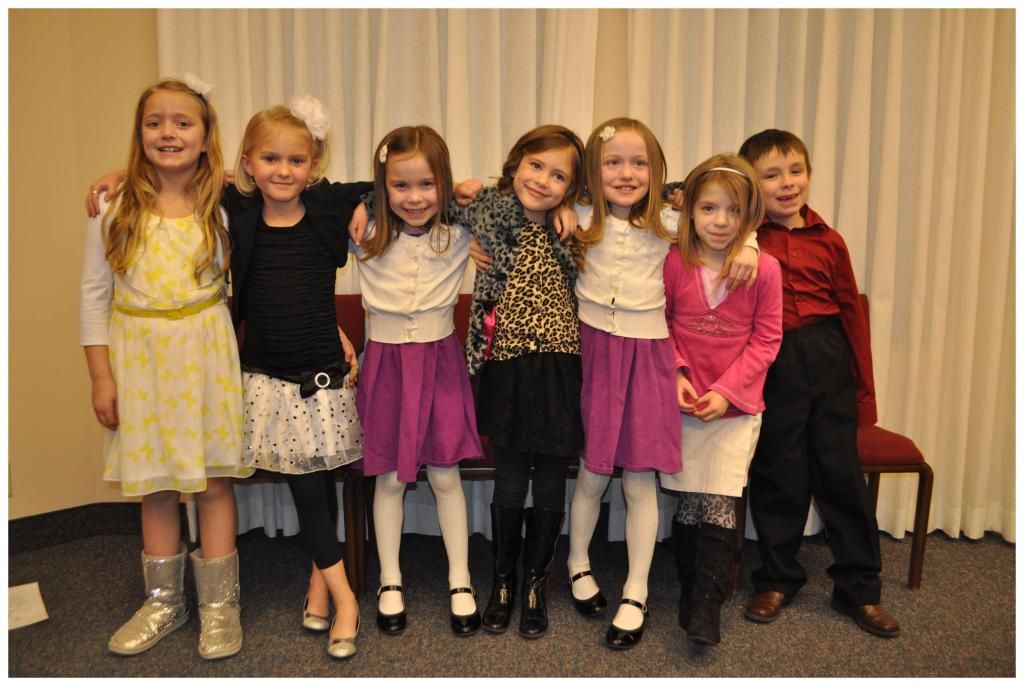 Cute seven-year-olds.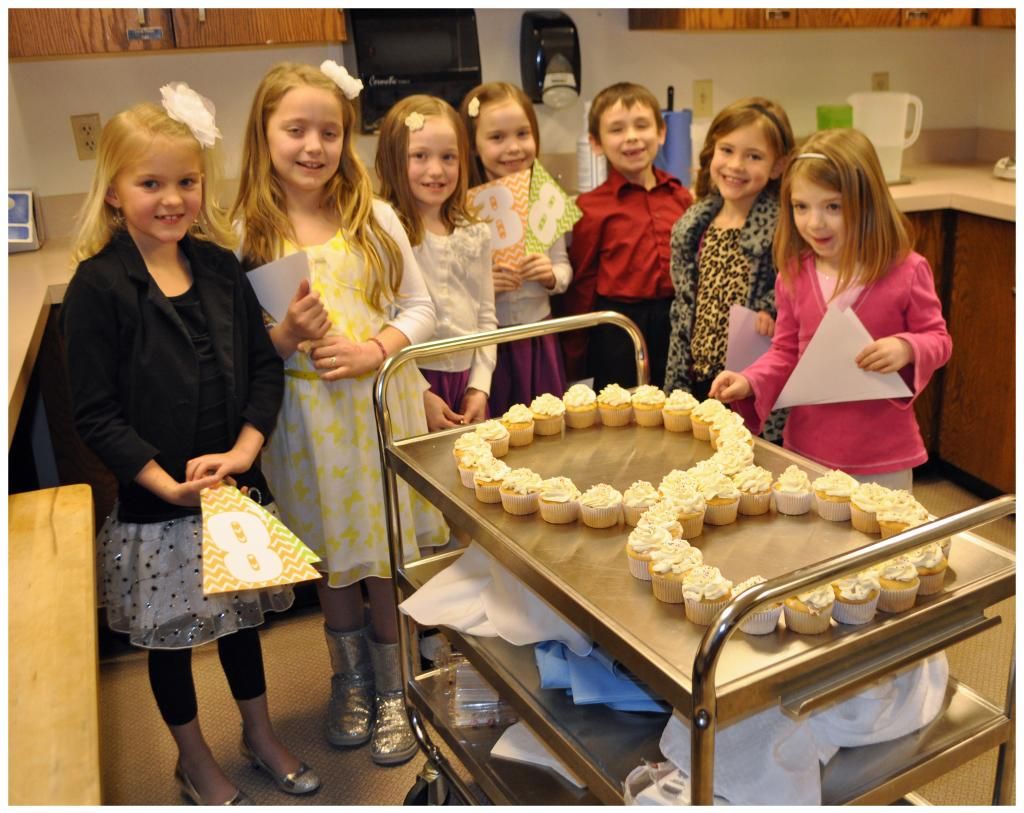 Edison catching a ride with Alex during playgroup.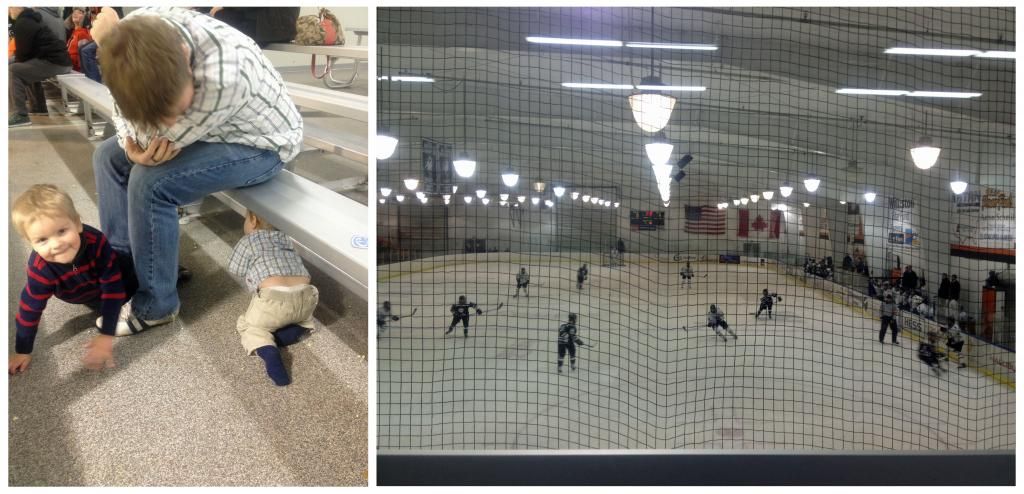 Sam came to a hockey game with us!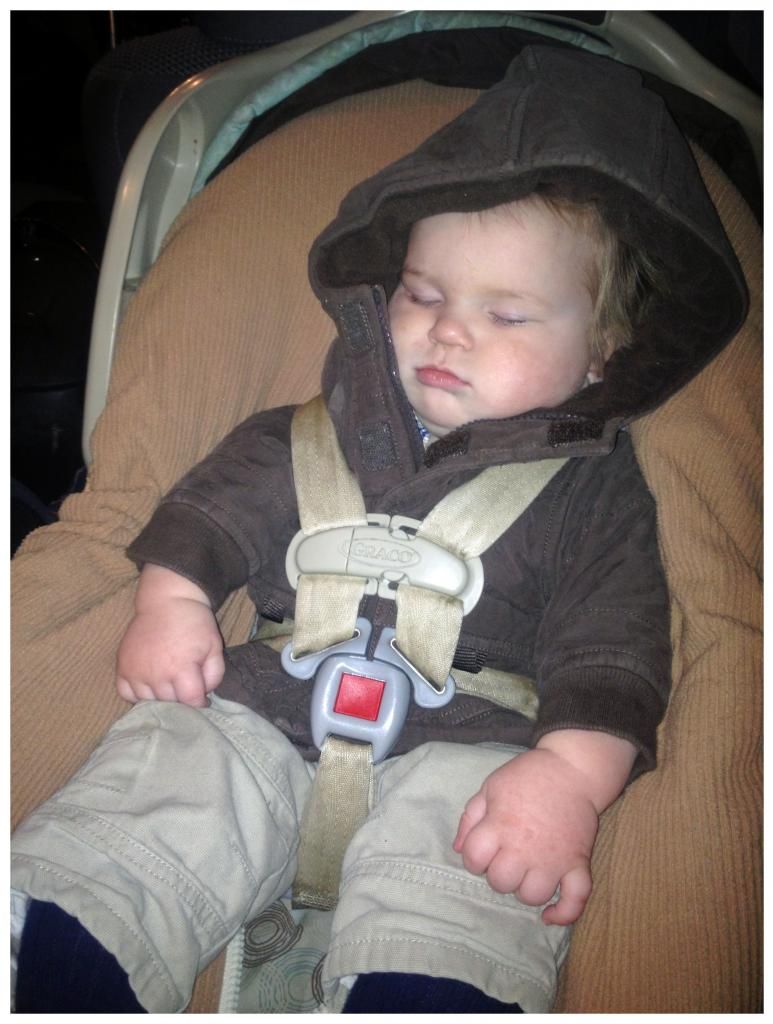 On the way out to the parking lot, we lost Alex. Luckily he wasn't too far away. I think it was around twenty degrees. Then we strapped Declan into his carseat with his coat on.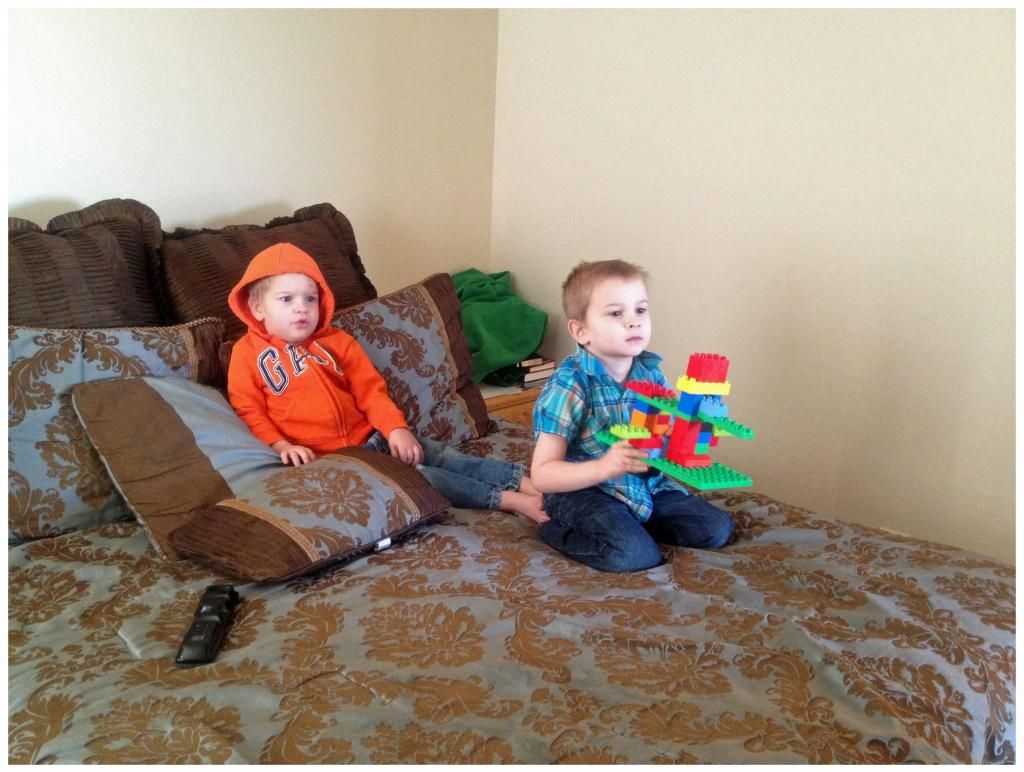 Edison: What is this?
Emily: A bra.
Edison: I wear this. (Holds it up.) It too big.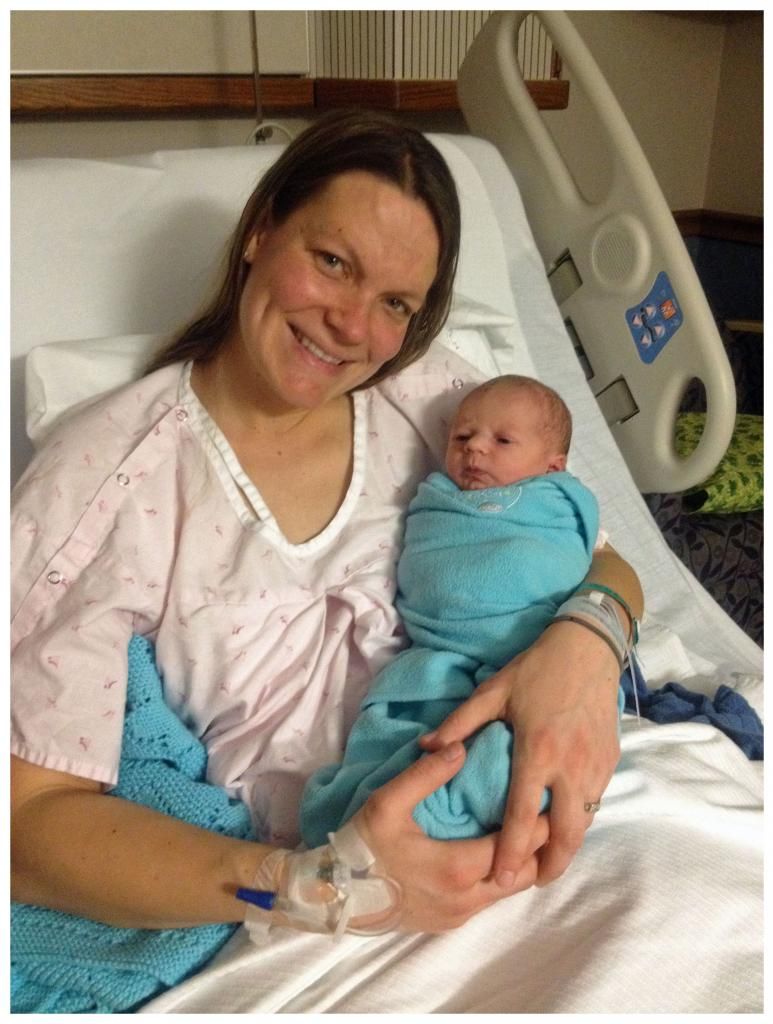 Carissa had her baby on 2/11 and named him Harvey!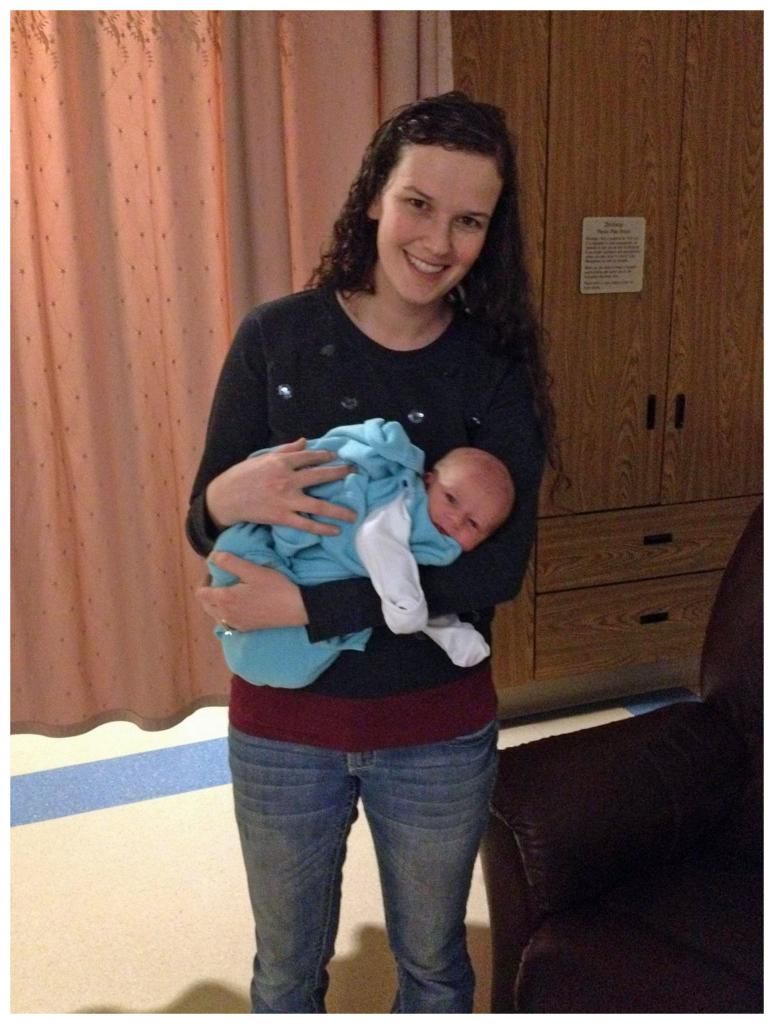 I was so happy I got to go meet him in the hospital.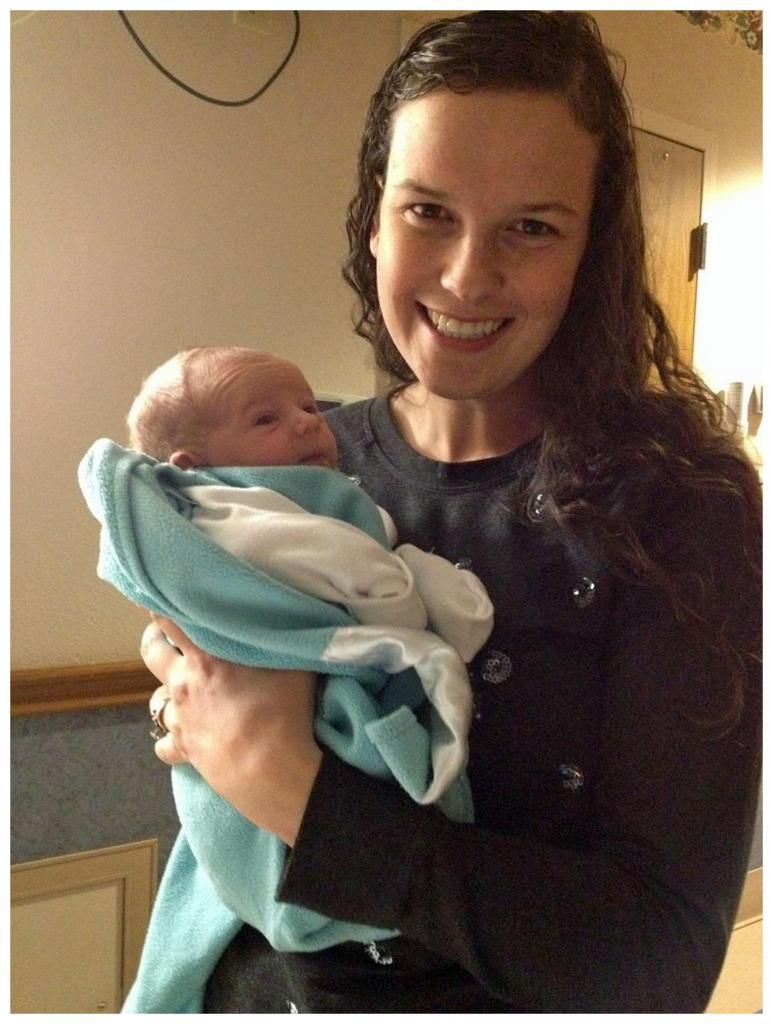 Everyone was desperate to have a big, warm place to play during the winter so playgroup was really fun. Unfortunately we will not be able to have playgroup at the church next winter.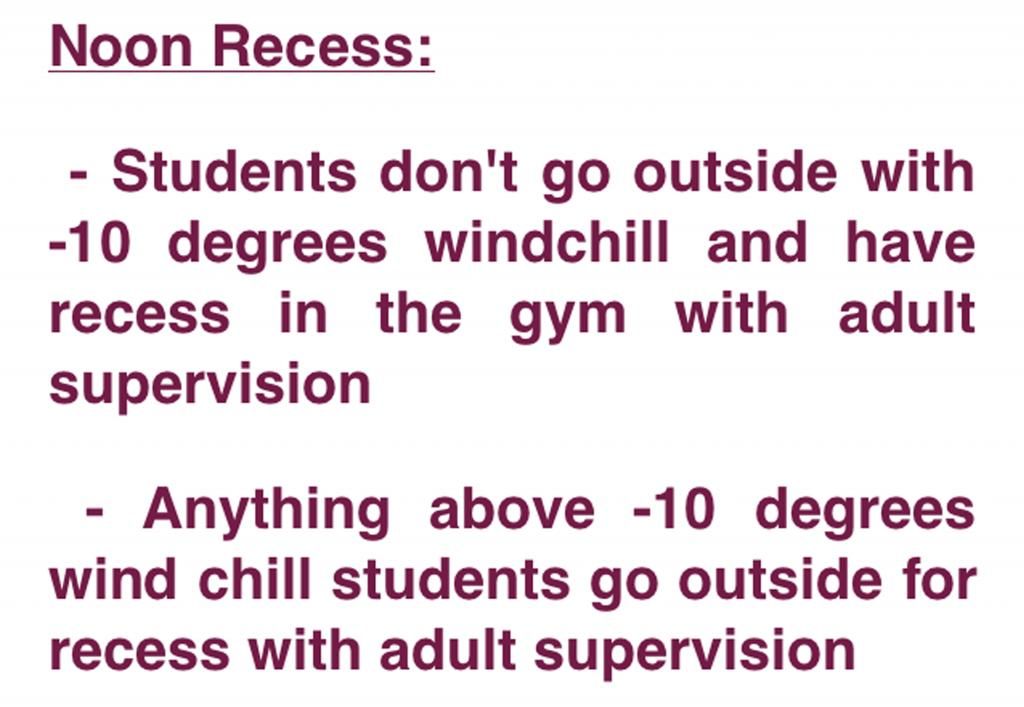 This in unhealthy.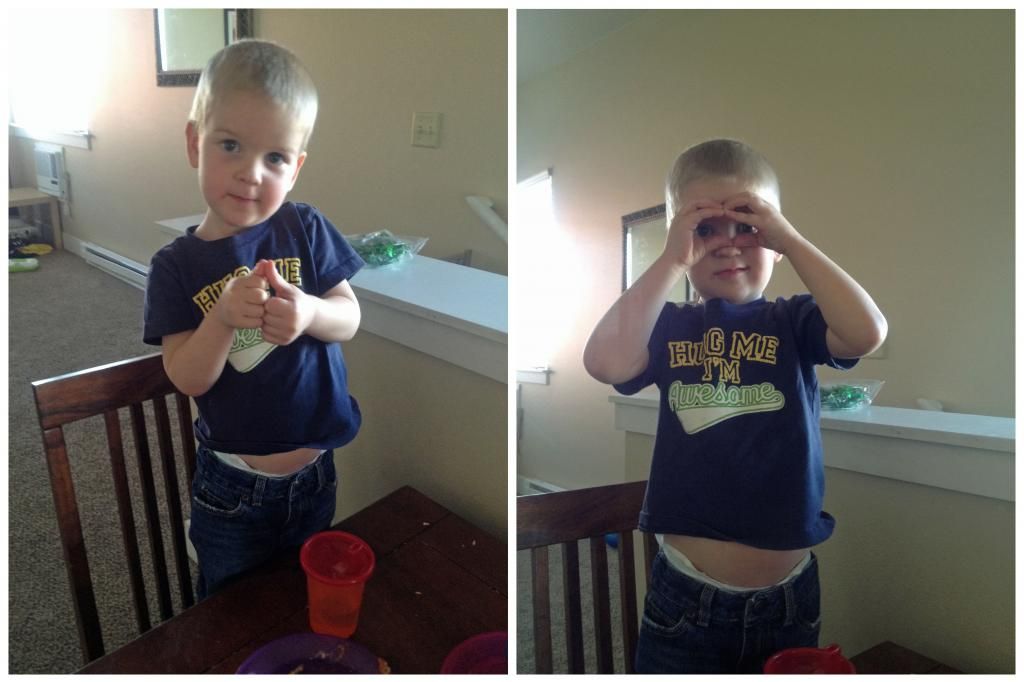 Edison: If you gay so.
Alex: How many times do I have to tell you?! It's an S not a G! He keeps saying, 'Gay so!'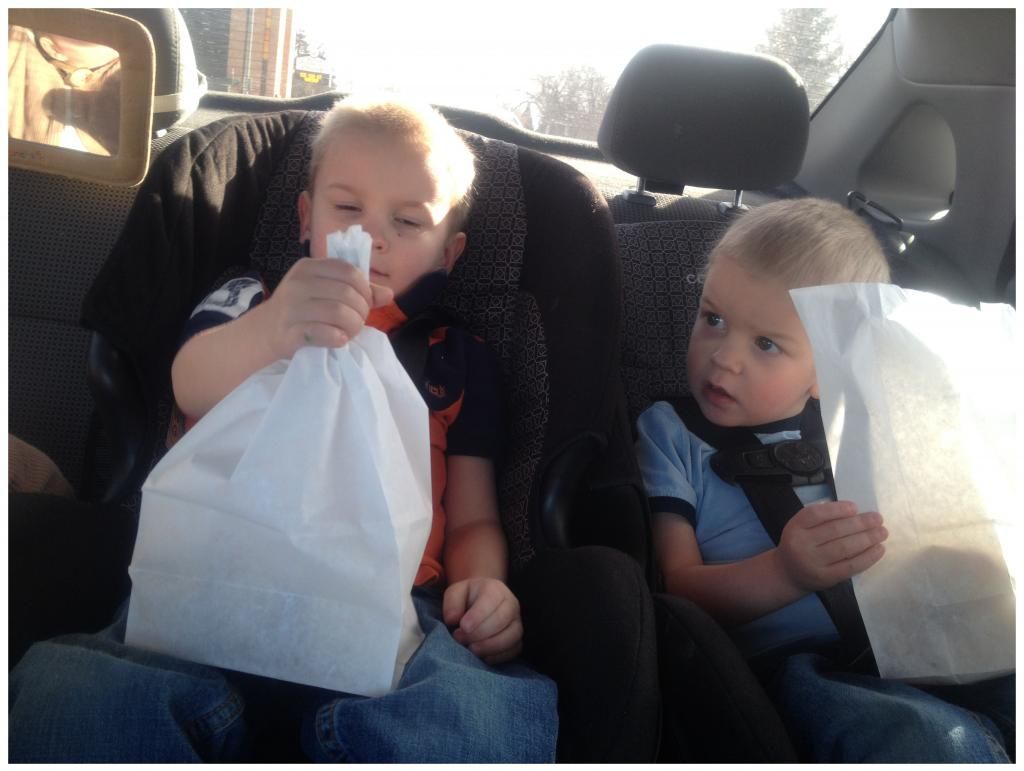 We got some donuts to take to our friends.
Normally when it comes to temperatures, seeing a higher number is a good thing. But that little dash before the number ruins everything!
March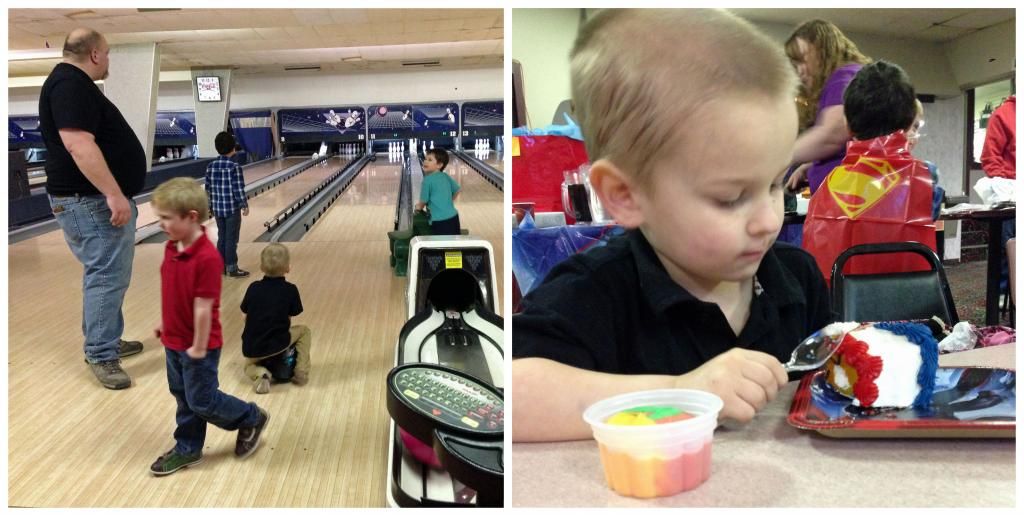 Alex's friend Kaleb had his birthday party at the bowling alley.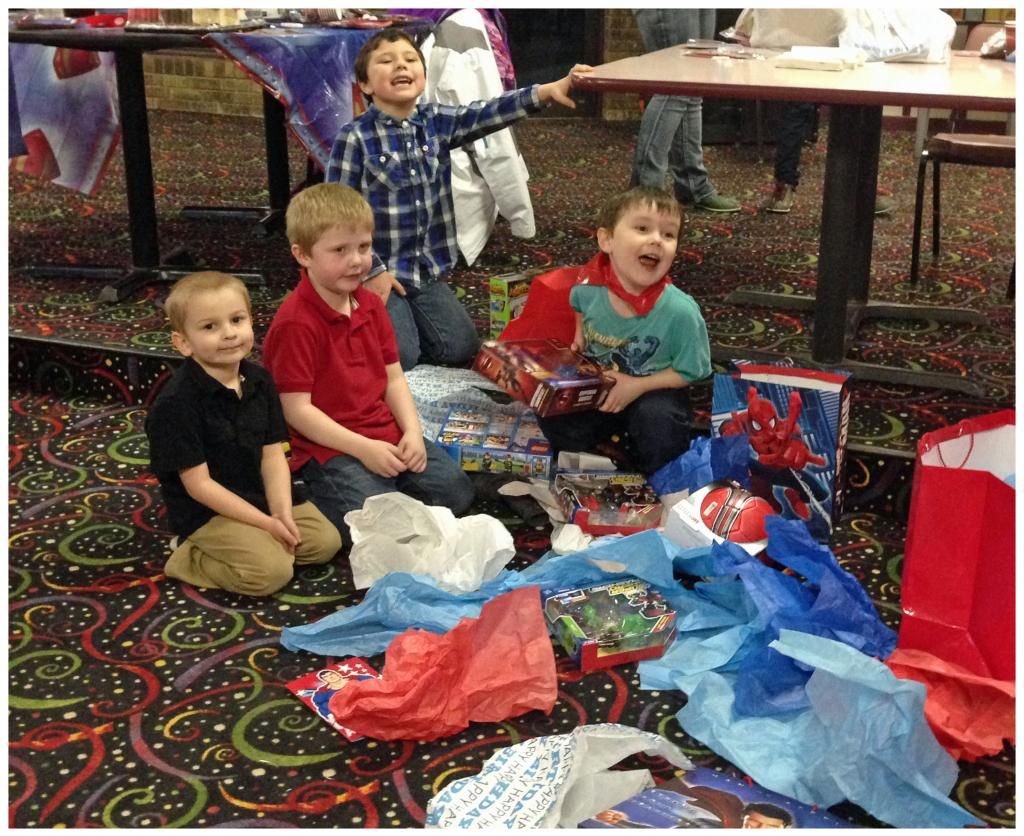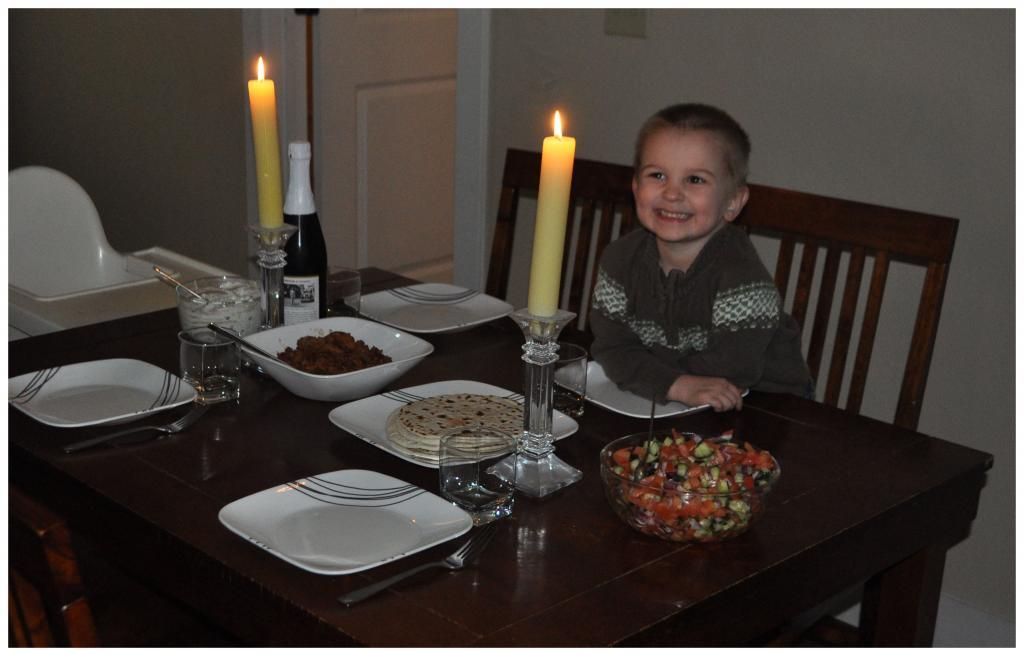 Dinner by candlelight just for fun.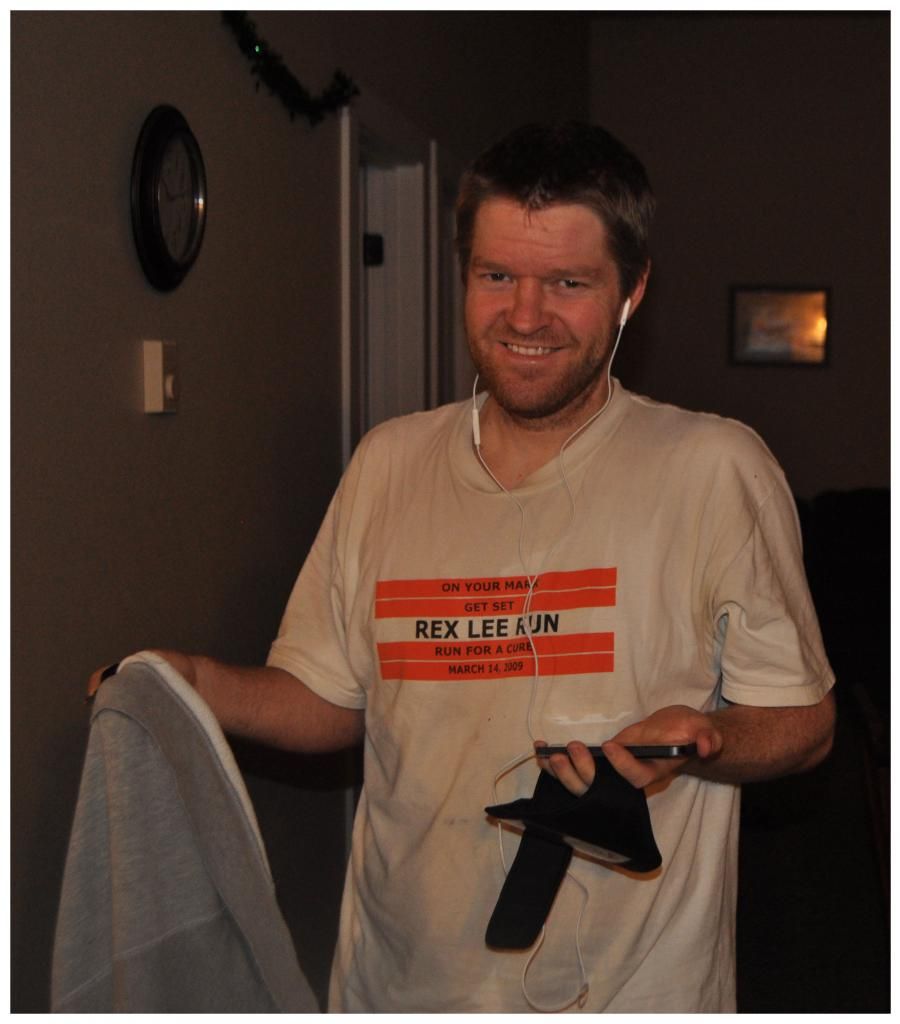 Sam has been doing a lot of running. He works hard during the day, runs fast in the evening, and sleeps well at night. Sometimes he gets confused and "types" on my head while he is falling asleep.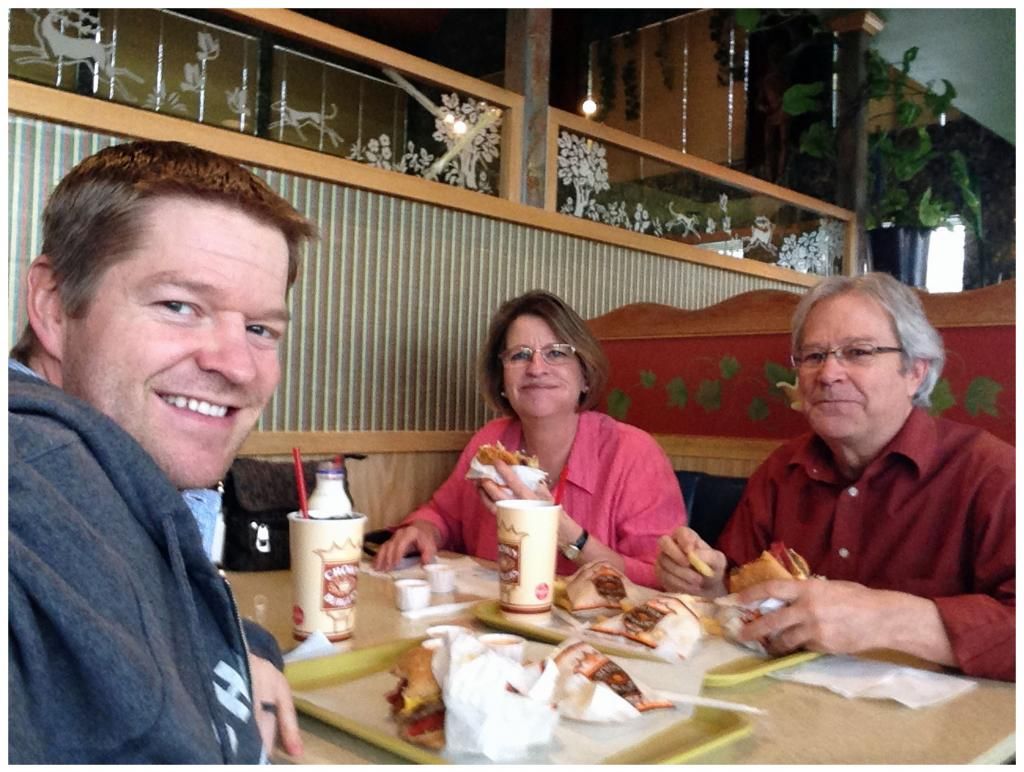 He went to Salt Lake City for a recruiting trip and met his parents for lunch.
We babysat our Short friends for an evening. The kids had so much fun.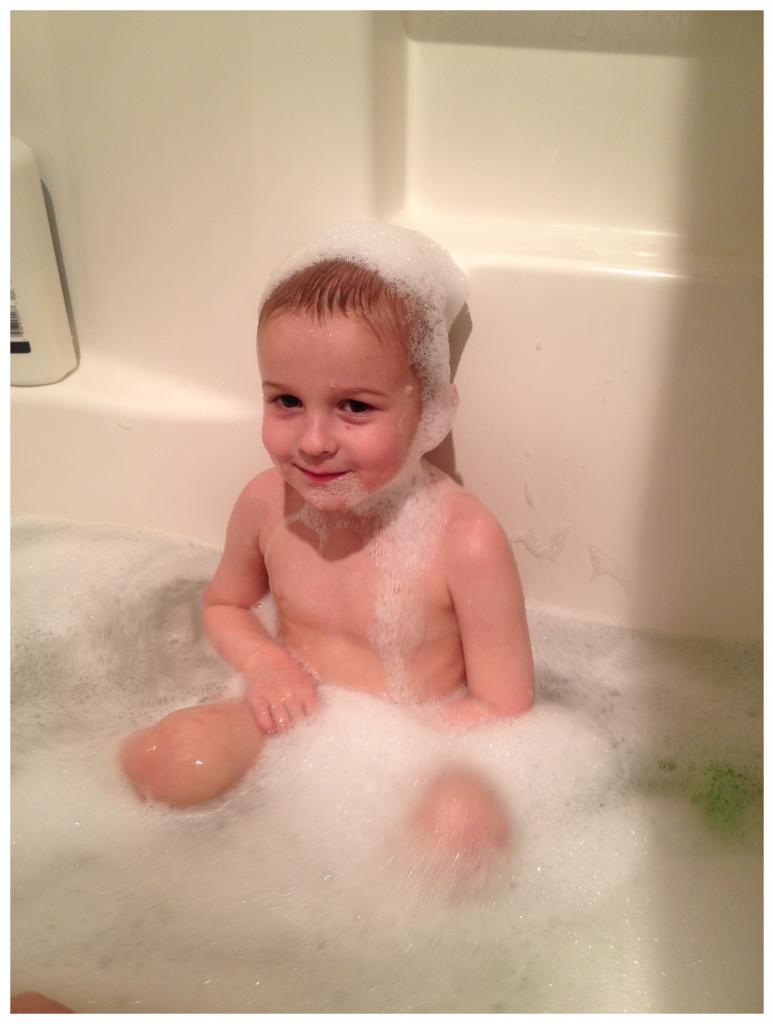 Bubbles! Normally the boys' first order of business is to pee on each other.
Edison: Mommy, can I have a yogurt?
Emily: Sure. Make sure you sit at the table.
[A few minutes later I came back into the kitchen and saw this.]
Emily: I said you needed to sit at the table.
Edison: I eat yogurt on the table.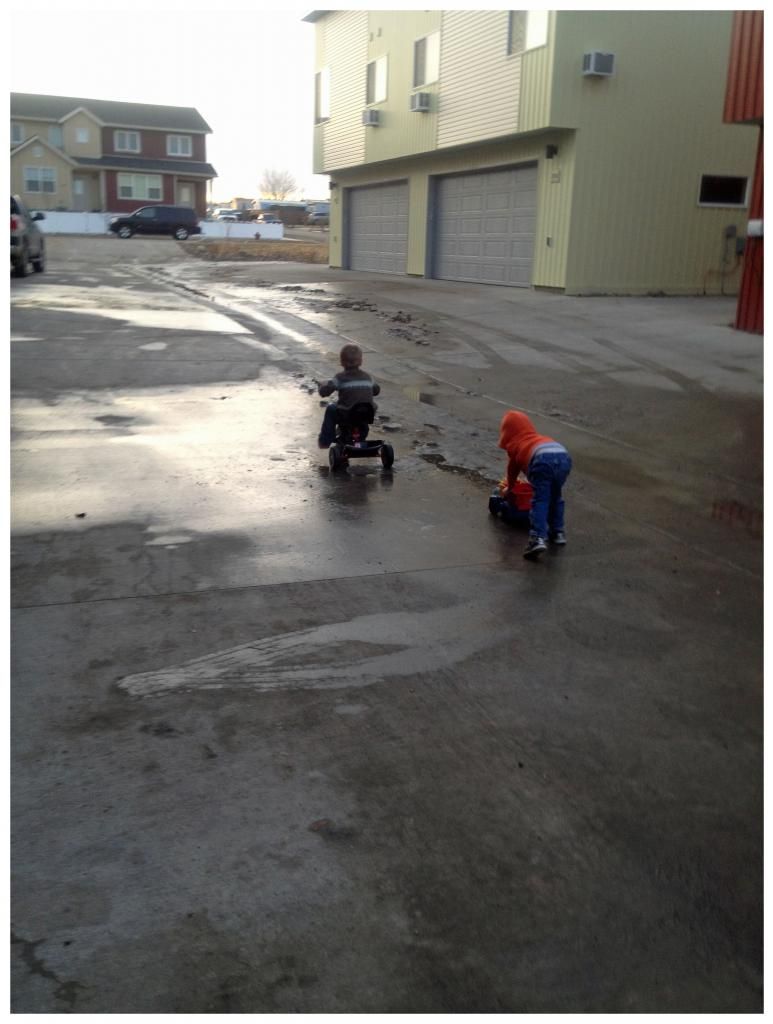 Fifty degrees!
Edison: Mom, can we find a starfish?
Emily: We don't live by the beach.
Edison: Sure, we can drive to the beach.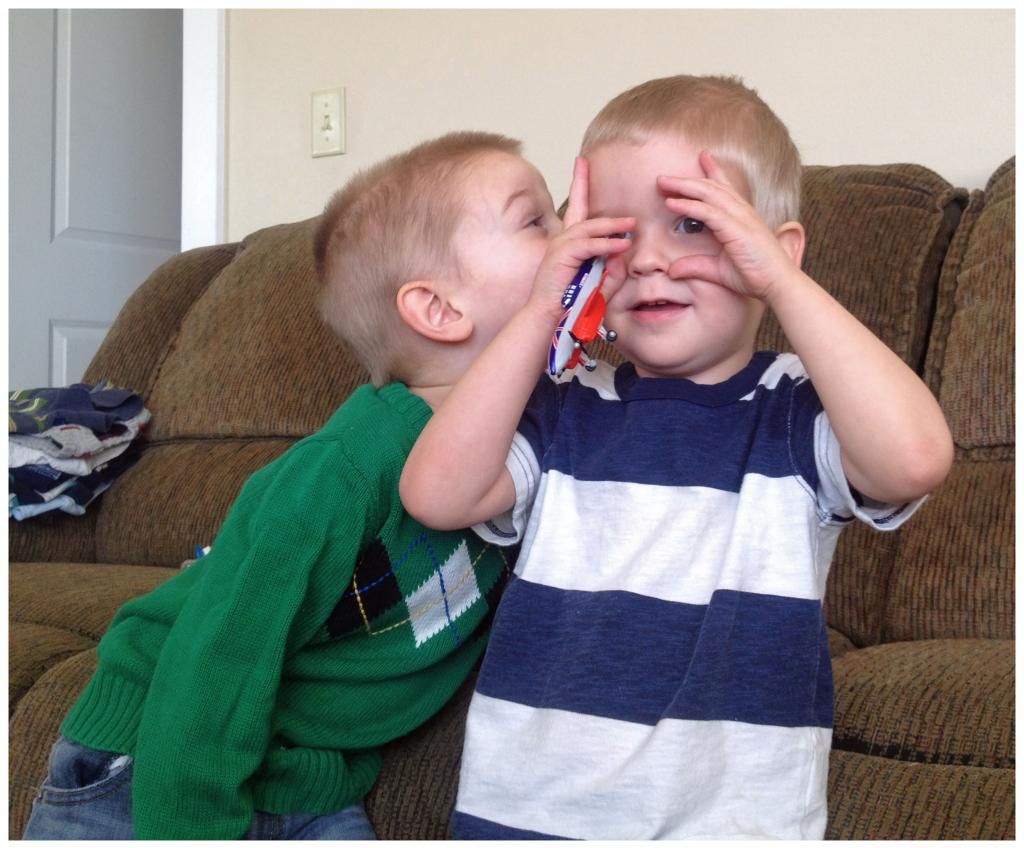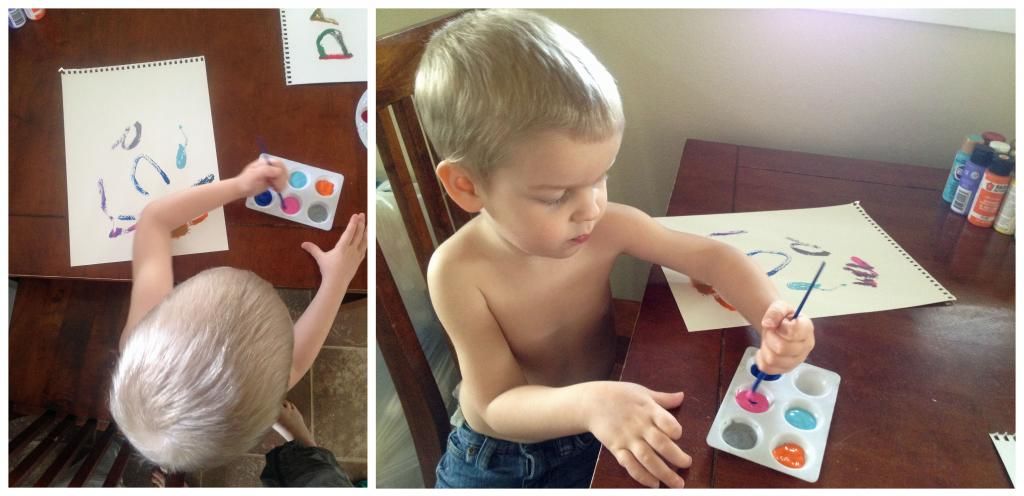 Both boys call the color yellow "Golden."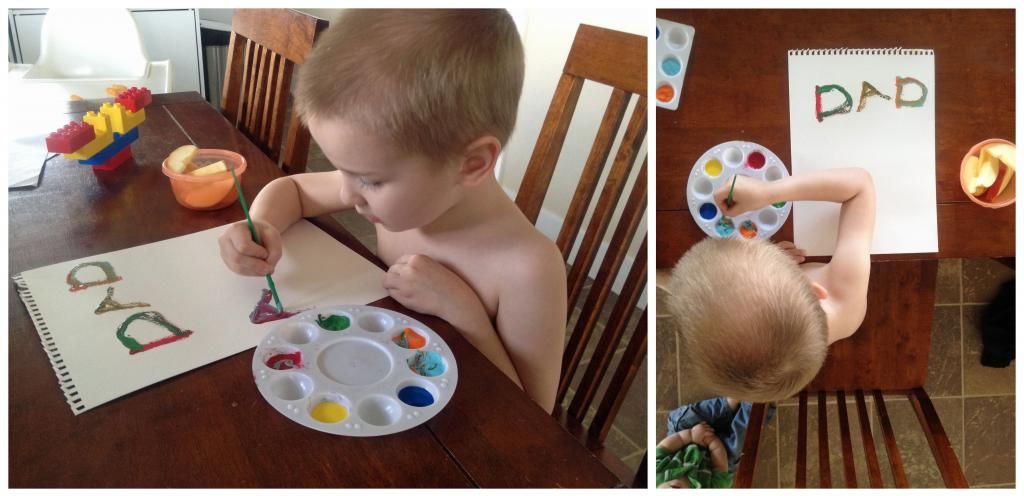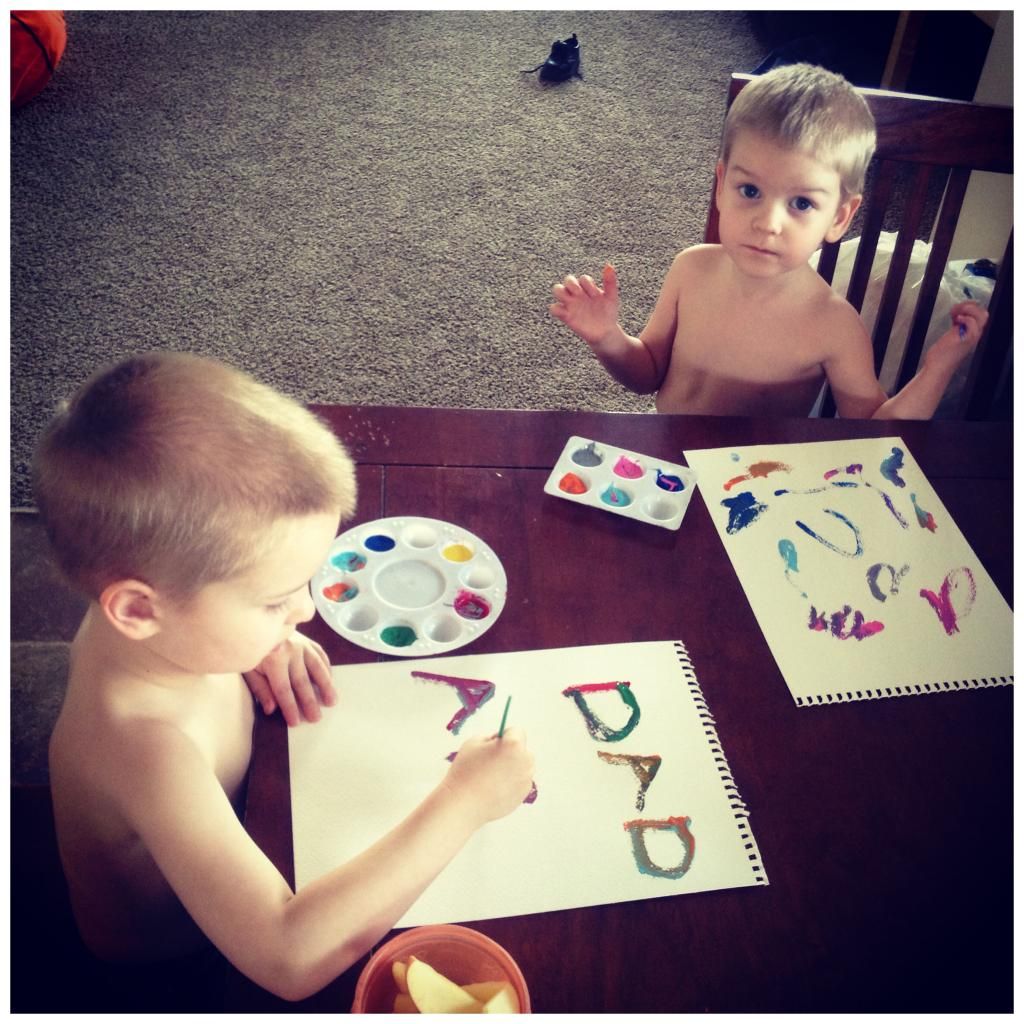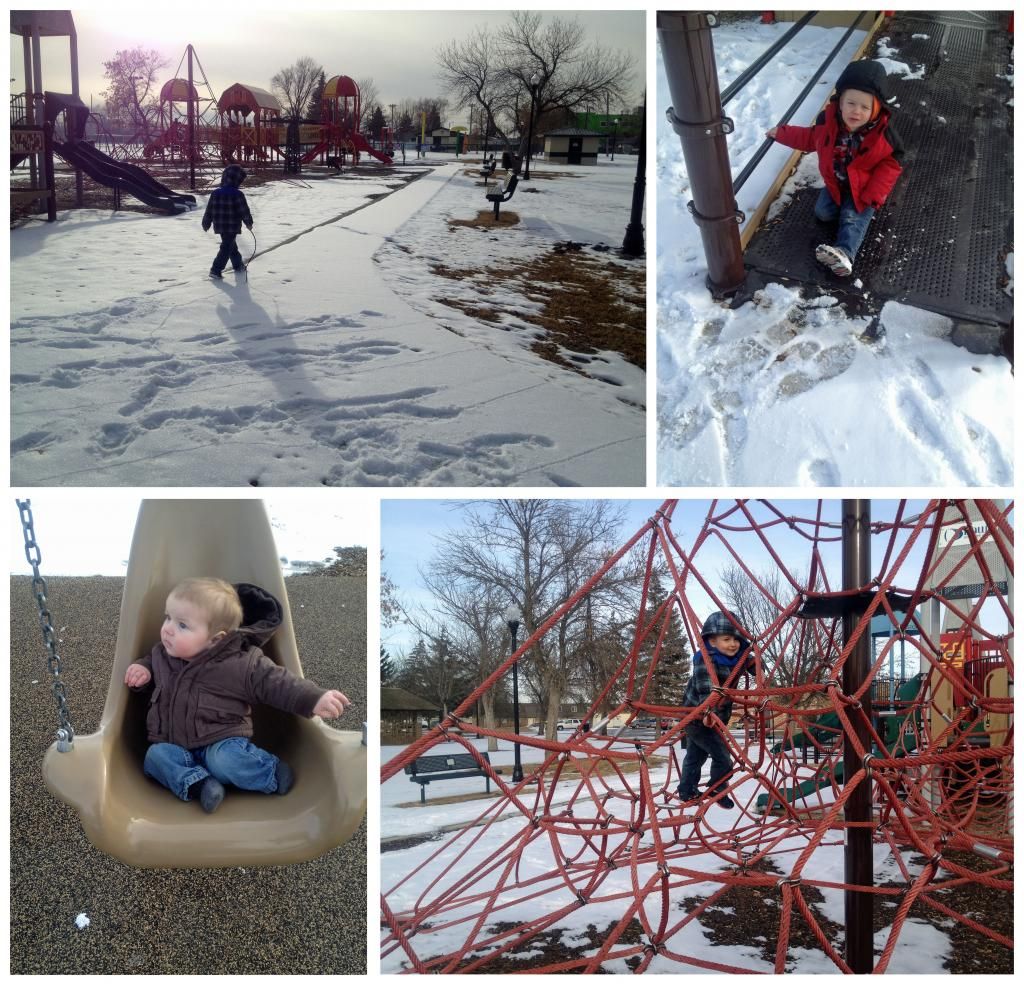 In early March we had a warm day (it was in the 40s!) so we headed to the park.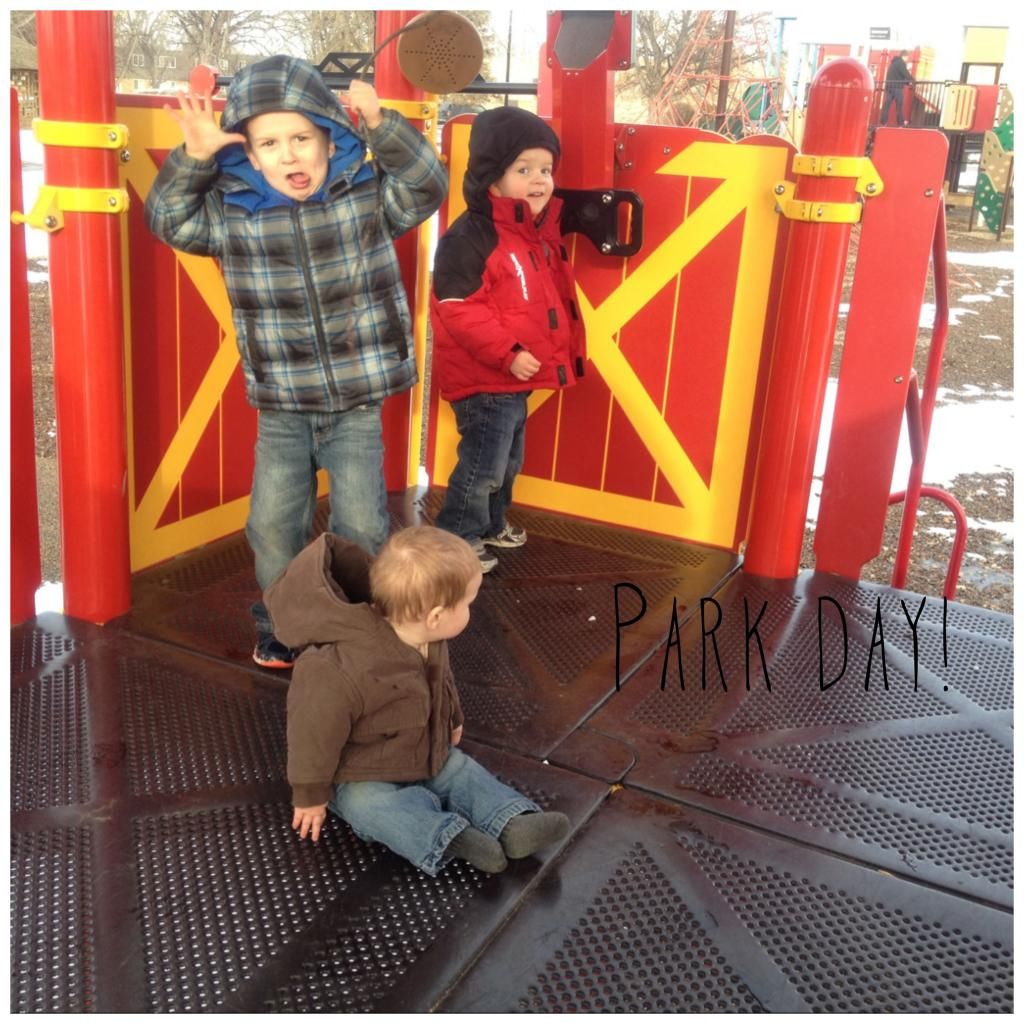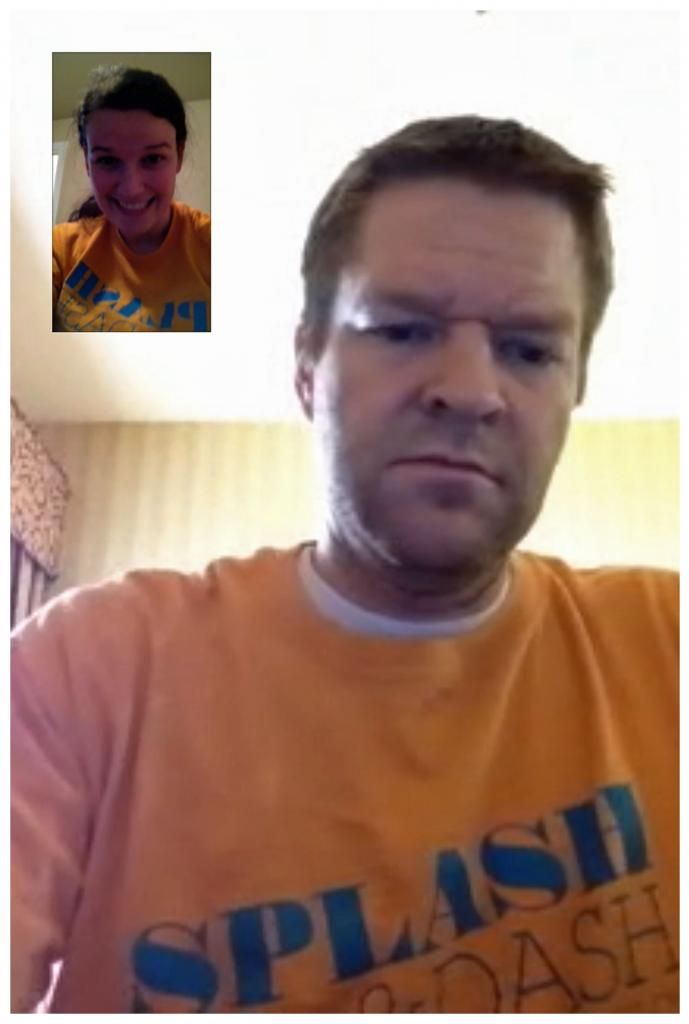 Sam went to Houston for a training and we realized we were matching while FaceTiming.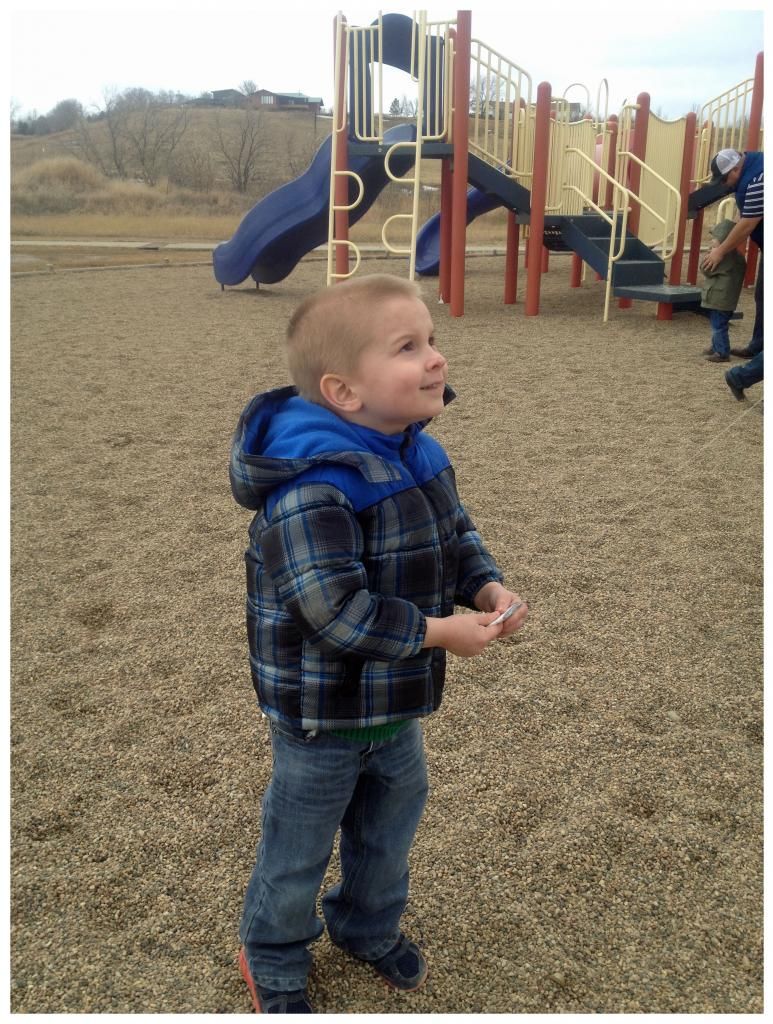 We went to the park to fly a kite and ended up sick. Still too cold.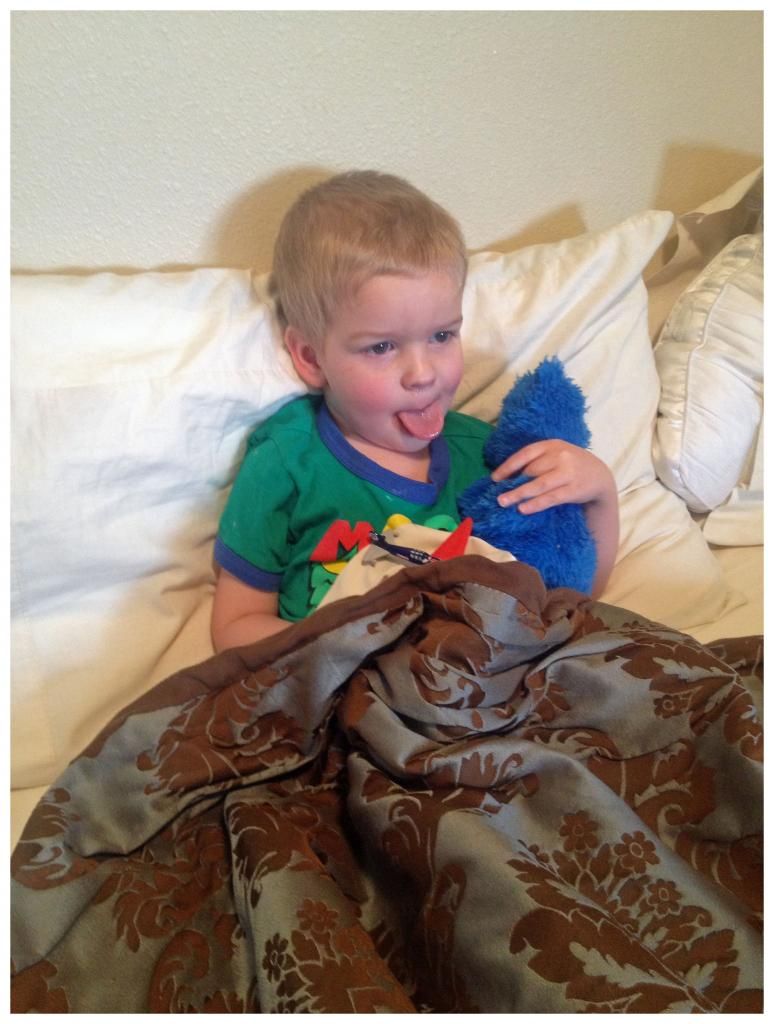 "Mommy, my boogers are bleeding [running]!"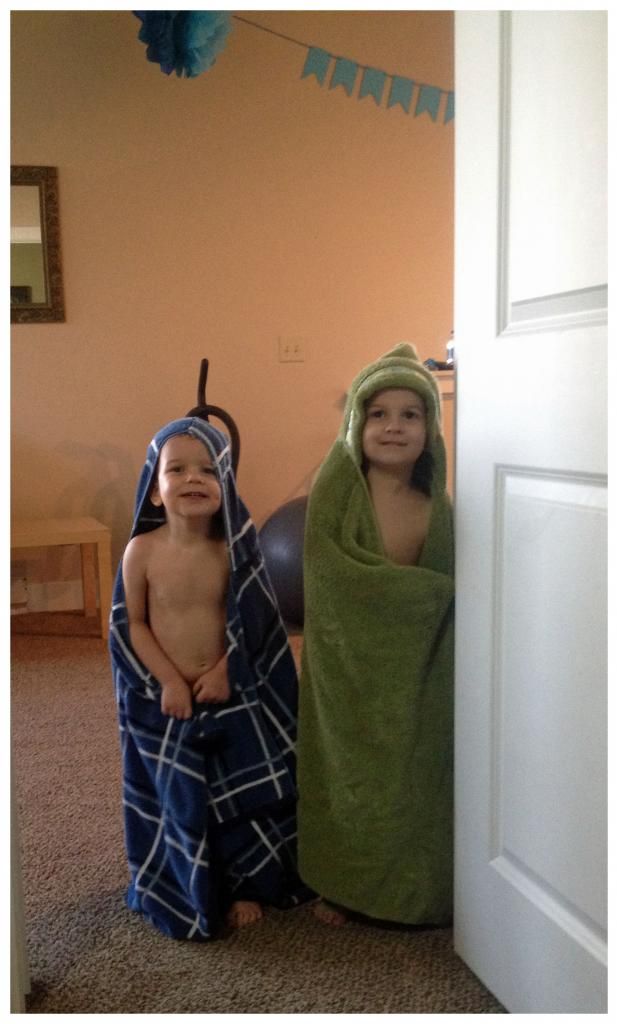 Edison: Mom! Alex threw that orange ball at...
Alex: No! It's yellow!
Edison: Mom! Alex threw that yellow ball at...
Alex: No! I kicked it!
Edison: Mom! Alex kicked that yellow ball at me!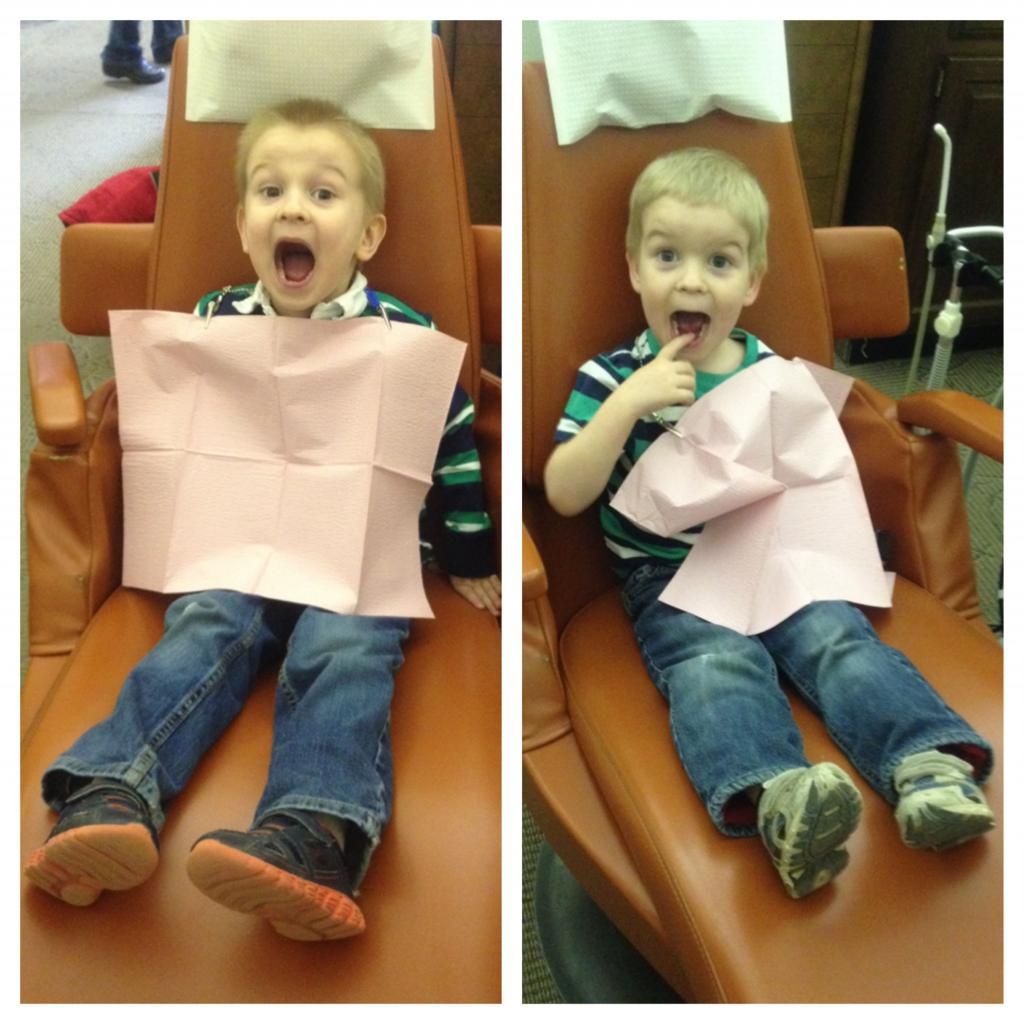 I tried to tell them they didn't need to have their mouths open already but they could not be deterred. They were ready!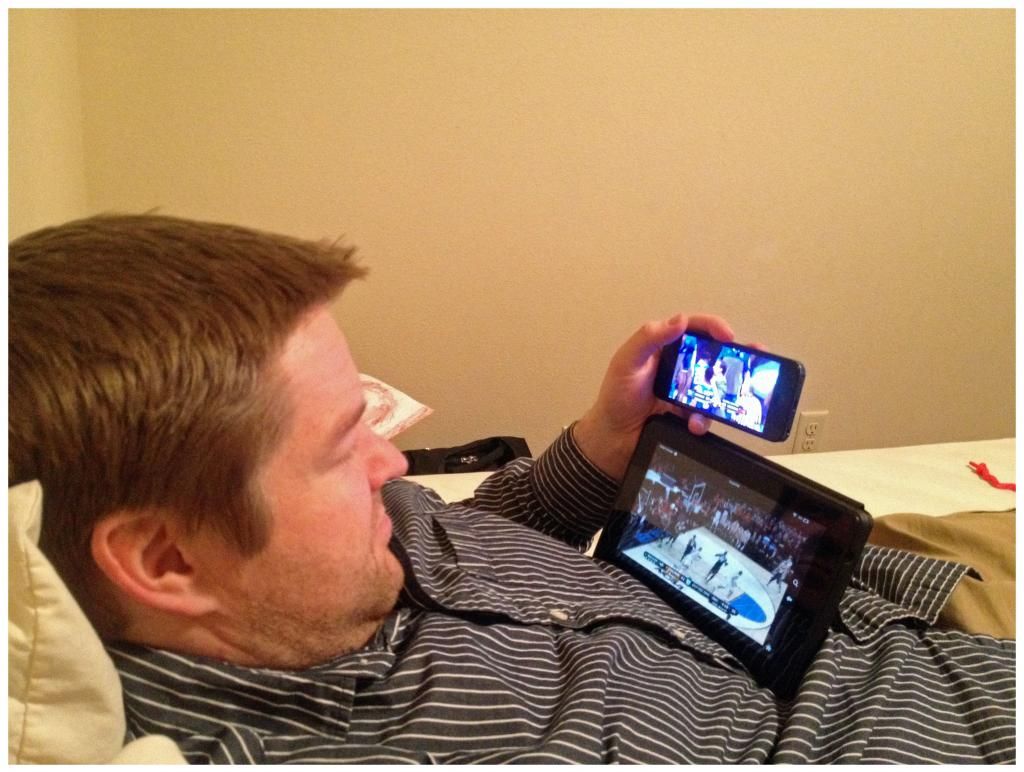 March Madness is madness.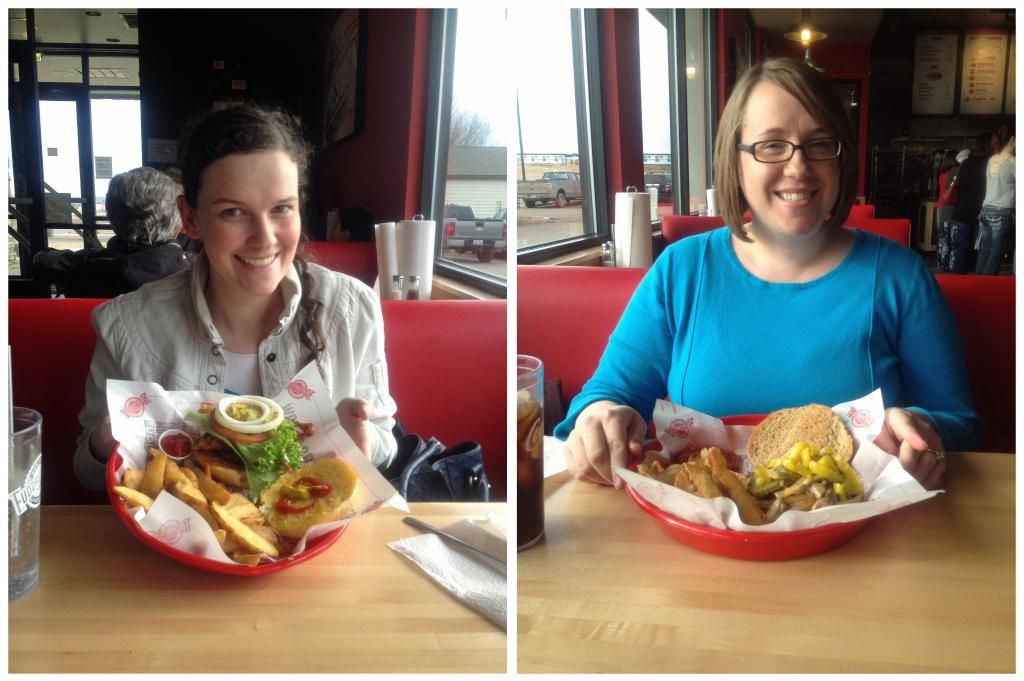 Olivia and I went out to dinner before the General Women's Broadcast.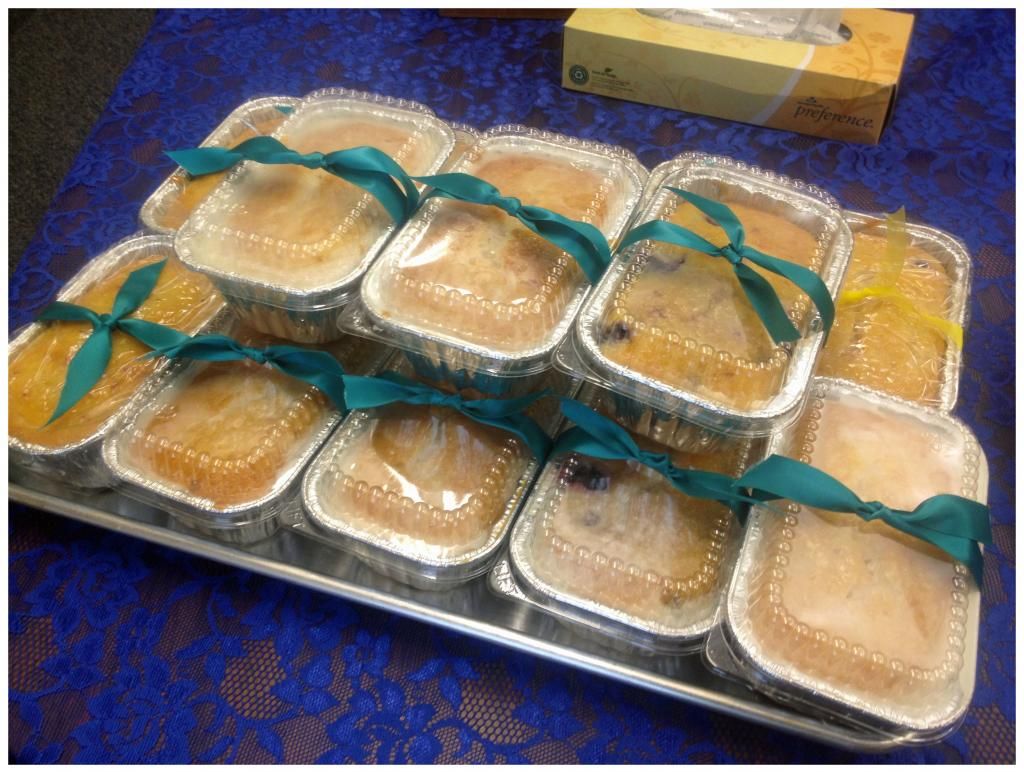 I was assigned to make a ton of loaves of bread for the primary teachers. I made blueberry yogurt bread with lemon glaze.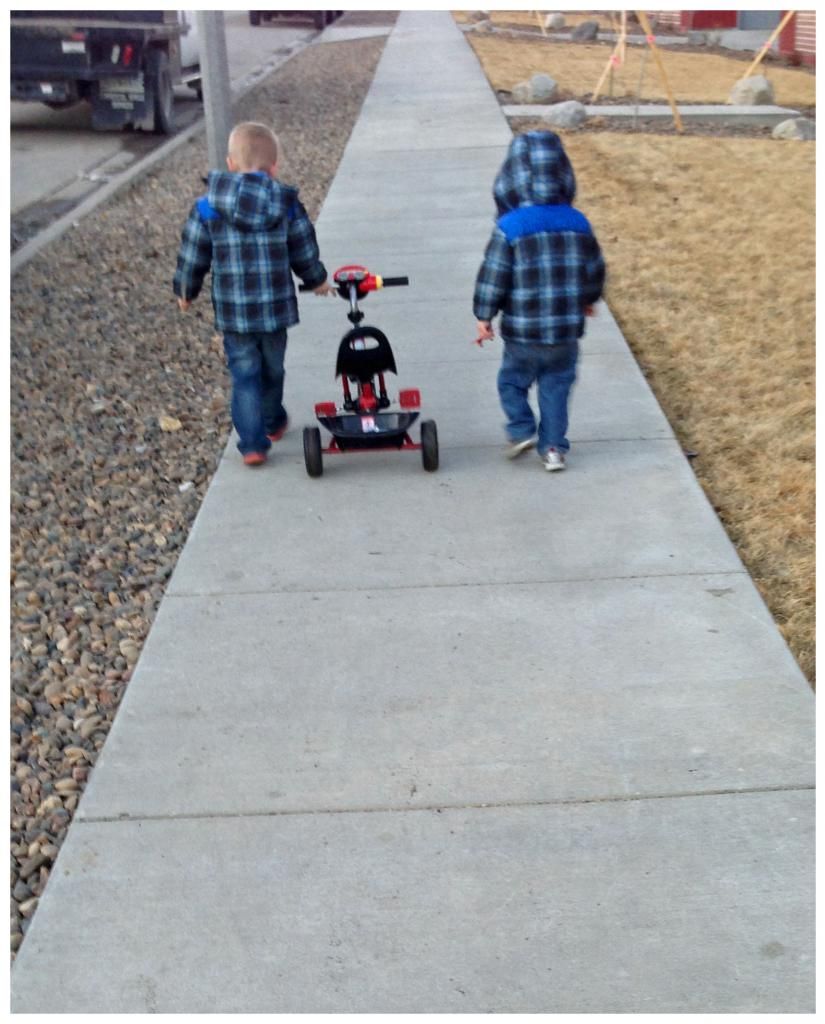 We were thrilled to go on regular walks once the snow started melting.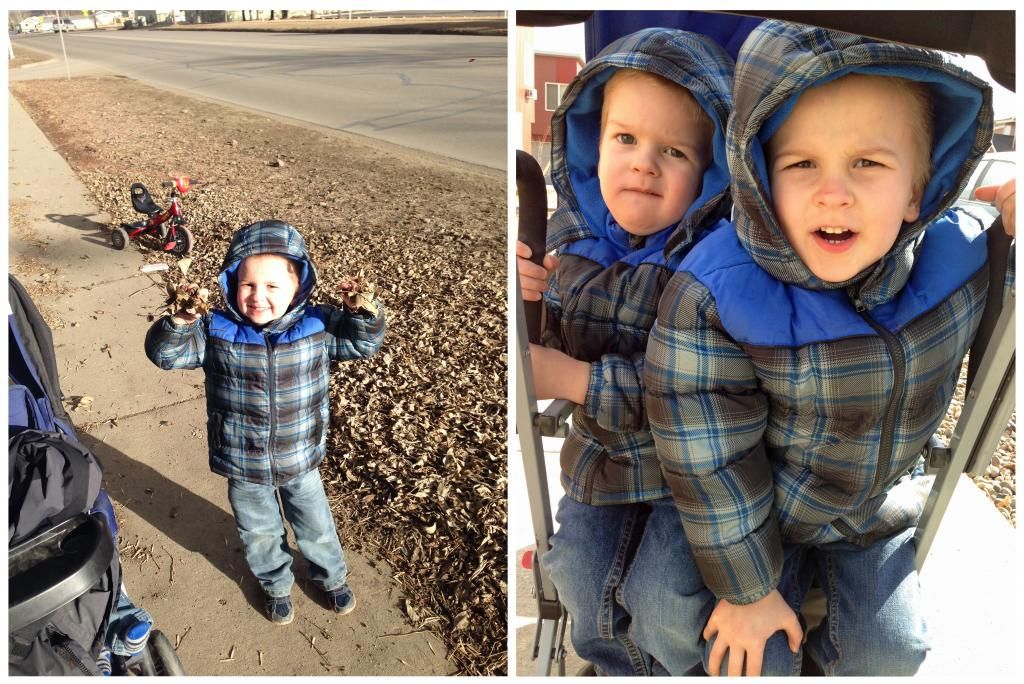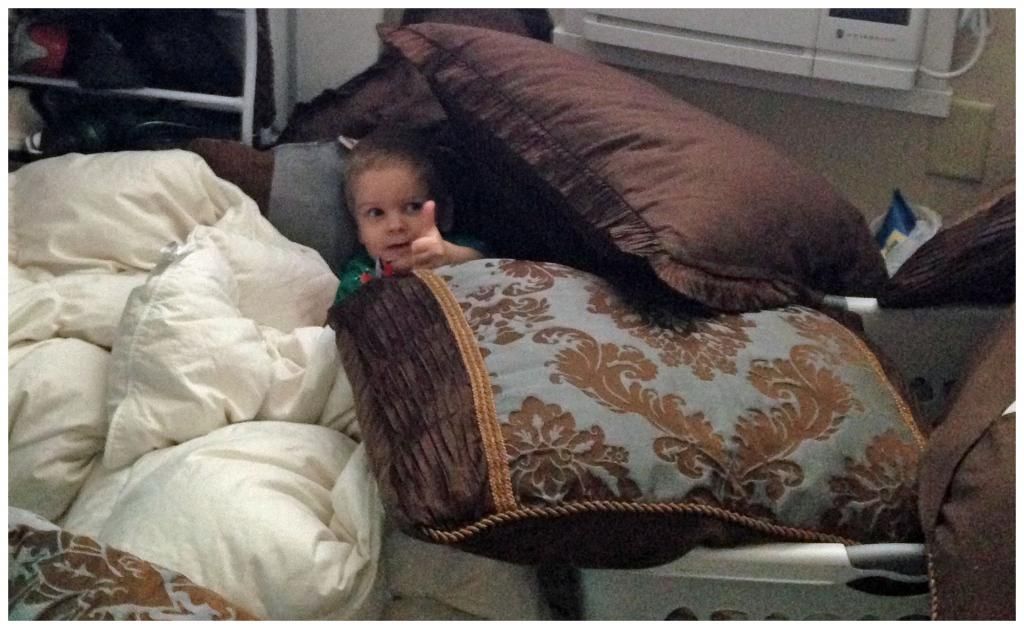 This is the best hiding place.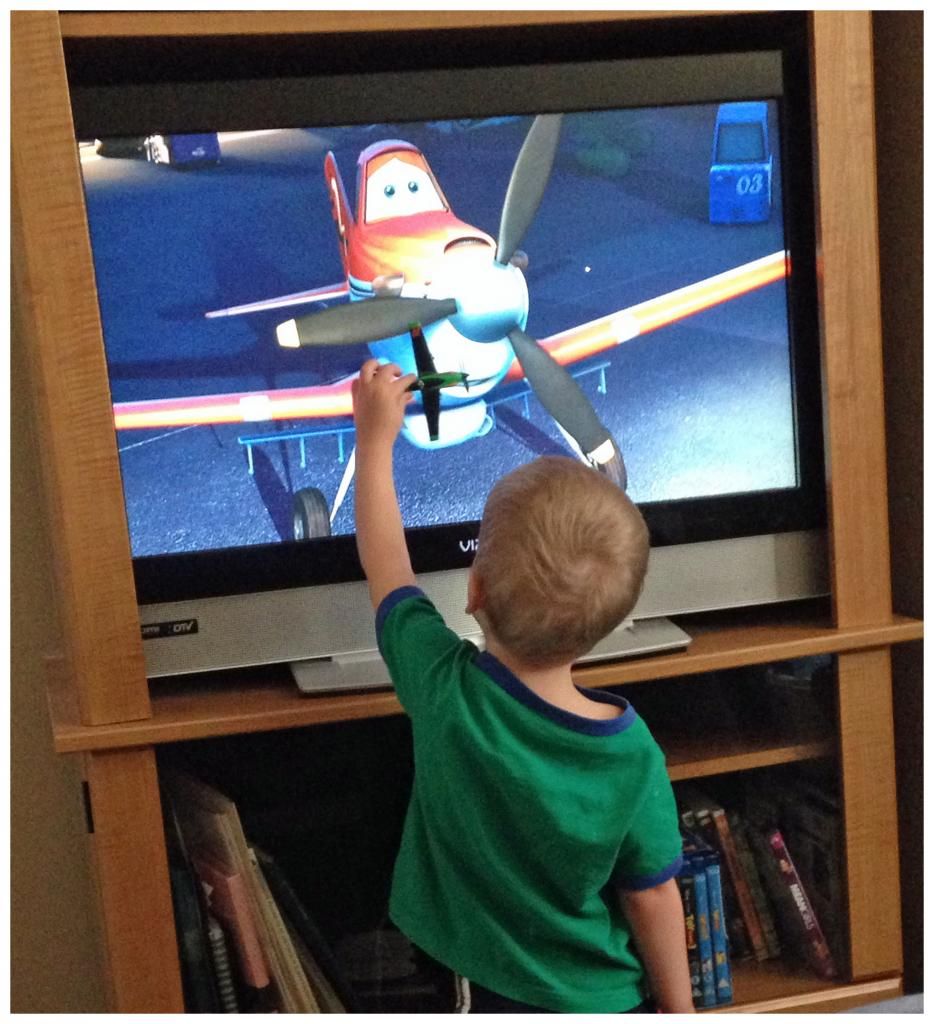 Edison loves cars and planes. We have plenty for him to fly and drive around.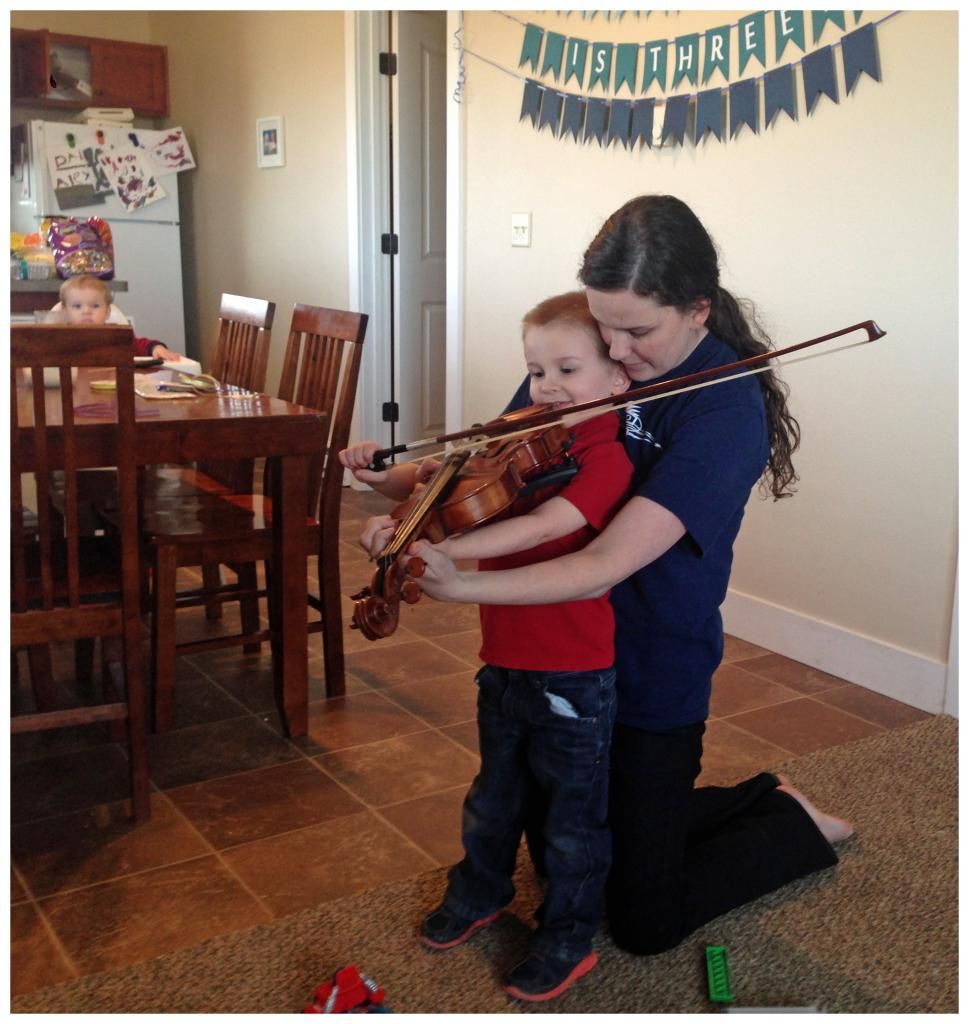 My kids make me feel cool.
We made snow cream. Delicious! It brought back so many Ithaca memories.

April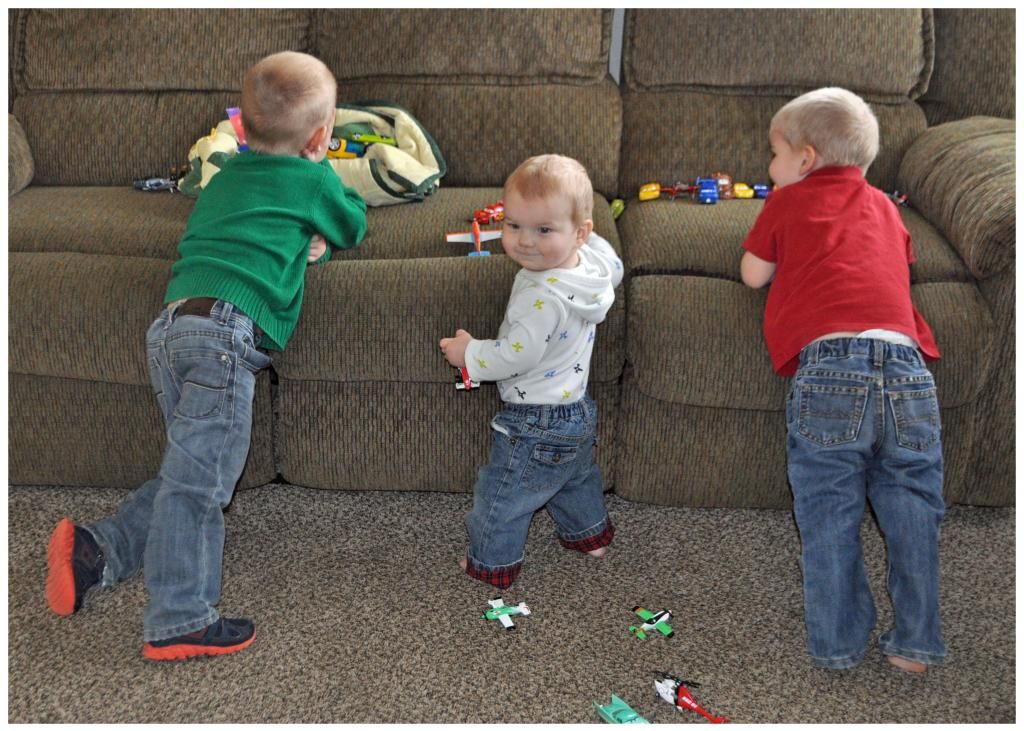 Whenever people leave our house, Alex and Edison yell after them, "Bye, see you later, anytime, goodnight, love you, have a good sleep!"
Edison got cool boots from his Warnick cousins.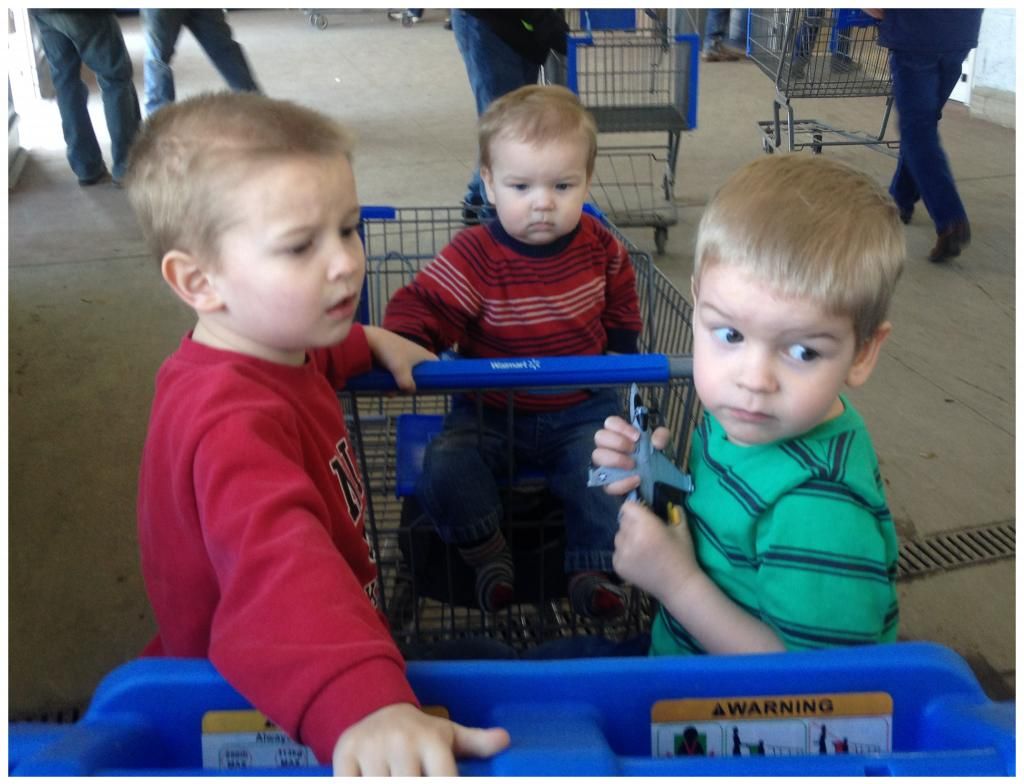 Shopping with three kids makes me feel like I can do anything.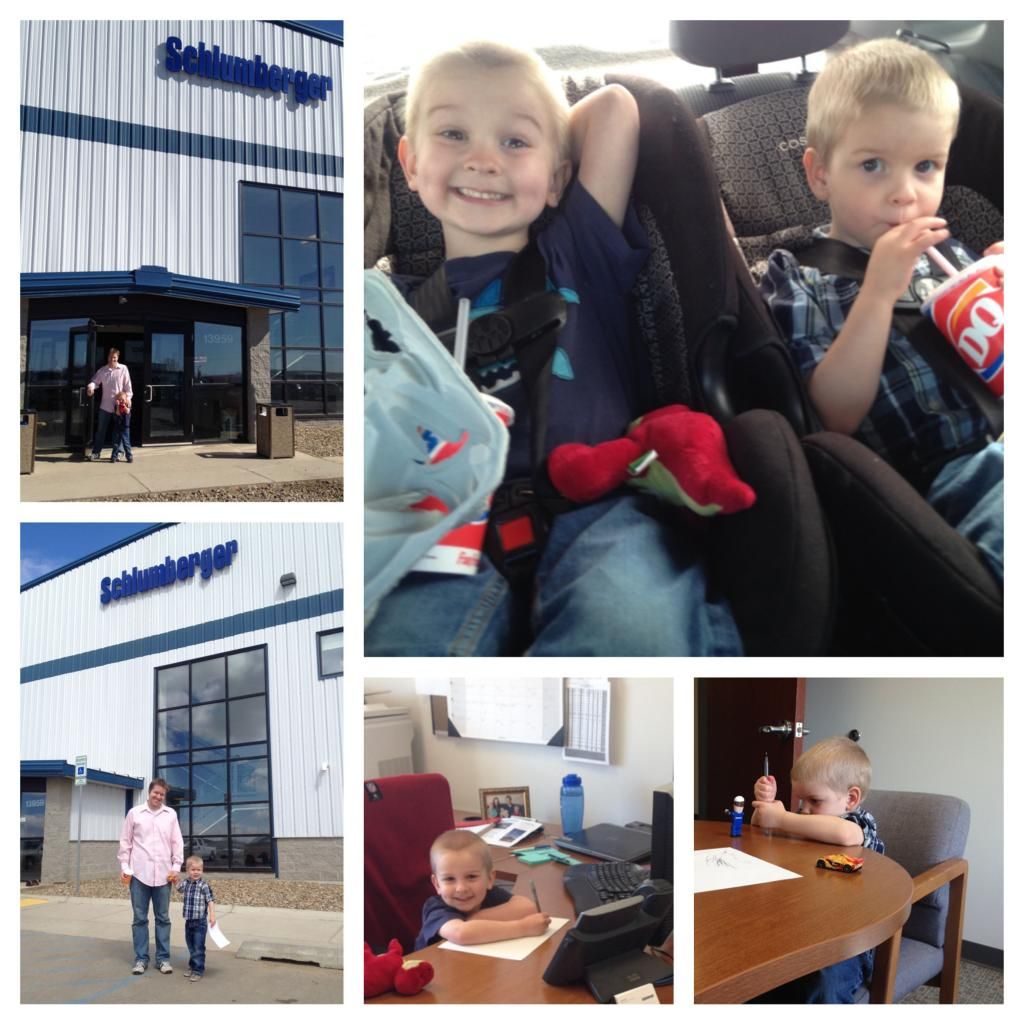 Take your child to work day. The boys took turns working with their Daddy.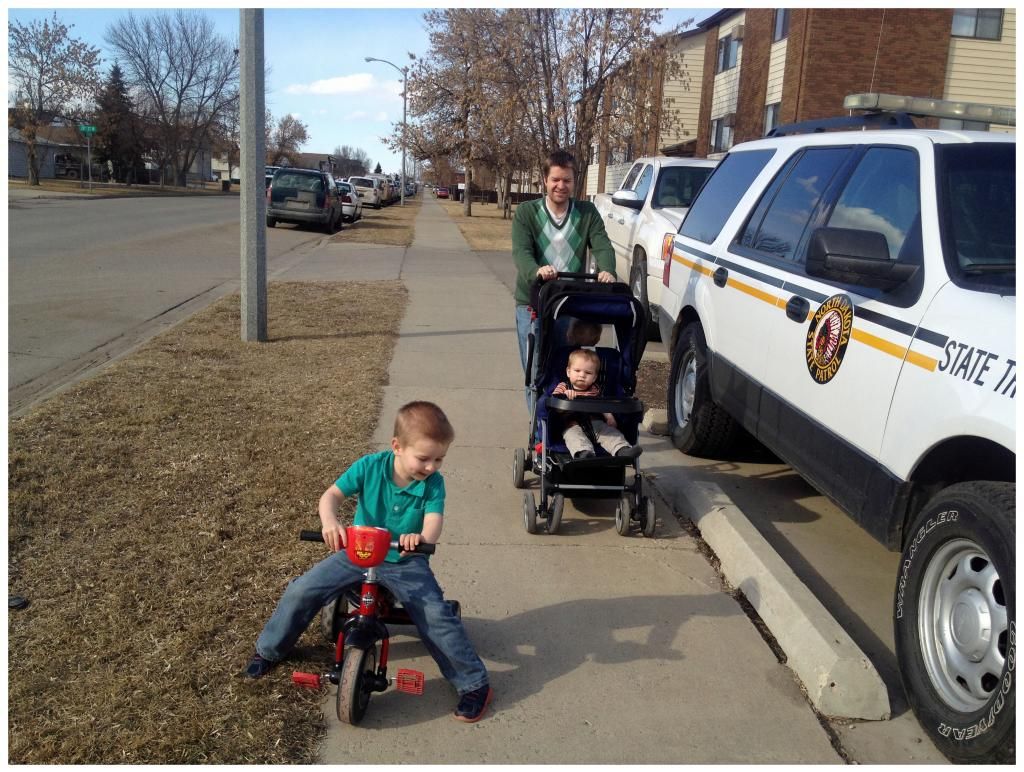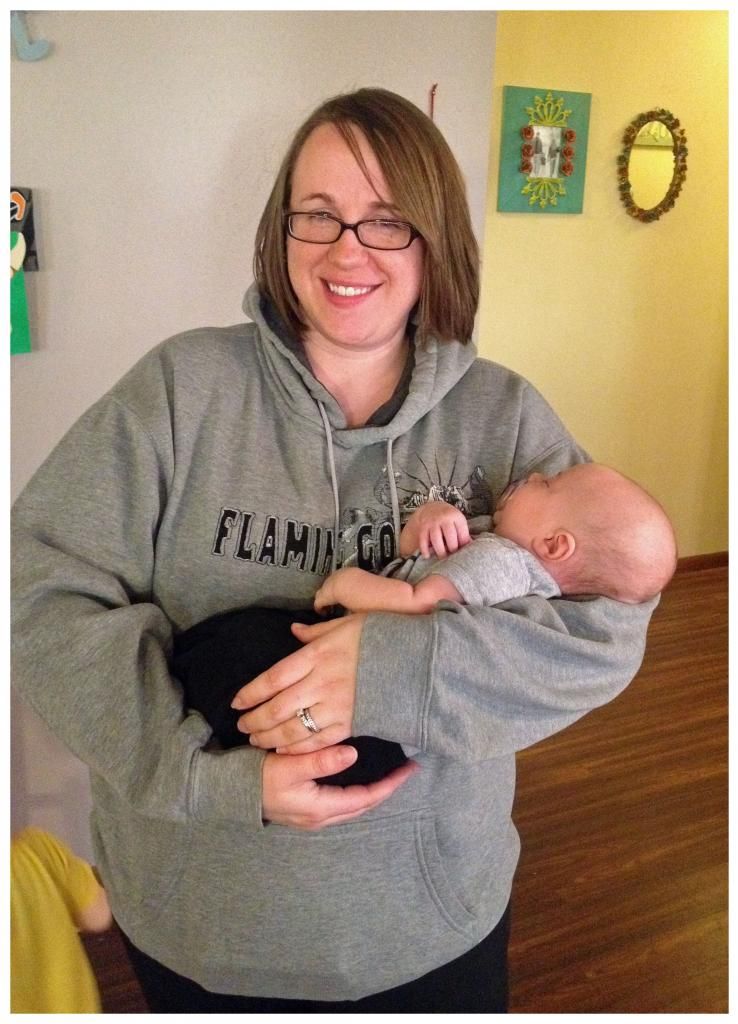 Olivia and Harvey at a Dip night at Maggie's house.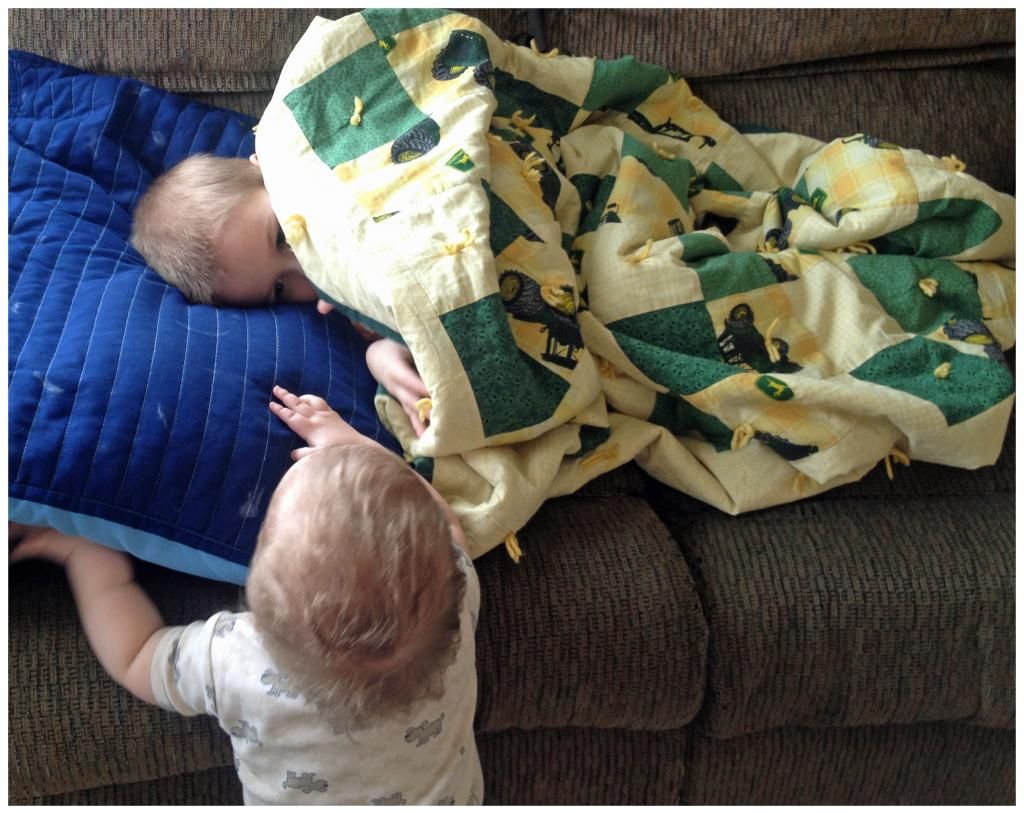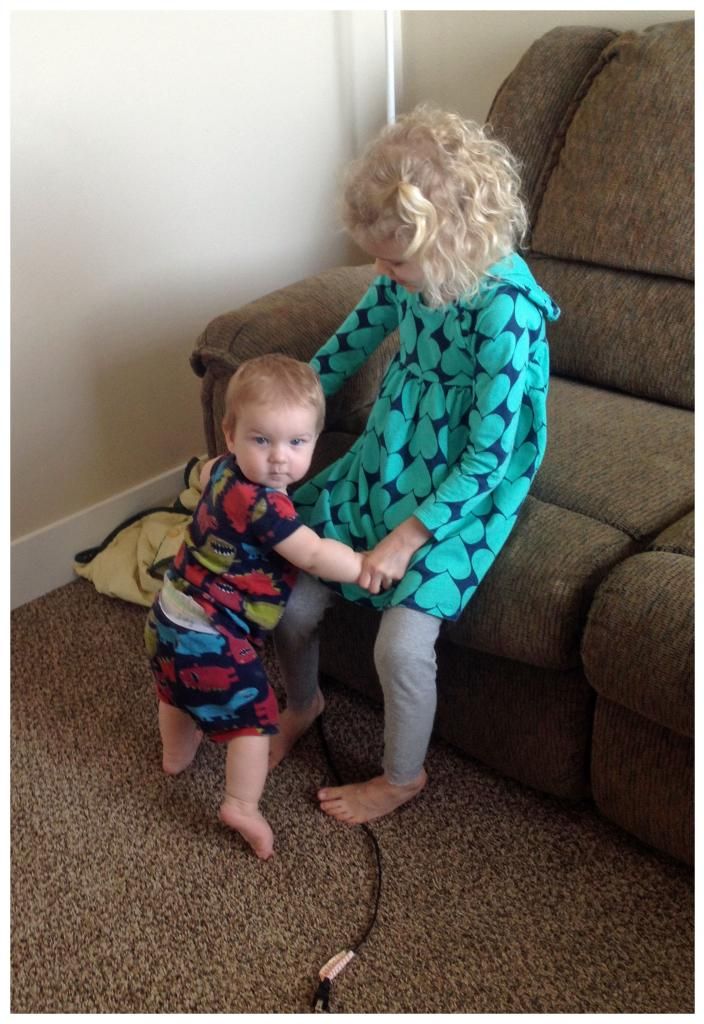 Dancing Declan and Dahlia.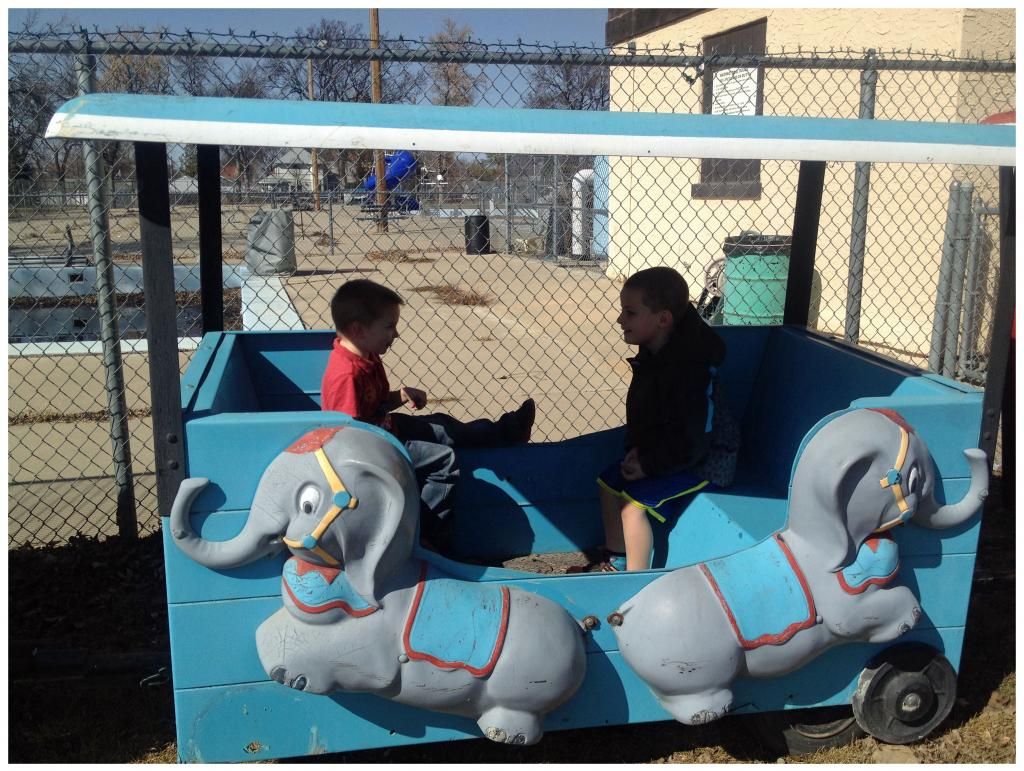 Alex and Vaughn pretending to be on a train ride.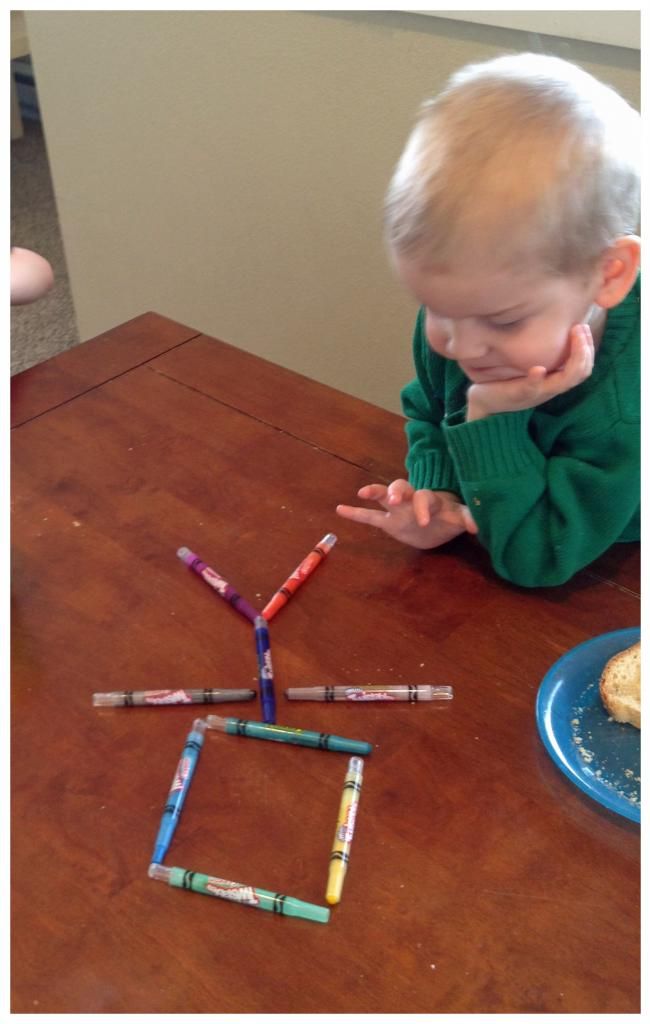 Edison's crayon man.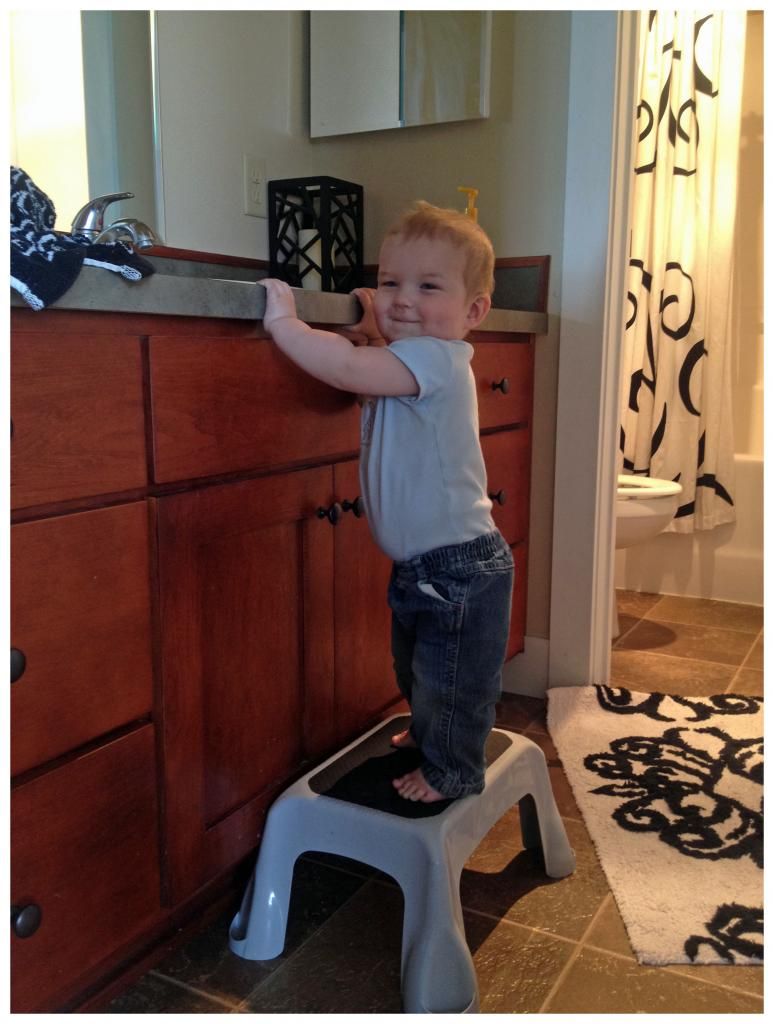 Declan is a daredevil.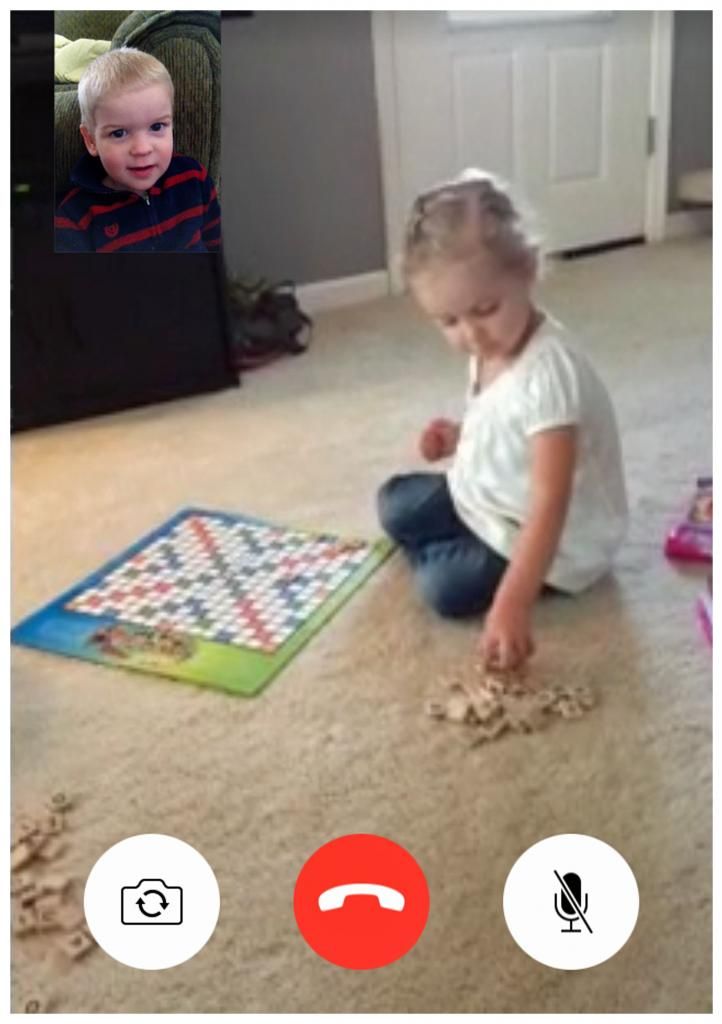 Madisyn and Alexa turned three! We miss them so much!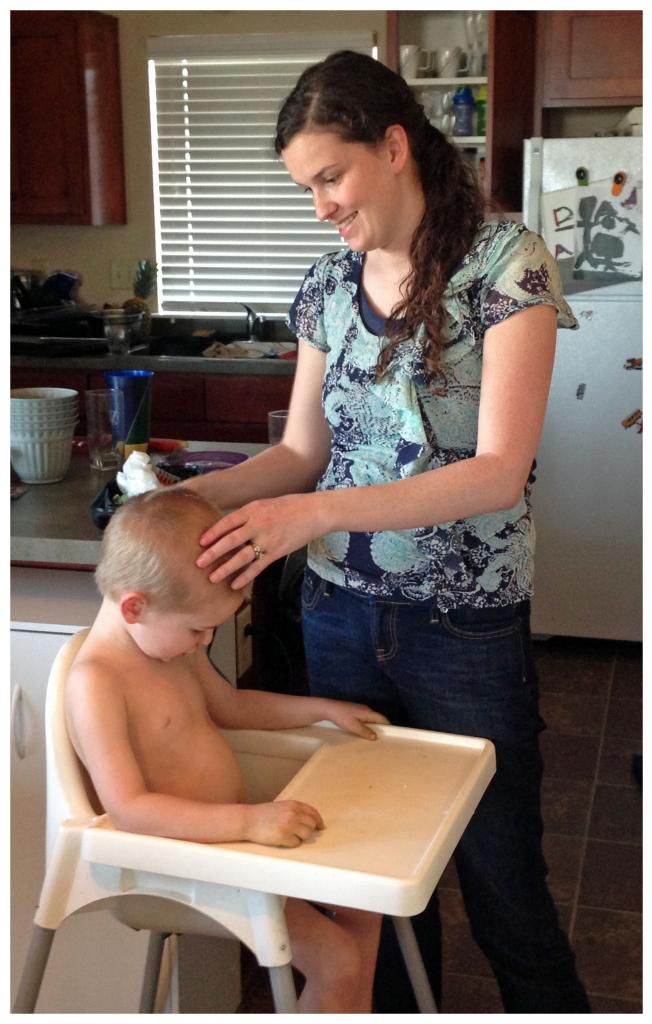 Haircuts. They hate them so I bribe them with suckers.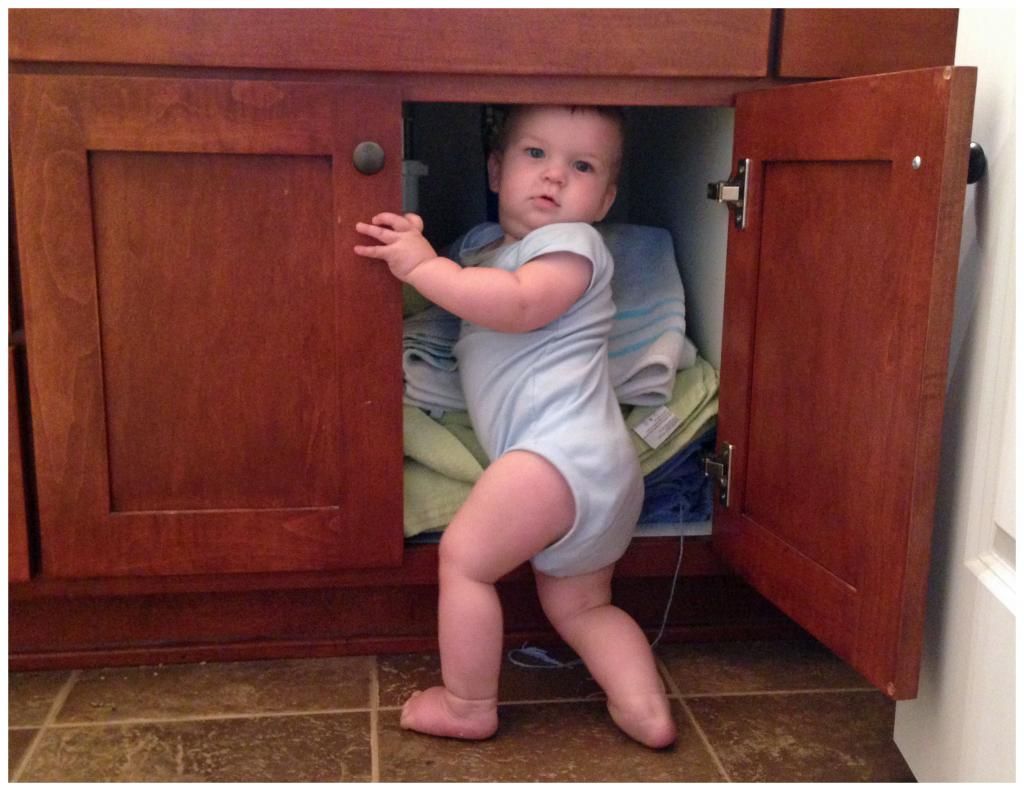 Declan gets into everything.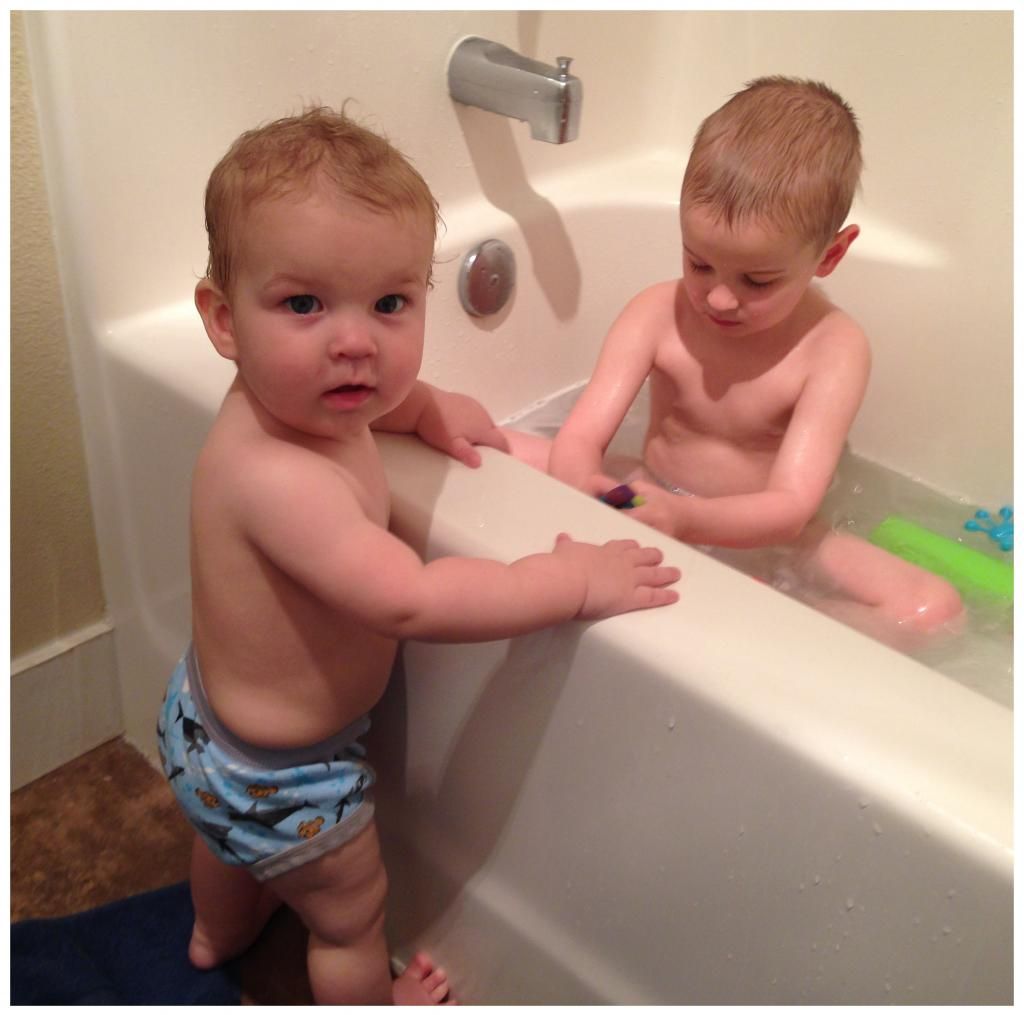 Declan is not old enough to be wearing those!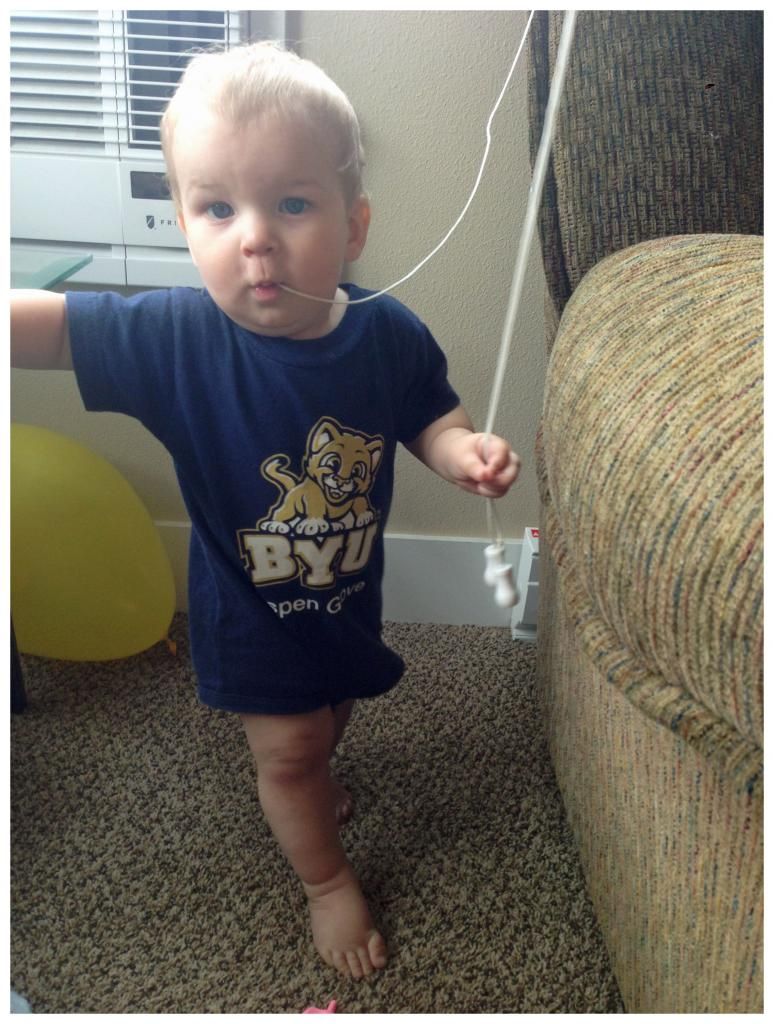 Yummy.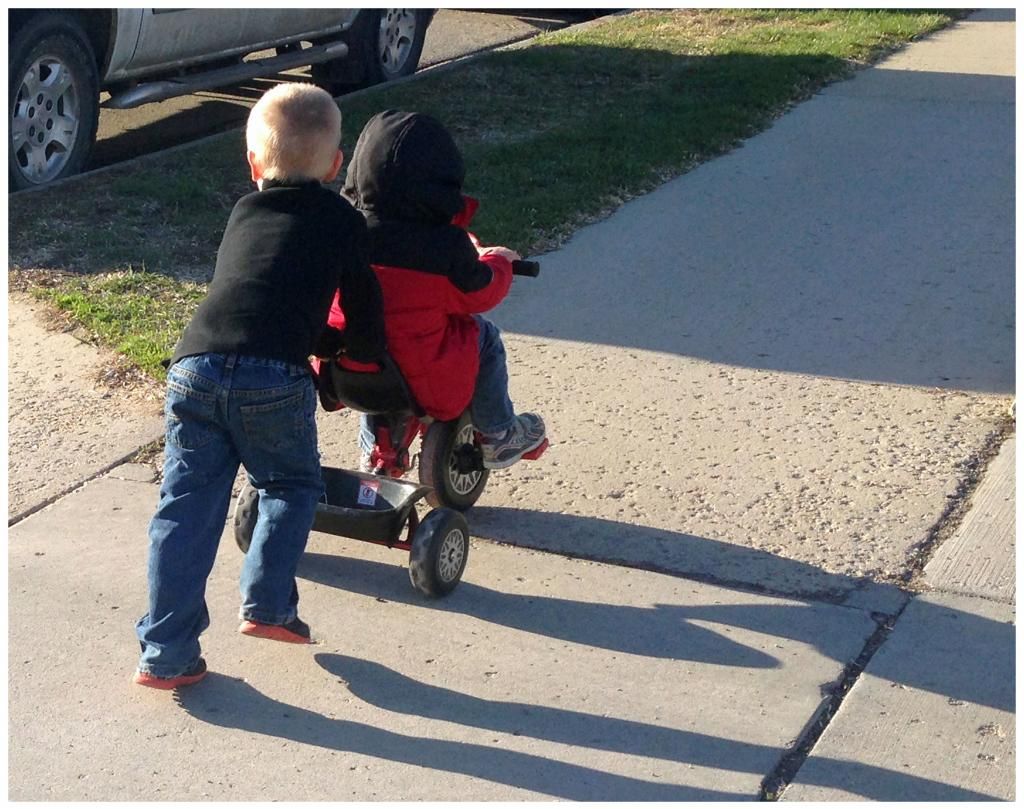 Alex is such a kind brother.
May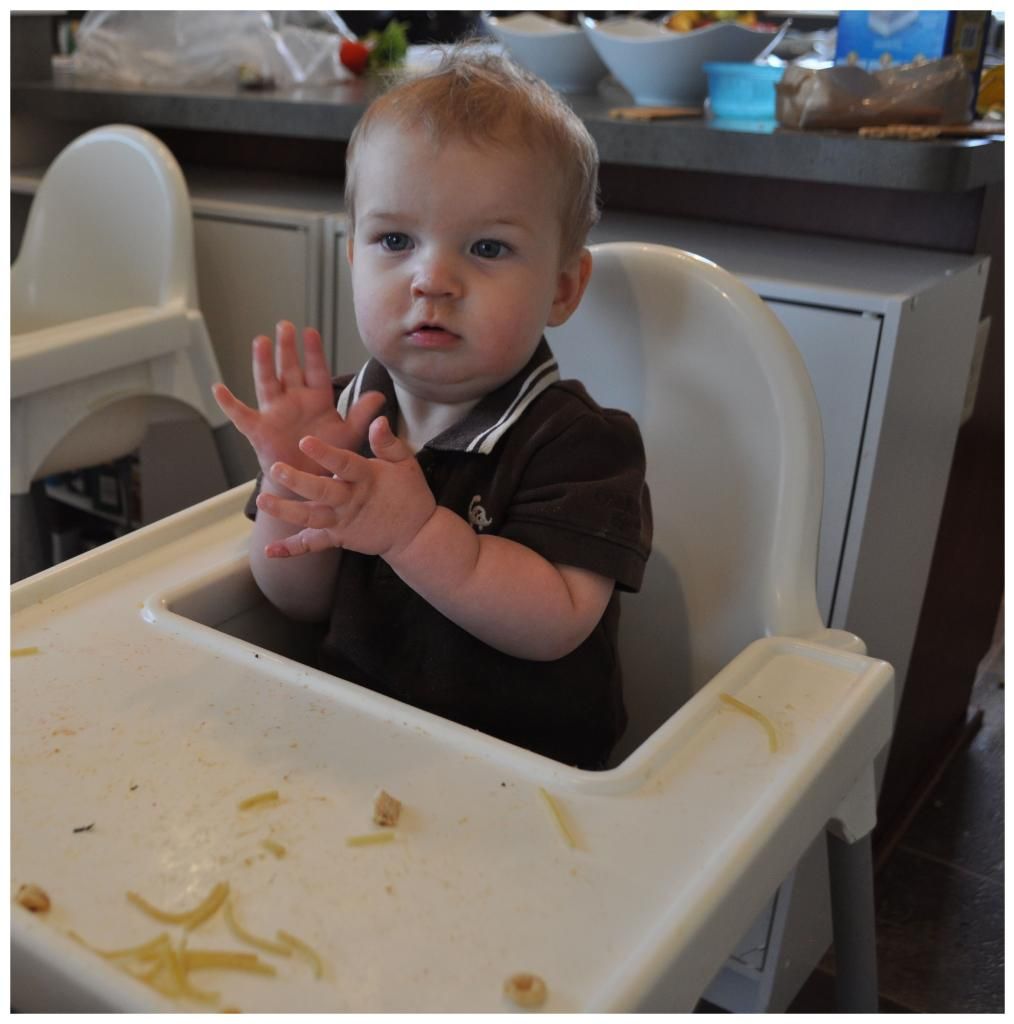 Declan learned how to clap! He seems to be favoring his left hand. Maybe we will have another lefty like Edison.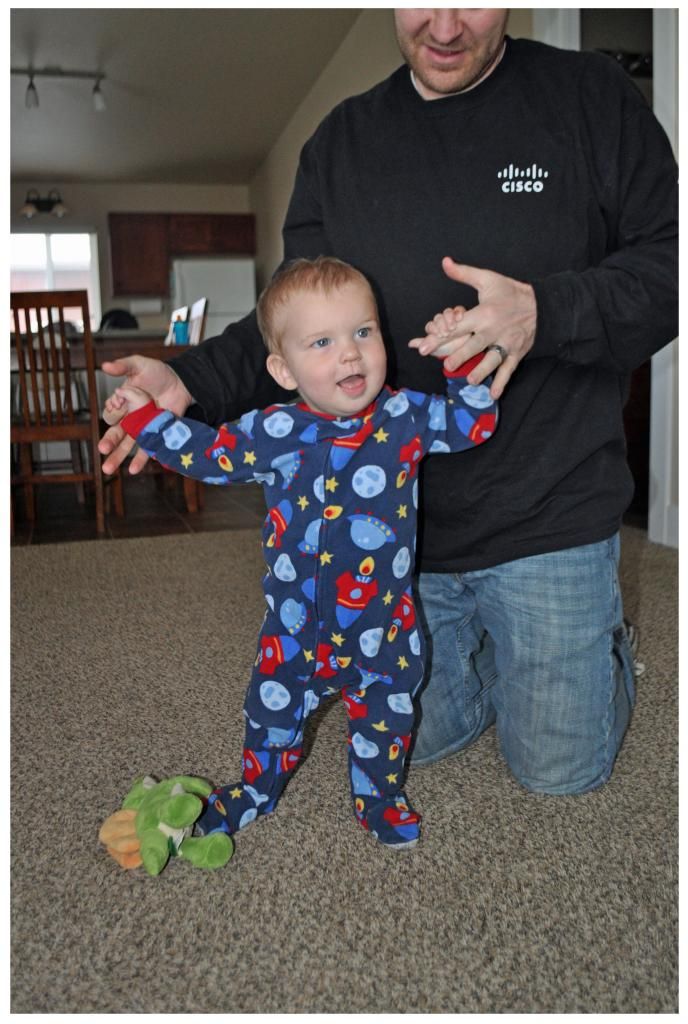 Practicing walking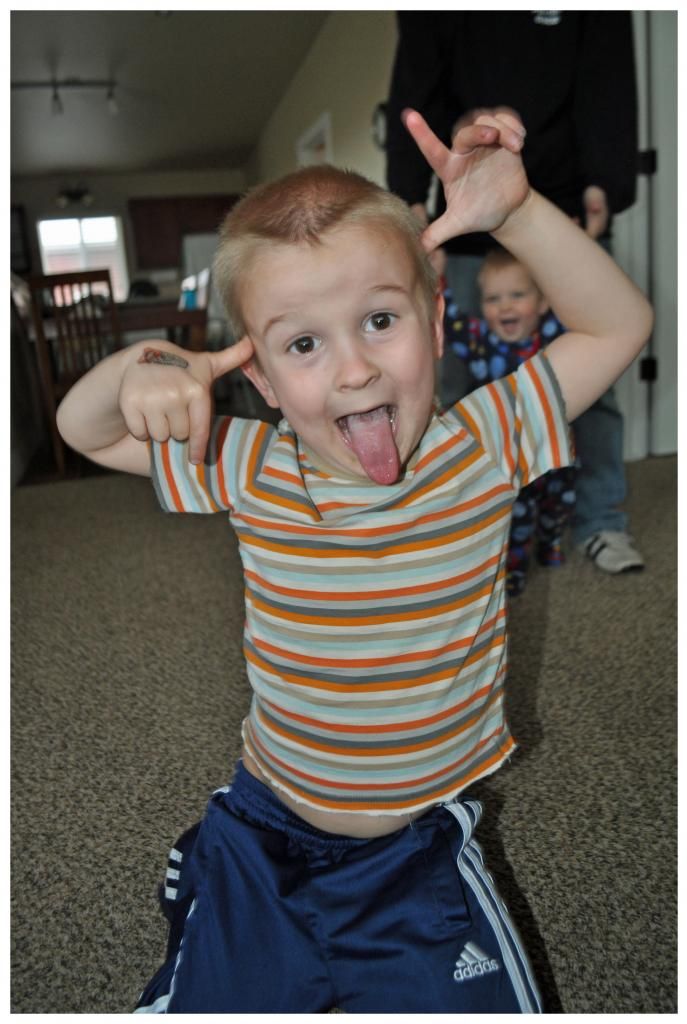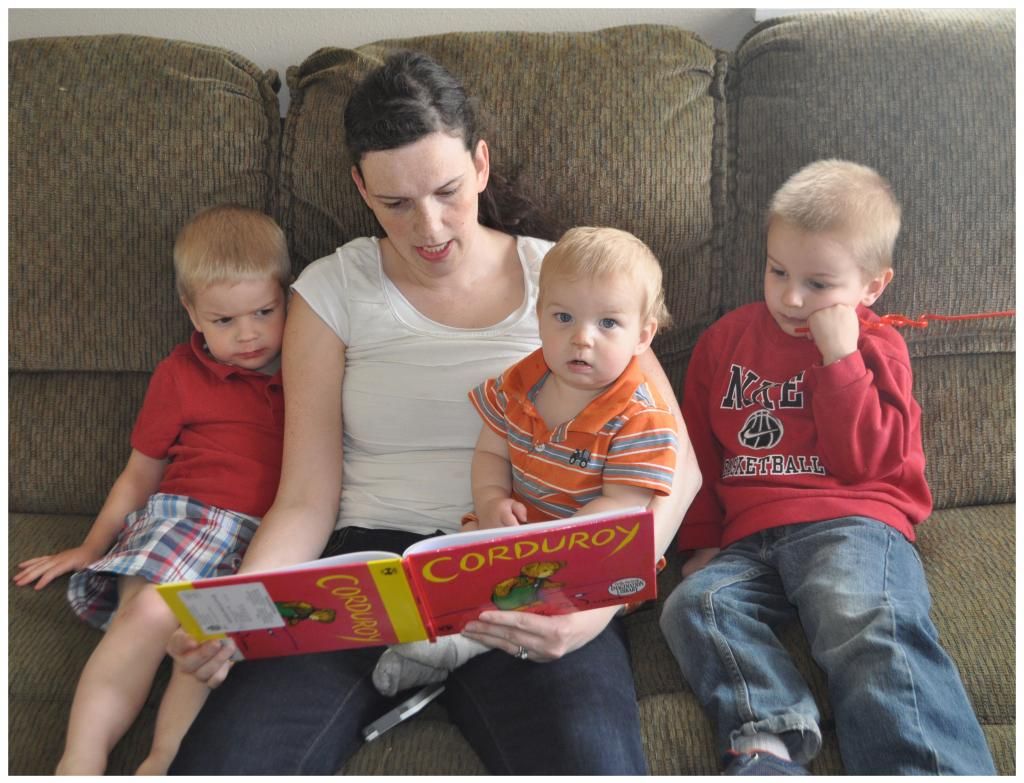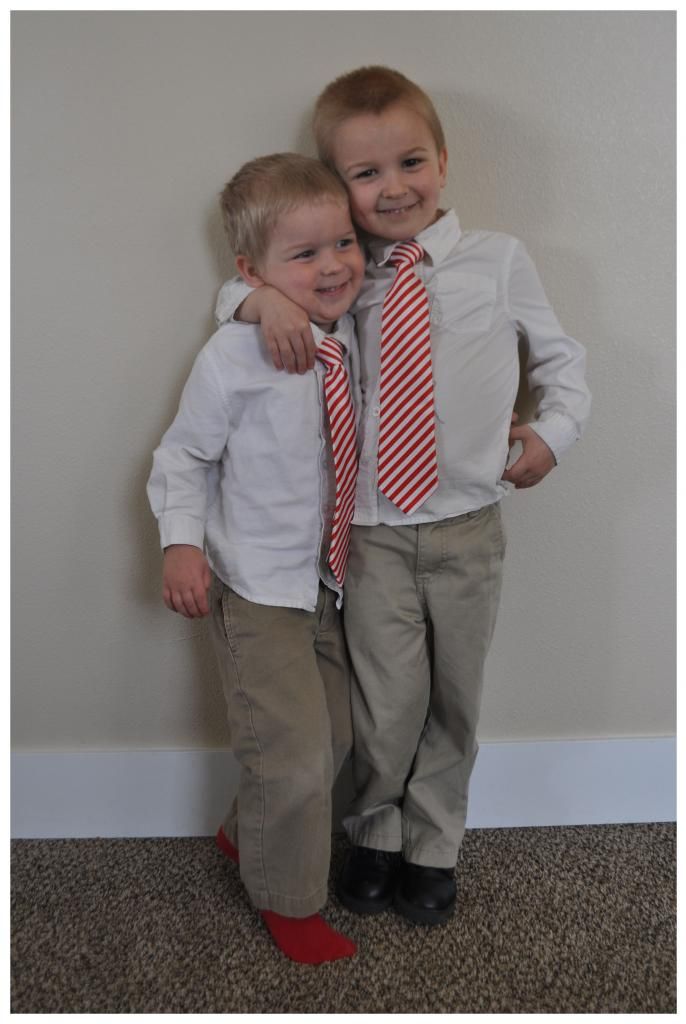 Alex's primary teacher: Alex, why aren't you singing? You are always singing!
Alex: I forgot my voice today.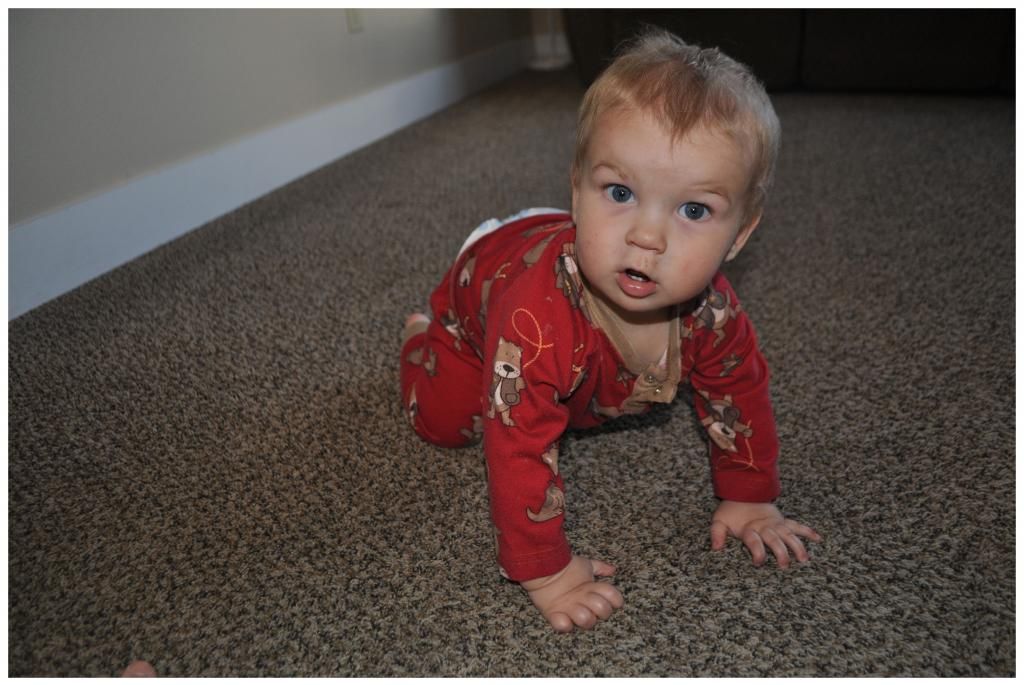 Declan's new favorite hobby is to take toys, books, food, or anything else he can find and throw it down the stairs.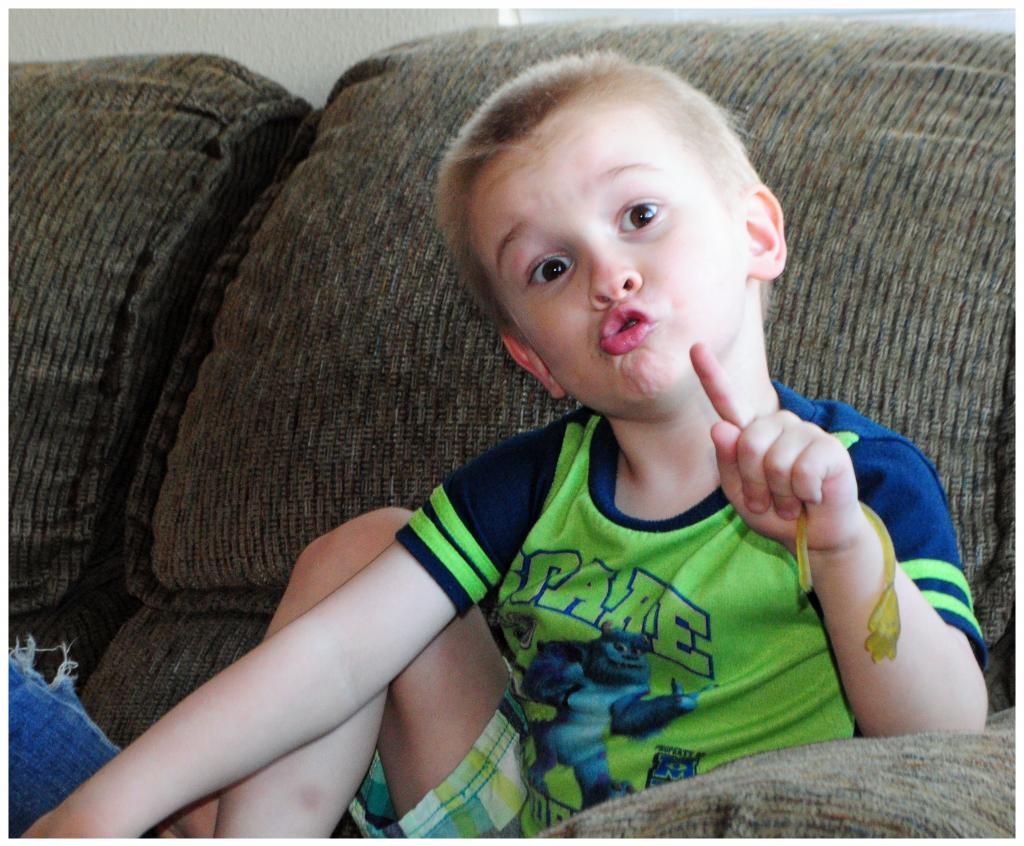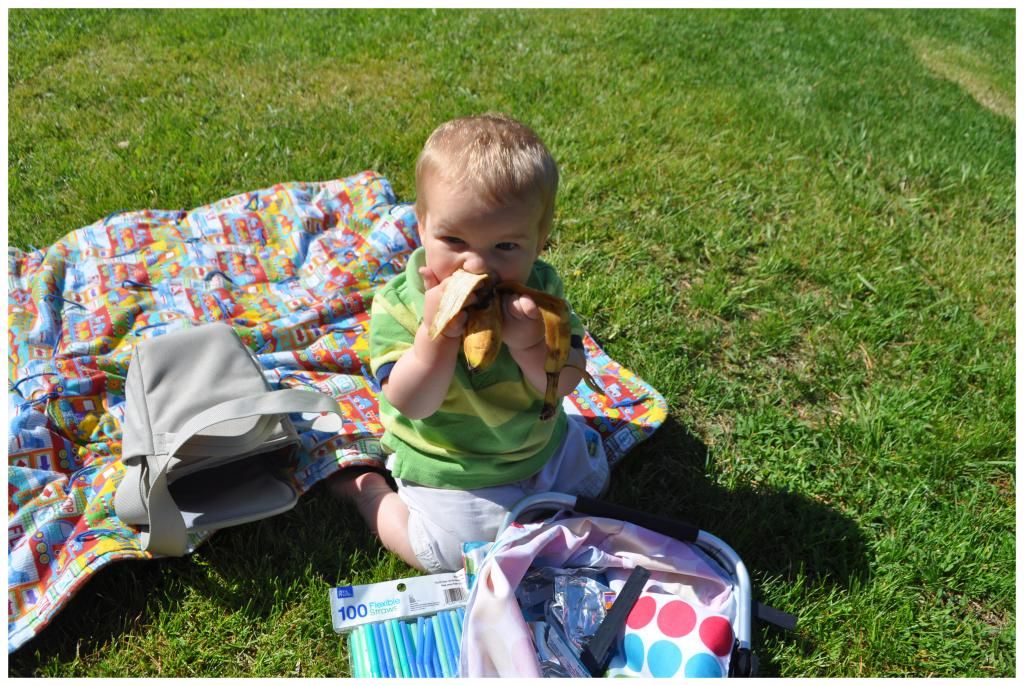 That's one way to eat a banana.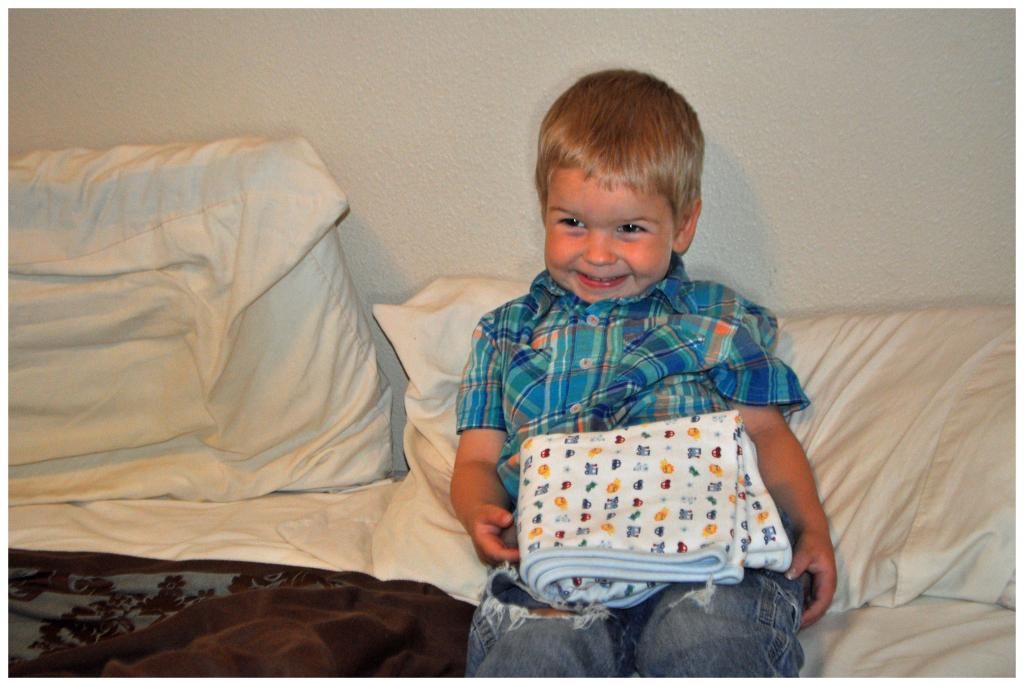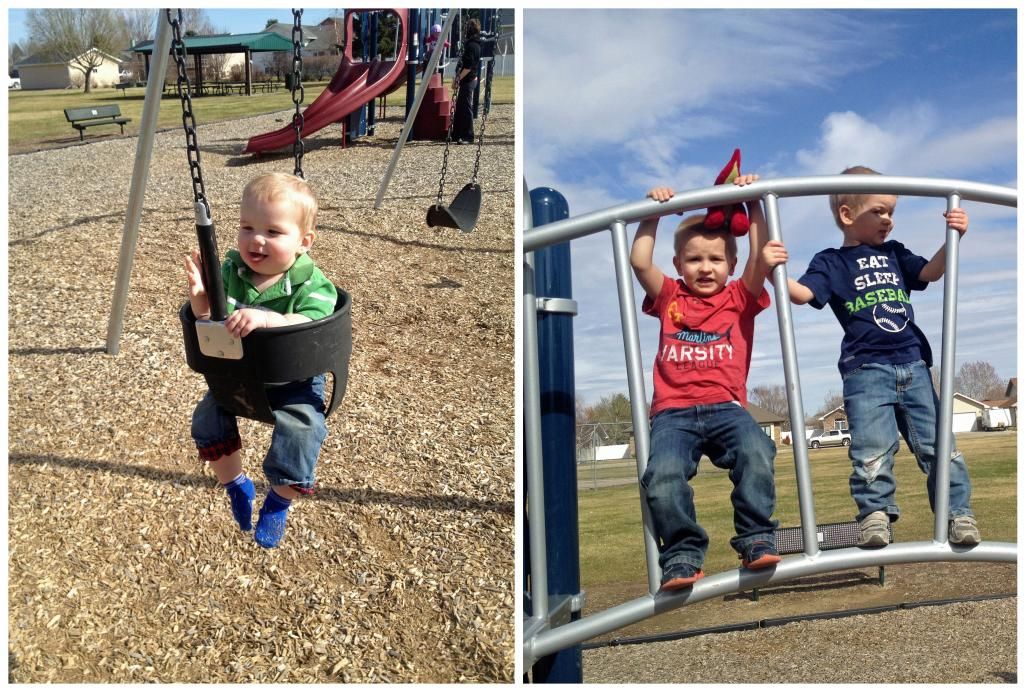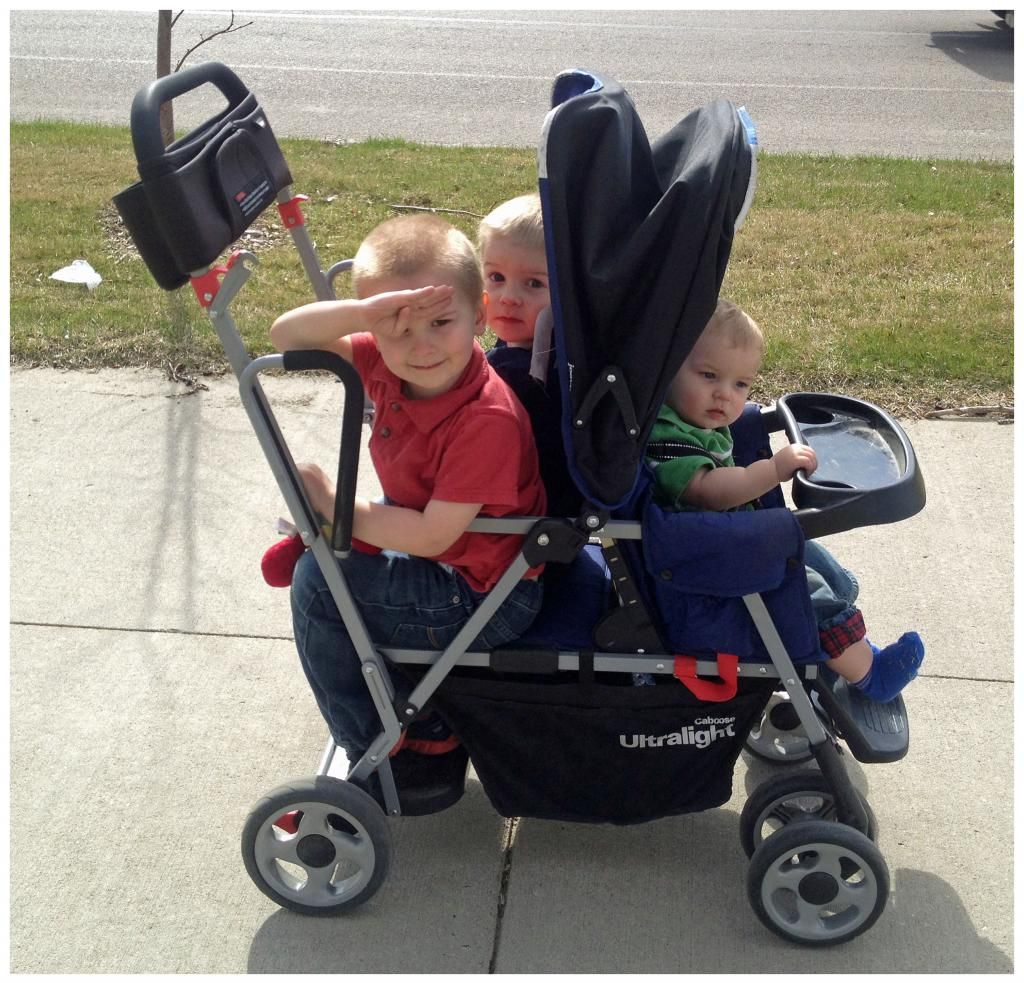 Walks are tiring. For some of us at least.
Edison is always opening his eyes underwater while swimming.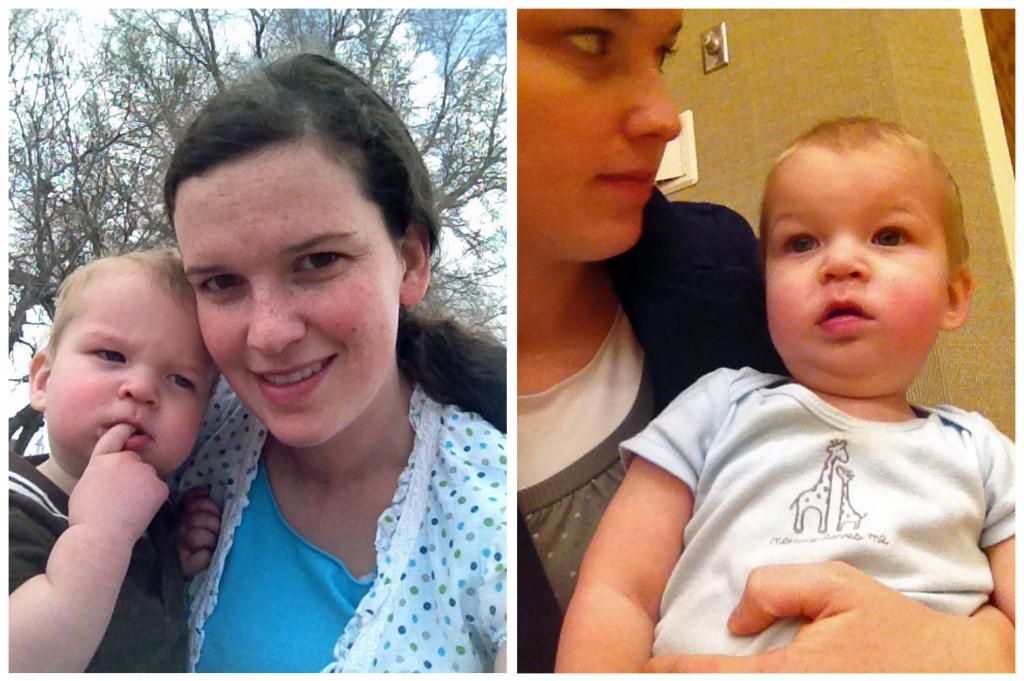 Declan is my little buddy.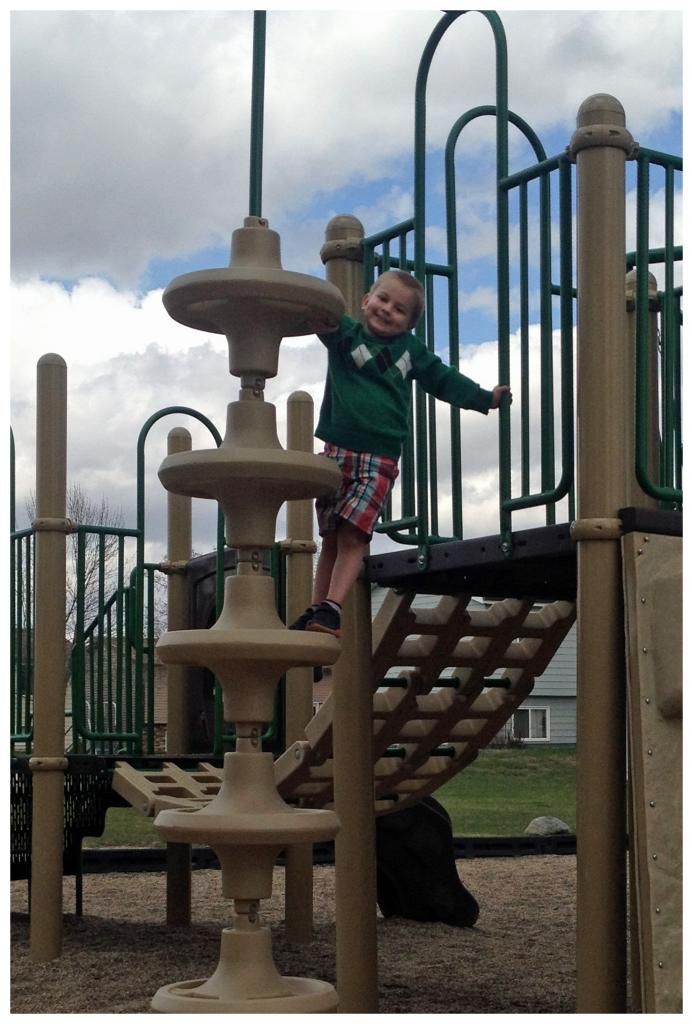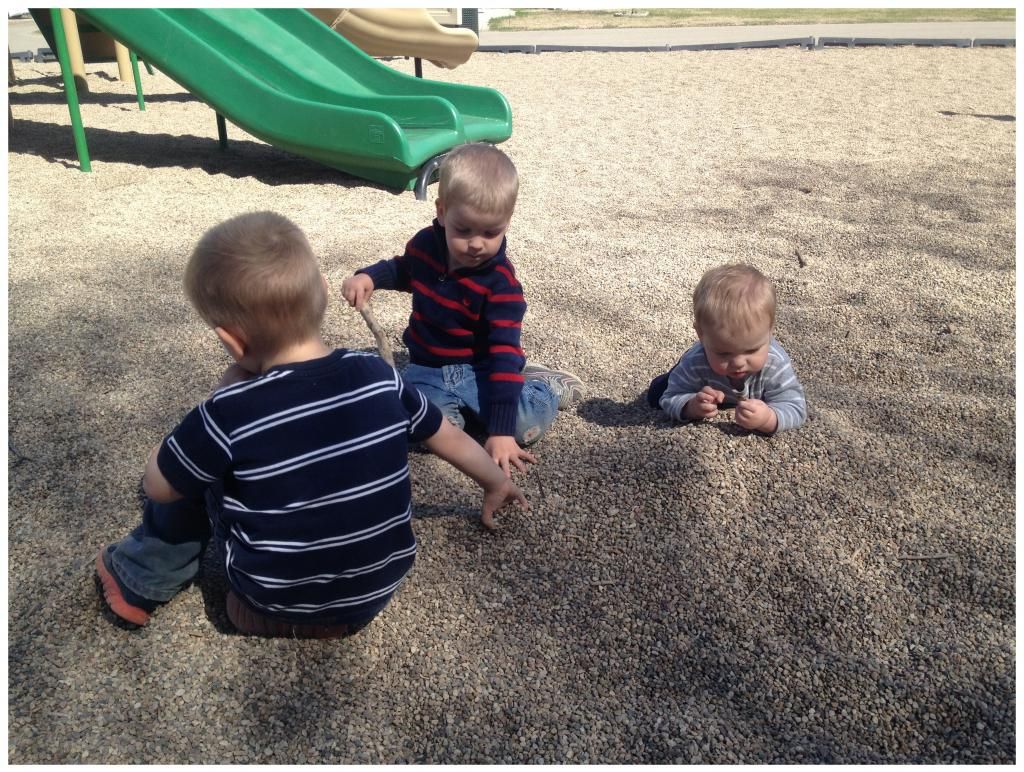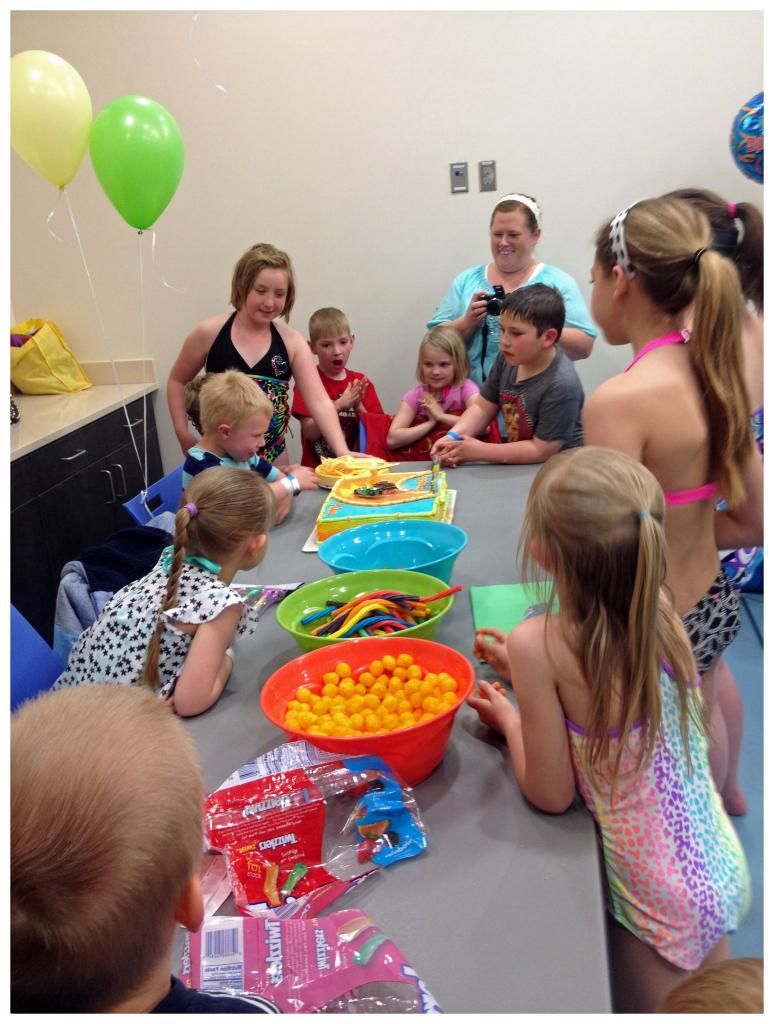 Alex's friend Aiden's birthday party at the ARC.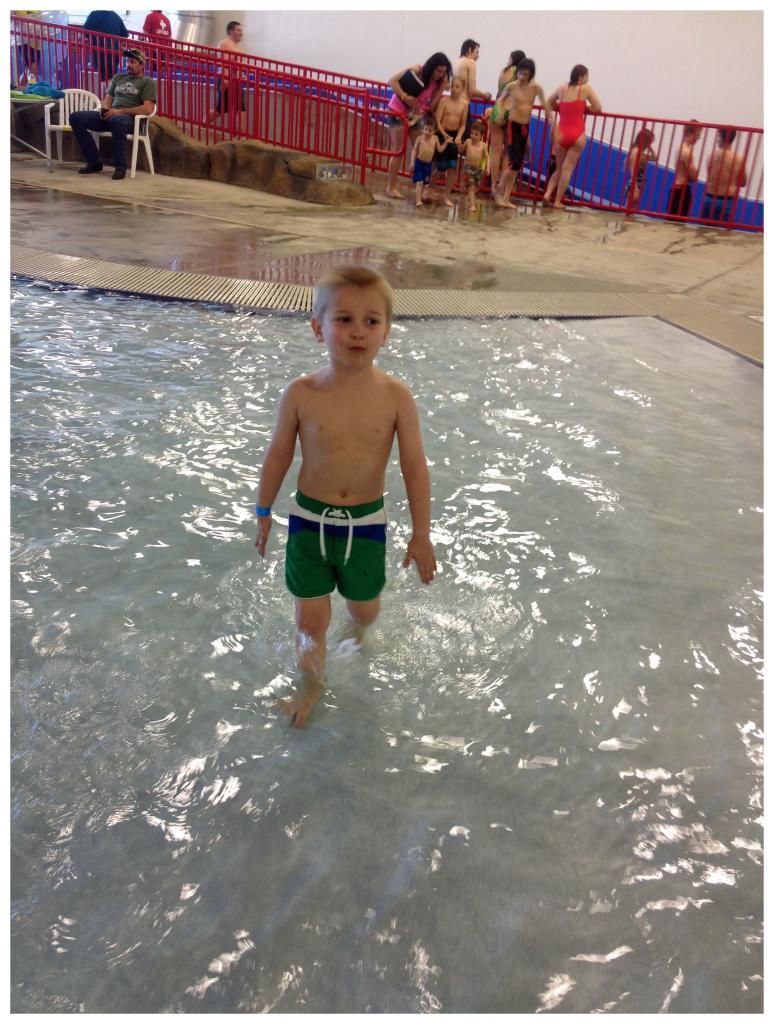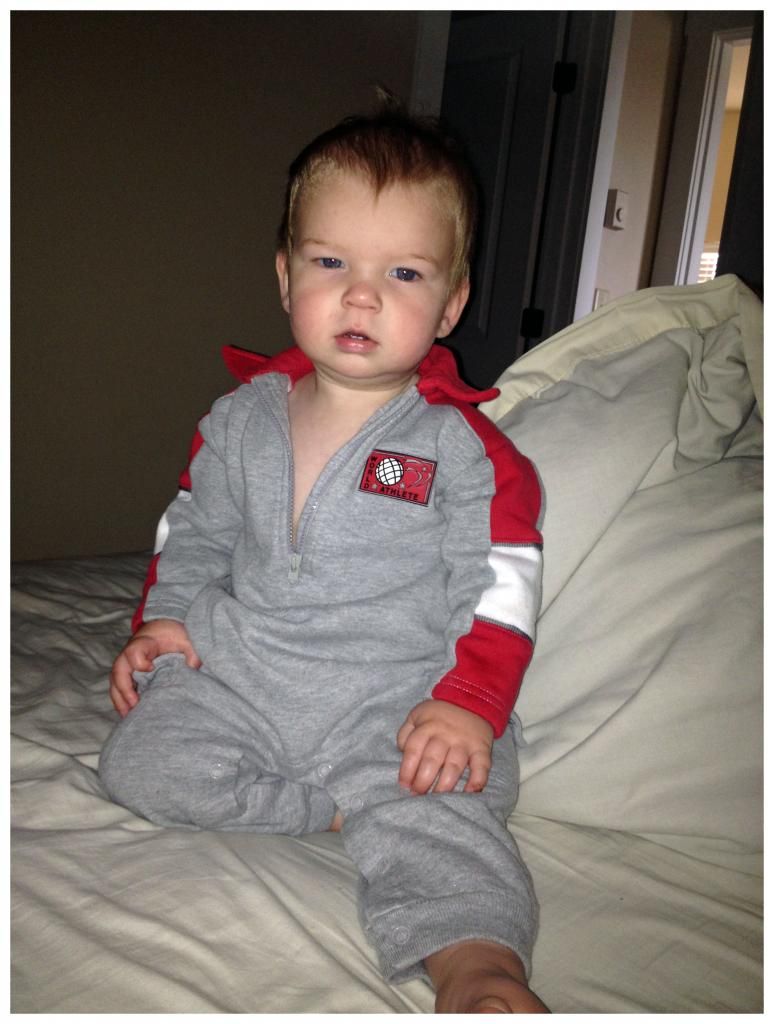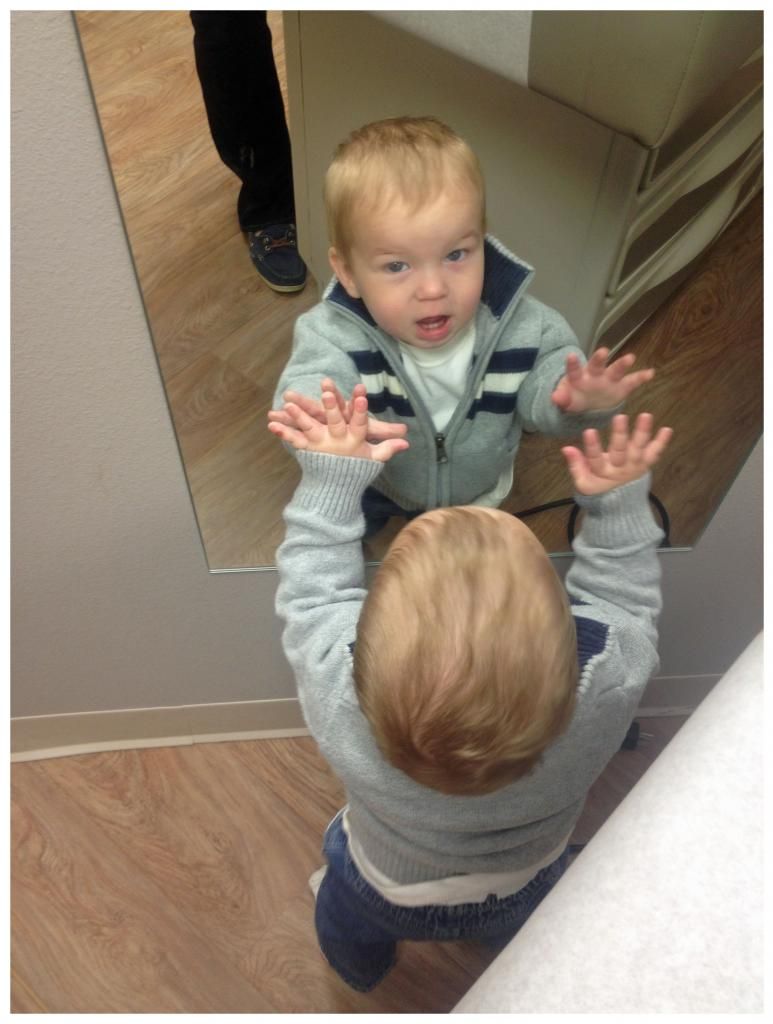 Who's that cute baby?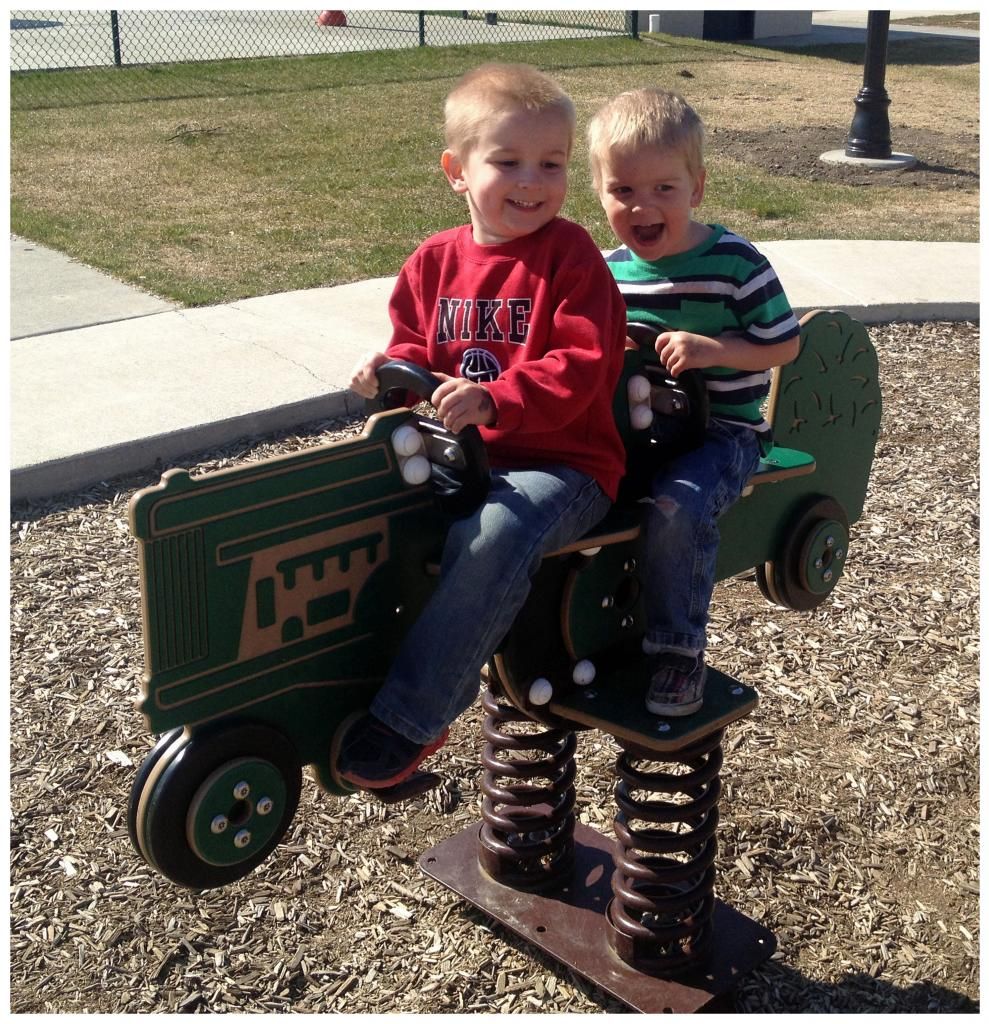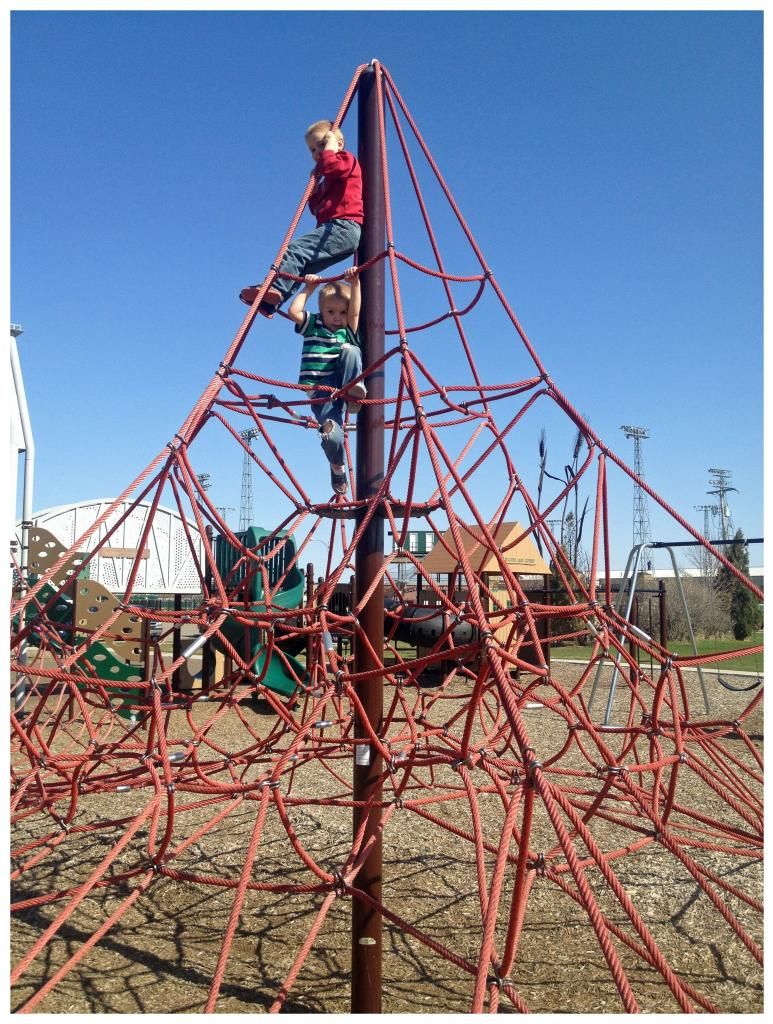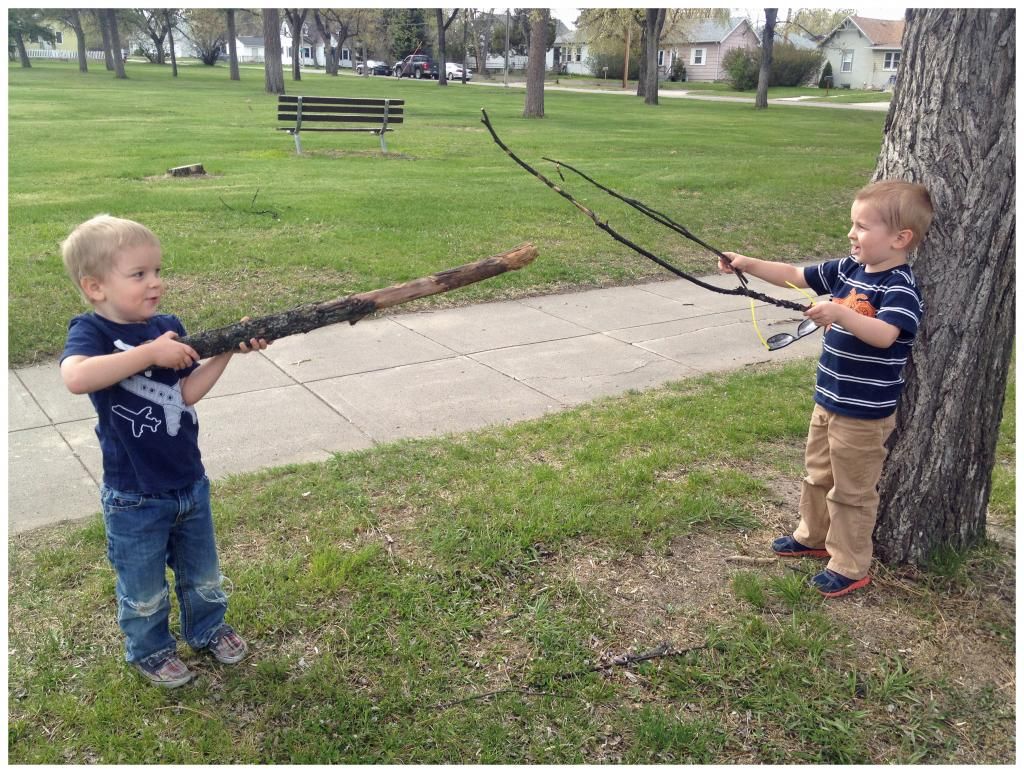 Speak softly, carry a big stick. Poke out your brother's eye with it.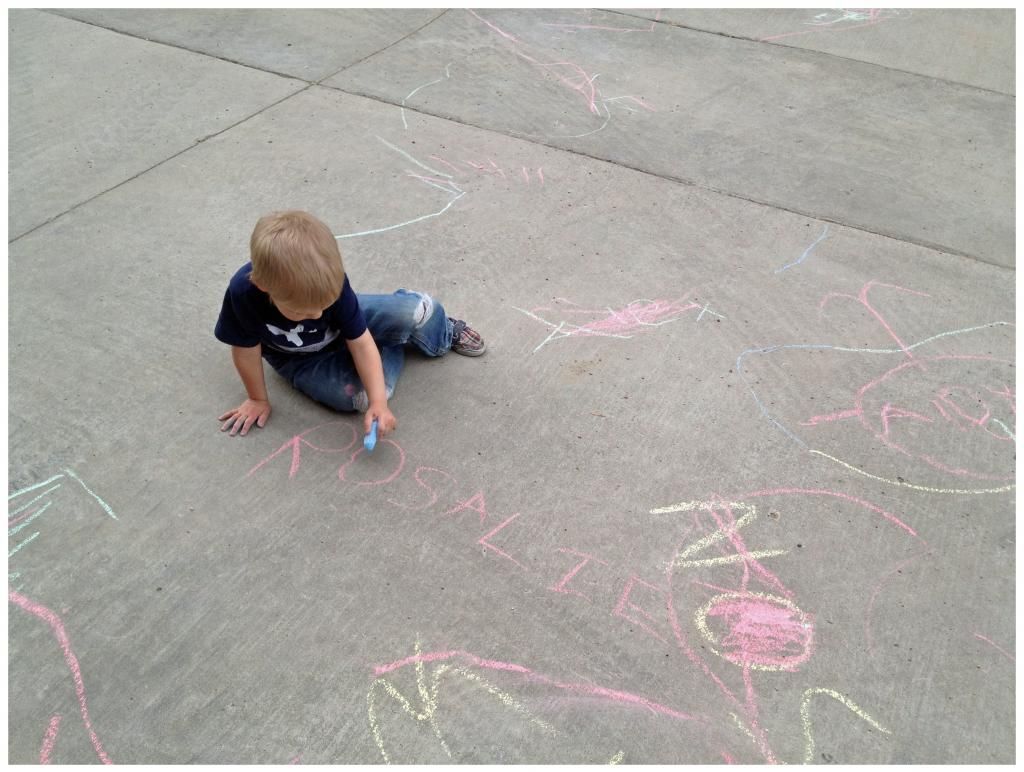 Edison has a crush.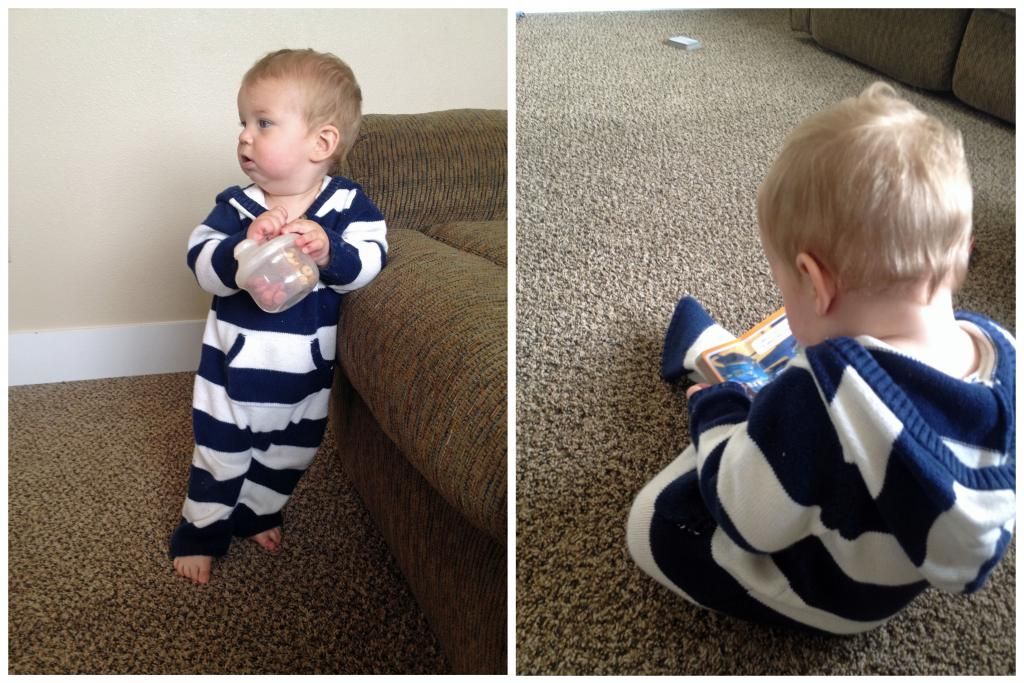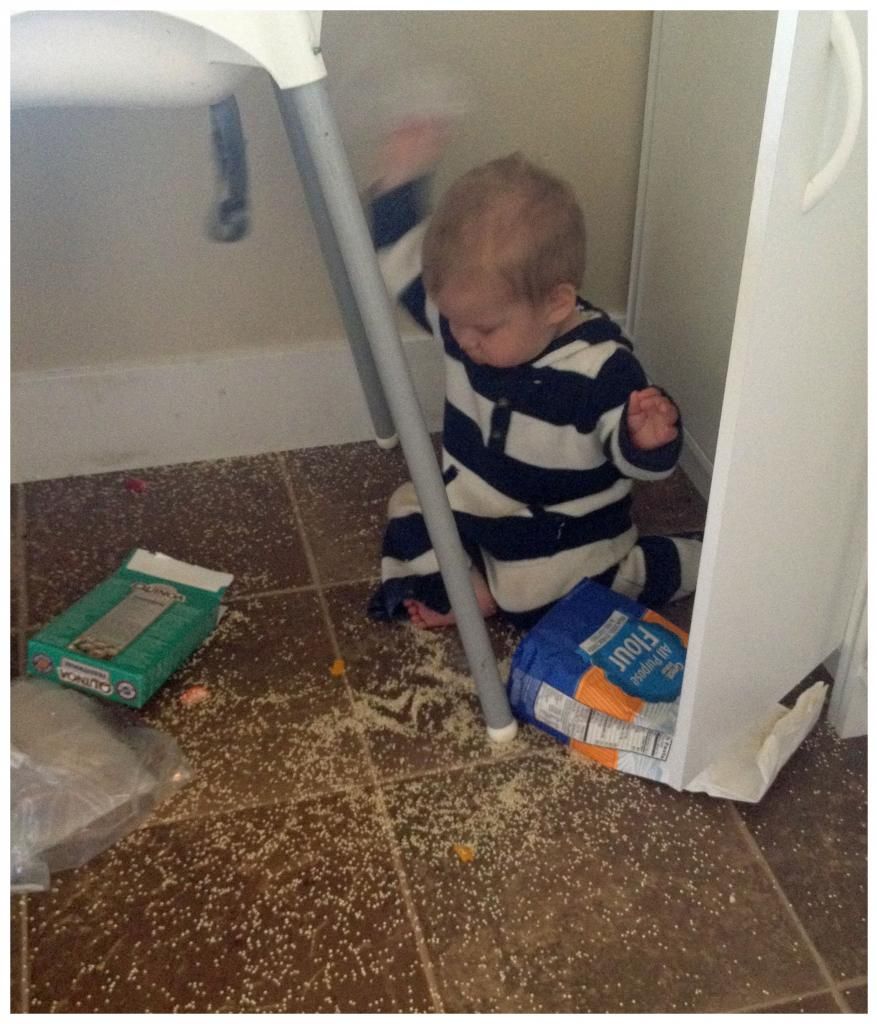 Quinoa party.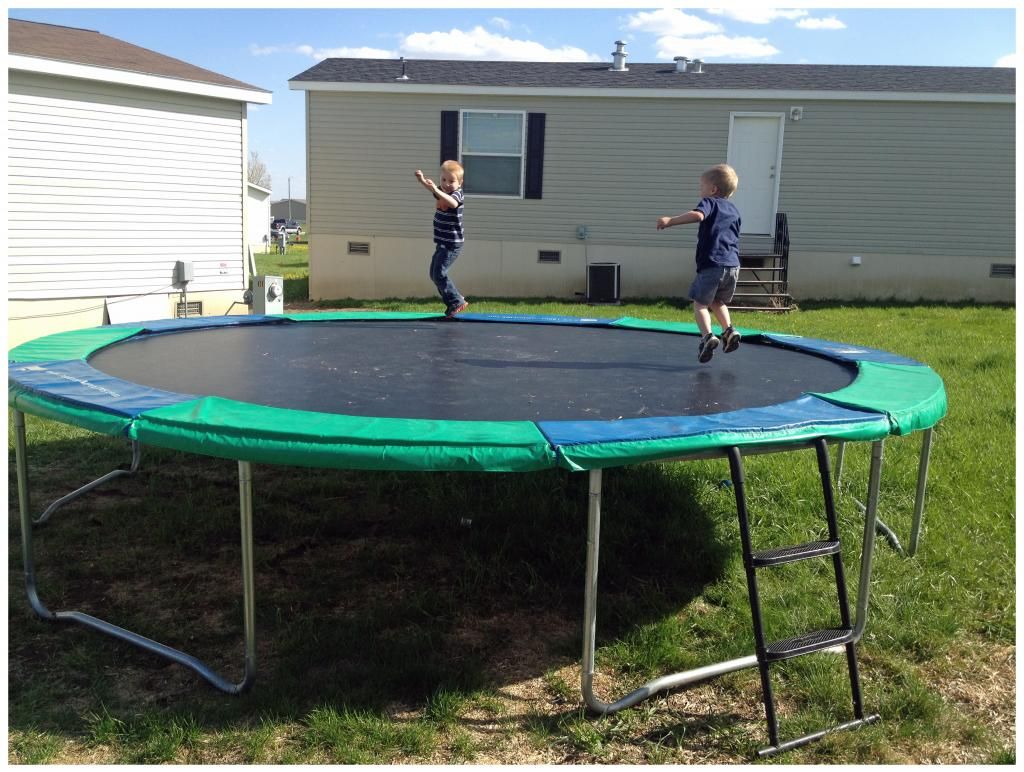 Playing on the trampoline at Jiahs' house while I did some visiting teaching.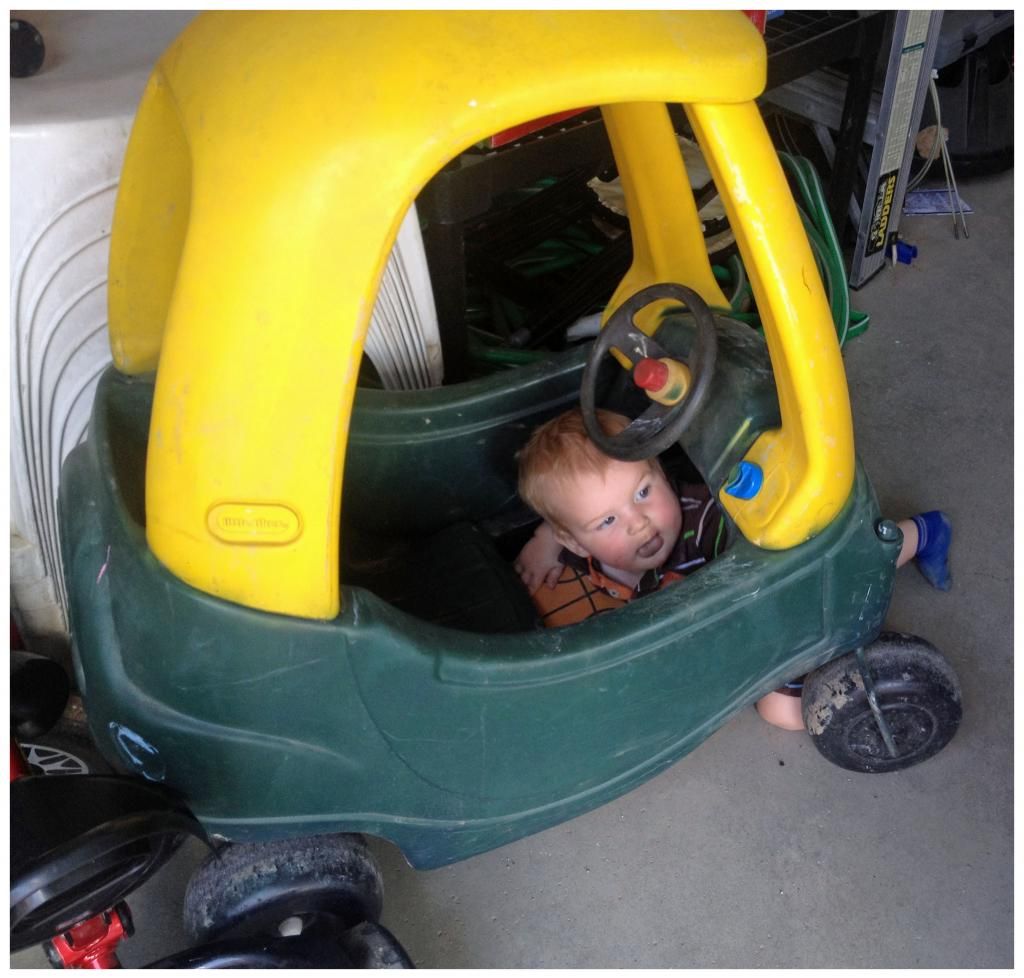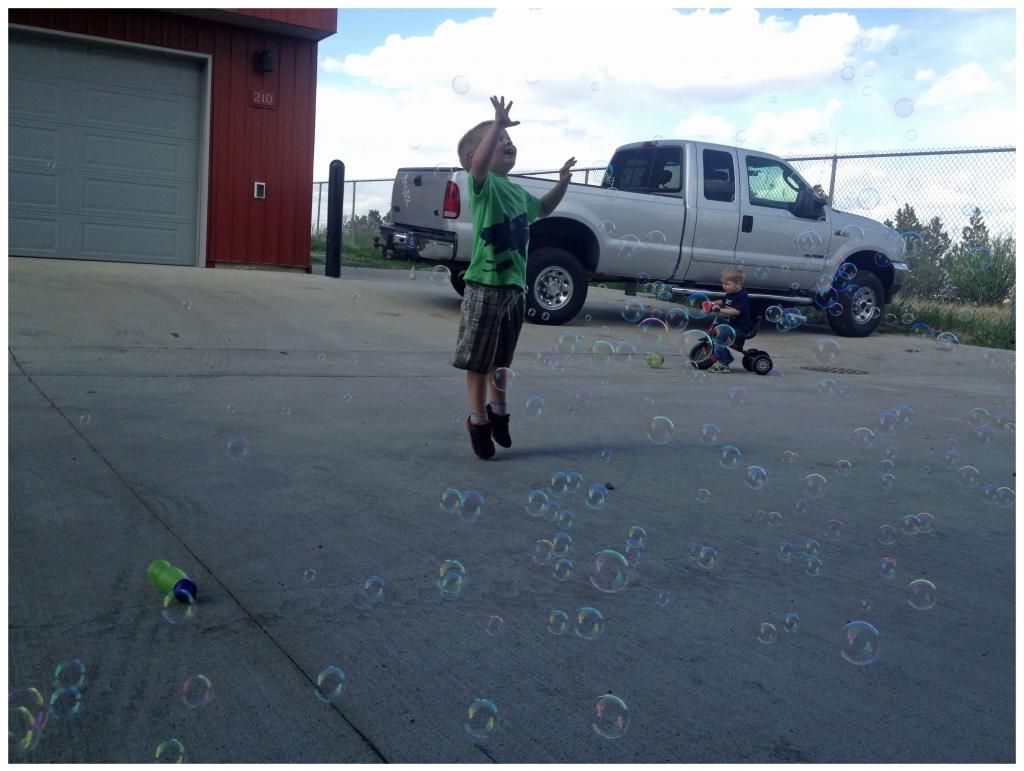 Edison got a bubble machine for his birthday and they all love it!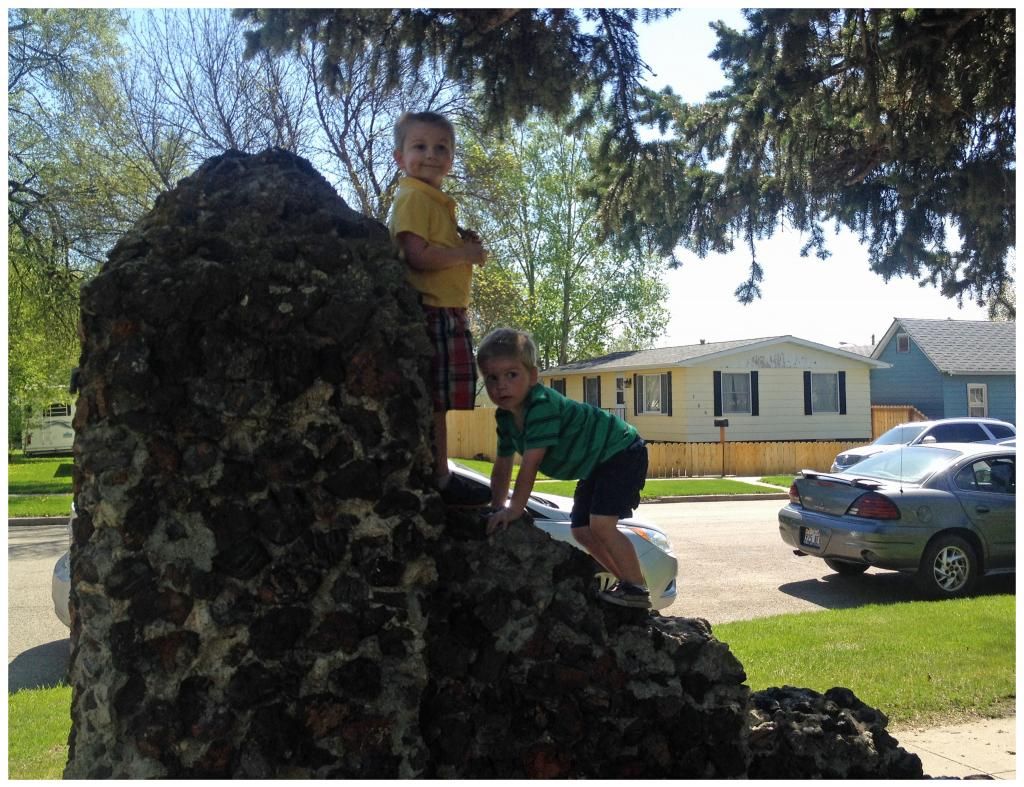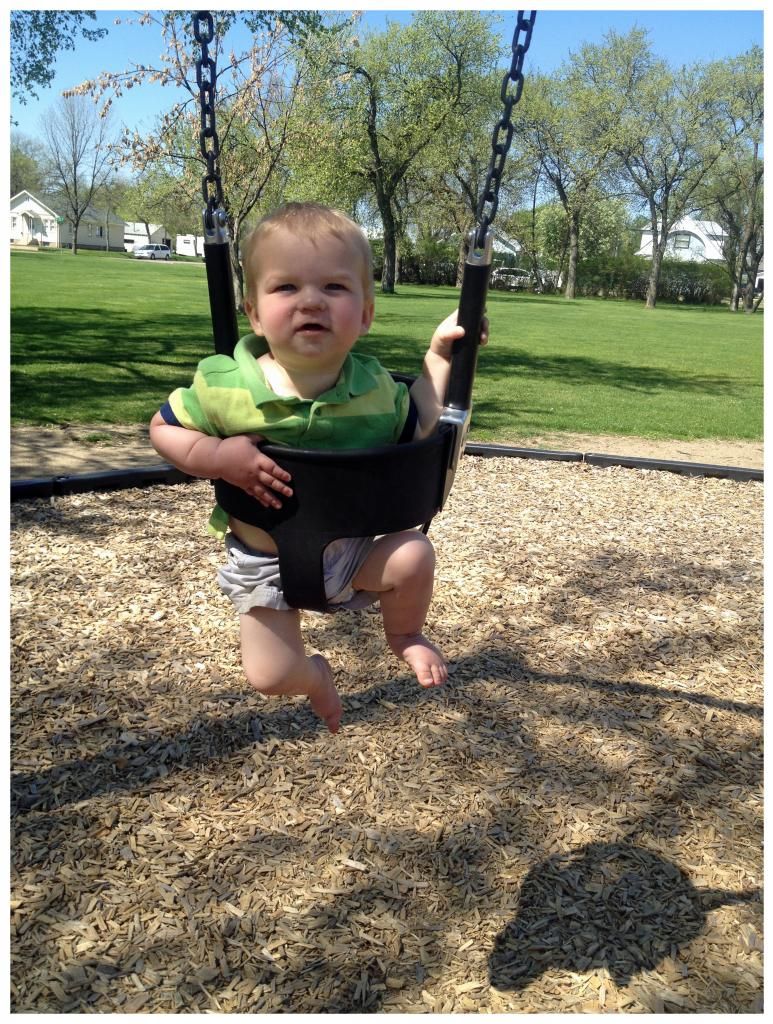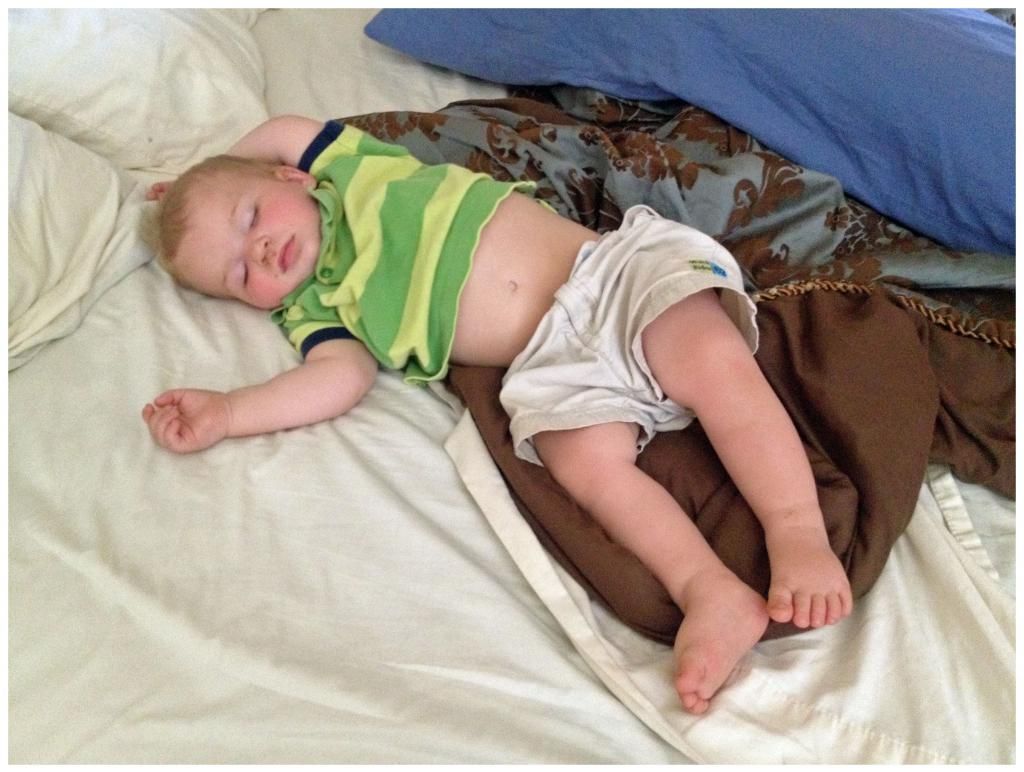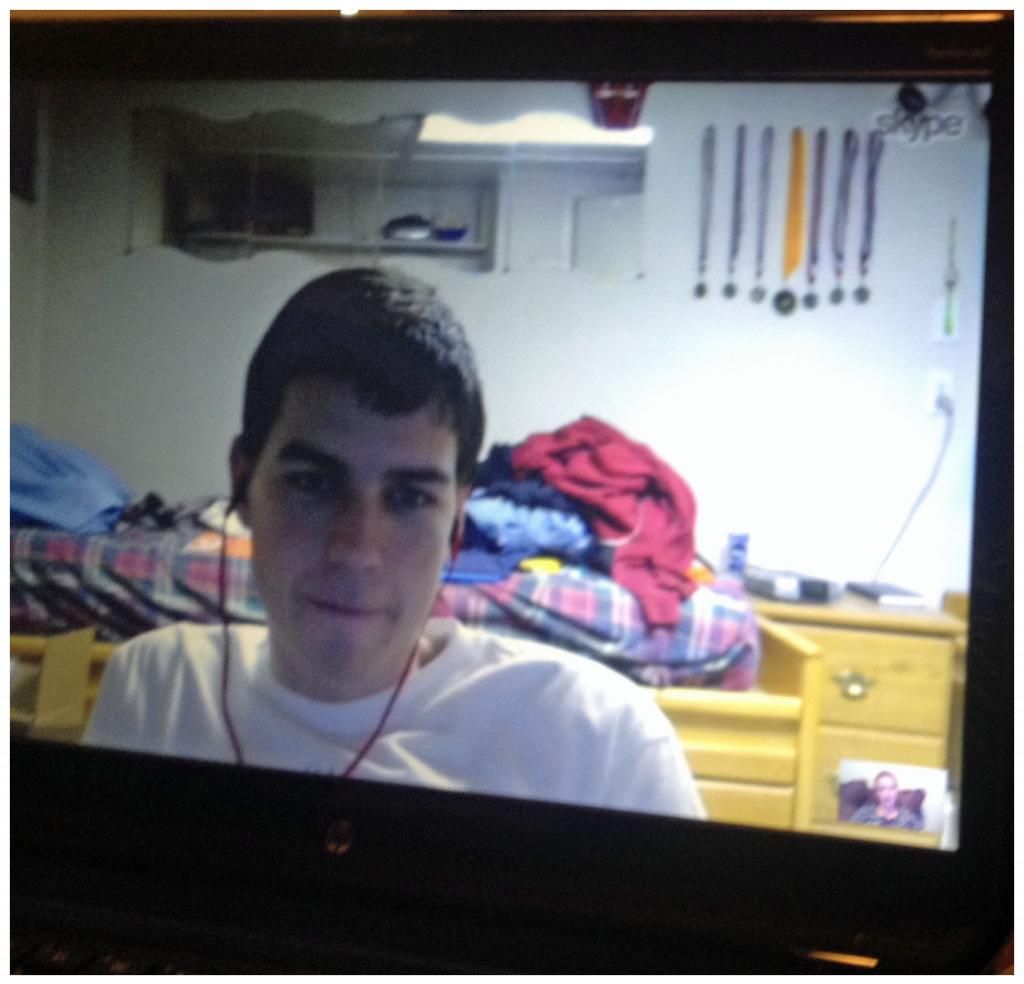 Skyping with Jared. I have to be sneaky because he hates when I take his picture.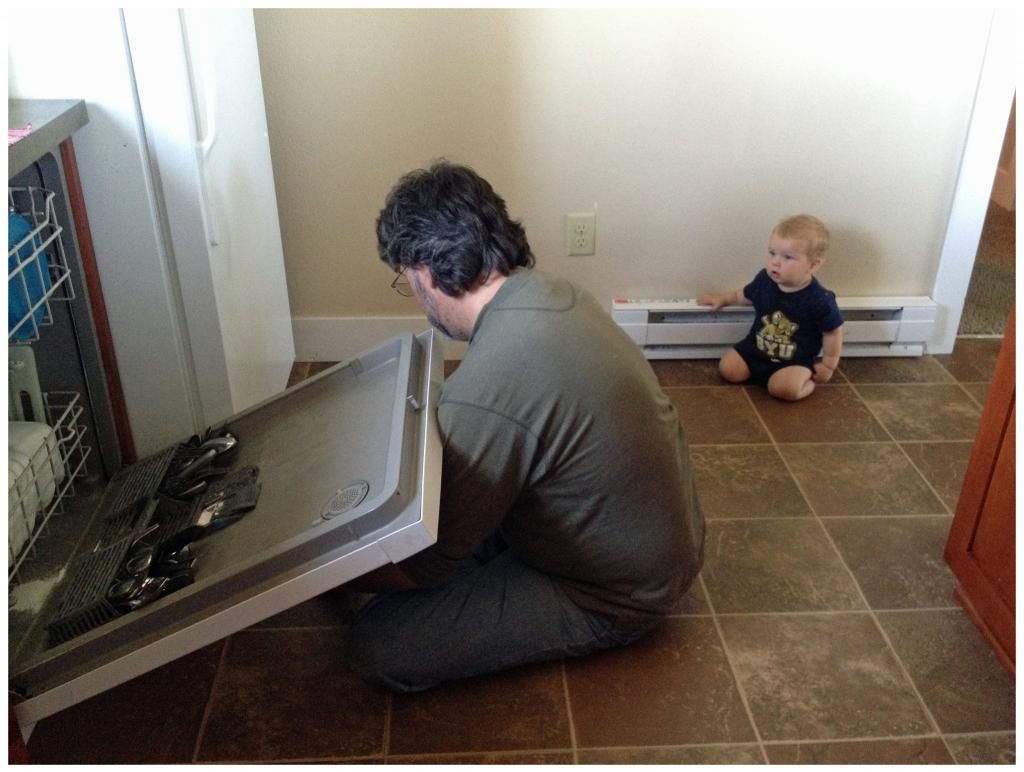 Our dishwasher is pretty terrible. Declan is confused about why this guy keeps coming over.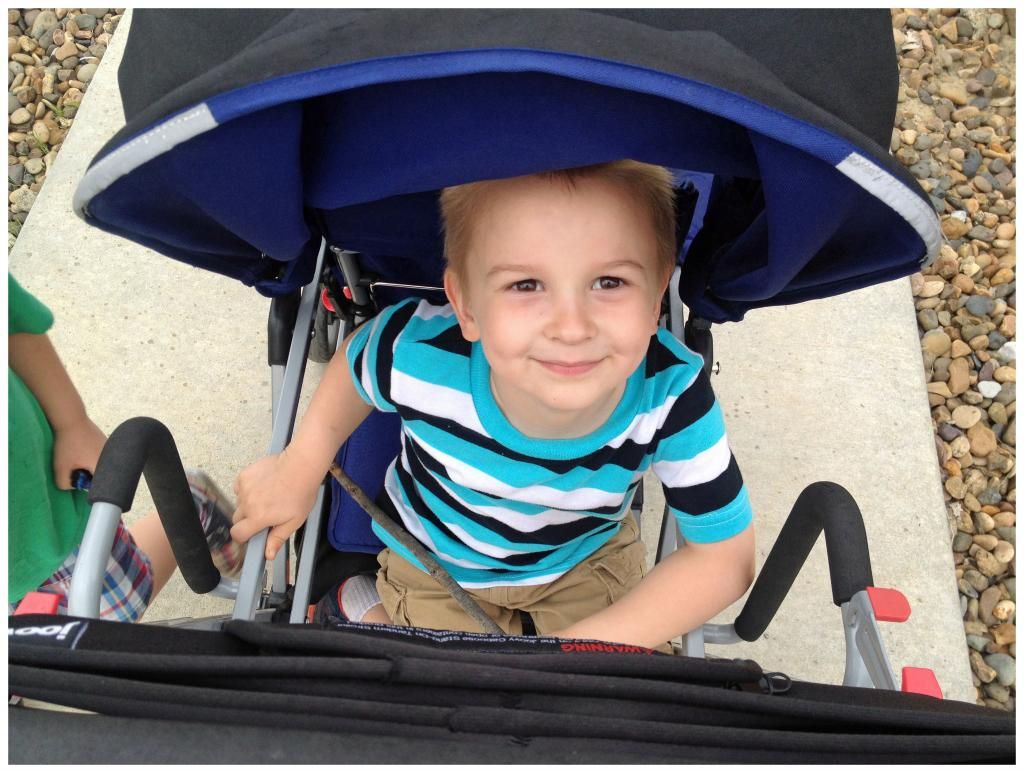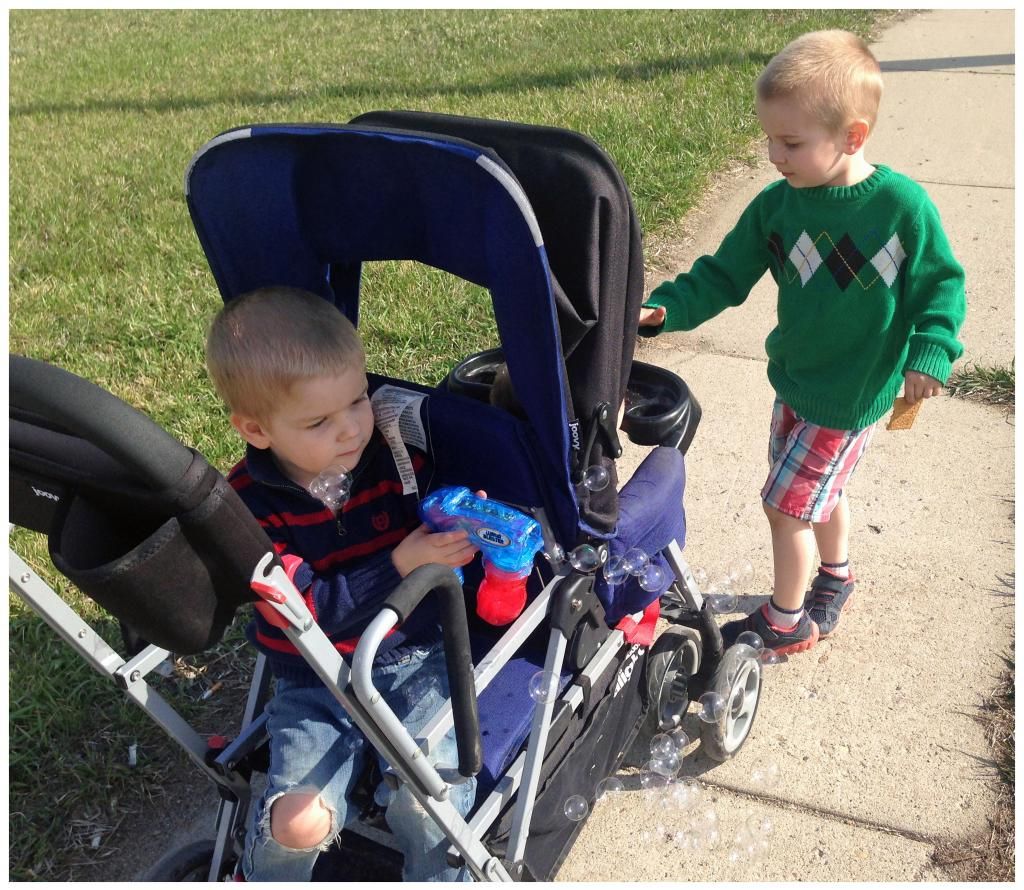 June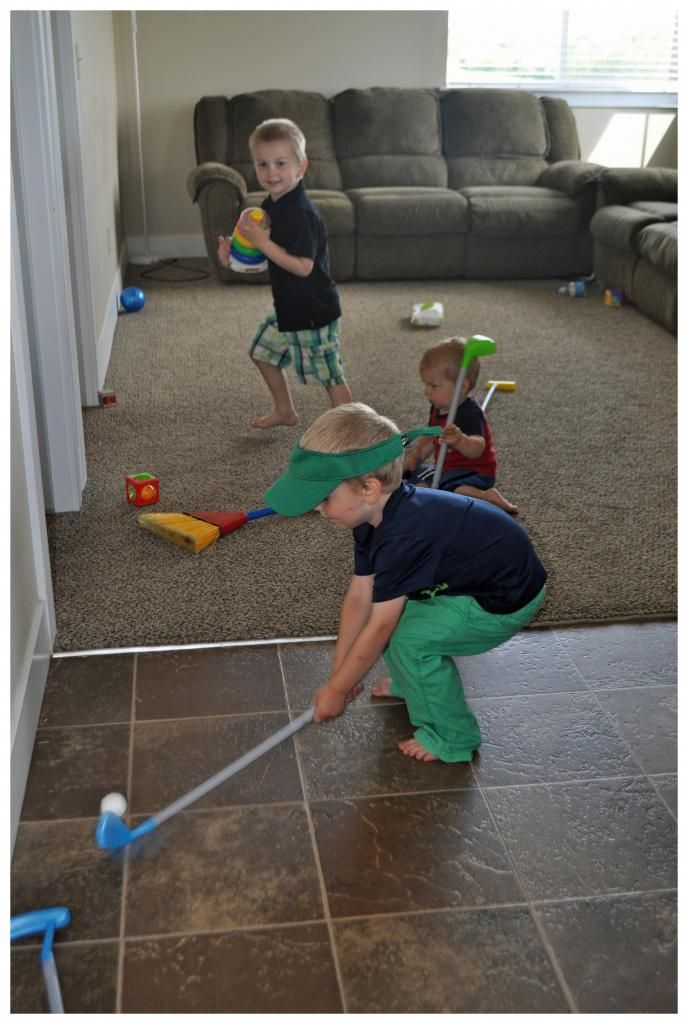 Edison has got the golf look down at least. He just needs some technique.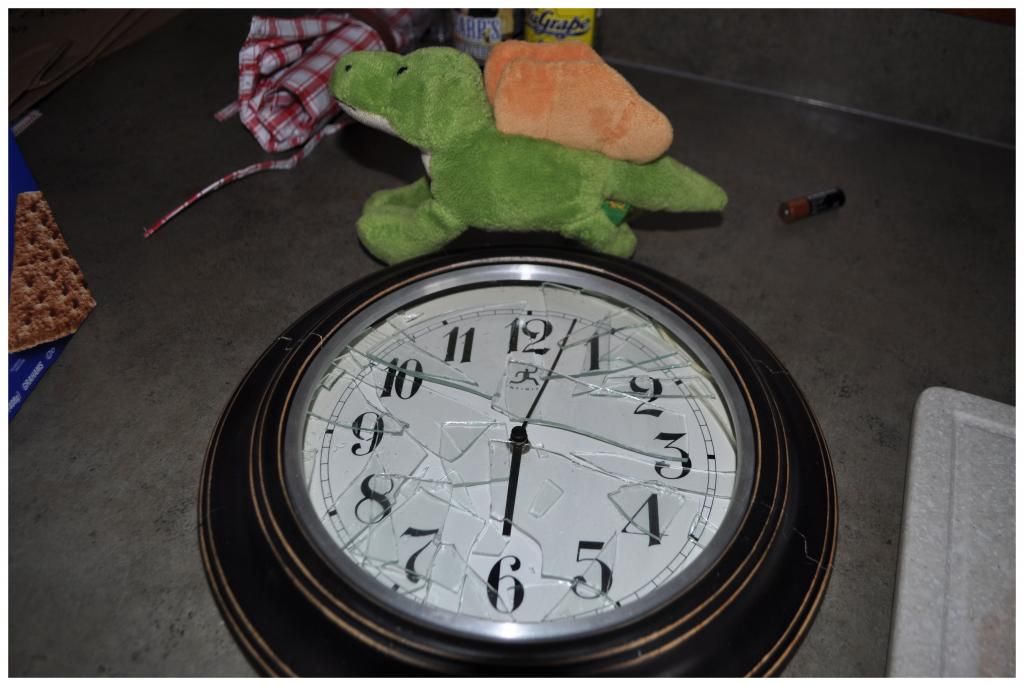 Dragon took down the clock.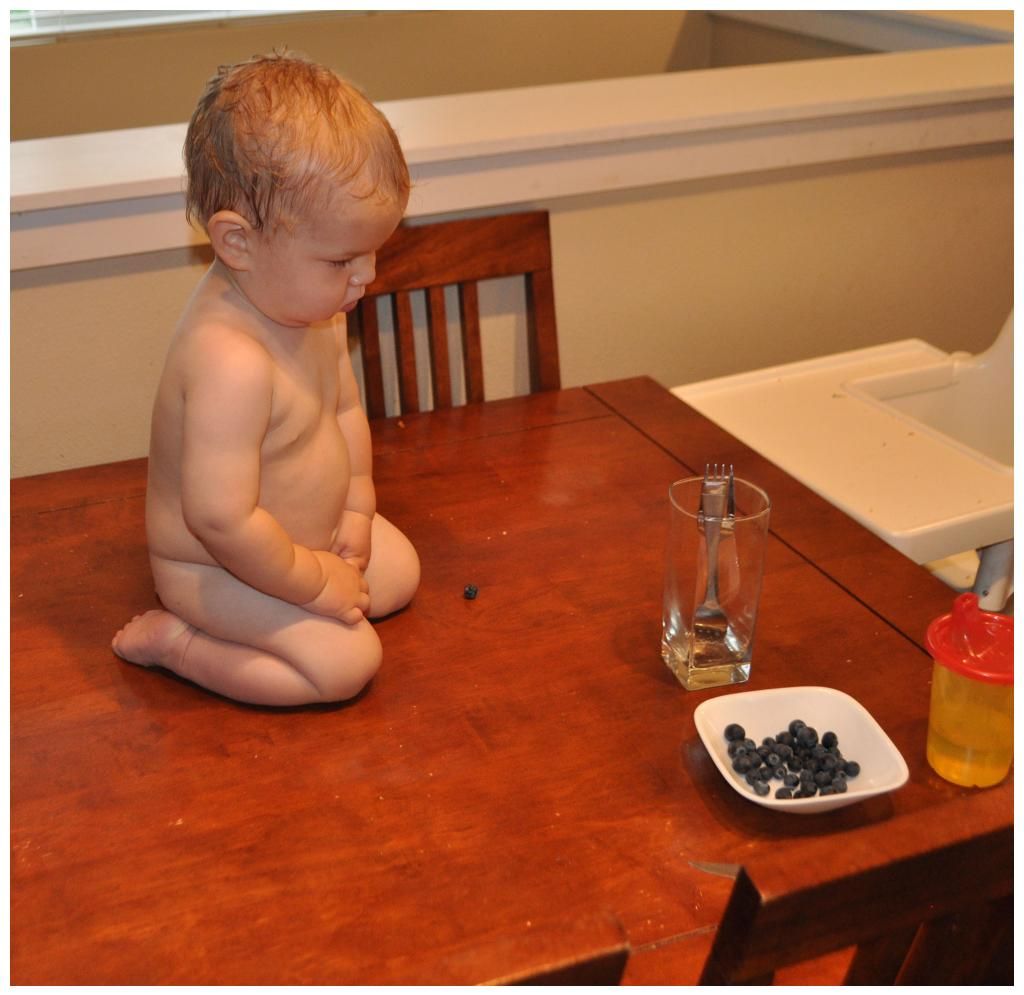 He decided he was a little hungry after his bath.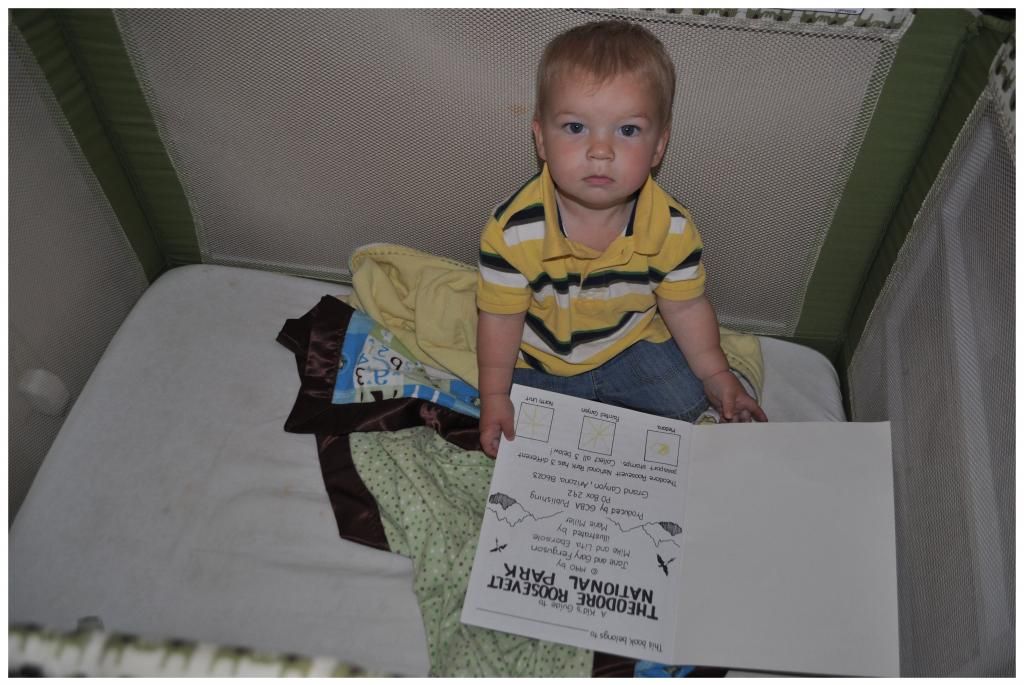 I thought I heard Declan awake after his nap. I went in and he was "reading" a book he snagged off of a toy box next to his bed.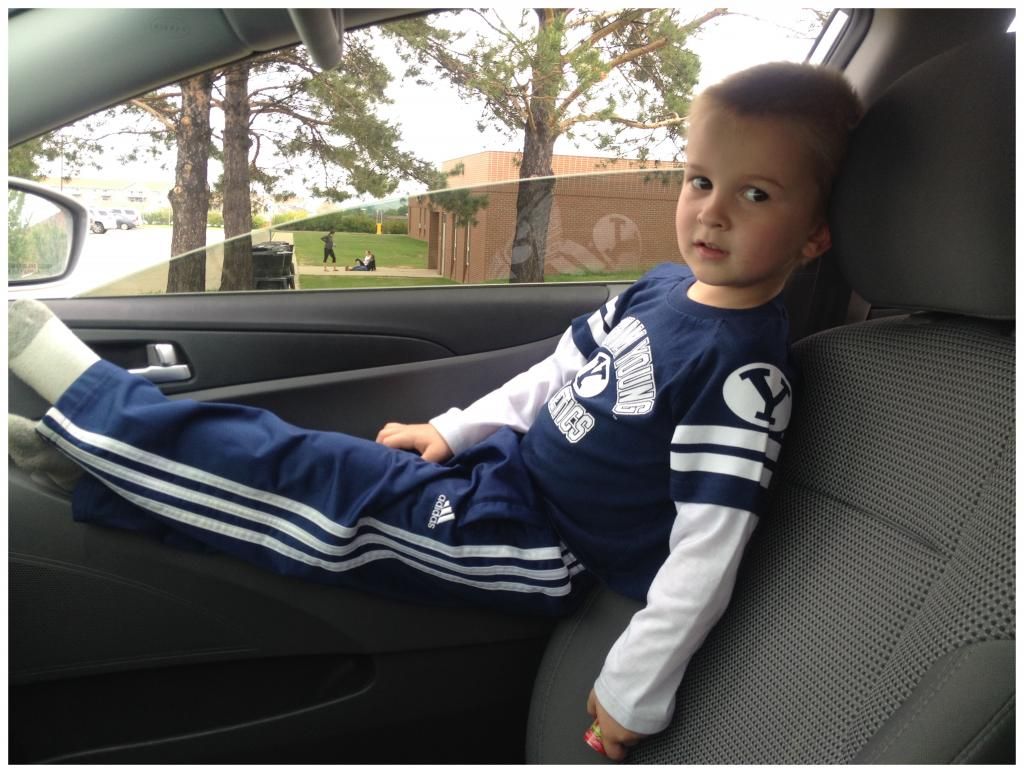 Alex found a comfortable seat while waiting for our Bountiful Basket.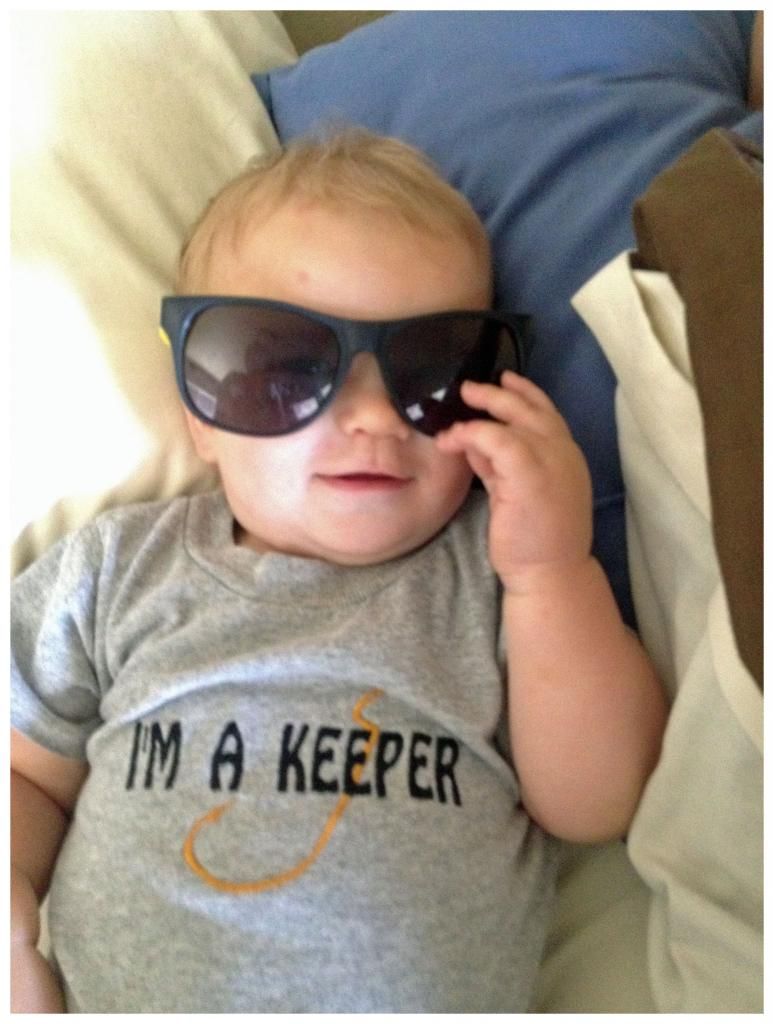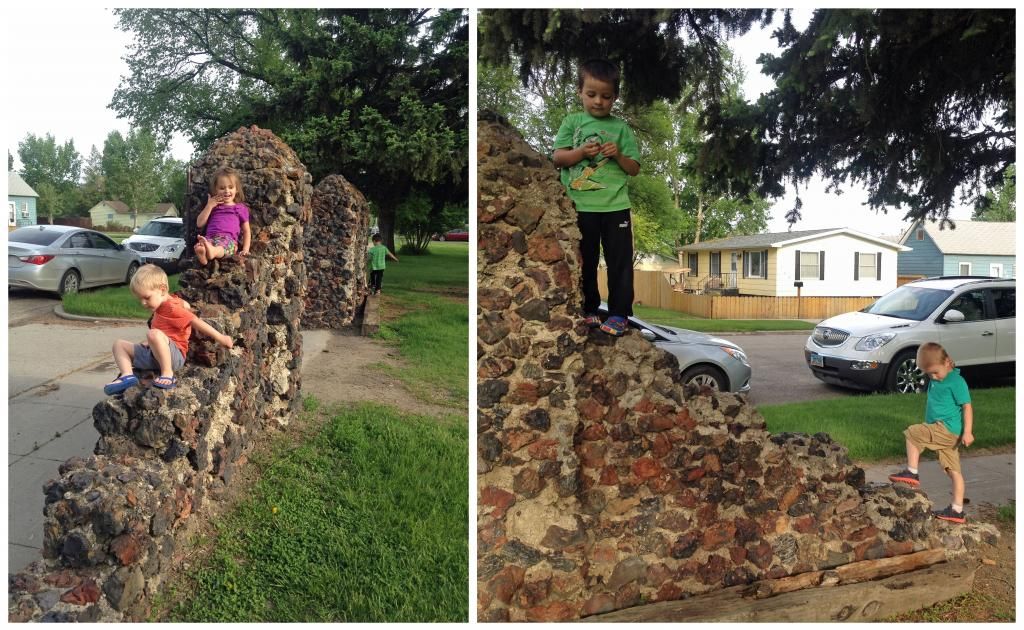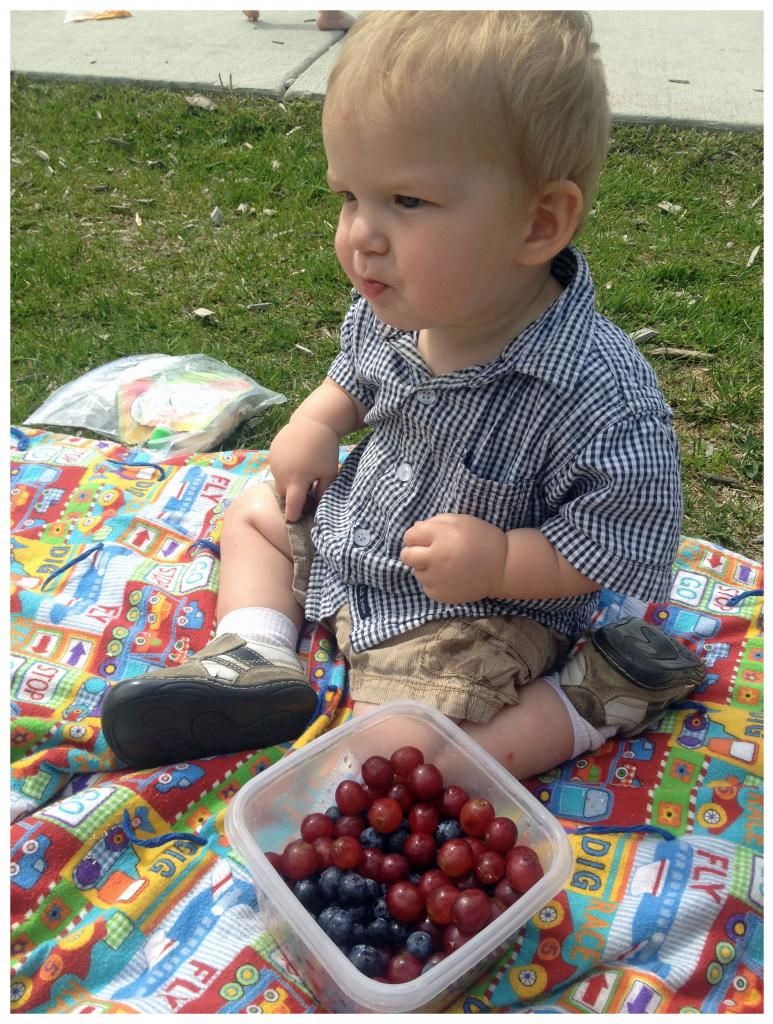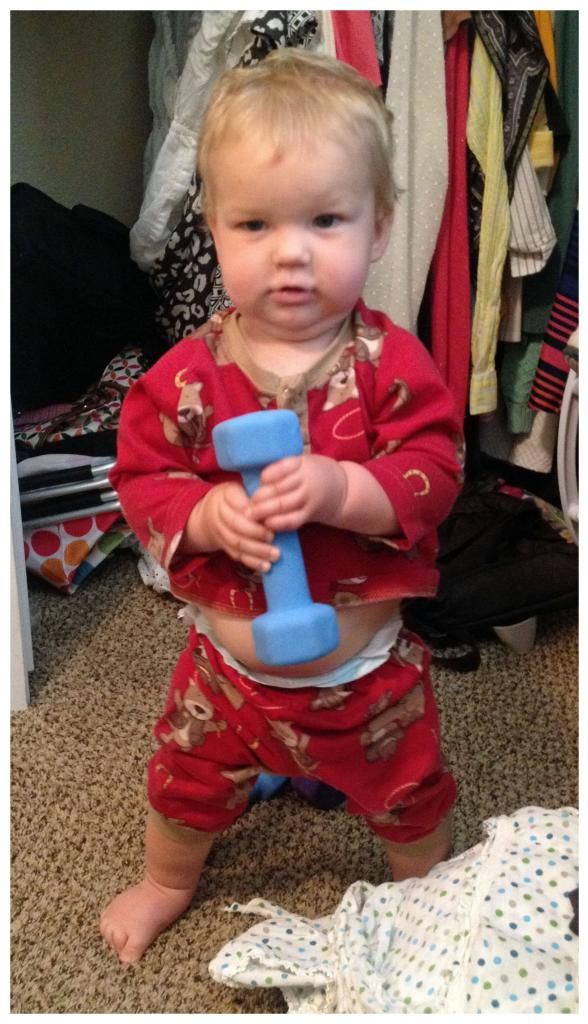 Lifting weights. He is getting some rolls.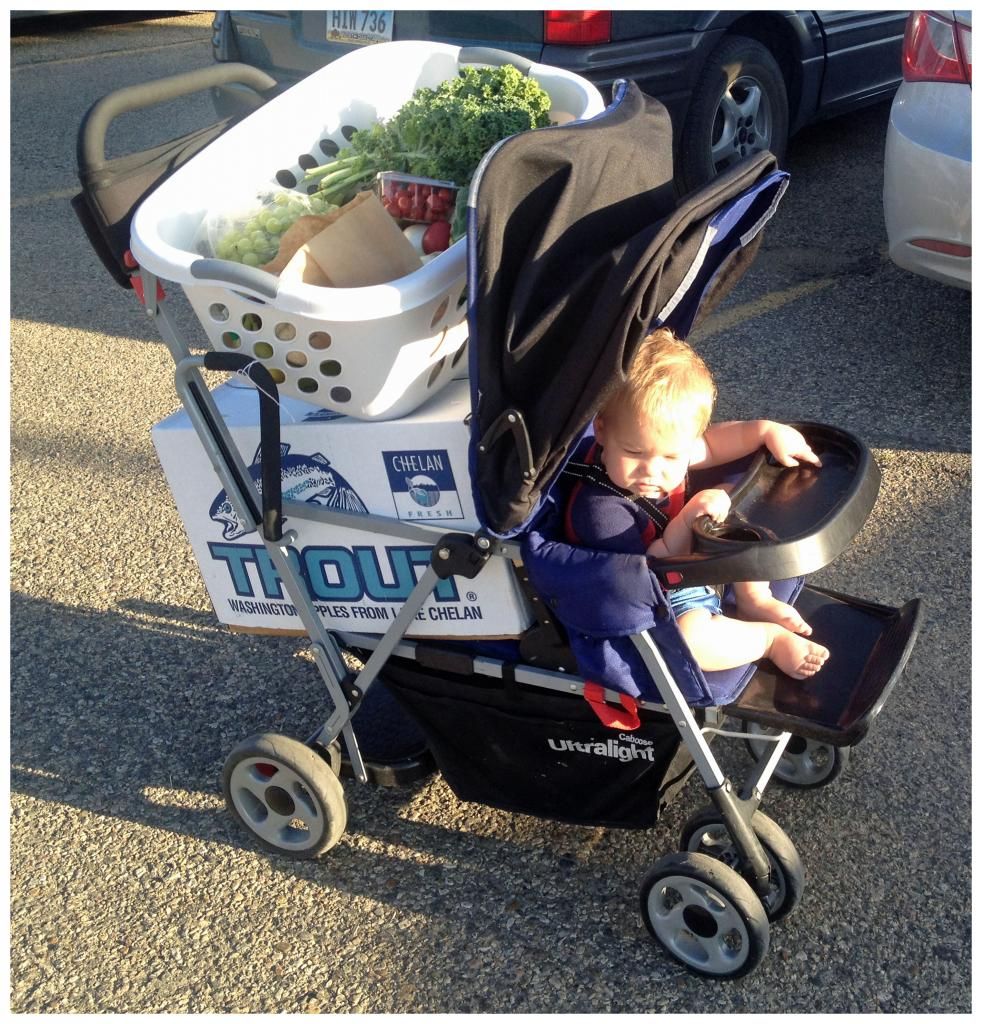 Bountiful Baskets and a baby.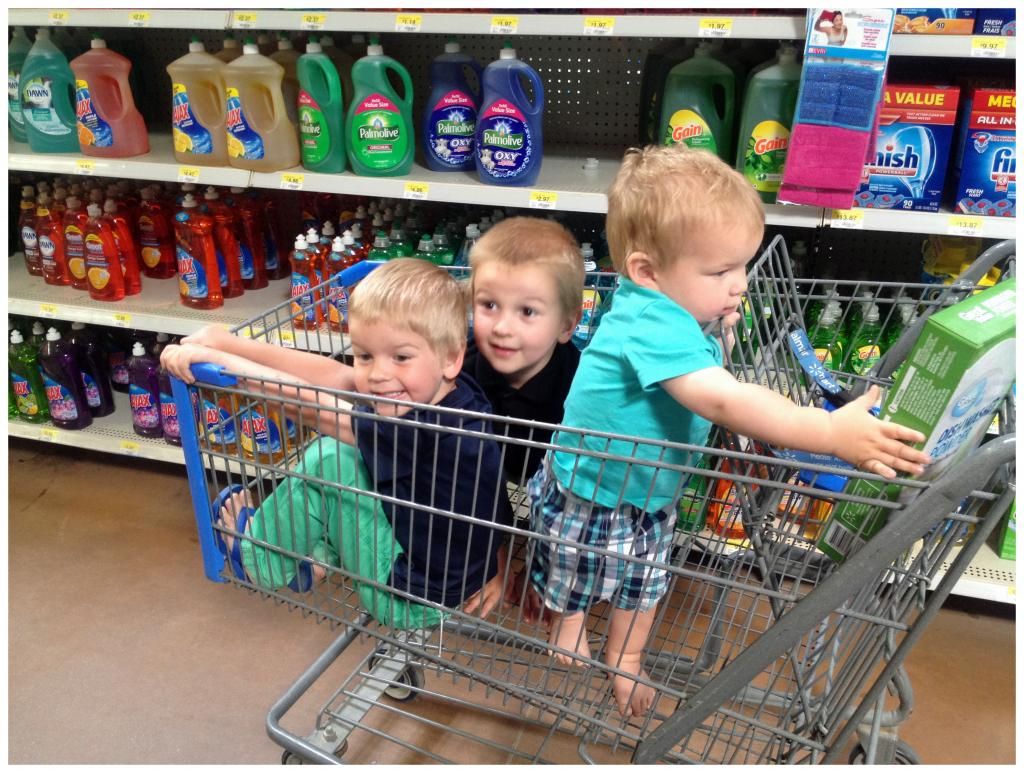 I caught some kids.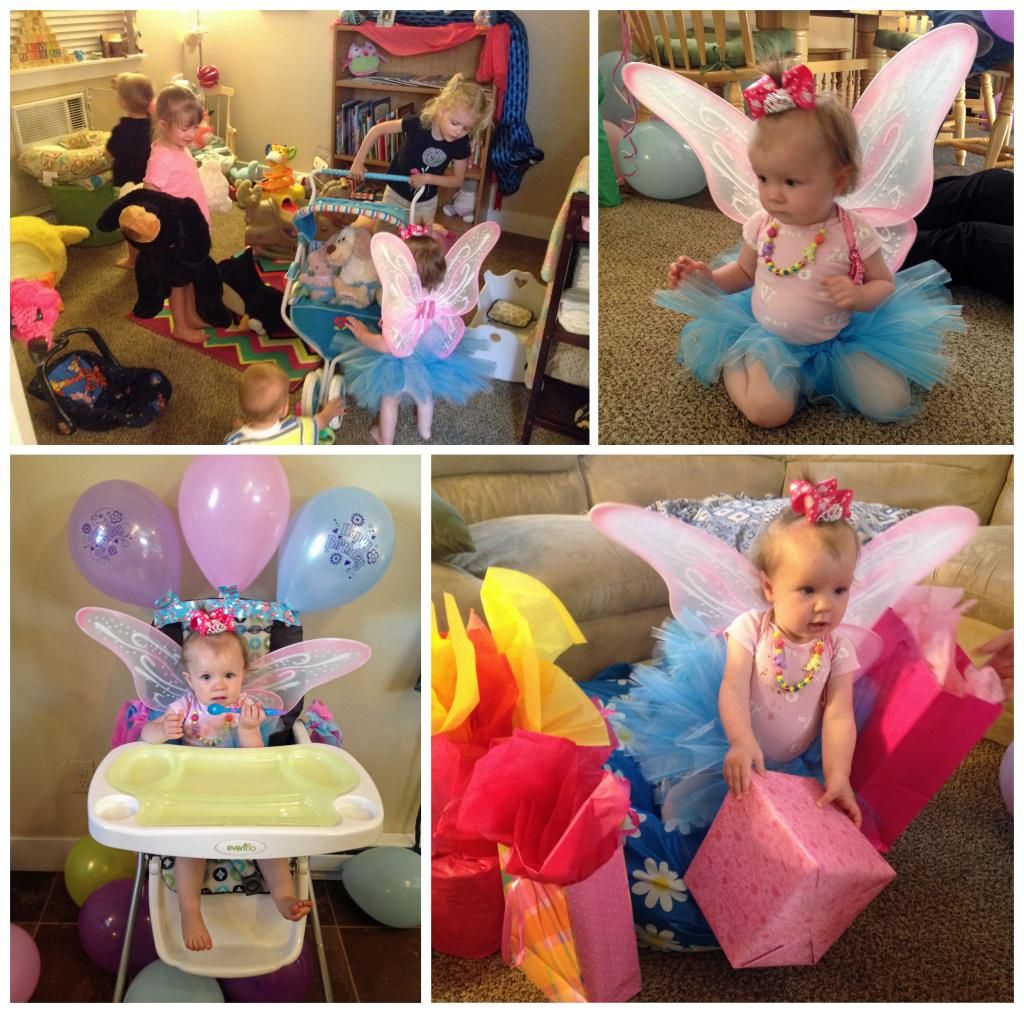 Our little friend Jordan turned one!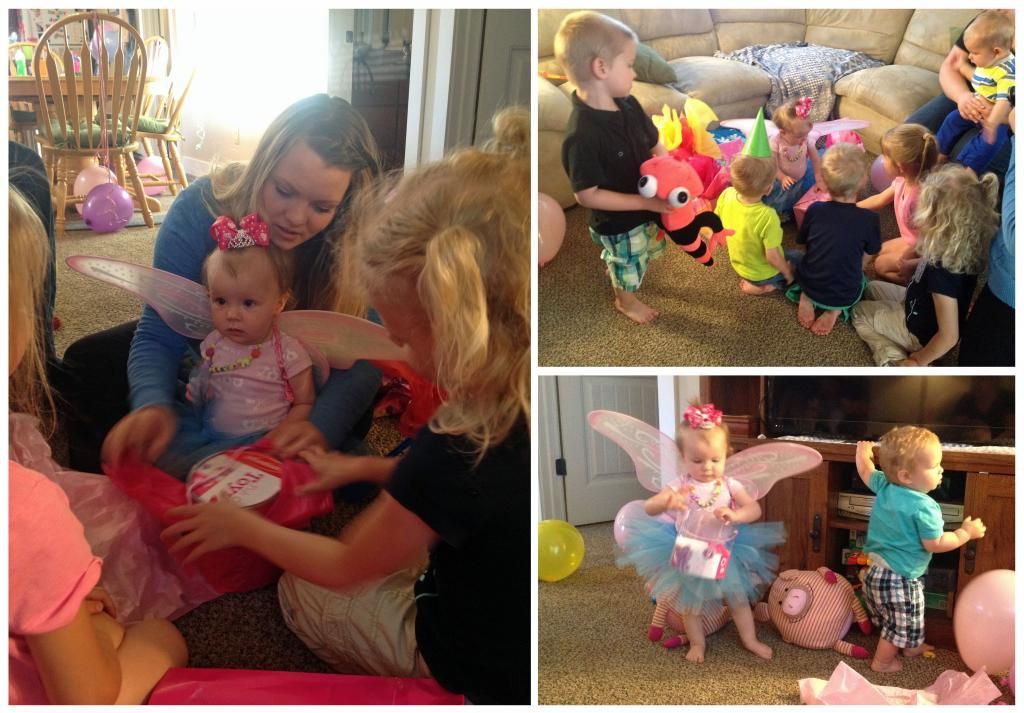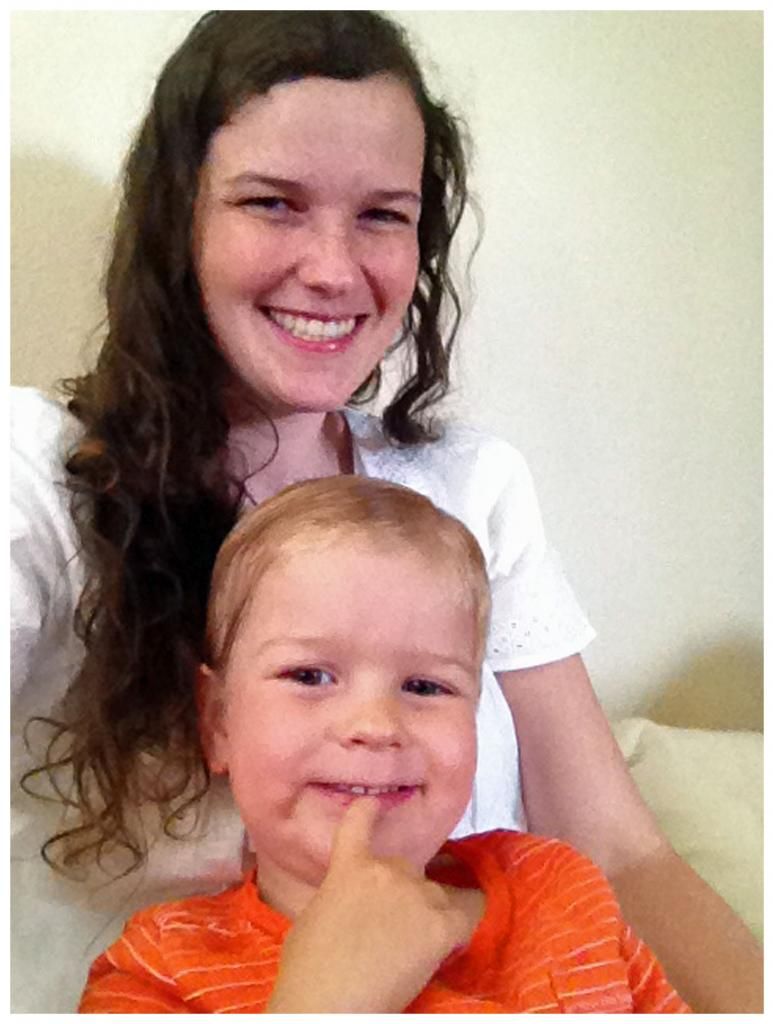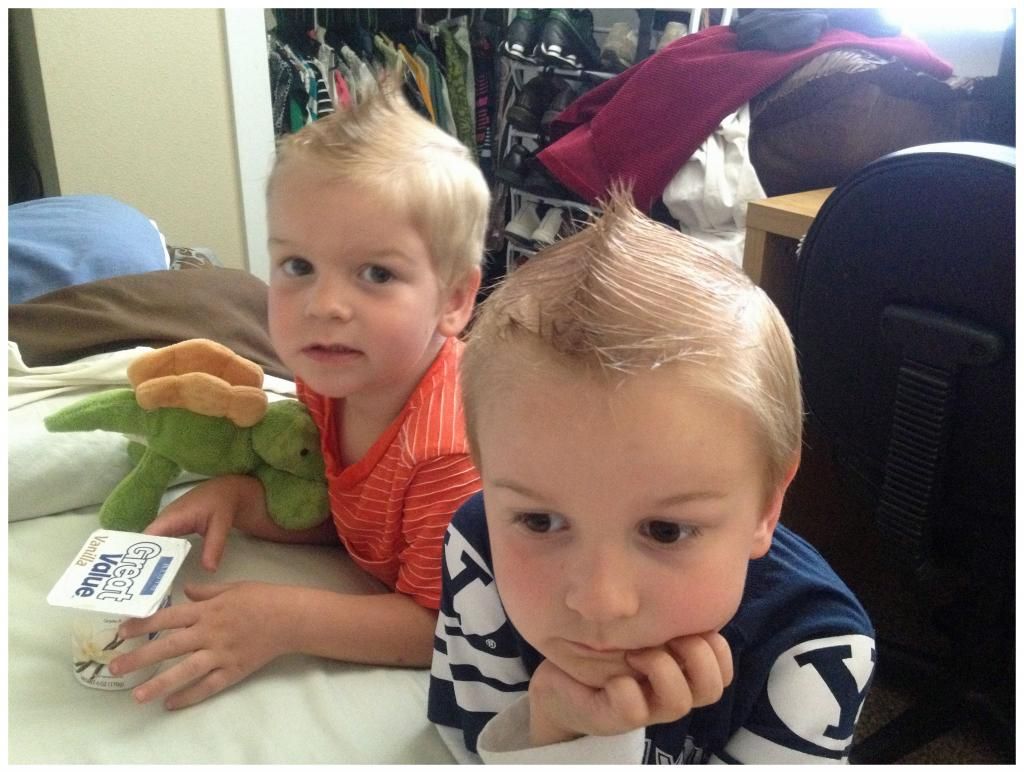 How have I never done this before?!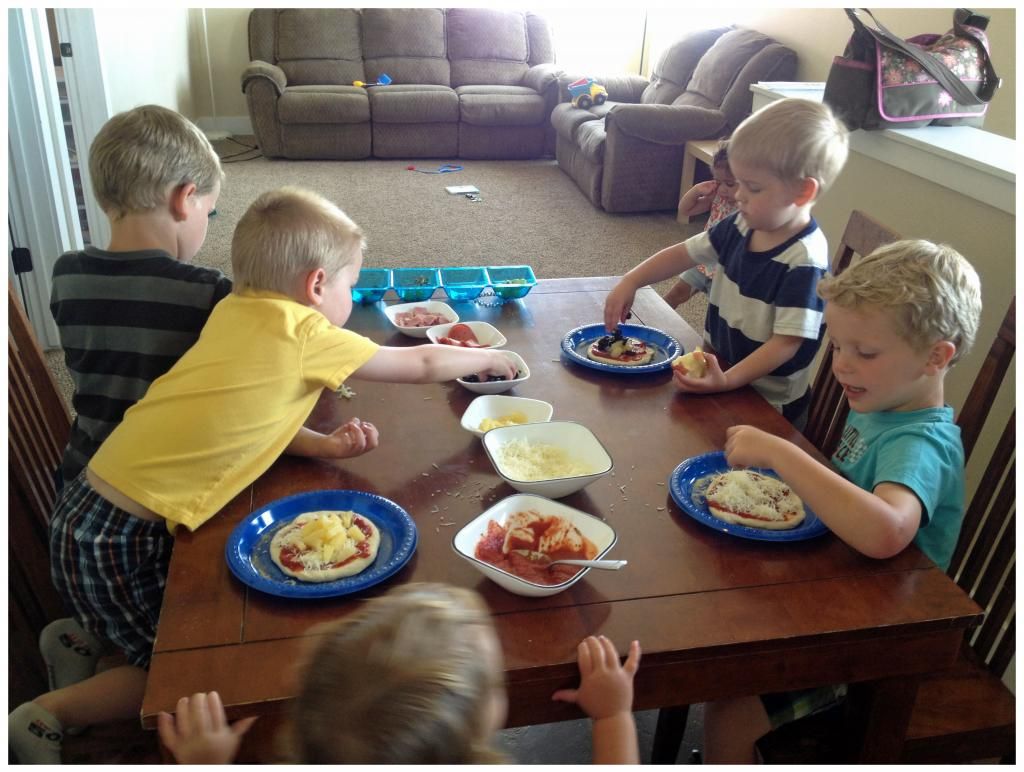 We babysat four little kids so their moms could go out to lunch. I can't even remember their names. They are the primary president's grandkids. We had fun making pizzas.
Sam went to Houston for another training.

Declan's foot got infected and it was huge and gross. It was so swollen that the skin split open. He had a cellulitis and I had to take him to a clinic because our doctor was too busy to see him.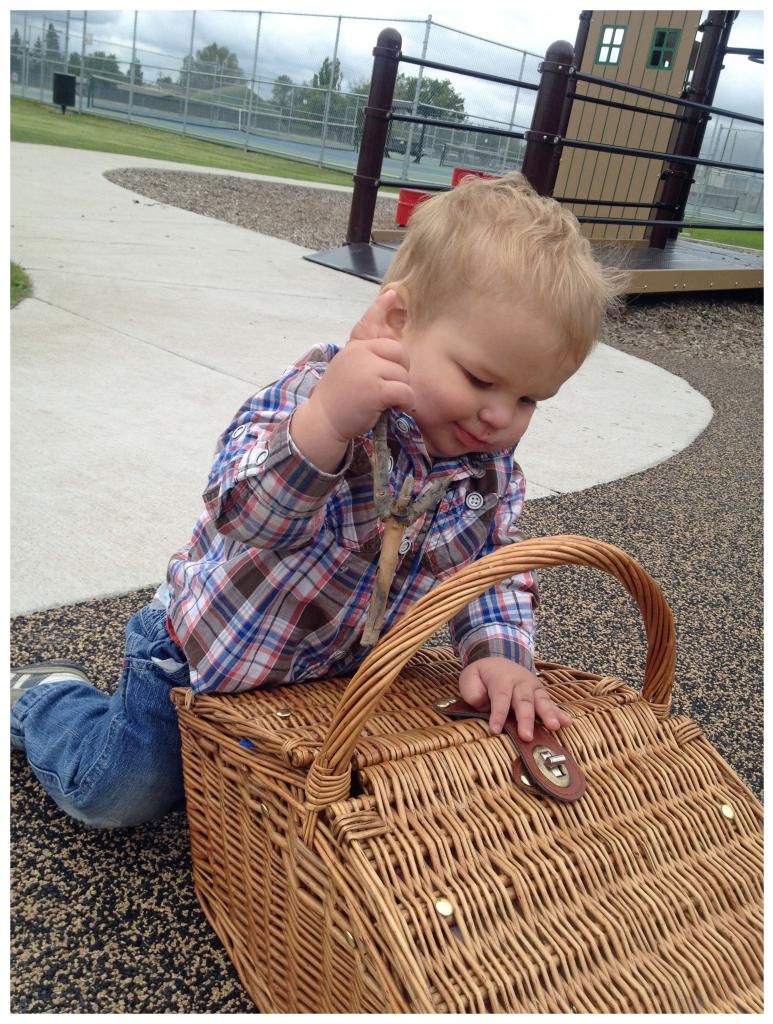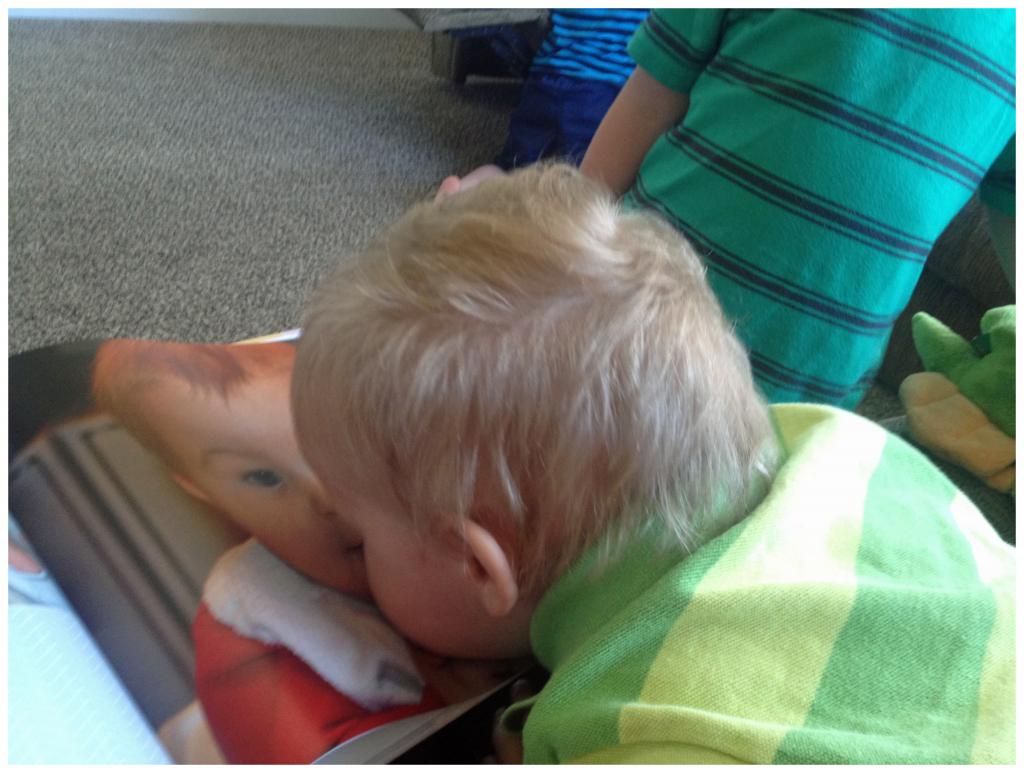 I finally made a book of Declan's first year. He saw a kissable baby so he went in for it.
I opened our windows and Alex ran over and said, "Wow! It's been a long time since we've used this!"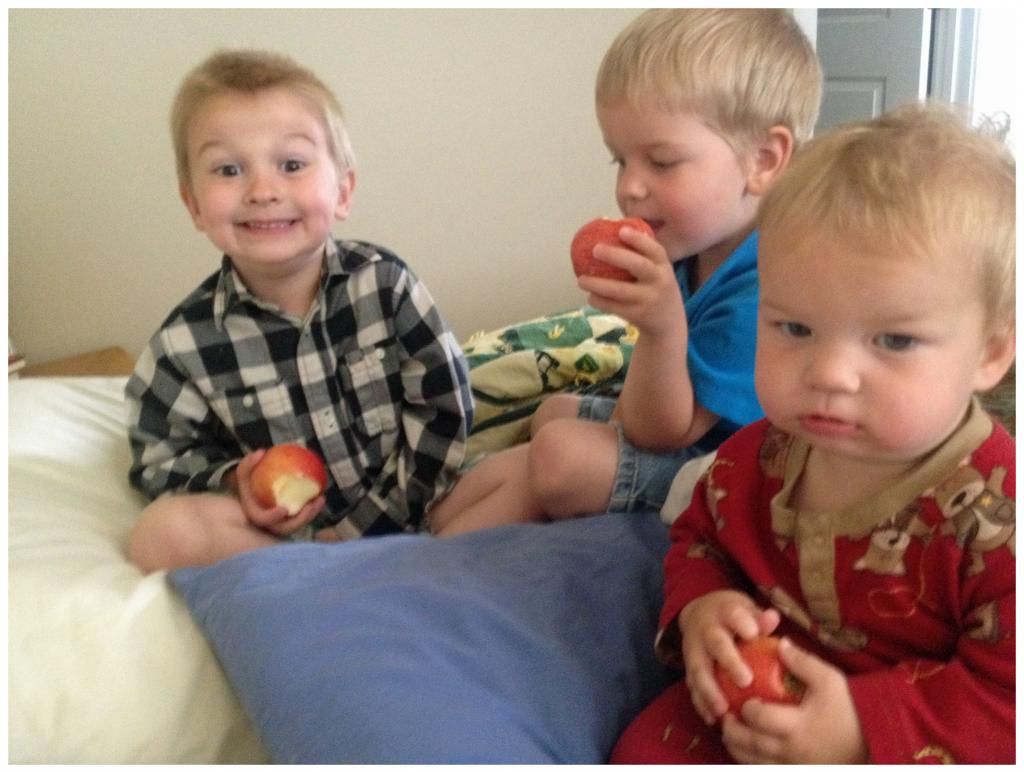 Three boys and their apples.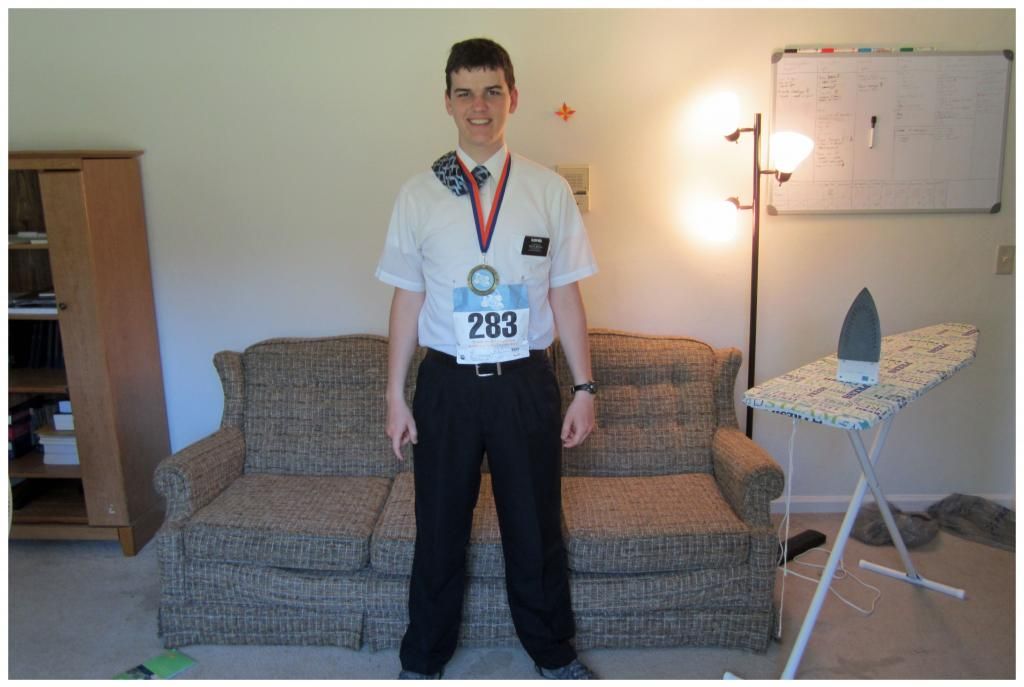 Elder David. He is still weird.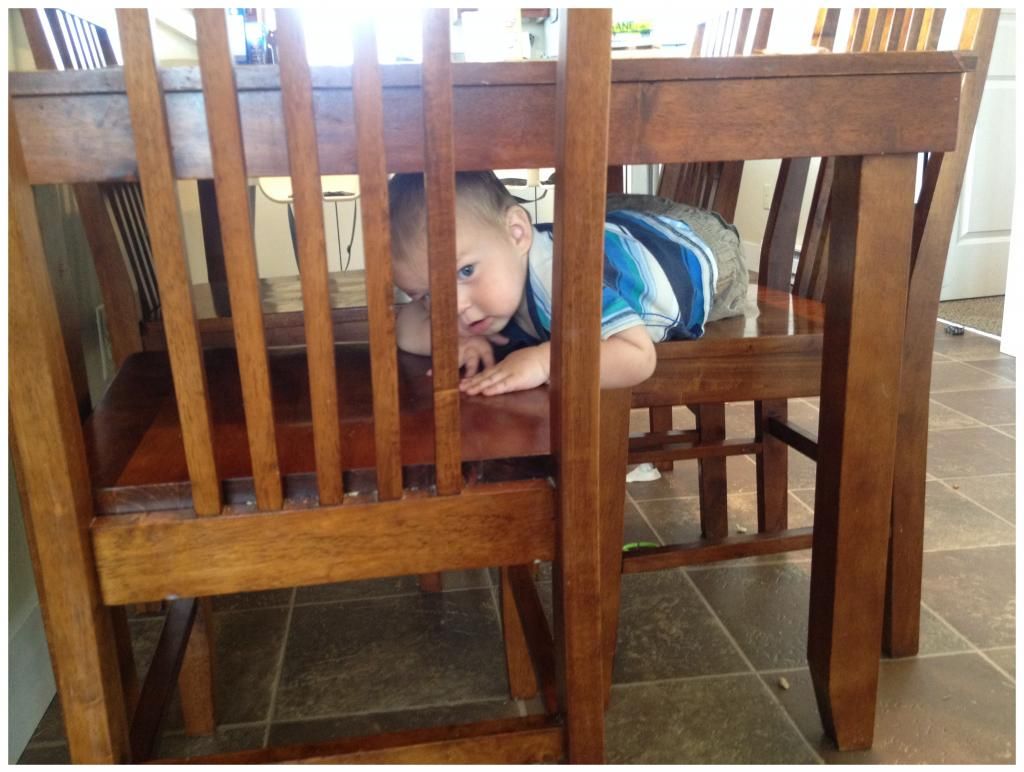 We had to pull the table away from the wall because if we left the chairs pulled out then he would get on the table and I worried he would fall over onto the stairs.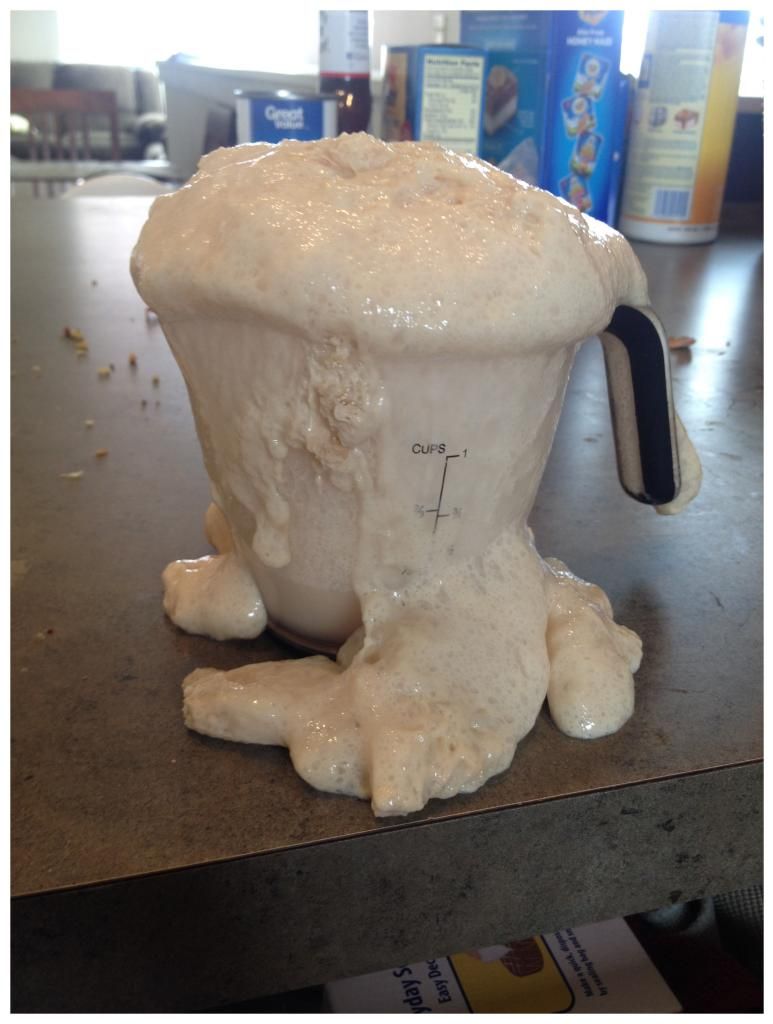 I am horrible with yeast.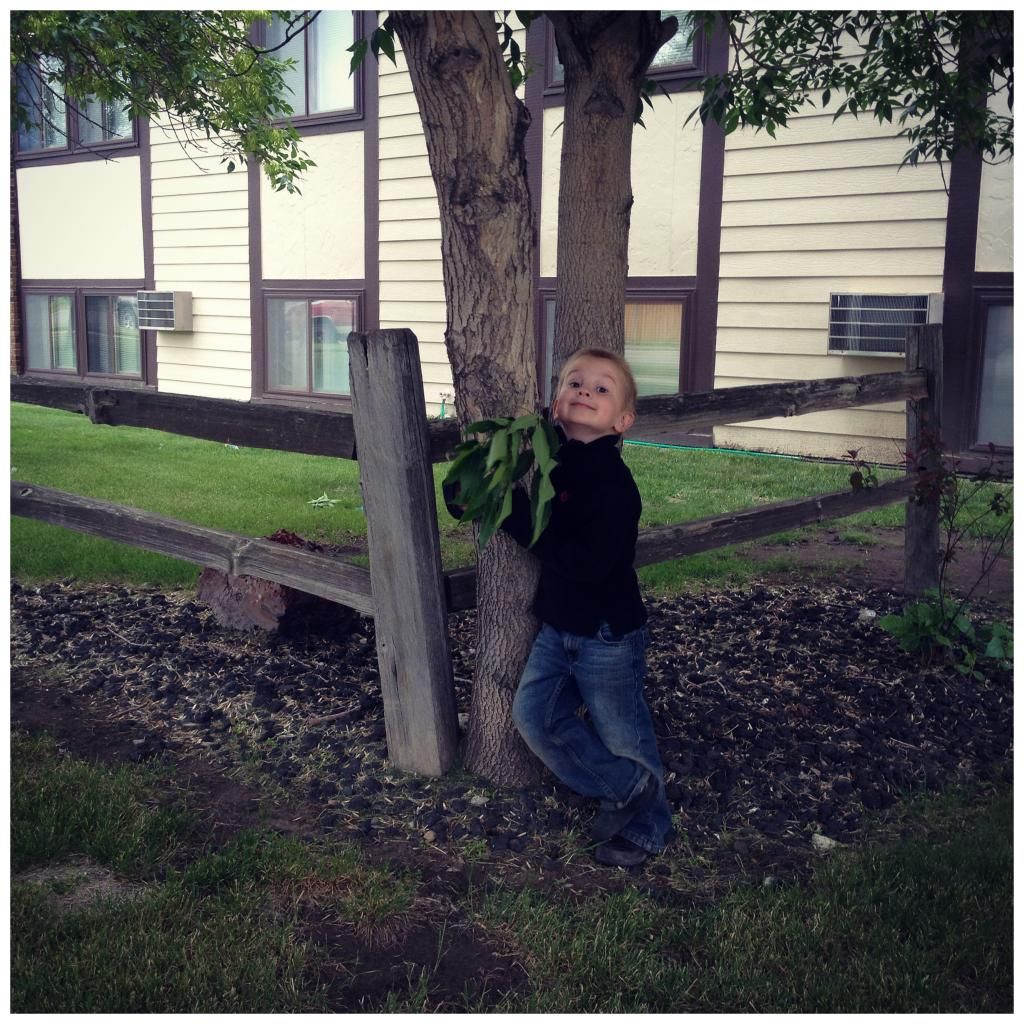 "Take a picture, Mom. This is my real smile."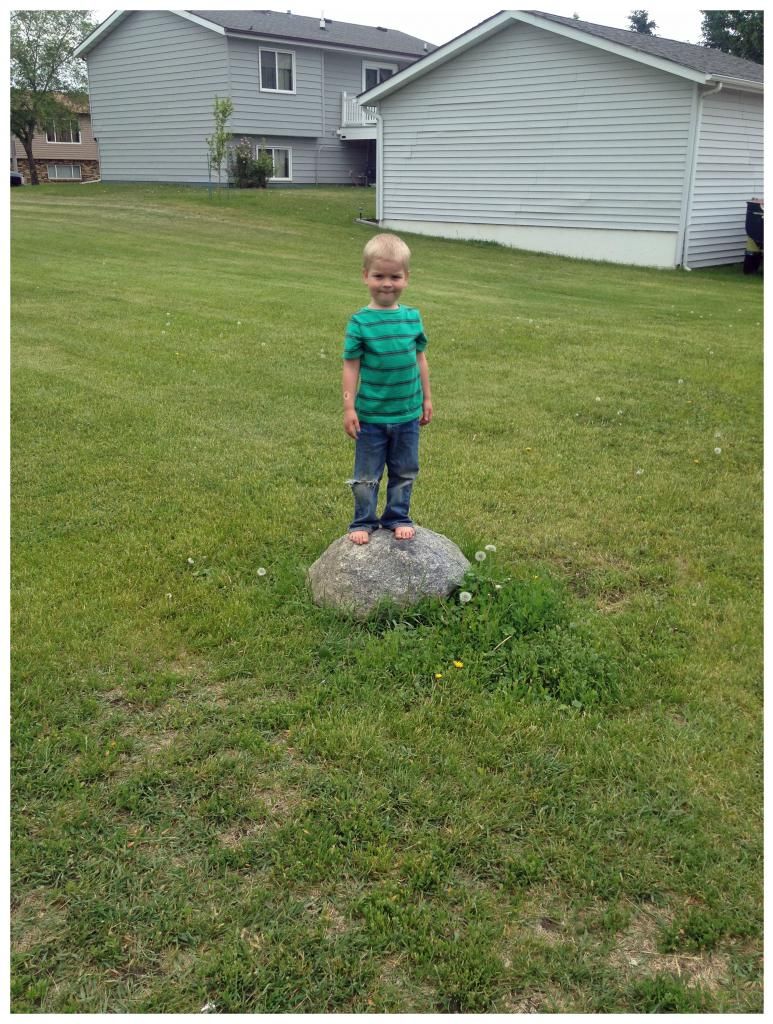 I cannot remember where I took this picture but my kid has no shoes. Ghetto.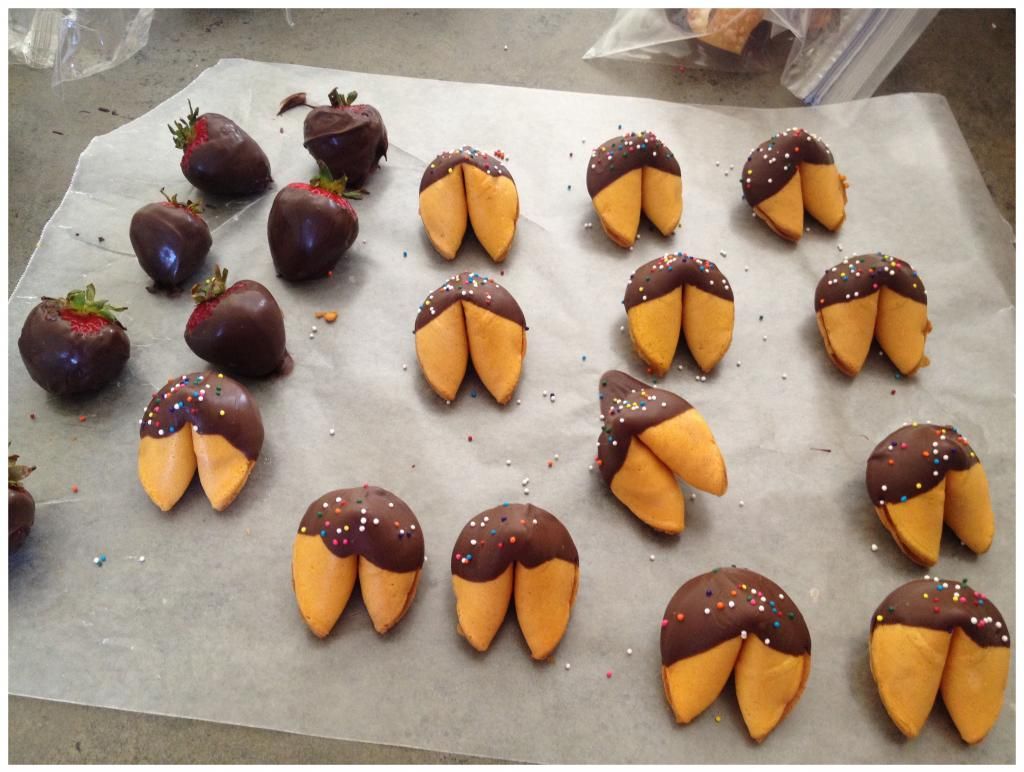 Chocolate covered fortune cookies. I had never made these before I probably should never make them again because I ate too many.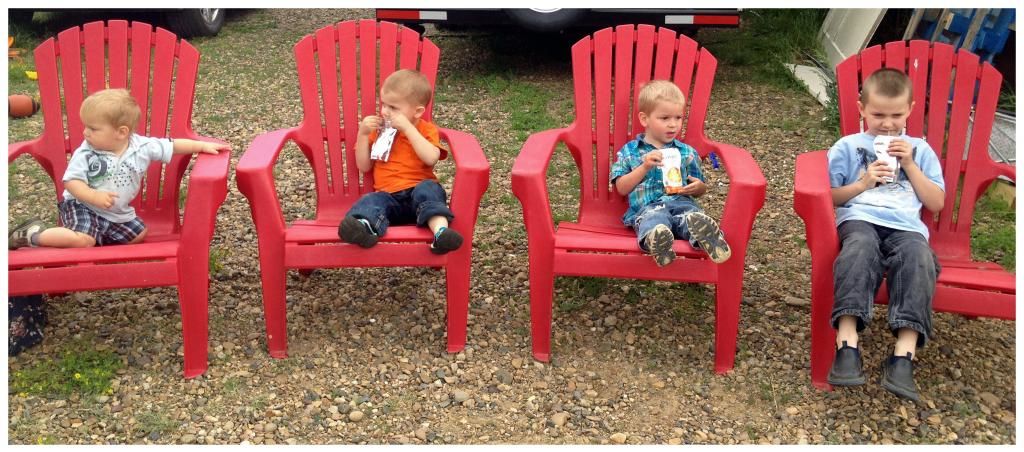 Enjoying a beautiful day with the Kohns (Declan, Jett, Edison, Jager).
Haven, Alex, Jett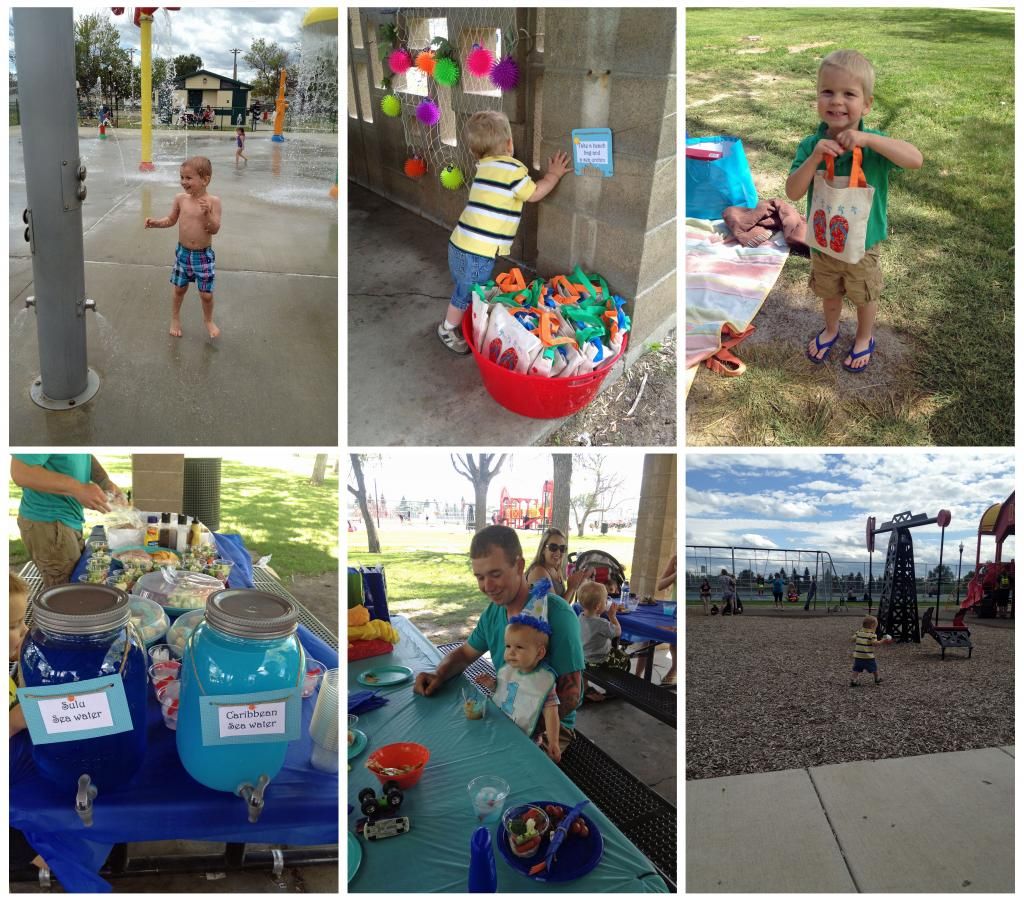 Branson turned one and Anneliese threw an adorable party for him at the park.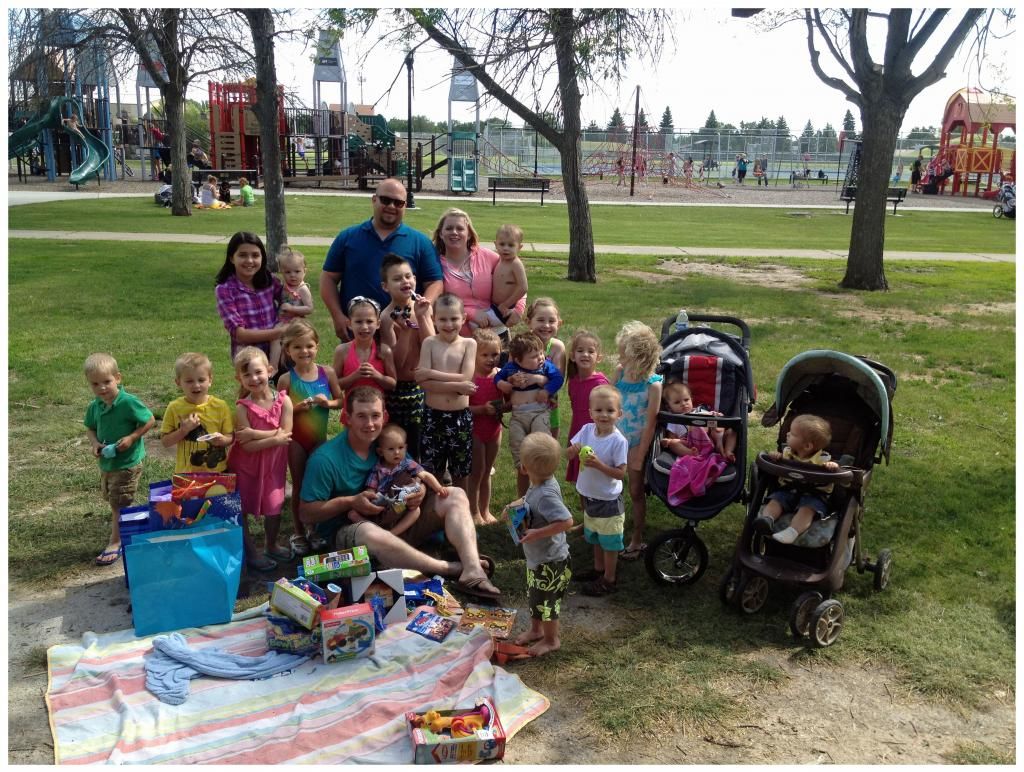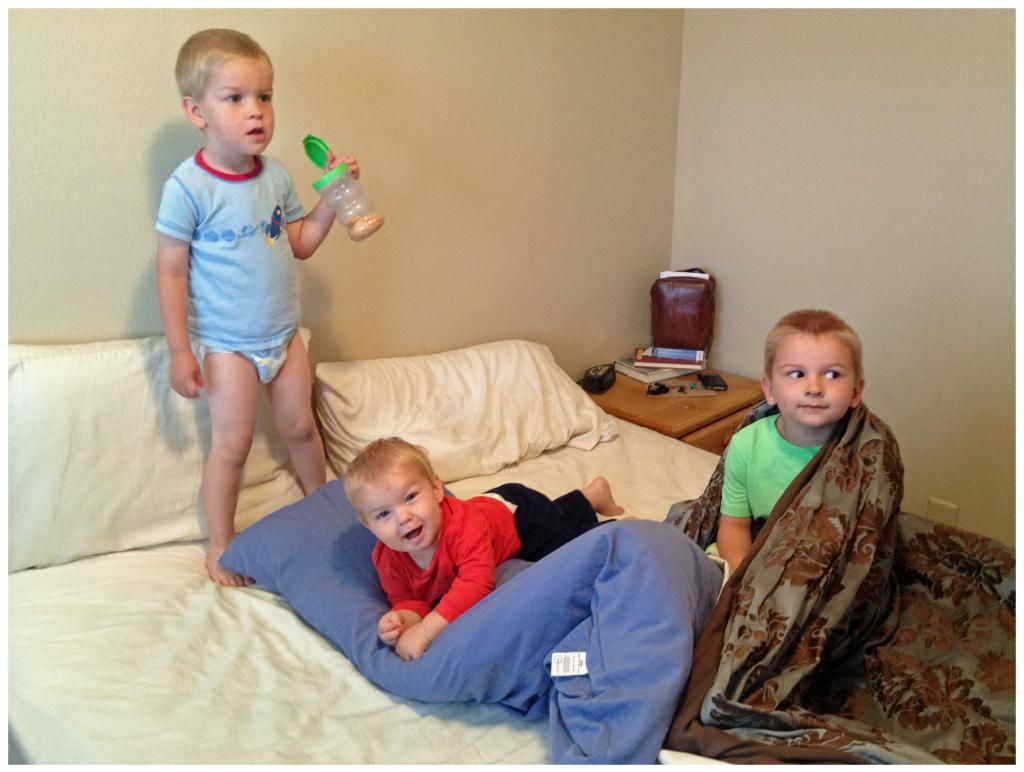 We spend too much time on my bed. Where are Edison's pants?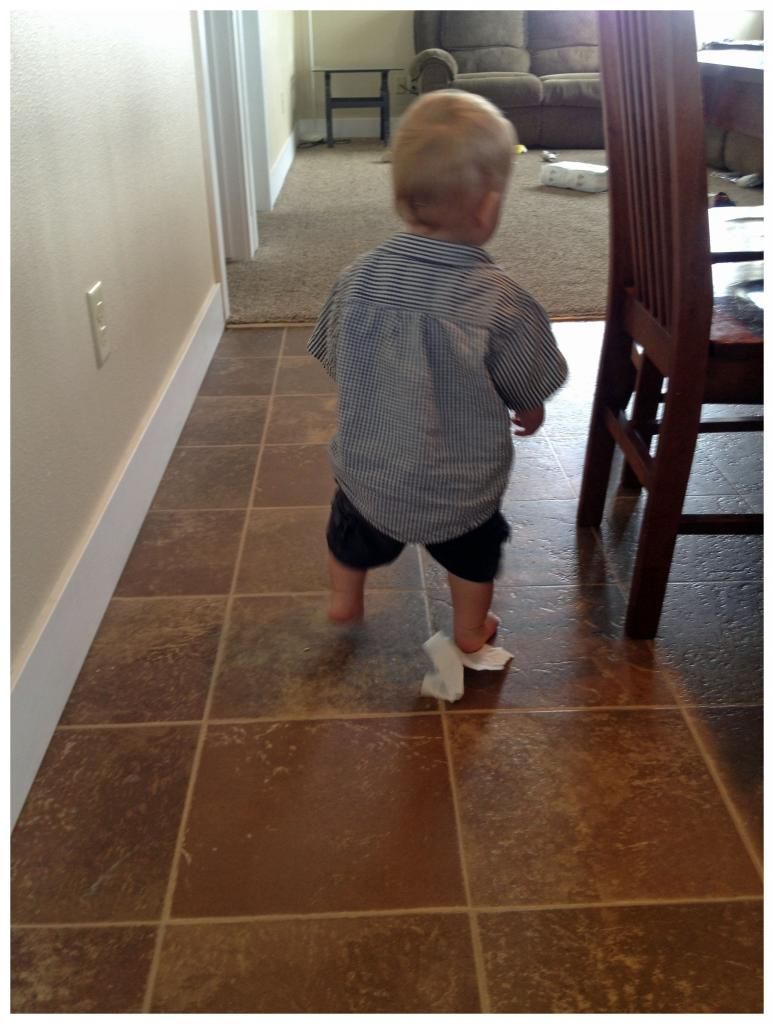 Declan unrolled the toilet paper and then walked out. How embarrassing.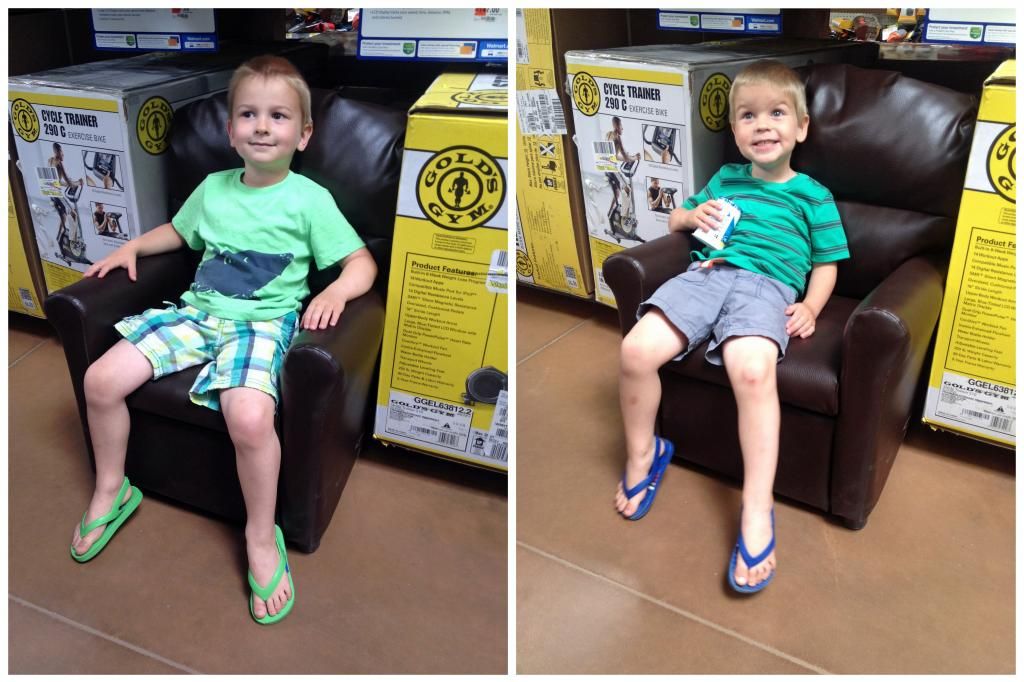 They found a chair just their size at the store and had to sit in it.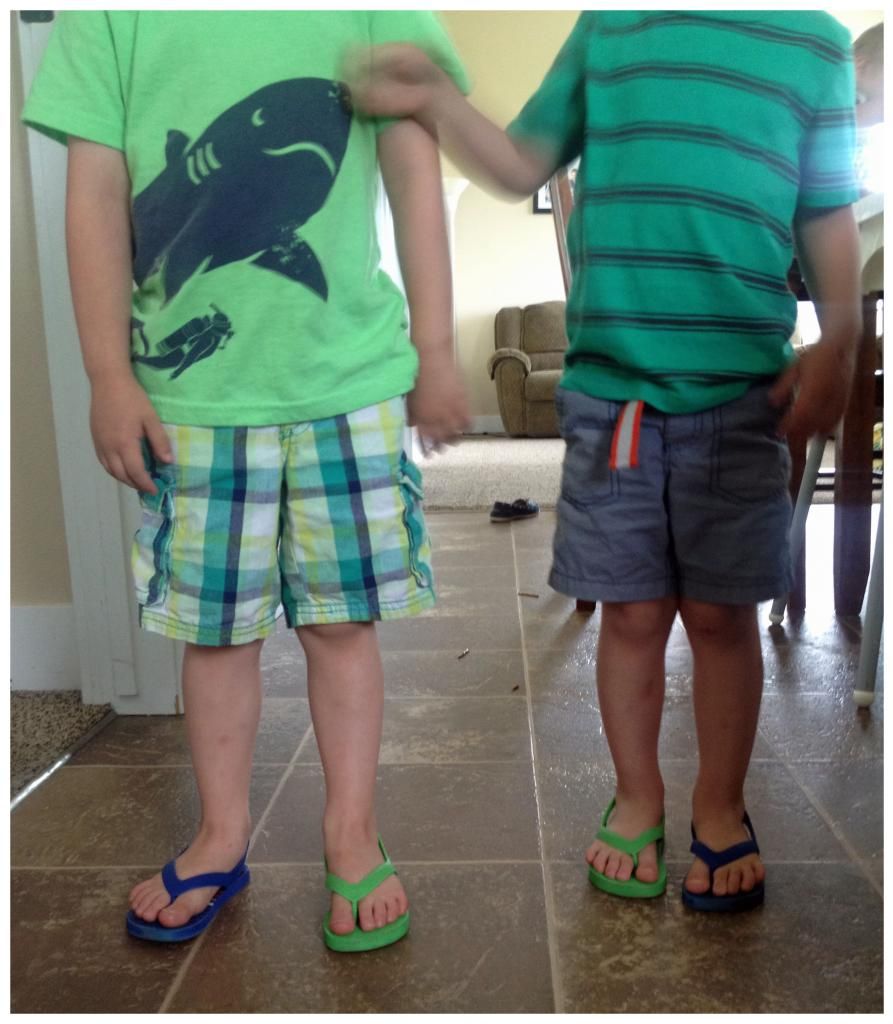 So close, boys.
Out to lunch with the Coltons at Basil. We were seated in the far back corner but Stephanie and I didn't mind at all.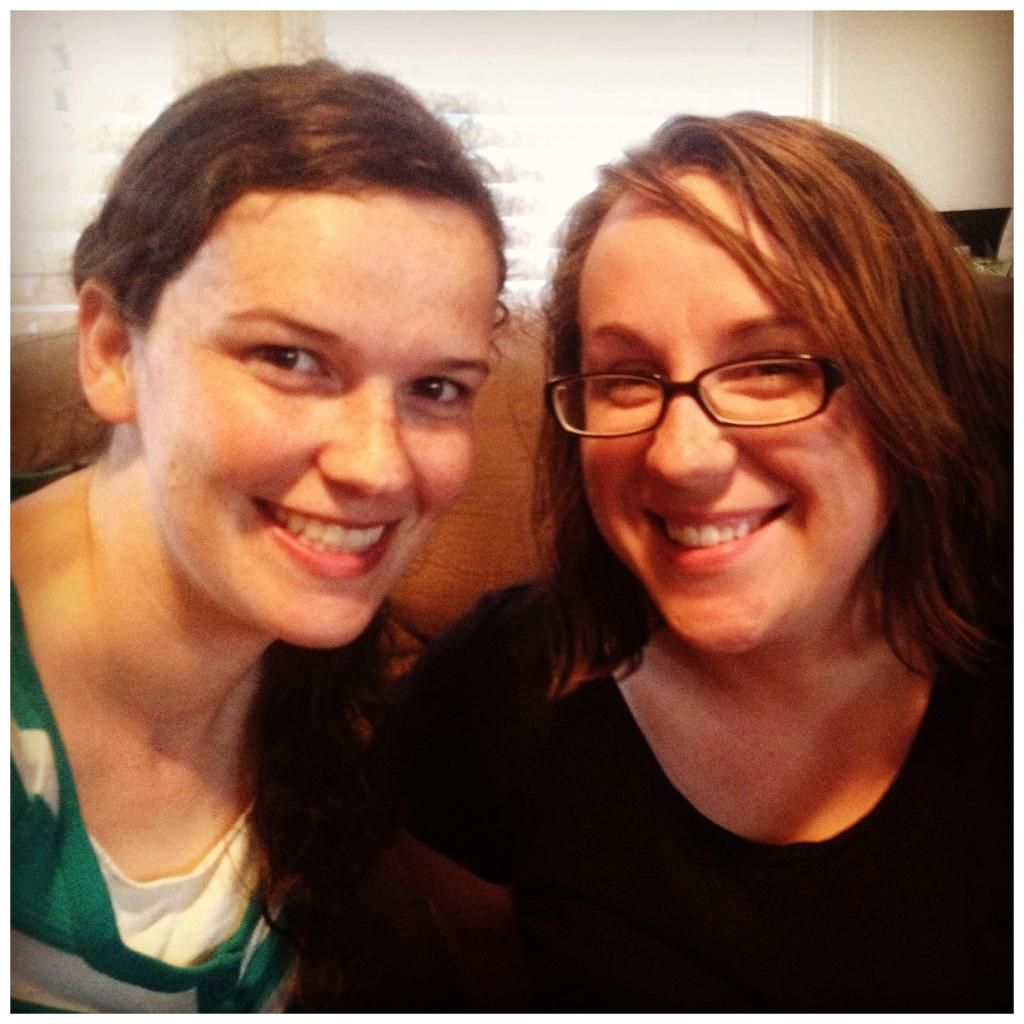 Movie night with Olivia. We talked through the entire movie.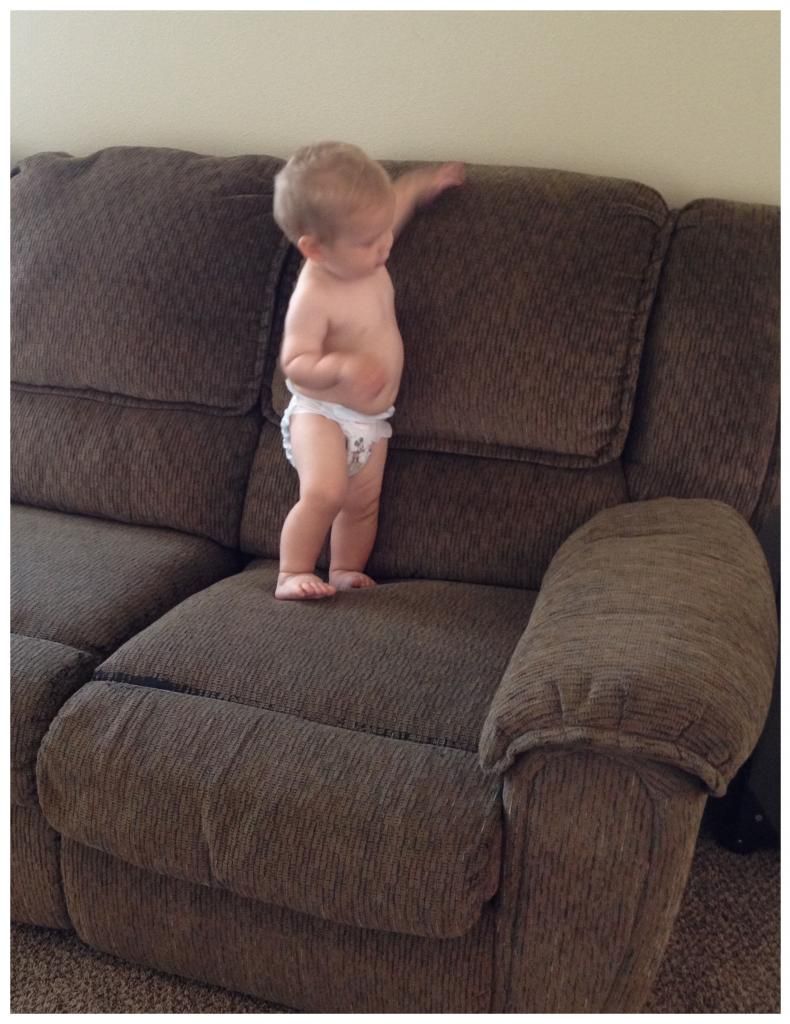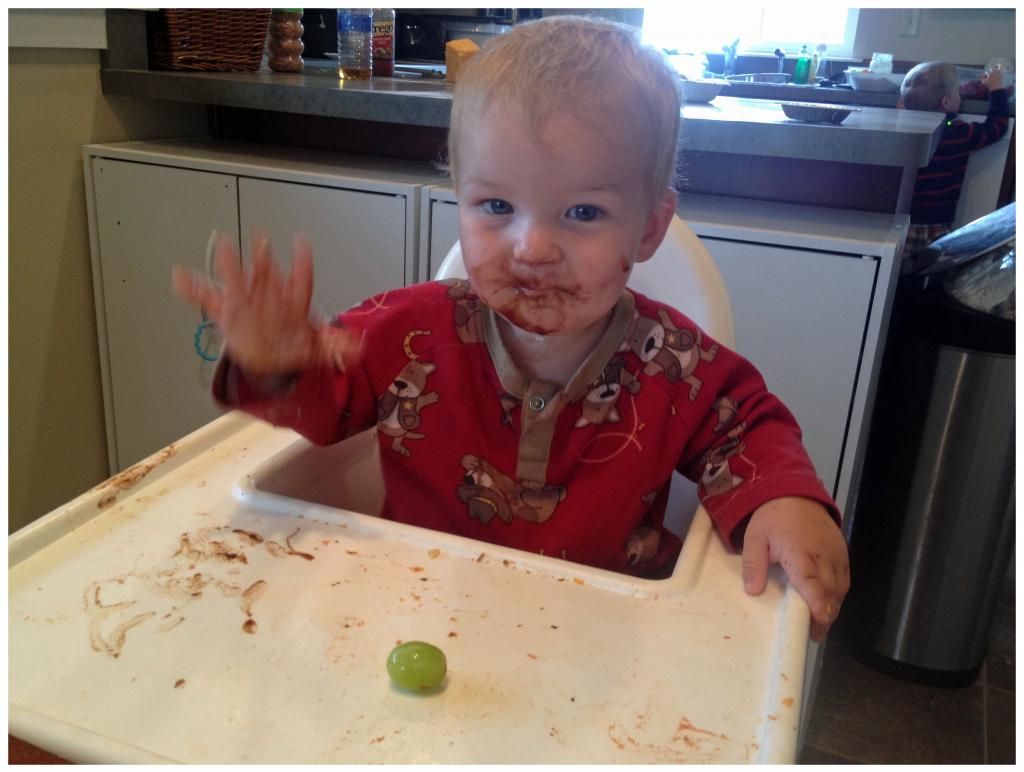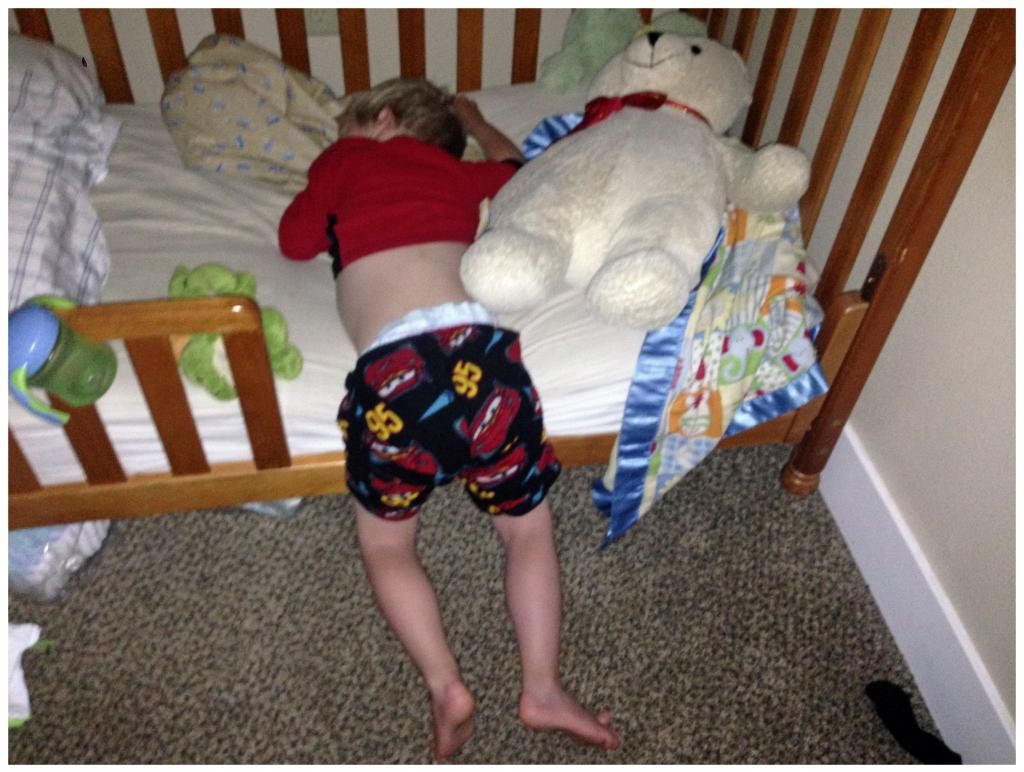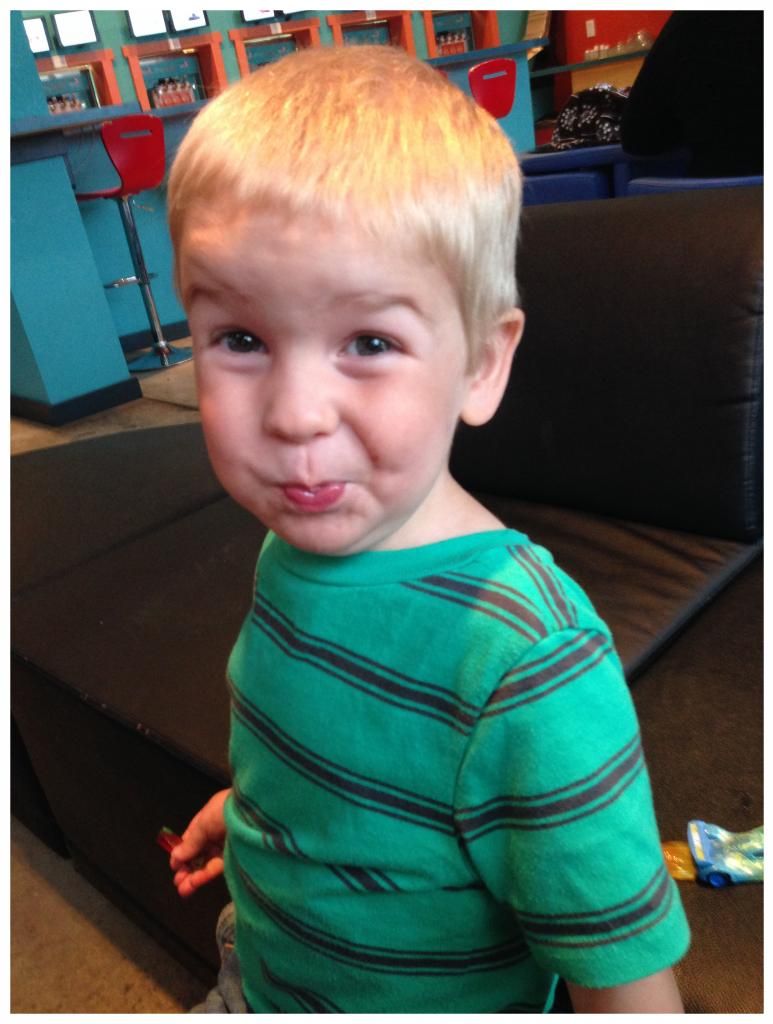 Sour candy!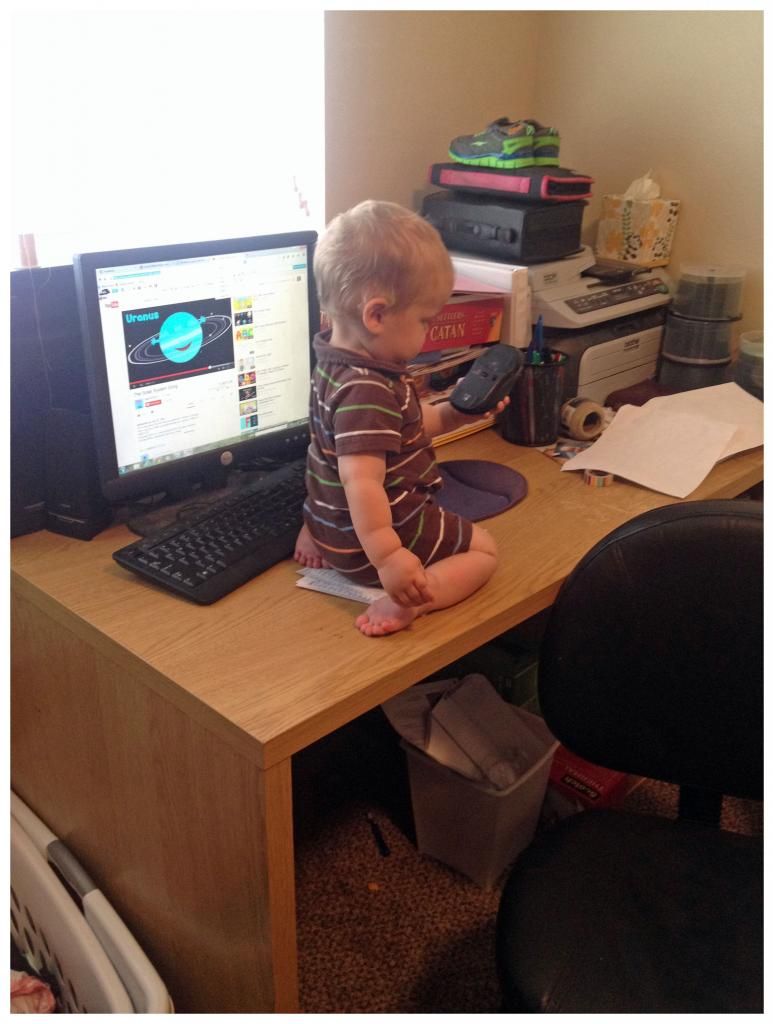 This was a first!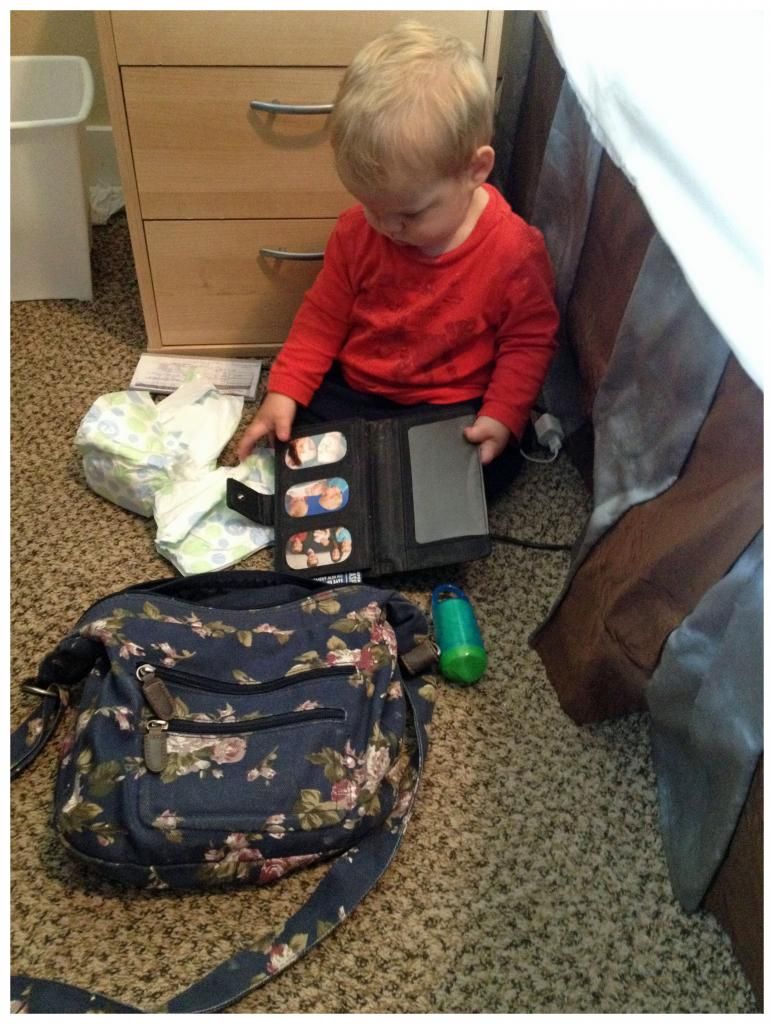 This was not a first.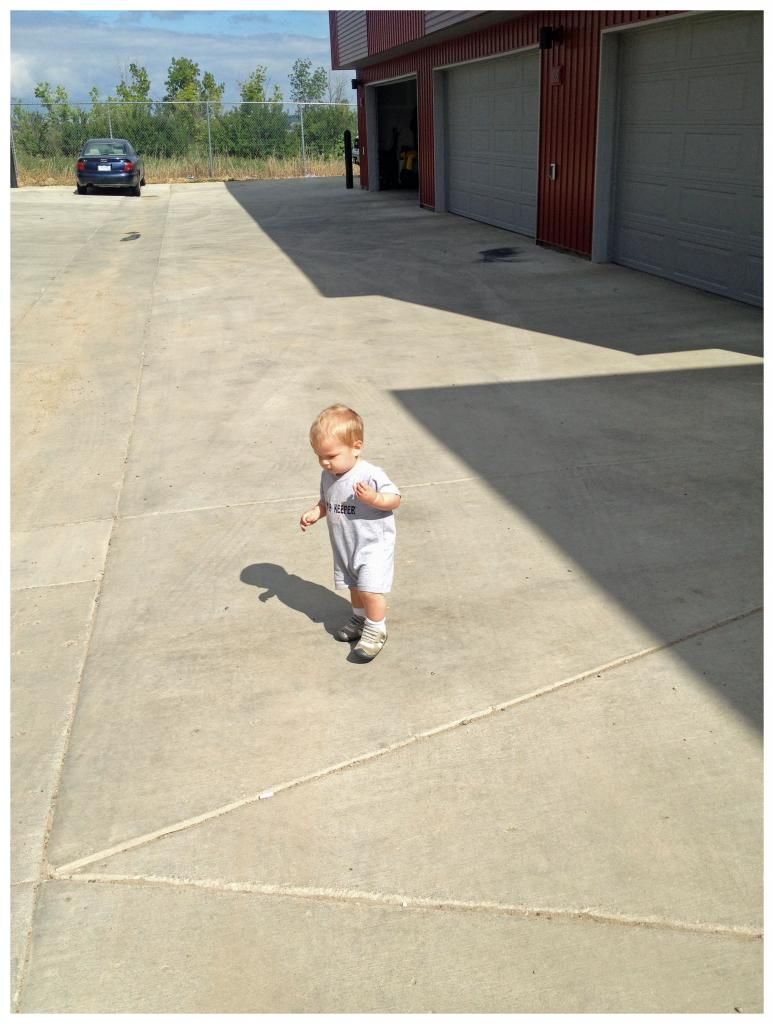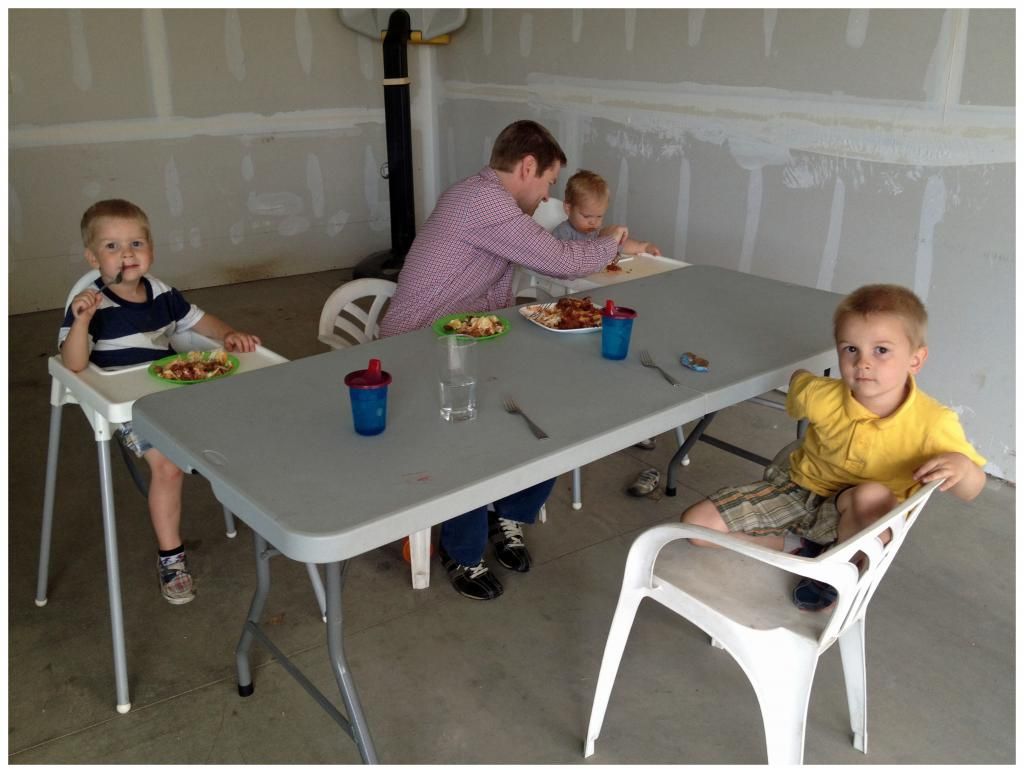 We have been eating dinner in our garage and it is fun but the boys act like it is torture because they just want to be playing with their toys!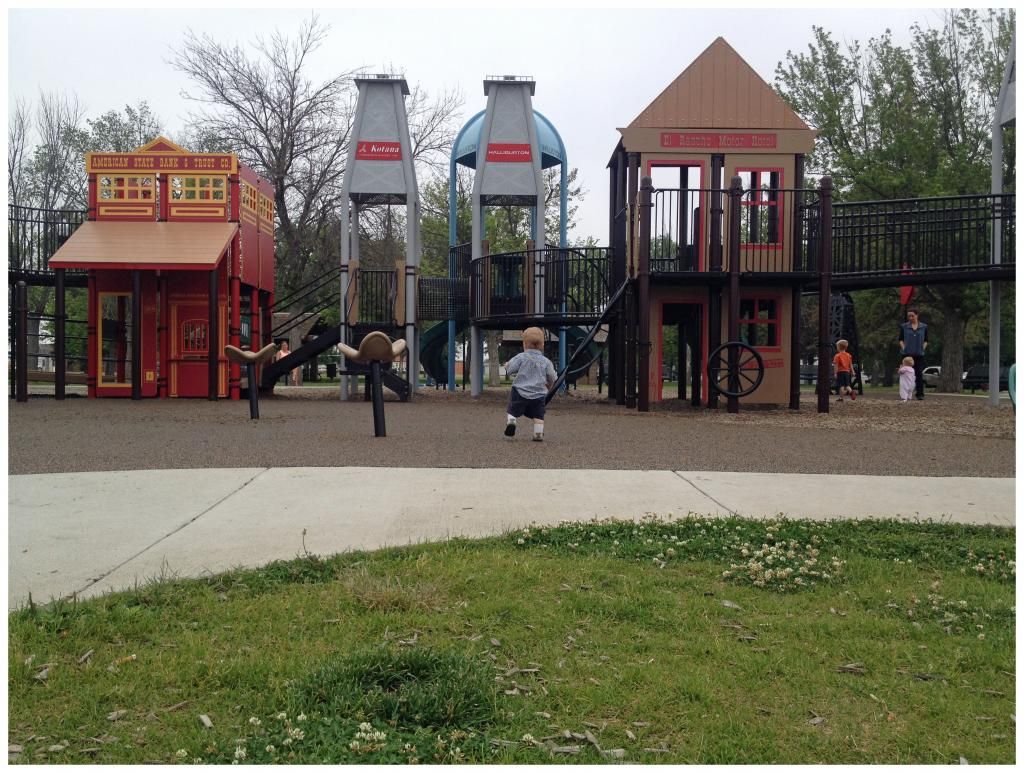 Declan plays at the park all by himself. He is so independent.
Playing tennis with the Coltons on a rainy day.