Sam went on a school field trip for five days. This was when Edison was two weeks old. This means that Sam was gone for eight of Edison's first 20 days. I was so nervous about him being gone because I knew that meant it would be all me during the day and at night. What I didn't expect was the ridiculous amount of support from women in the ward. By the end of the week, there was not a doubt in my mind that people care about me.
Day One:
The boys woke up simultaneously. I put Alex in his high chair and gave him yogurt then I started nursing Edison. Alex was playing with his yogurt but I told him he'd have to sit there until I finished feeding Edison and then I would get him something else. Ten minutes later, I set Edison down and got Alex cereal. While doing that, Edison spit up. While I was cleaning up the spit up, Alex dumped out his entire bowl of cereal/milk. This was within 30 minutes of waking up.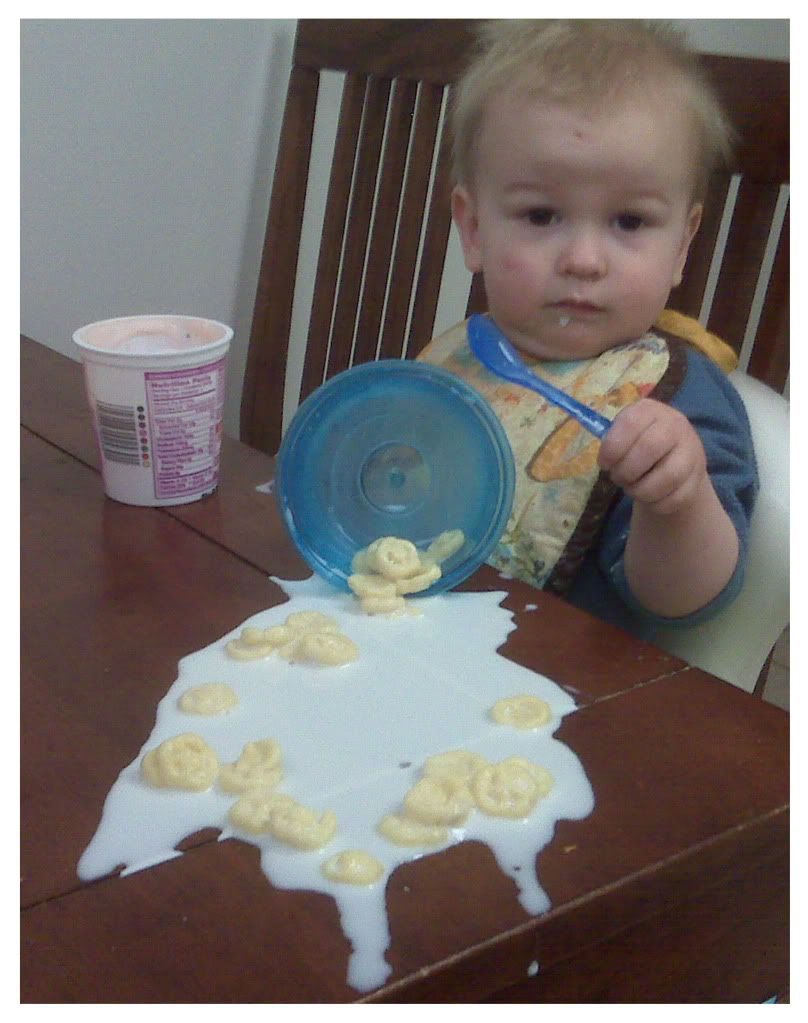 A short time later, Edison was in his swing, Alex was playing, and I was writing a letter. Alex tried sitting on the front of the swing and Edison flipped out and landed right on the top of his head. He was kind of folded over. I was so angry with Alex.
I had an OBGYN appointment so Kristen watched Alex for an hour. That afternoon, I babysat Canon so Kristen could go to her ultrasound (they're having a girl)! Nathan was also gone on the trip so Kristen and I spent a lot of time together.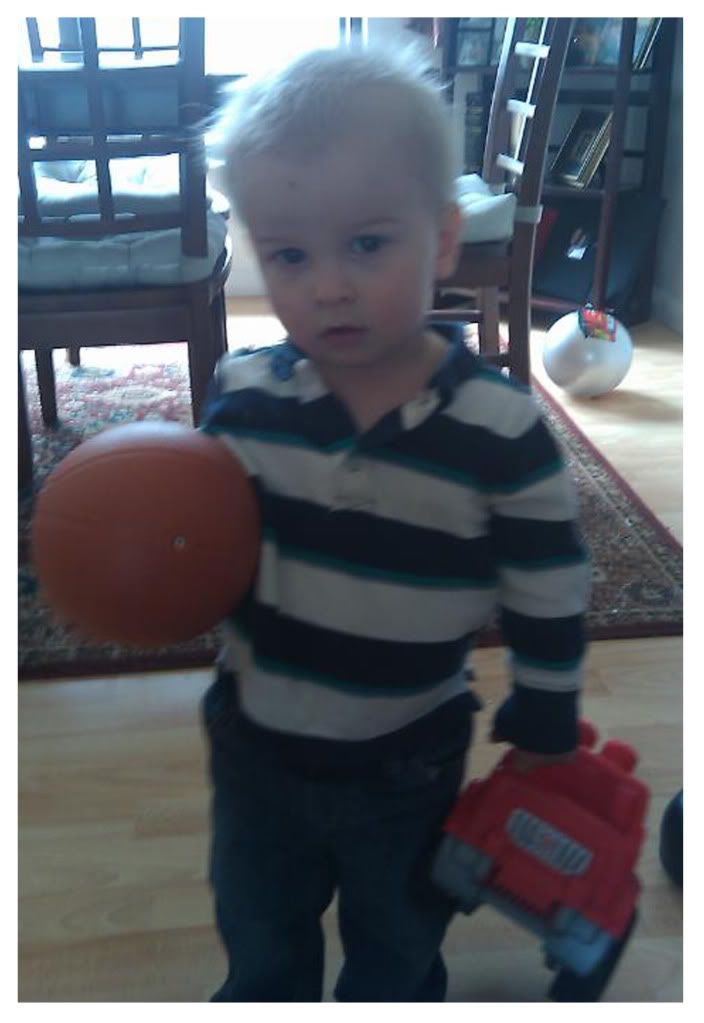 Day Two:
I needed to get out. Staying around the house and constantly trying to block Alex from "loving" Edison was wearing me out. I loaded them up and we went to the fabric store, Target, and the grocery store. I had to sit in the car and nurse Edison before we went into the grocery store but I gave Alex a Dum Dum and he sat quietly for 10 minutes.
It was beautiful weather so we played outside for two-and-a-half hours. Alex fell out of a toy car and got his leg pinched. I was holding Edison but I sat down on the ground to comfort Alex and ripped my stitches a little. It was so painful and I was uncomfortable for a few days.
That night, a friend (thanks, Roo!) from the ward brought me a delicious dinner. Dinner was the hardest part. I had to find a way to make dinner and then feed Alex and Edison without too much of a break down on my part. Meanwhile, Sam was going out to eat every night. It was annoying.
I bathed Alex while Edison screamed but I couldn't leave Alex in the tub to go get Edison. Due to the warm weather, there were bugs everywhere! I killed a few spiders and ants and it was driving me crazy.
Day Three:
It was a rainy day. A friend (thanks, Kendra!) from the ward offered to have Alex come over to play. I took him there at 9:30am. I was debating taking a nap or trying to get something done. I decided to be productive and went to get our oil changed. On the way there, I was sitting at a red light. It was close to another intersection. When the light in the next intersection changed to green, I started going. Luckily I realized what was happening before I got too far out. There was a three hour wait to get the oil changed so instead I went to a different place to get our air conditioner fixed. Their machine was currently broken. I went and picked up Alex at 11:30am having done nothing and not taken a nap. I cried.
Day Four:
Alex made a huge mess of his breakfast again.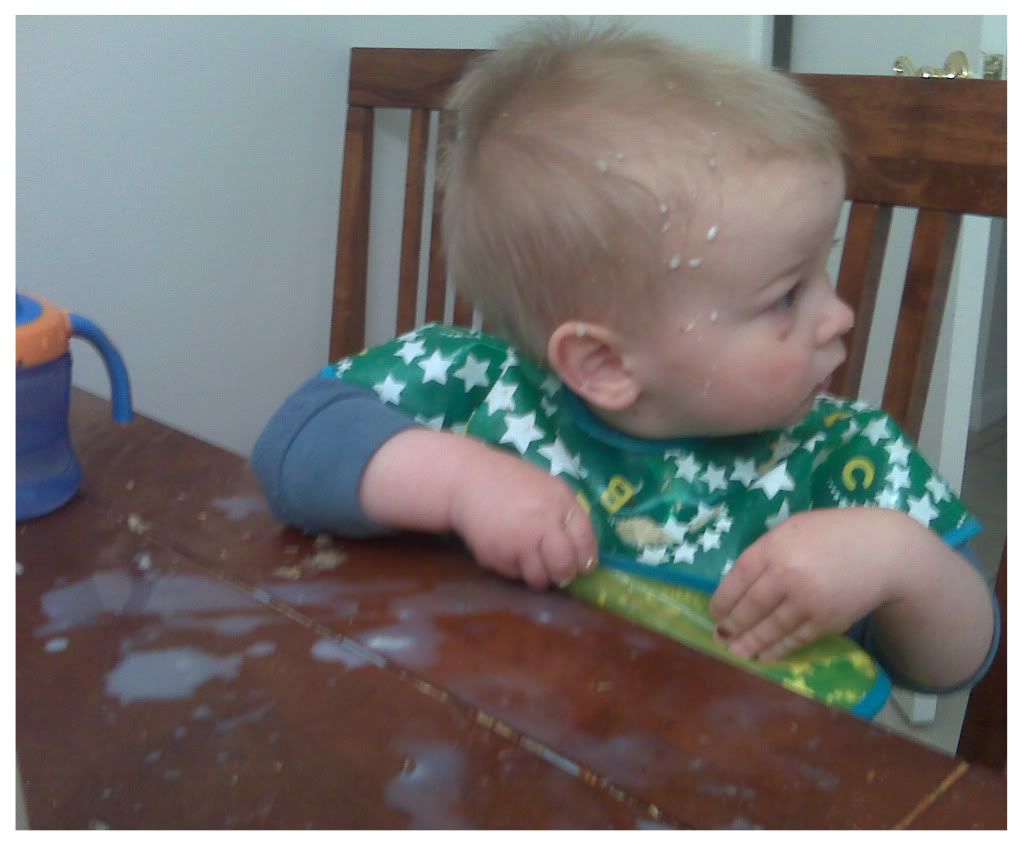 I took the boys to playgroup where I had a breakdown about how hard nursing has been and how I feel like I can't do anything right. Everyone was so supportive. We played outside for two hours that day. A friend (thanks, Becky!) from the ward brought me dinner with a separate dinner that Alex would be more likely to eat. It was incredible.
That night, I went to a baby shower. I took Alex there and put him to bed. Then when the shower was over, I carried him out to the car and went home. So when I got home to a dark apartment, I had to carry in two sleeping kids. Alex woke up but still wanted to be carried. He started cracking up when I put him in his crib. He is such a good kid.
My visiting teacher came over. She had been at playgroup during my breakdown. After we finished visiting, she cleaned out entire kitchen and living room. She even mopped the kitchen floor, which is huge considering how much food Alex throws (thanks, Jody R!). I took Alex over to another friend's apartment in our complex so Alex could play with her girls for a couple hours. I went to pick him up for lunch and she said she had been planning to feed him and that I should go home and she would bring him over in an hour. I don't even want to know what her carpet looked like after Alex finished eating over there (thanks, Erin!). While I was sitting around in my laziness of only having one kid to take care of, another friend brought over amazing banana muffins. I think I ate three right then (thanks, Jody S!).
Sam would send us pictures of his delicious-looking food and other cool things he saw. Alex really liked the "Choo-choo."
We played outside for three hours that afternoon. Sam got home at 6:30pm. I was happy the week alone was over. It was so nice to have someone else to be able to hand Edison to at night to have him burped. I was overwhelmed with love from the women in the ward. I can't believe I am so lucky. I don't think these women realized how much their service meant to me. I hope I will be more willing to serve in the future because of their examples.