The end is near. Very near. My due date is only two days away. I feel like this whole pregnancy has gone quickly. But other times I think about how I got pregnant two weeks after moving to North Dakota. And I feel like we have lived here for years.
Emily: Do I look pregnant?
Sam: Yes. You are pregnant.
Emily: Well, there used to be a point where I didn't look pregnant.
- Since 36 weeks, I have been dilated to 2 cm.
- At 39 weeks, I was 50% effaced, -3 station.
- I can't see my feet.
- I didn't get a linea nigra this pregnancy. That was a staple of my last two pregnancies so I am not sure why I don't have one this time.
- My belly button did something really funky. With the first two pregnancies, it flattened out but this time, the skin on top has been folding over. I think it looks like a nose and I am pretty sure it looks worse than the normal popping out belly buttons. So strange.
- At 38 weeks, the doctor offered to strip my membranes. I said, "Today?!" She said, "Spoken like a mom who has other things to do." Yeah, I've got time. She offered again at my 39 week appointment.
- Every time I feel a slight pain, I freeze to see what kind of pain it is. Labor is coming so soon!
- We talk about the baby by name when we are at home. It is really difficult to not say it to people on the phone or in person. Sam and I have both struggled with our words as we try to avoid saying his name. It will be nice to finally birth the baby so we can give him the name and then tell everyone. The middle name is finally decided, as of our date on Friday night. Sam made the decision for the middle name and it took me a while to come around, but now I am more comfortable with it.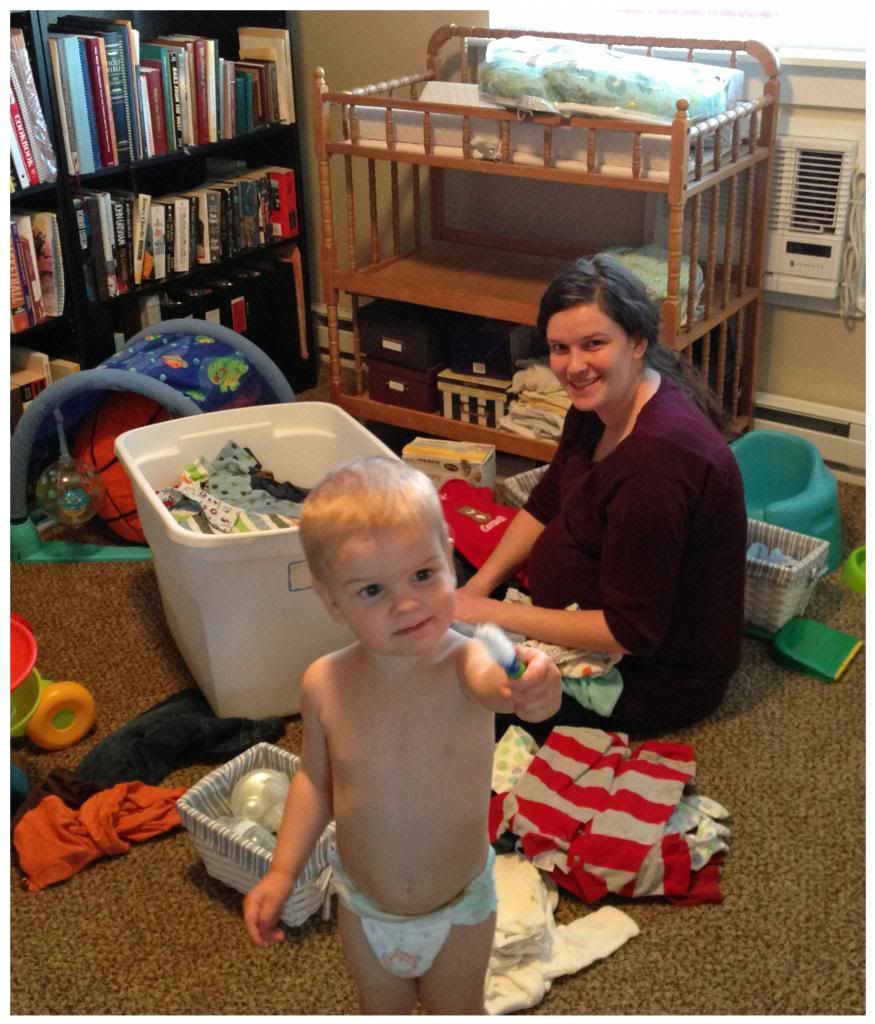 Workout Routine:
Is this a joke? I didn't workout at all. I chased two toddlers around, but I did not formally workout. Ever.
Most surprising symptom:
It is more like a lack of symptoms. I have had very little swelling. I am still wearing my wedding rings! I plan to leave them home when I go to the hospital, but it has been nice to wear them the whole pregnancy.
Favorite part:
Talking to the boys about the baby and hearing their thoughts about it. Alex is especially entertaining. Just a few days ago he said, "I don't want to go back in your belly! It is too dark in there!"
Alex: Can we get a sister instead?
Sam: No, we ordered a boy this time.
Emily, thinking: Excuse me. Ordered?
Alex: I don't want another brother. I want a sister to play with at home. Can we
please
get a sister?! (Fake whining)
Most terrifying part:
Waiting for six weeks to find out if he had Trisomy 18. It was definitely a trial of my faith as I waited to learn if I would get to meet my baby boy or see him reach any milestones.
Most frequent craving:
Food. It was hard to avoid eating. I craved root beer floats, grapefruit, apples, french fries, macaroni and cheese, goldfish, and popcorn.
Most annoying symptom:
I am so tempted to say the weight gain but the groin pain I have had for about eight weeks far outweighs (haha, get it?) the fact that I am getting fat. The pain is almost debilitating.
Weirdest symptom:
The dreams about labor. This didn't happen with Alex but it did with Edison. It started a few nights ago and now every night I dream that I am in labor. By the time it actually happens, I will have experienced it in my dreams multiple times.
Funniest memory:
I told my sister the first initial of the baby's name and she started trying to guess. She was guessing names that would be a better match for a black woman. It was hysterical. Then we told our friends the first letter and they guessed even worse names. Yikes.
Weight gain:
I don't really want to talk about it. Even though I started 10 pounds lighter than I did with Alex and Edison, I have managed to gain the most weight this pregnancy. I only gained 25 pounds with Alex and 37 with Edison. However, I would like to attribute the weight gain this pregnancy to not losing any weight during the first trimester. I was gaining weight from the very beginning.
Starting weight - 120 pounds
First trimester - No weight loss