The baby is due in 10 days. I am getting to the point where people come up to me and tell me I look like I am about to have the baby. I think I would be whining a lot more than I am if this baby were about to come out! I am surprisingly comfortable. However, I am sick to my stomach of people telling me how big I've gotten. My self-esteem as at an all-time low. I have never weighed so much in my life. I am still loving all the little kicks from inside my belly and I am thrilled to be able to be pregnant. I just wish I had taken better care of myself over Christmas so I had not gained so much weight.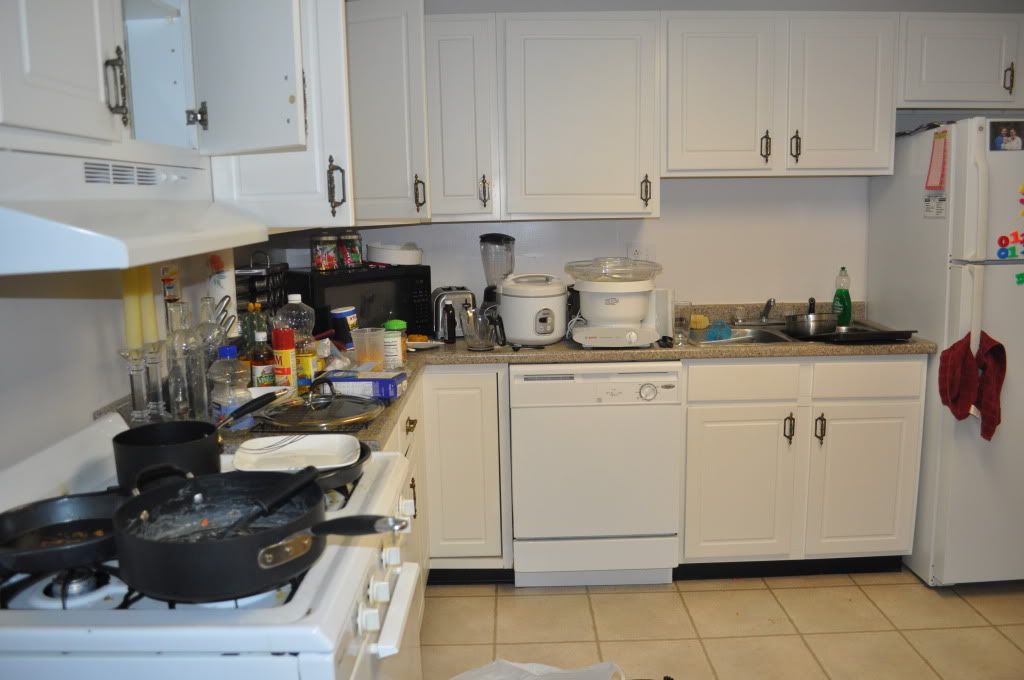 Our kitchen is always a disaster. I get spurts of energy every now and then.
At the last ultrasound (36 weeks, 5 days), they told me that the baby's weight was 6 pounds, 5 ounces. I declined having my cervix checked so I have no idea about dilation or effacement currently.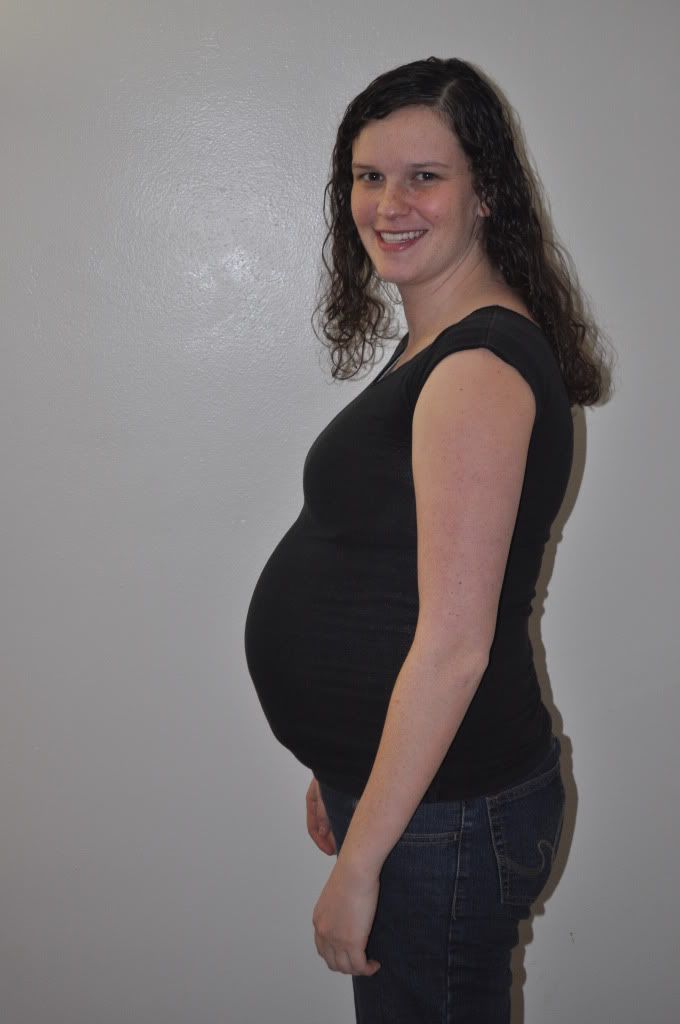 35 weeks.
-I took off my wedding rings at 35 weeks. They still fit, but when I got hot (usually while sleeping), they would spin around and hurt my hand.
-I was telling Sam that I had not felt the baby have hiccups. I happily accepted that because incessant things bother me. The next day, the baby had hiccups! I have only felt him have hiccups twice.
-On February 19th, we decided on a name! I love it and have been crafting something for his nursery.
-I made it through the whole pregnancy without slipping on the ice or falling at all! Woo hoo!
-My fingers have recently started hurting. They don't look bigger but I guess they probably are. Interpreting for the Deaf lady in our ward has become especially difficult. Ouchie.
-My stomach is frequently lopsided and we can see limb outlines. It is really cute.
-I have labor dreams every night now. This didn't happen with Alex, probably because I couldn't even imagine what labor would be like.
-Every time I roll over at night, I wake up feeling like I am going to puke.
-The baby was head down two weeks ago. Last week he was transverse. I hope he turns back!
Glucose tolerance test - 26 January 2011 (32 weeks)
I figured I would write a few of the things I wrote about before Alex was born so I can remember this pregnancy. Right now, I don't really want to remember it, but I am sure I will want to look back at this one day.
Work out routine:
Weeks 0-10: Jillian Michael's 30 Day Shred
Weeks 11-40: Occasional walks. Mostly just chased Alex around. No real exercise program.
My areas of weight gain have been completely different. Last time, I gained all the weight in my love handles, butt, and stomach. This time, my face has gotten much fatter and my belly sticks out way more.
Alex vrooming his cars around on my belly. I don't know why he likes doing this so much, but I think it is adorable.
Always feeling like something is going wrong. I hate that I am not trusting my body, or that everything will work out.
Chips with cottage cheese and salsa. This probably has something to do with my weight gain.
Most annoying symptom:
The weight gain. How could it not be. I barely fit my maternity clothes now. I feel disgusting.
Frequent bathroom trips. I don't know what to do with myself! I feel like the typical pregnant woman and it bothers me. While using the bathroom at church last week, I realized that was my first time going in there since we have lived in Ithaca!
Apparently I have started grunting when I bend over. I didn't notice until one day Alex bent over to pick up a toy and he grunted, too! Sam started cracking up and said Alex got that from me! Whoops! I guess he picks up on a lot of things already!
Starting weight - 130 pounds
First trimester - lost 10 pounds
Current weight - a disgusting 167 pounds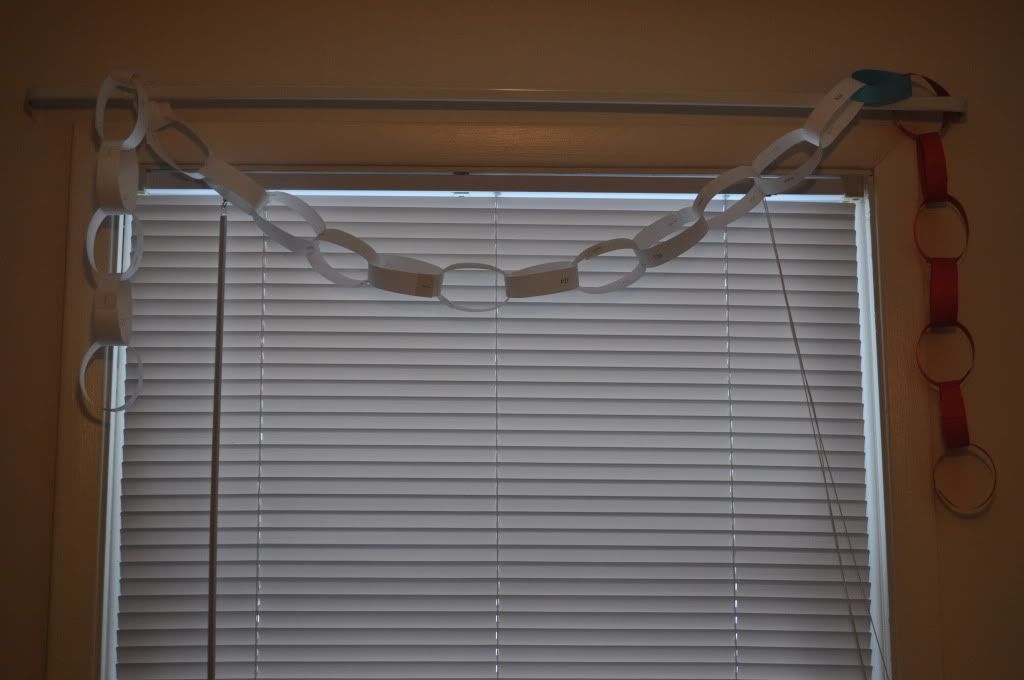 Paper chain countdown! Blue is the due date, red is a week overdue.
Nine of the 10 pregnant women in our ward!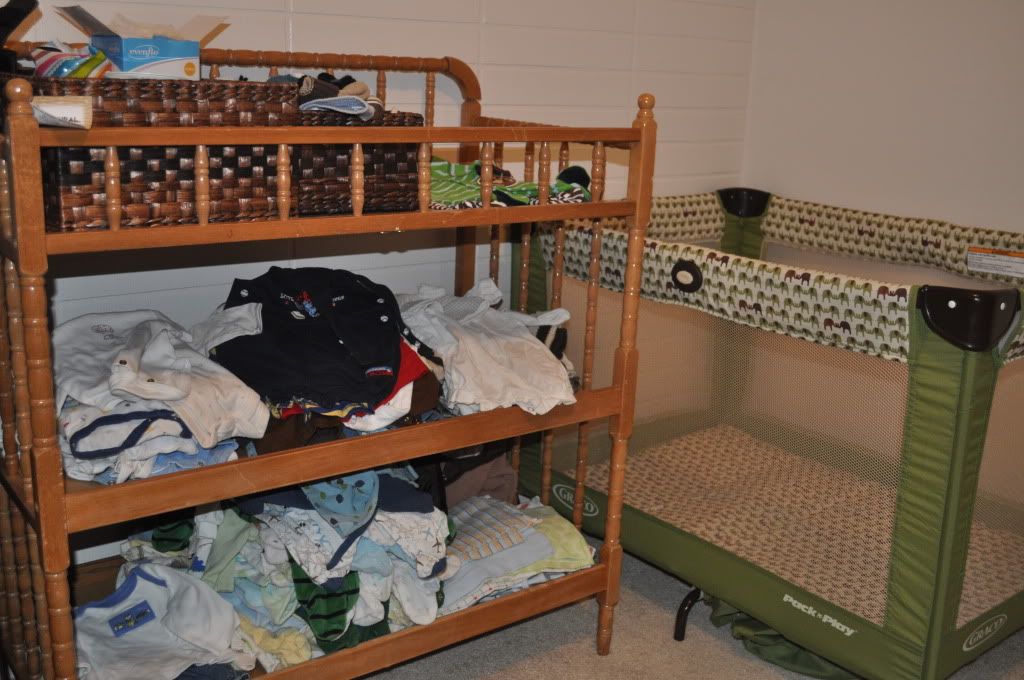 The makeshift baby nursery. We will do more when we move to Houston.