Sam here.
It's been quite some time since I've
won/lucked in to something cool
, so I think that it was about time! I'm currently taking a Supply Chain Management course through the business school, and one of the topics that we are being taught is mass customization. The case that we had to read for class was about "Mi Adidas" which is one of Adidas' businesses wherein you can select a variety of styles of shoes i.e. running, x-training, basketball, soccer, etc., then choose what material you want them made out of, a few different design elements, and the coloring of the shoe. The professor wanted to give the students in our class a concrete example of what this would be like in terms of the amount of customization, the cost, the shipping time, and the fit. To determine who would get the shoes the professor randomly picked two names out of a hat and
I was one of them
!
I got to order a pair of shoes from Nike and another guy got to order from Adidas. Over the summer, one of the guys that I worked with during my internship was always talking about how much he loved buying new shoes online. I constantly made fun of him and questioned his manhood because of his love for shoe shopping. Well, Emily can attest to the fact that I easily spent 3 hours designing my shoes. I designed shoes that I wasn't planning on buying! I didn't even know myself for a second there. It's a good thing that those shoes were ridiculously expensive, otherwise I might be purchasing more.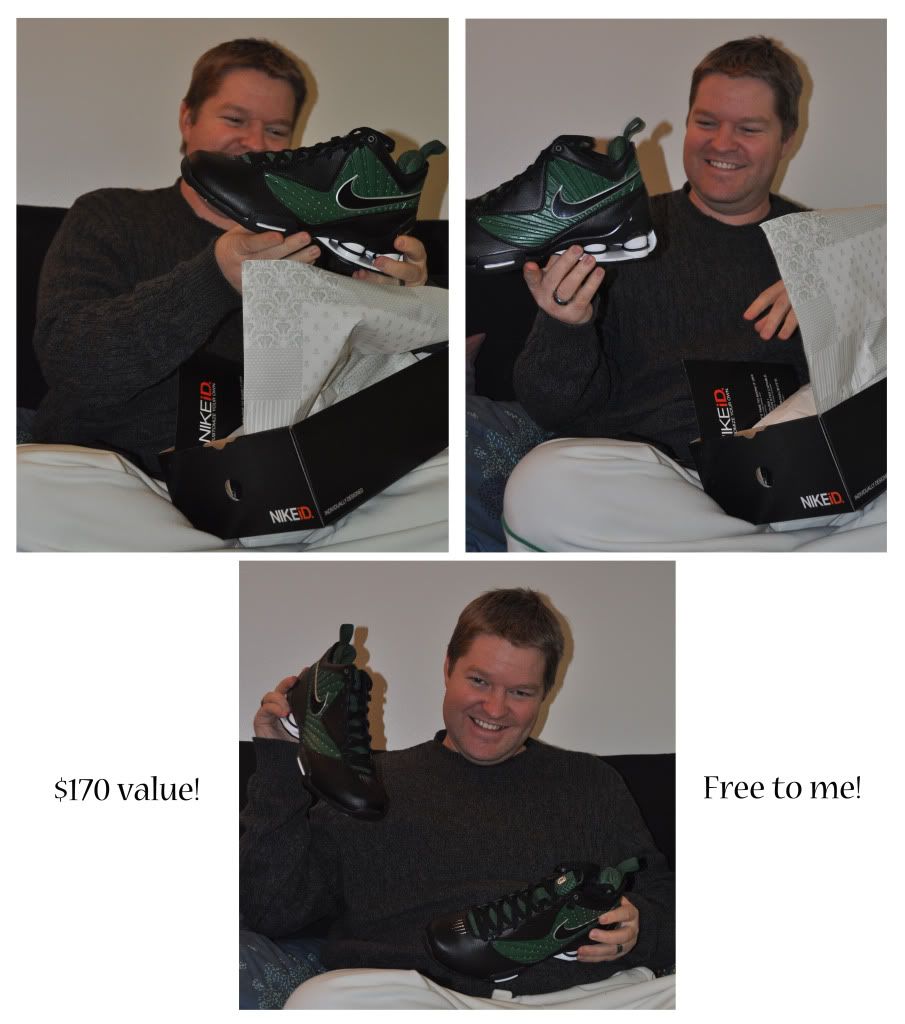 Notes from Emily: Sam was so excited about these things. He would not stop smiling the whole time he was designing them. Then when the UPS truck pulled up to deliver them, I thought he was going to run out there before the guy even had a chance to get to the door. I had to make him wait to open them long enough for me to get my camera. I am surprised he didn't pull out all of his hair during those two minutes. I married a kid. He is a very cute kid though!