I love potstickers. I found a recipe for potstickers that immediately made me put the ingredients on my shopping list. I have not been a big fan of meat recently and I feel like most meals are built around meat. These vegetable potstickers did not disappoint. Sam said, "Not bad for your first time ever making potstickers." I didn't even know potstickers could be made so I am very proud of myself. They took me an hour from start to finish and that included chopping, mincing, and shredding all of the vegetables by hand.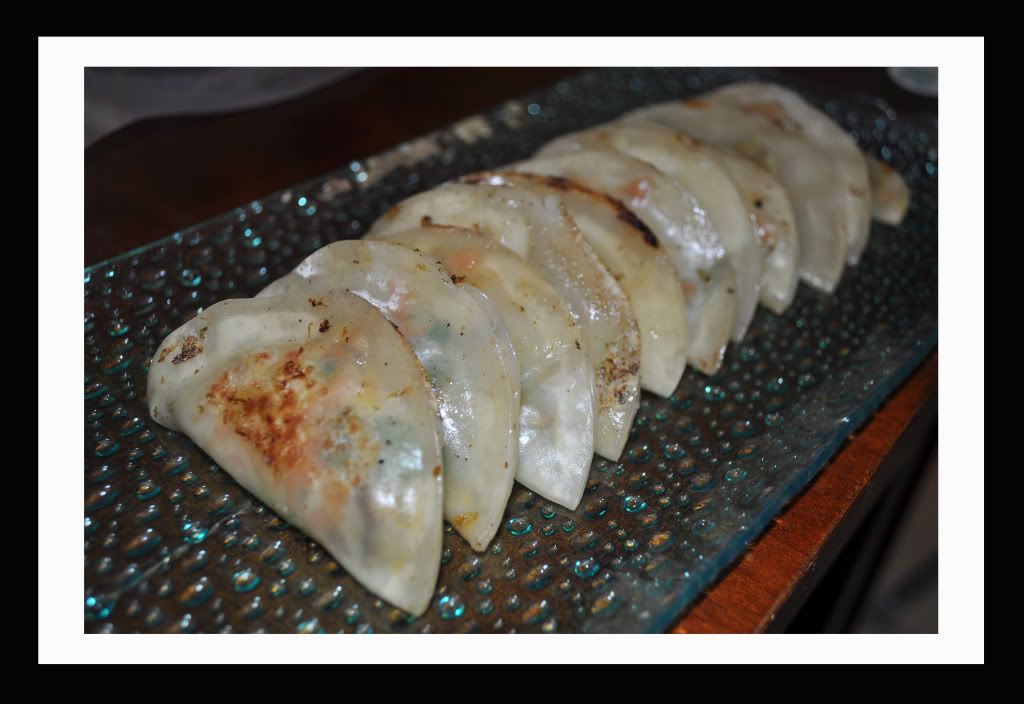 Vegetable Pot Stickers
Source:
For the Love of Cooking
makes approximately 20
Ingredients:
2 tsp. canola oil
1/2 small red onion, diced
1 c. shitake mushrooms
1 cup of white savoy cabbage, chopped finely
1 cup of carrots, shredded
1/4 cup of chives, chopped
1 tbsp fresh ginger, minced
1 clove of garlic, minced
Sea salt and white pepper, to taste
1 tsp sesame oil
1/4 cup chopped cilantro
20 round gyoza wraps
Olive oil cooking spray
Water
Directions:
1. Do all the chopping first!
2. Heat the canola oil in a large skillet over medium heat. Once it is hot add the onion and mushrooms and cook for 3-4 minutes; add the cabbage, carrots, chives, ginger, and garlic. Season with sea salt and white pepper, to taste and cook for 2-3 minutes, stirring often. Taste and re-season if needed.
3. Set aside to let the mixture cool down. Once the mixture has cooled, add the sesame oil and cilantro then mix well.
4. Spread out the pot sticker wraps onto wax paper then scoop a small teaspoon full of filling onto the center of each wrap. Wet the top of each pot sticker wrap with a baster brush dipped in water.
5. Fold the pot sticker to make a moon shape and pinch shut with 3 to 4 pleats along the side. Really make sure they are sealed, so the filling doesn't fall out. Repeat until all the mixture is used up.
6. Heat a large non stick skillet coated with cooking spray over medium high heat. Once the pan is HOT add the pot stickers, and cook until the bottoms are browned, about 3 minutes.
7. Add 1/4 cup of water and immediately cover with a lid to steam the pot stickers. Carefully watch the pot stickers and completely evaporate the water so the bottom gets crispy again and sticks to the skillet.
8. Serve immediately with dipping sauce. Enjoy.