We went over to the Cannon's for dinner on Christmas Eve for a traditional New Mexican dinner. Terri and I serve in the Young Women's presidency together. I was very unsure of what to expect out of a New Mexican dinner but it ended up being delicious. Terri made carne adovada, beans, potatoes, tamales, and red chili sauce. I brought the pumpkin pie. This was kind of a last minute thing. We had planned to have Christmas Eve alone and I had already bought everything to make our own meal. So instead I made it all on Christmas Day.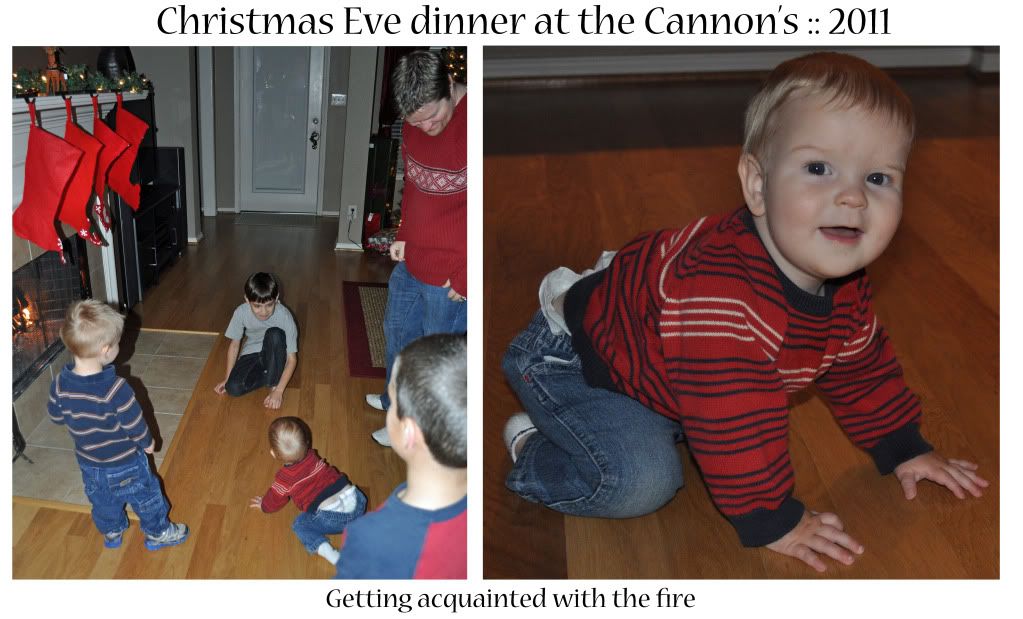 Edison managed to grab his bowl of Kix and dump it onto the ground. Alex was very hungry but didn't really like his "burrito" so he and Edison were on the ground together shoving Kix into their mouths. It was entertaining. But I felt bad because their house is spotless and we were totally destroying it.

Matt played a few Christmas songs on the guitar. I had forgotten to bring my violin which is too bad. I think that would have been fun. Alex enjoyed playing with Jason and Ian, although they kept running out of the play room to tell us that he was playing too rough with their toys.


In New Mexico, they light luminarias on Christmas Eve. Unfortunately, in Texas it was raining. The bags were soggy messes and on fire simultaneously. It was pretty impressive. Once all of the candles were lit, we walked around and put them out, then gathered the bags and tossed them in the garbage.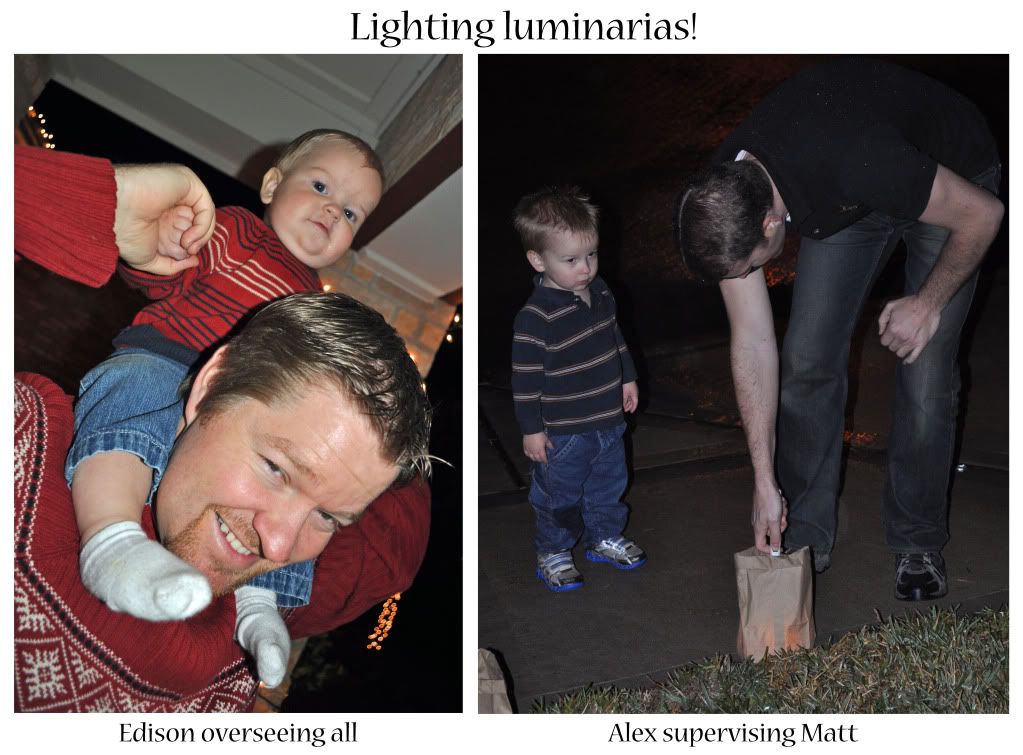 I am so glad we did it though. Alex was in heaven. He loves being outside so much. We let him run around outside, at night, in the rain. It was like Christmas or something. Oh wait...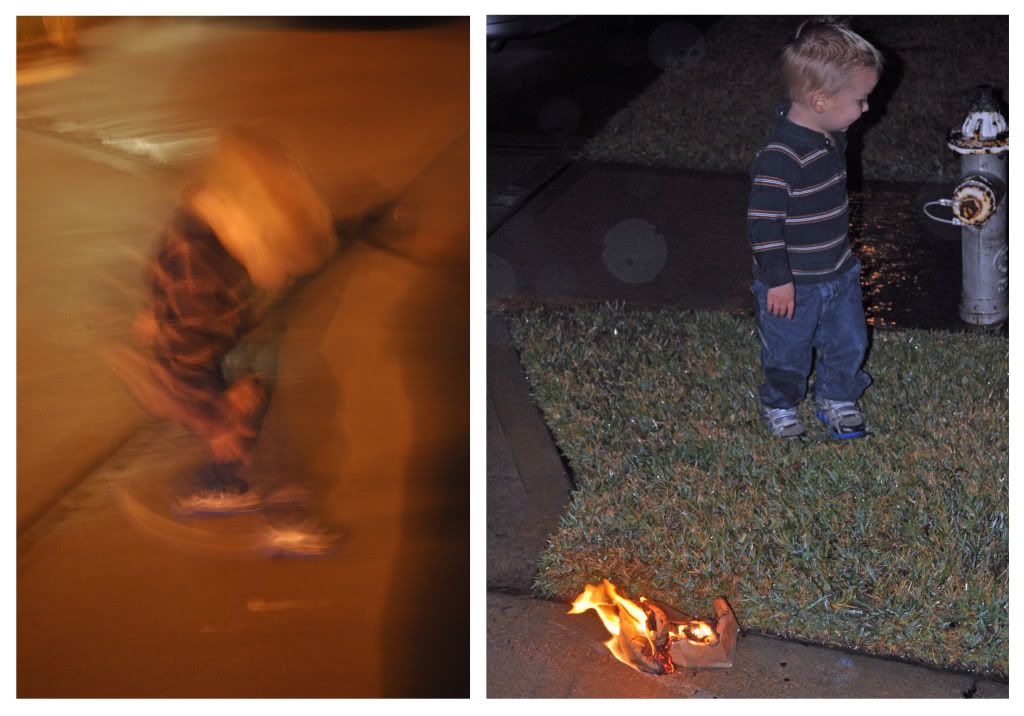 I think it looked awesome and feel we should adopt this tradition. I remember some people doing it in Arizona, too.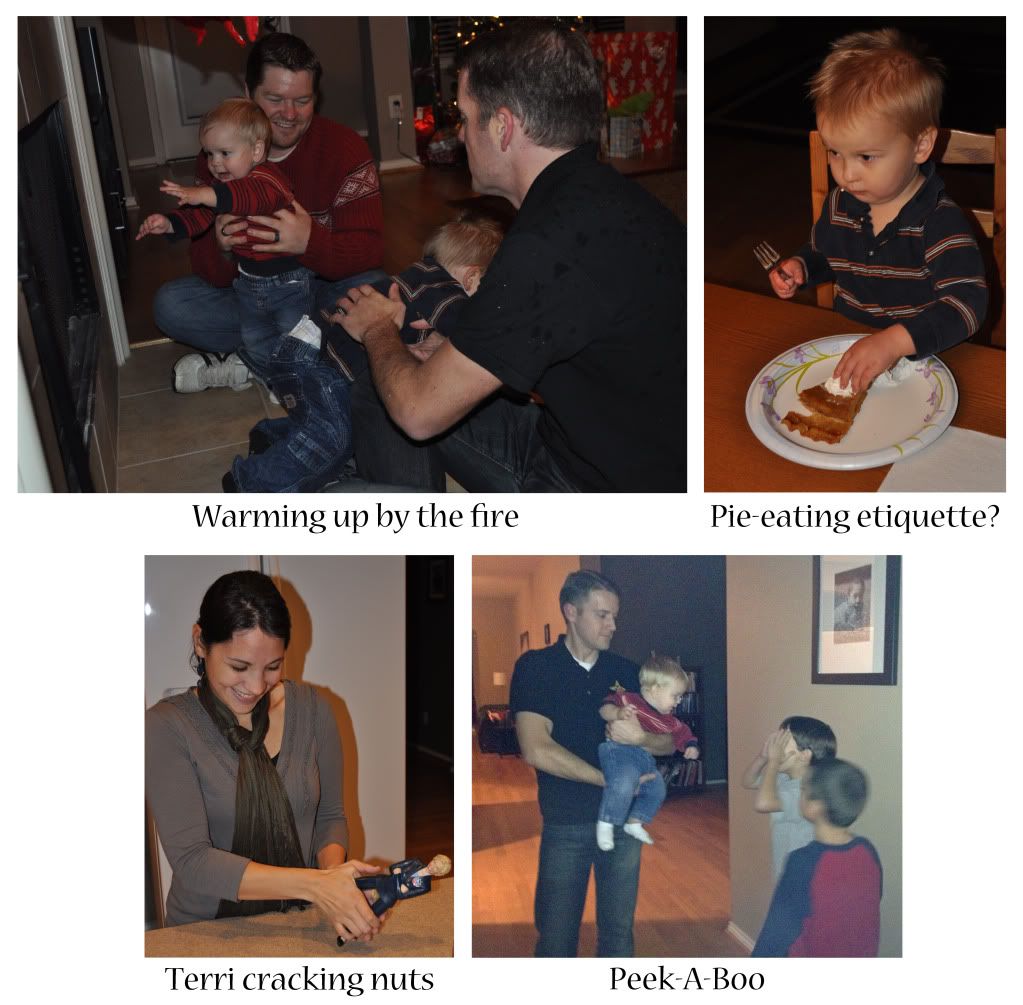 We headed home around 8pm to get the boys ready for bed. We had to take pictures first though. Sam's sister Emily bought these pajamas for Alex two years ago (so Alex was four months old). We squeezed almost-nine-month-old Edison into them. He looked ridiculously adorable.



Have I mentioned that keys are his favorite toy?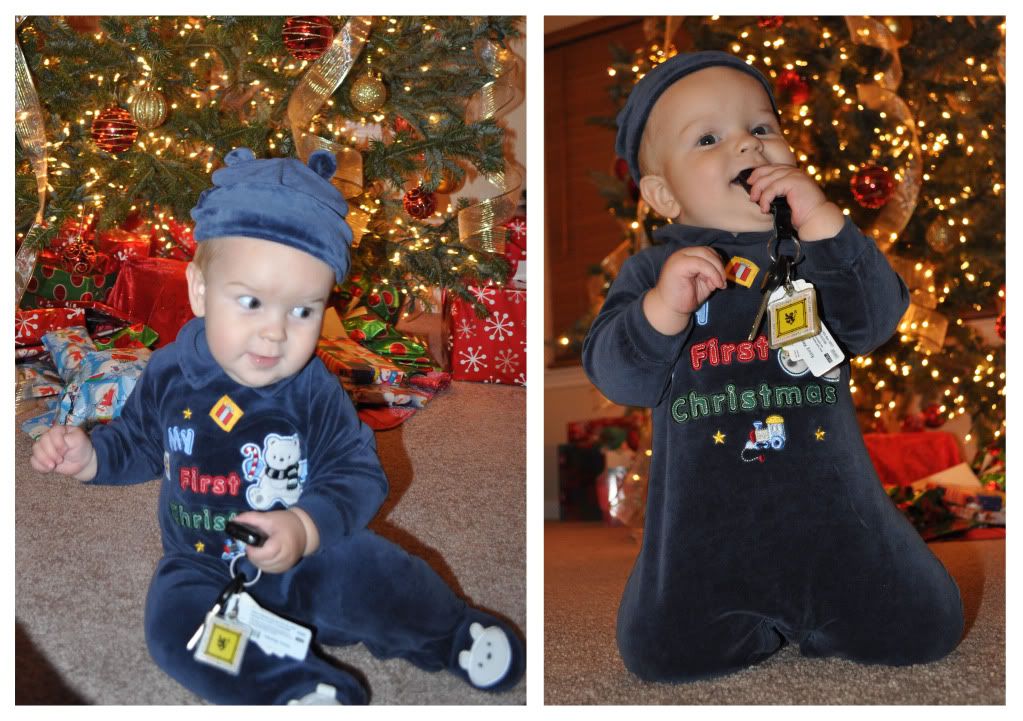 It is a tradition in my family to act out the Nativity. Our Baby Jesus was not a fan of his swaddling clothes and our Joseph just wanted to wear his cape in peace. So to save The Bible from "Jesus'" destructive hands, Sam finished the reading for me.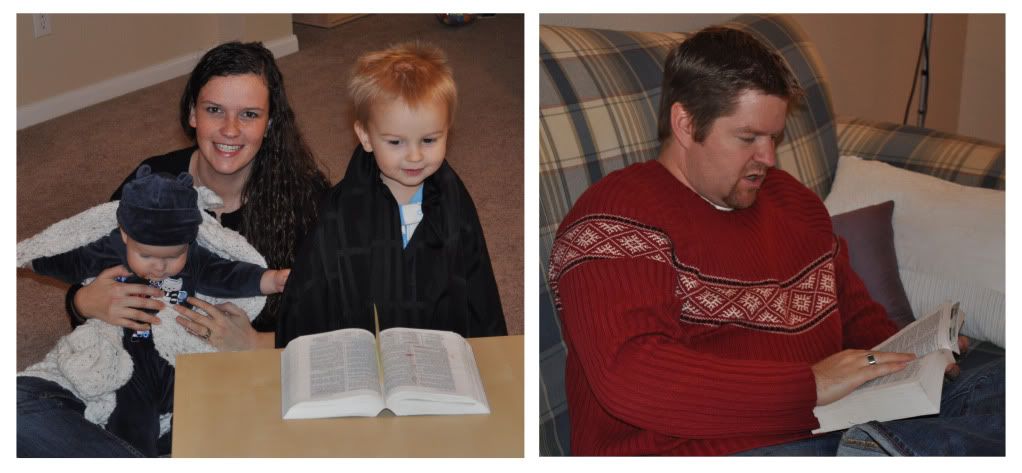 Once the kids were in bed, it was time for Santa! I cannot describe how giddy I was. It was like I was being sneaky and awesome all at the same time. Sam was surprised by most of it so it was fun to finally have the secrets in the open. I think I am still a kid at heart. I was having a hard time not peeking at what Sam put in my stocking.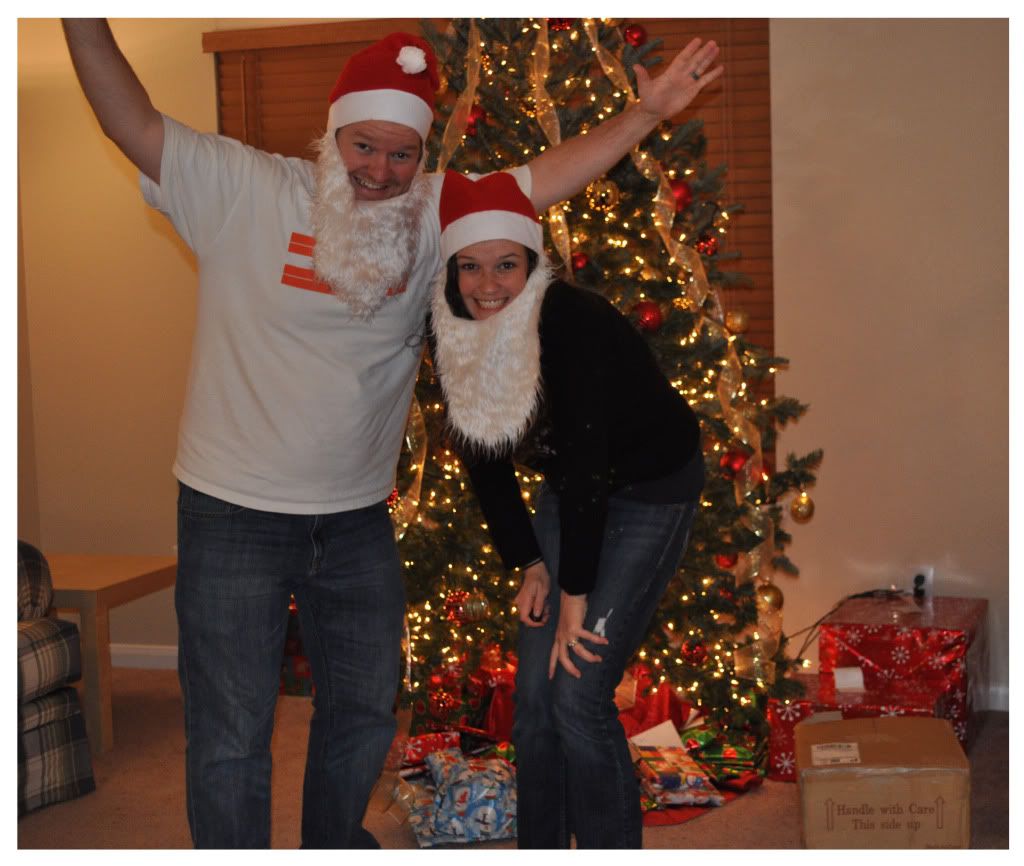 I wanted to get Edison a cheap toy that would be fun to play with. Kids love balloons; Edison is no exception. We blew up 135 balloons. It took us two hours and a small piece of skin came off of one of my fingers from tying them. My thumb ached for a few days and was basically nonfunctional.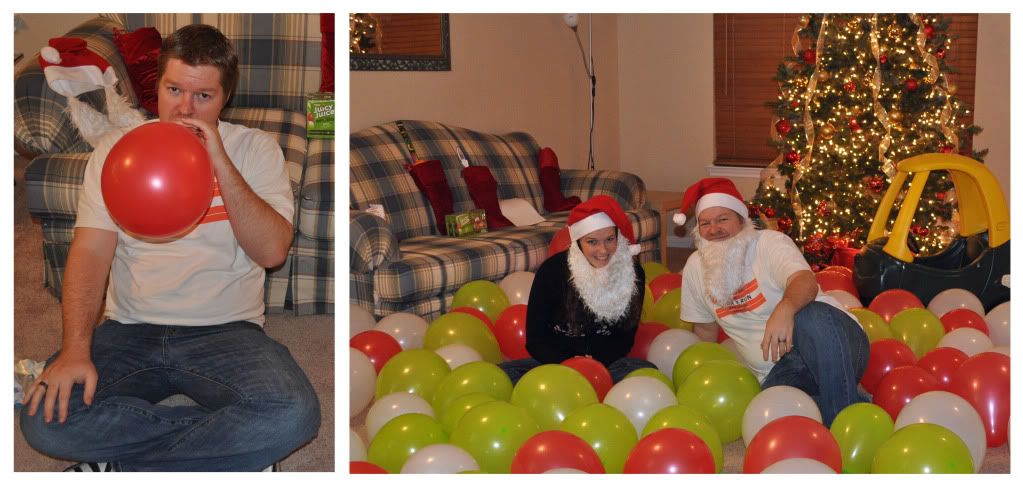 Then we were off to be nestled in bed for a not-so-long winter's nap while visions of sugar plums danced in our heads.