This is from my journal. I was trying to write about these events on the blog and I had already forgotten many details. I blame that on a combination of the pregnancy and blocking out a traumatizing experience. I want to thank my family for being so supportive of us through this whole situation. I was so tired and was having a rough time. My parents really stepped up.
On January 12th, we started the drive to Ithaca. We left Layton at 11am. In the first two hours, Alex threw up three times. But he didn't throw up the whole rest of the trip. We drove all night until at 3am we pulled over to sleep in Kansas. But it got too cold so I decided to start driving again 20 minutes later.
So on Thursday, January 13th at 3:20am, I started driving. The car immediately was making weird sounds. The battery light came on. We drove for 45 minutes and then the cruise control went off. Then the ABS light came on. Then the airbag light came on. Then the headlights started dimming and every single light on the dashboard came on. The car eventually lost speed but it still said we were going 80 MPH. I pulled over to the side of the road and then the car shut off. We called our insurance company and they couldn't find anyone to tow us because it was 4:30am. We finally called 911 and a trooper came and let us sit in his car. It was negative six degrees so we were freezing. Our windows had little ice tracks everywhere. It took forever to get a tow truck out there. We got to Topeka, Kansas (the town that was 20 minutes away) at 7am. The auto shop was just opening. We sat in their waiting room for 5 hours and then we went and checked into a hotel because they told us that they couldn't get the parts shipped until the next day. Oh yeah, and they estimated it would cost $1200. The tensioner pulley broke and damaged the power steering pump and idler. Annoying. We spent the rest of the day catching up on sleep and hanging out in our hotel room.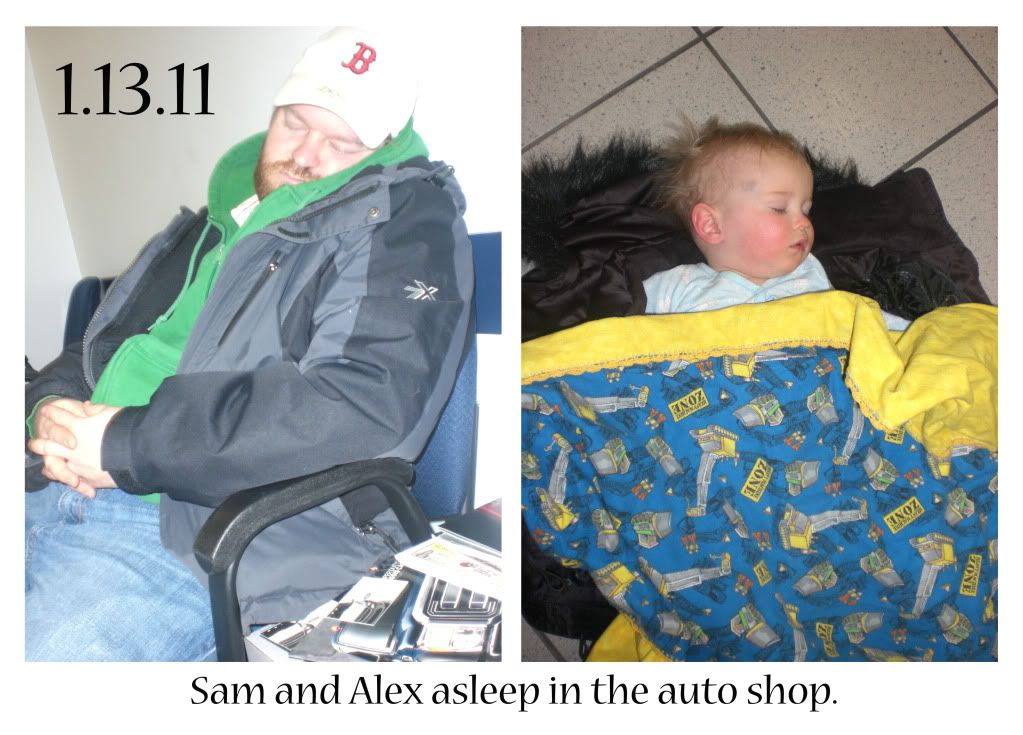 On Friday, January 14th, we checked out of the hotel and went back to the auto shop's waiting room at 1:30pm. They said the car would be ready at 4 or 5. The parts didn't even arrive until 4:15pm! They finished at 6pm. It cost $1281. Kill me now. We went and got dinner and then filled up with gas. The pump was going so slow so Sam jumped back in the car since it was freezing. But we didn't notice that the pump didn't stop itself! Someone pulled up and told us the diesel was overflowing everywhere. We jumped out of the car. It was probably 2-3 gallons on the ground so it definitely could have been worse. When Sam went inside to tell the worker, he barely spoke English and didn't understand what Sam was trying to tell him. The worker handed Sam his receipt and some BP rewards point cards. So we just left the blue-green liquid everywhere and off we went. Sometimes while I was driving, I would look over at Sam sleeping and I was so happy I could do that for him because I knew how he was feeling. But because I was driving, he was able to sleep! I think that is true love.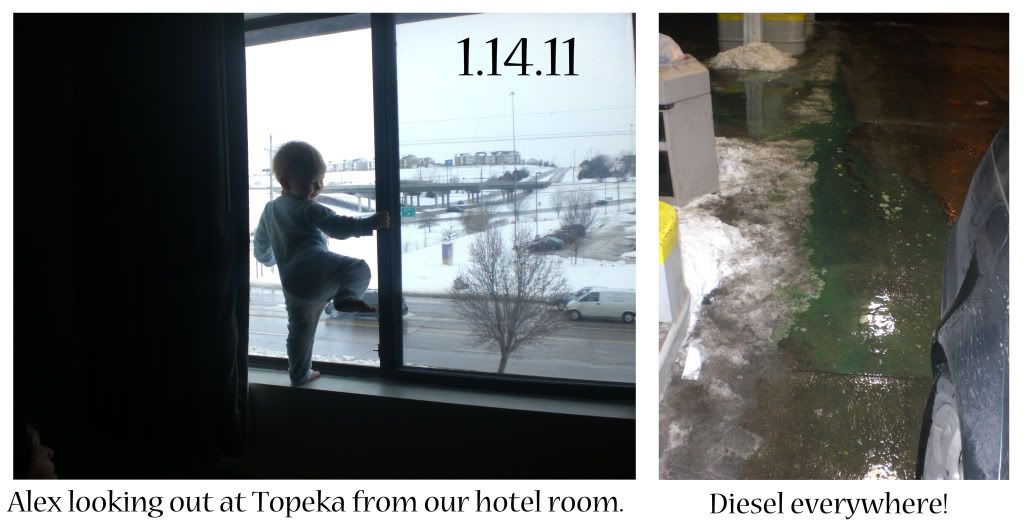 On Saturday, January 15th, we arrived to the Warnick's in Columbus at 7am. We slept on the ground/couch for two and a half hours. Then we ate breakfast, hung out, ate lunch, then left at 1pm. The weather was a little yucky for the last 3 hours so we didn't get home until 8:30pm. We unpacked and then I went grocery shopping. It is so nice to have things put away! The drive wasn't bad. I am just sad we didn't get home before dark or in time to pick up our five weeks of mail from the post office before it closed for the long weekend.
Sam has now been to 41 states (he added five new states during this break). Alex has been to 29 states (he added 13 new states during this break). Emily is still stuck at 44 since none of the states we drove through were new to her. Bummer.


Thanks for this video, too, Dad!