I hate tomato soup. My whole life, I have avoided tomato soup. If we were having it for lunch, I would not eat. I do not buy it. However, my mother-in-law made this tomato soup and I loved it. Even Alex was eating it! Had I been alone, I would have licked the bottom of my bowl. This soup is amazing. So I made it again on Sunday.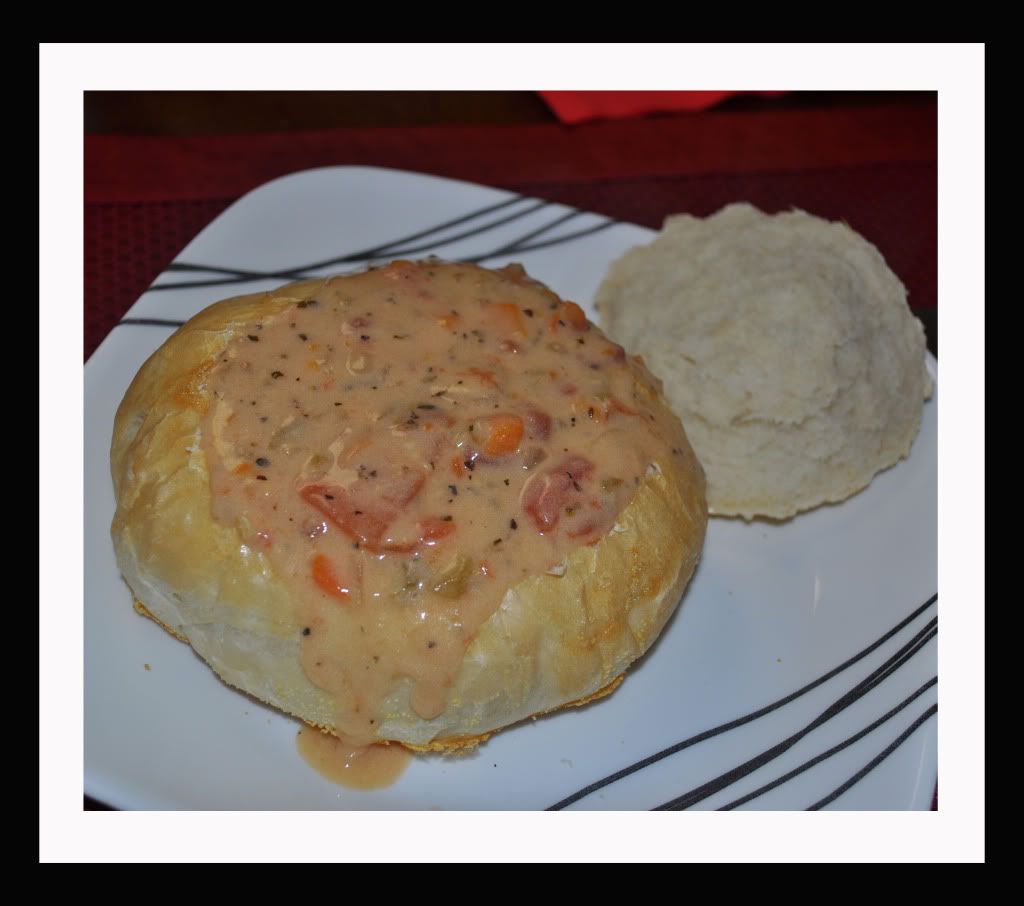 Tomato-Basil Parmesan Soup
Source:
365 Days of Slow Cooking
, I got it from my mother-in-law
Makes 2 quarts
2 (14 oz.) cans diced tomatoes, with juice
2 c. finely diced celery
2 c. finely diced carrots
4 c. chicken broth
1 c. finely diced onion
1/2 bay leaf
1 t. dried oregano or 1 T. fresh oregano
1 T. dried basil or 1/4 c. fresh basil
1/2 c. butter
1/2 c. flour
1 c. Parmesan cheese
2 c. half and half, warmed
1 t. salt
1/4 t. black pepper
1. In a large slow cooker, combine tomatoes, celery, carrots, chicken broth, onions, bay leaf, oregano, and basil (if using dried seasons, add in the last hour of cooking).
2. Cover and cook on low 5-7 hours, until vegetables are soft.
3. About an hour before serving, prepare a roux. Melt butter over low heat in a high-sided skillet and add flour; stir constantly with a whisk for 5-7 minutes. Slowly stir in 1 cup hot soup from the slow cooker. Add another 3 cups and stir until smooth.
4. Add all back into the slow cooker. Stir. Add Parmesan cheese, warmed half and half, salt, and pepper. Cover and cook on low for another hour until ready to serve.
I wasn't sure what else I should serve the soup with so I decided to make some bread bowls. I had never made these bread bowls before and I usually fail at making bread but they actually turned out really well! I
highly
recommend this meal. Make it right now.
Italian Bread Bowls
Source:
Mel's Kitchen Cafe
Makes 6-8 bowls
1 1/2 T. yeast
2 1/2 c. warm water
2 t. salt
2 T. vegetable oil
7 cups all-purpose flour
1 T. cornmeal
1 egg white
1 T. water
1. In a large bowl (or bowl of an electric mixer), dissolve yeast in warm water. Let stand until creamy, about 10 minutes.
2. Add salt, oil, and 4 cups of flour to the yeast mixture; beat well. Stir in the remaining flour, 1/2 cup at a time, beating well with an electric mixer at medium speed after each addition until a soft but not sticky dough is formed (you may not need to use all 7 cups).
3. When the dough has pulled together, turn it out onto a lightly floured surface and knead until smooth and elastic, about 6 minutes (or let knead in an electric mixer). Lightly oil a large bowl, place the dough in the bowl and turn to coat with oil. Cover with a damp cloth and let rise in a warm place until doubled in volume, about 40 minutes.
4. Punch dough down, and divide into 6-8 equal portions. Shape each portion into a round ball. Place loaves on lughtly greased baking sheets sprinkled with cornmeal (or use silpat liners or parchment paper). Cover and let rise in a warm place, free from drafts, until doubled in bulk, about 35 minutes.
5. Preheat oven to 400 degrees.
6. In a small bowl, beat together egg white and 1 tablespoon water; lightly brush the loaves with half of this egg wash.
7. Bake in preheated oven for 15 minutes.
8. Brush with remaining egg mixture, and bake 10 to 15 more minutes or until golden. Cool on wire racks.