Catherine asked me weeks ago about Alex's second birthday party theme and wondered if I would mind her copying me. I didn't mind at all because I had copied someone else! Holy smokes though, Catherine's party blew mine out of the water (get it? I am so punny). She is so creative and the party was awesome. I knew it would be once I received this adorable party invitation telling Alex that he had been "O-Fish-ally" invited.

The decorations and food were fantastic. She definitely put a lot of effort into every little detail. People were going crazy about her sushi (Twinkies wrapped with Fruit by the Foot)! It really surprised me because I don't think anyone had any of our "sushi."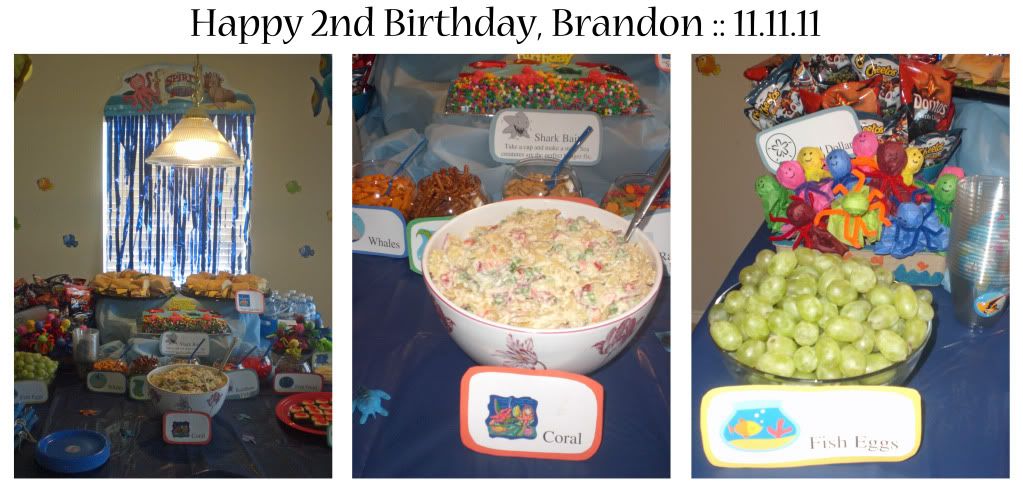 We don't spend very much time with other babies. I guess I am always trying to find kids Alex's age and I forget that Edison might want a baby to play with. There were twins at the party who were a few months older than Edison and had just learned to walk, but they were still interacting. It was very fun to see them watching each other play with toys. The floor was covered with balloons. Edison loved it.



The food was very kid friendly. Alex is never the last one eating. But he loved lunch at Brandon's party and he was sitting at the table alone!

Catherine borrowed our fish bowls and put real fish in them! After I washed the bowls, they sat on our counter for a few days. Every time Alex saw them, he would beg for a fish and want to carry around the bowls. According to our rental agreement, we are not allowed to have any pets, including a fish. Bummer.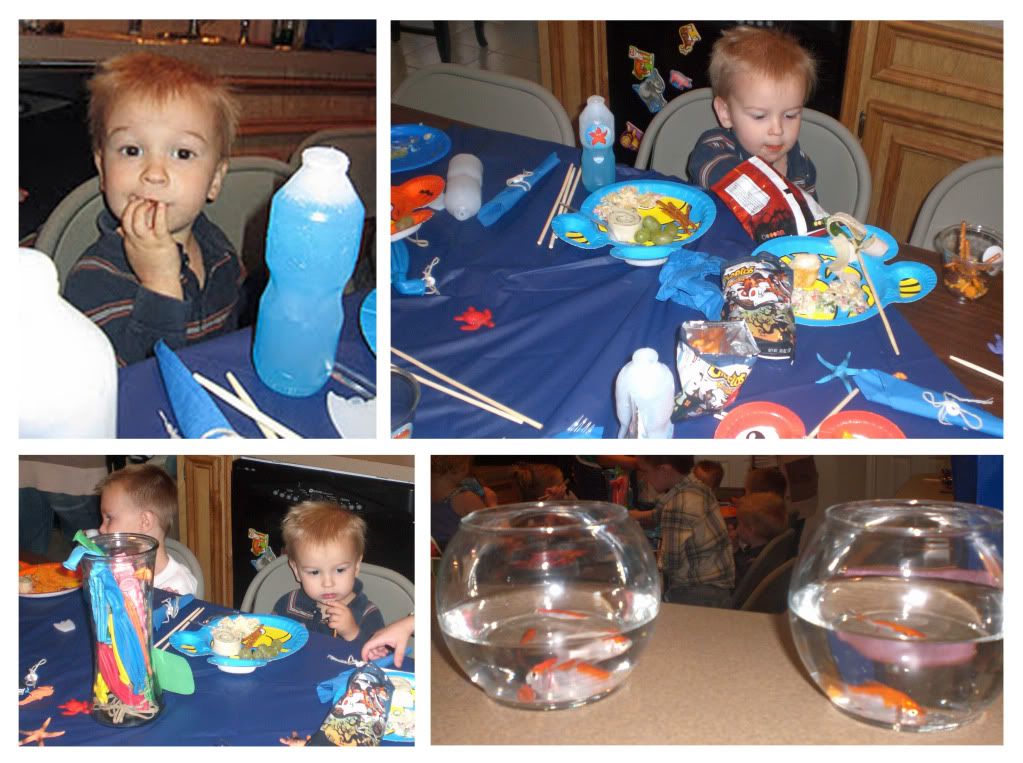 Alex wanted to keep all of the presents Brandon was getting. Maybe next year I should let people bring presents to his birthday party. I just feel guilty about asking people to bring my kid a gift. It is easier to just tell them to not bring one. Sigh...

There were a lot of cute games. Alex loved the fishing and asks to go fishing all the time now. I don't know if he would be pleased with the result of real fishing. It is not always fruit snacks you catch on the hook.