Once upon a time, I was talking to a friend and telling her about my childhood. She told me that it sounded an awful lot like I was reared by Amish people. My parents definitely weren't Amish, but I have laughed about that comment from her frequently since then. It is true that my parents did many things that were not traditional. A few things that come to mind are:
1. We used fructose instead of sugar.
2. I only wore hand-me-downs (which I grew up thinking were "hammy downs").
3. We were homeschooled until ninth grade.
4. They let us play on the roof of the house and pretend to shoot cars while they drove by.
5. My family members seem to collect guns but we aren't hunters.
6. The first time I went to the hospital for myself was when Alex was born.
7. We had rice milk or soy milk instead of cow's milk.
8. My mom had 7 out of 8 of her kids at home (all naturally).
9. There seems to be a general distrust/disbelief of mainstream ideologies.
10. We are very passionate about politics.
That being said, I think almost all of the things above are good. I would not change a single thing about my childhood. I was such a happy kid and I think I turned out fairly well. I wish I had paid more attention to the things they did so I could repeat them in my family.
While I was pregnant with Alex, my mom gave me all of her old maternity clothes. When I first saw them, I wasn't big yet so I thought they looked cute and I was excited for them. But then my stomach exploded. I wore her maternity clothes the entire pregnancy. Sam even told me I looked Amish and one day he said I looked like I wasn't even pregnant; I just looked big. So sad! I decided I should probably get different maternity clothes the next time so I didn't look so crunchy. My sister got pregnant so I gave her all of my mom's maternity clothes and only kept six shirts that I really loved. I feel like I am missing a box of maternity clothes somewhere though!
A few days ago I had Sam take pictures of me in the six maternity shirts I own. I am definitely going to have to get new ones because only one of these has long sleeves and I might freeze in my summer maternity shirts.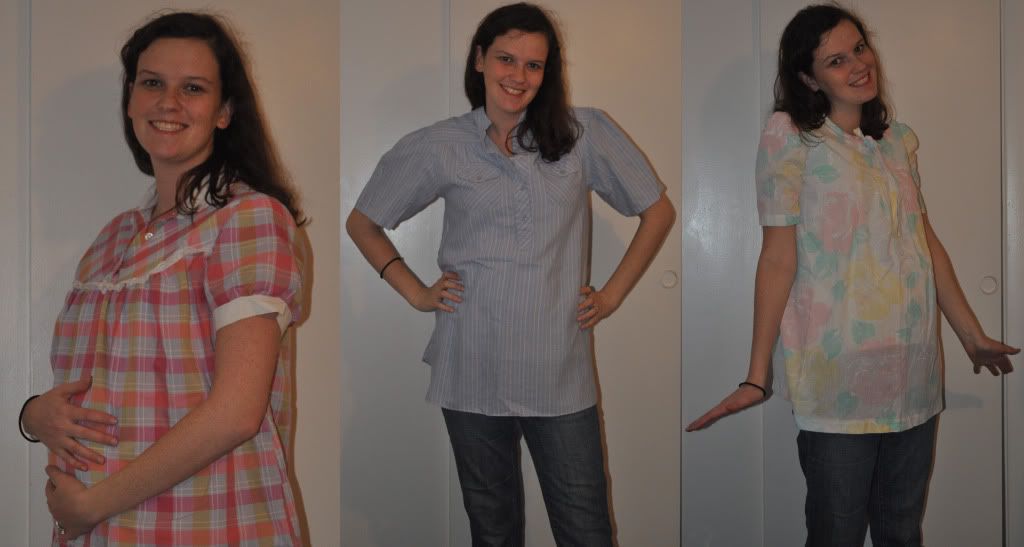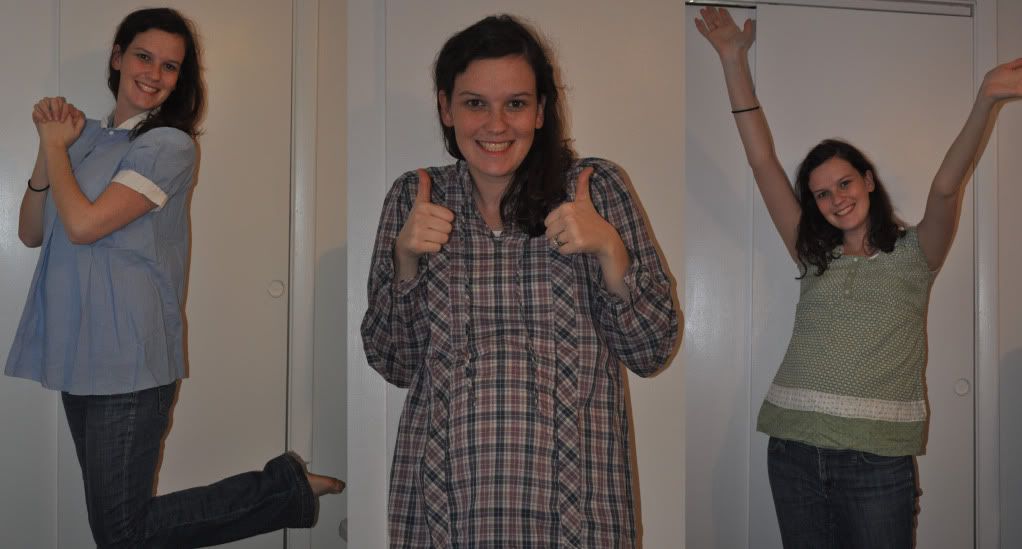 Sam's parents gave me a very generous gift card for my birthday so I can get maternity clothes but I don't know how far that will go. Maybe I can be a little less Amish. Or at least be understanding when you see me wearing the same clothes each week.